1. A Family Affair In Phoenix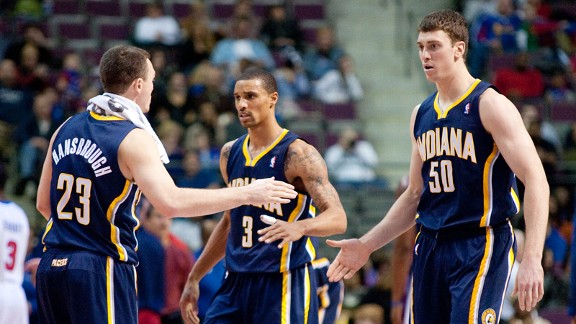 Tim Fuller/USA TODAY SportsBen and Tyler Hansbrough join a handful of sibling duos to share the floor in an NBA arena.
Miami's megastreak is a memory. Kobe Bryant, meanwhile, sits just five points shy of passing Wilt Chamberlain on the all-time scoring list. So there's not much to track there, either.
Unless Derrick Rose decides to make a surprise appearance Saturday afternoon in Dallas, or Sunday night at home against Detroit, we're suddenly light on NBA suspense this holiday weekend.
Or so it appears.
NBA TV couldn't have known any of this when the schedule was made, but be advised that its seemingly sleepy Saturday night offering -- Indiana at Phoenix -- actually has some record-book potential.
If Frank Vogel cooperates.
If rookie guard Ben Hansbrough can get some court time from Vogel at US Airways Center, either alongside big brother Tyler Hansbrough or even on his own, Pacers-at-Suns goes from humdrum mismatch in late March to historic. That's because this is the first season since the NBA was still the BAA back in 1946 that the league has fielded more than one team with a pair of siblings on their rosters.
BROTHERS AND TEAMMATES
The 10 pairs of brothers to play on the same team in NBA history:
Marcus Morris and Markieff Morris (2012-13 Phoenix Suns)
Tyler and Ben Hansbrough (2012-13 Indiana Pacers)
Dominique and Gerald Wilkins (1999 Orlando Magic)
Mark and Brent Price (1995-96 Washington Bullets)
Bernard and Albert King (1991-92 Washington Bullets)
Caldwell and Charles Jones (1984-85 Chicago Bulls)
Caldwell and Major Jones (1983-84 Houston Rockets)
Dick and Tom Van Arsdale (1976-77 Phoenix Suns)
Dick and Al McGuire (1953-54 New York Knicks)
Don and Mac Otten (1949-50 Tri-Cities Blackhawks)
Source: Elias Sports Bureau
Editor's Note: The list technically stretches to 13 pairs of brothers to play on the same team if we include the trio in 1946-47 in the Basketball Association of America, which would merge with the National Basketball League in 1949 to become the NBA. Those brother tandems -- if you want to get technical -- were Connie and Johnny Simmons with the Boston Celtics, George and Henry Pearcy with the Detroit Falcons and Noble and Roger Jorgensen with the Pittsburgh Ironmen.
The Suns' trade-deadline-week acquisition of Marcus Morris from the Houston Rockets in February made Marcus and twin brother Markieff Morris just the 10th pair of brothers on the same team in NBA annals. Tyler Hansbrough and his little bro became the ninth when Ben scrapped his way onto the Pacers' roster in training camp.
So ...
It doesn't quite make up for the fact that Miami at San Antonio on Easter Sunday no longer looms as the most anticipated regular-season game since, what, Shaq versus Kobe for the very first time on Christmas Day 2004?
But two sets of siblings squaring off will be something we've never seen before.
Which adds another chapter to a story that Ben Hansbrough, nearly 75 games into his first NBA season, still struggles to believe.
"To be honest with you," Ben said of playing high school ball in Missouri with Tyler, "I thought that would be the last time we played together."
This isn't exactly what the Pacers were planning, either. Whereas Markieff Morris and Kansas coach Bill Self had been urging the Suns, behind the scenes, to reunite Markieff with Marcus throughout the only season and a half of their lives that the twins were forced to spend apart, Indiana invited Ben to October camp with no promises after a decent summer-league showing. He was going to have to beat out a couple point guards with NBA experience -- Sundiata Gaines and Blake Ahearn -- just to have a shot at sticking, prompting Tyler to openly warn him that "it's going to be extremely tough to make this team."
"I was nervous for him," Tyler admits now. "I always thought Ben was an NBA player, so I always expected him to be here, but most people that come in (under those conditions) don't make it."
Yet that's the only sliding anyone in Saturday night's groundbreaking quartet can get away with. Tyler Hansbrough has had a productive March, emerging with four double-doubles while David West nursed a back injury and hiking his field-goal percentage closer to the mid-40s, but he's a restricted free agent in July whom the Pacers, sources said, made very available before the Feb. 21 trade deadline. And Ben Hansbrough, having earned a total of only 28 minutes of playing time this month and less than 200 for the season, still has to prove he can hack it running a team at this level and knows there are no guarantees about sticking around beyond this season.
"Sometimes we don't evaluate how competitive people are," Pritchard said. "It's a skill. And Ben, like Tyler, they're so hypercompetitive. Their hypercompetitiveness helps us in practice.
"Sometimes they get the look in their eyes where we go, 'Uh-oh.' We've wondered many times if they'd try to kill each other, if the Brother Syndrome would come out, but they don't. Tyler really tries to look after Ben as much as he can."
That was evident in December when Ben, getting some rare PT, took an elbow from Cleveland's Tristan Thompson and Tyler intervened, uh, aggressively. The younger Hansbrough describes big bro's Psycho T reputation as "definitely earned" -- "I think he embraces it," Ben said -- but we should note that Tyler also let baby bro (along with his pet pitbull) move into his place and stay rent-free for the season, with Tyler making just over $3 million in the final year of his rookie-scale contract and Ben at a rookie-minimum $473,604.
"I usually take care of him," Tyler says. "I'm a good brother.
"The other (Pacers) get him enough (in terms of rookie grief), so I let him slide a little bit."
Yet that's the only sliding anyone in Saturday night's groundbreaking quartet can get away with. Tyler Hansbrough has had a productive March, with four double-doubles while David West nursed a back injury, but he's a restricted free agent in July whom the Pacers, sources said, made very available before the Feb. 21 trade deadline. And Ben Hansbrough, having earned a total of only 28 minutes of playing time this month, knows there are no guarantees about sticking around beyond this season.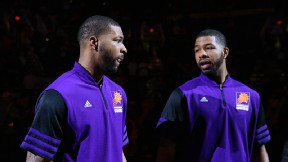 Mark J. Rebilas/USA TODAY SportsMarcus and Markieff, the Suns' two sons.
The Morrises have plenty to prove, too, trying to convince us they're not mere frontcourt tweeners and establish themselves with a storied franchise in the midst of its worst-ever season. They're only the second pair of twins in league history to play on the same team, in the desert tradition of Dick and Tom Van Arsdale, and earlier this month they became the first twins to ever start an NBA game together. But their underwhelming rookie campaigns and modest development as pros, after Markieff went 13th and Marcus went 14th in the 2011 draft, are largely what convinced the rebuilding Suns to rush them back together, with fingers crossed that the Morris reunion -- as those who study twin science clearly believe -- will spark both of their careers.
"I had my own room (in Markieff's house) even before I got traded," Marcus said, explaining that he spent the bulk of last summer in Phoenix working out with Markieff at the Suns' practice facility when he was still a Rocket.
As for the Indianapolis-based brothers, aged 27 and 25, that the Morris Twins will be dueling Saturday night, Marcus playfully added: "We're twins. So we're a little bit better than them."
Said Markieff, who told ESPN.com that the twins were fearful Marcus was about to be dealt to Boston instead of Phoenix on the night of the trade: "It's been unreal, man. Dream come true. We thought this could maybe happen later (in their careers) -- we were definitely going to try to push for it -- but it's crazy how it went down."
The Hansbroughs know the feeling. Tyler Hansbrough admits that he never bothered "to dream about it before" because the notion of playing on the same NBA team with your brother is so rare. They likewise try not to think about how long it'll last.
And if history is any guide, it won't be for long. One season has been the norm for brother duos, apart from Caldwell and Major Jones spending two seasons together in Houston in 1982-83 and 1983-84, going to back to those three sets of siblings in the prehistoric era of the forerunner to the NBA known as the Basketball Association of America (see accompanying chart) in 1946-47.
"As things start to sink in a little bit, you realize what a year and what an opportunity this is," Ben says. "It's been great for our relationship as brothers also."
Said Tyler: "We don't really talk about (the future) that much. We're trying to enjoy the moment right now, embracing the position we're in."
Their shared focus, if it's anything beyond the forthcoming playoffs, is older brother Greg Hansbrough and his battle with what was initially diagnosed as a terminal brain cancer at the age of seven.
Now 29 and president of his younger bros' fan club, Greg will surely be parked in front of a TV late Saturday night on the East Coast, tuned in to see if Tyler and Ben get any tag-team opportunities to challenge Marcus Morris' claim about the twins' superiority. In mid-March, Tyler and Ben co-hosted a Voices Against Brain Cancer benefit at Bankers Life Fieldhouse in Indianapolis to raise awareness and funding for the cause ... and honor Greg's resilience.
"He's the toughest Hansbrough," Ben said.
Dimes past: March 13 | 14 | 15-16 | 17 | 18 | 19 | 20 | 21 | 22-23 | 24 | 25 | 26 | 27 | 28
ESPN Senior Writer
• Senior NBA writer for ESPN.com
• Began covering the NBA in 1993-94
• Also covered soccer, tennis and the Olympics
2. One-On-One ... To Five
Five questions with Jim Cleamons, who was a rookie on the Lakers' 1971-72 team that won 33 games in a row and later an assistant coach on the Chicago Bulls' team that went 72-10 in 1995-96:

Cleamons
Q: How much did you celebrate when Miami fell short?
A: Nah, nah, nah. I give them credit. They had a lot of stamina. A lot of heart. And I know they will appreciate what the '71-72 team did, because you've got to be lucky and good to do that. Their 27 [wins], I take my hat off to 'em. And if they would have gotten to 33 or 34, I would have taken my hat off to 'em then. Sooner or later, one of these days, somebody's gonna get it. But 33 ... it's gonna roll on for another year.
Q: How detailed are your memories of actually living through the streak as a rookie?
A: I couldn't have broken in with a better team and a better situation than the team I broke in on. You look at the Hall of Famers on the team, you look at the accomplishments of certain players and coaches, you look at the kind of basketball minds on that team. I was like a kid in a candy store.
[But] the streak is a bigger deal today than it was when we were going through it. The media has changed so much. You guys in the media don't realize how overwhelming and how consuming of a voice you have. In those days, we had maybe three beat writers [traveling with the team]. We didn't have a lot of coverage.
Basketball here in L.A. was not that big of a thing. We had nice crowds at the Forum, but it wasn't what it is today. And that doesn't mean we were [on the] back page. It's just, going through it ... probably the most highlighted game was the 34th in a row -- when we lost. We played on a Sunday afternoon, in front of a national TV audience, against the Milwaukee Bucks. And the way they kicked our butts, people were probably wondering, "How did they win 10 in a row?"
Q: You've coached in this modern media era, so you know what it's like. Obviously the travel conditions that you guys faced (in 1971-72) were a lot tougher, but doesn't the bigger spotlight and scrutiny of today put a different kind of strain on a team like Miami that was chasing the record?
A: Believe you me, traveling on a charter is a lot easier. Traveling in those days was pretty horrendous. Don't get me wrong: It was better than the guys before me had. But just to show you how compacted it was: I was home by Mother's Day that year. We had gone through all of our playoffs and the championship round and I was able to drive from Los Angeles to Columbus, Ohio, and get there prior to Mother's Day.
But I'm not trying to cry foul. Each team can only do the best they can do what with what's in front of them. ... Once we got past the record -- Milwaukee had it before us with 18 (wins in a row) or 20 or whatever it was -- every game we won we were setting a new record. So we were really able to enjoy it. We weren't trying to catch anybody. We were just taking care of our business.
Q: How much talking have you guys (surviving members of the '71-72 Lakers) been doing over the past few weeks while Miami was making this run?
A: We've all been doing interviews. We're trading a lot of texts and talking to the same people. A lot of reporters. ... The good thing about this team, when we get together and celebrate, No. 1 is that we won a title. We didn't win those 33 games in vain. At the end of the day, we also celebrated a championship. And No. 2 was the streak and the fact that we won 69 games. That 69-13 [record] was the all-time record at the time. That's a hell of an accomplishment, too.
Q: Which of the two records will last longer? The 33-game winning streak or the Bulls' 72-10 season?
A: I've got two things out there I've been a part of that I think are going to live for a while. Obviously the 33 in a row has been out there for a while, but the 72-10 ... that one might go on for a really long while. That 33 is not a cakewalk, as time begins to testify for me. But 72-10 ... it's going to take a real juggernaut to top that one.
Especially with the egos out there today. I am rather surprised that Miami got to 27, because the game's just not played the way it was back then with the sharing and the unselfishness and the team play. These days there's a lot of egos out there. And a lot of egos with people pushing behind them that are pushing for them rather than the team. It's going to take a real team to top both of those. And luck. That's the same on our behalf. Without Lady Luck, none of us are going to get there.
3. Streak Central (Final Edition)
By now I'm sure you've heard a little bit about all the numerology.
The stuff about LeBron James averaging exactly 27.0 points per game during a 27-game winning streak that ended on March 27 in Chicago ... but only after LeBron's Miami Heat overcame a 27-point deficit in Cleveland exactly one week earlier to keep the streak alive.
But fear not. We've got even more data to share for one last installment of Streak Central to commemorate the second-longest winning streak in NBA history, which spanned 52 calendar days without defeat for the Heat. With an assist to ESPN Stats & Information and the Elias Sports Bureau, here goes:
Miami's four streaks that ended Wednesday night:
Wins: 27
Wins vs. Eastern Conference opponents: 19
Road wins: 13
Wins vs. teams above .500: 11

Notable events in sports (and beyond) during Miami's run:
Feb. 3: 34-minute power outage during Super Bowl XLVII
Feb. 8: Winter Storm Nemo engulfs Northeast
Feb. 9: Notre Dame beats Louisville in five overtimes
Feb. 12: Kentucky star Nerlens Noel tears ACL
Feb. 15: Meteor explodes over Russia
Feb. 17: Danica Patrick becomes first female driver to win Daytona 500 pole
Feb. 27: Stephen Curry scores 54 points at Madison Square Garden
Feb. 28: Pope Benedict XVI steps down
March 8: Chicago Blackhawks' streak of earning at least one point in 30 straight games ends
March 15: Elvis Dumervil's stint with Denver Broncos ends because of late fax
March 19: Robert Morris beats No. 1 seed Kentucky in NIT
March 19: In addition to both the Grammys and Oscars taking place during the Heat's unbeaten run, Memphis Grizzlies minority owner Justin Timberlake released his first album in seven years
March 21: Devils goalie Martin Brodeur credited with goal
March 24: Florida Gulf Coast becomes first-ever No. 15 seed to reach Sweet 16 of NCAA tournament
March 25: Tiger Woods reclaims golf's No. 1 ranking

Some of the other more notable winning streaks in sports history (with input from The Associated Press, too):
1. 2,495 wins: Harlem Globetrotters vs. Washington Generals (1962-71)
2. 555 matches: Pakistani squash star Jahangir Khan (1981-86)
3. 470 matches: Wheelchair tennis great Esther Vergeer (2003-12)
4. 459 matches: Brandon (Fla.) High School wrestling team (1974-2008)
5. 252 matches: Trinity (Conn.) men's squash team (1998-2012)
6. 159 matches: Iowa State wrestler Cael Sanderson (1998-02)
7. 151 games: Concord (Calif.) De La Salle High School football team (1992-2004)
8. 122 races: 400-meter hurdler supreme Edwin Moses (1977-87)
9. 112 matches: Beach volleyball tandem of Misty May-Treanor and Kerry Walsh Jennings (2007-08)
10. 109 matches: Penn State women's volleyball team (2007-10)
11. 90 games: Connecticut women's basketball team (2008-10)
12. 88 games: UCLA men's basketball team (1971-74)
13. 87 fights: Boxing legend Julio Cesar Chavez (1980-93)
14. 75 races: Long-distance runner Emil Zatopek (1948-1951)
15. 74 matches: Tennis legend Martina Navratilova (1984)
16. 65 long jump competitions: American track and field star Carl Lewis (1981-91)
17. 62 games: U.S. men's Olympic basketball team (1936-72)
18. 56 races: The racehorse Camarero (1953-55)
19. 55 games: NCAA Division III football power Mount Union (Ohio) (2000-03)
20. 46 matches: Men's tennis great Guillermo Vilas (1977)
21. 33 games: Los Angeles Lakers (1971-72)
22. 27 games: Miami Heat (2013)
23. 26 games: Major League Baseball's New York Giants (1916)
24. 21 games: National Football League's New England Patriots (2003-04)
25. 17 games: National Hockey League's Pittsburgh Penguins (1993)
26. 15 games: Major League Soccer's Los Angeles Galaxy (1997-98)
27. 14 games: Arsenal in England's Premier League (2002)

4. Western Conference

Not ready to co-sign just yet on Mayor Kevin Johnson essentially proclaiming Friday on the "Dan Patrick Show" that the Kings suddenly have a 90-percent shot to stay in Sacramento.
Think I''ll stick with what one league insider told me this week when asked about all of Johnson''s efforts to assemble an ownership group to challenge the $525 million valuation of the franchise that the Maloof Brothers negotiated in their sale agreement to the Seattle group headed by Chris Hansen and Steve Ballmer: Sacramento is undeniably "gaining momentum" in terms of keeping the Kings.
Reason being: All the recent signals emanating from New York, as one source aptly put it, describe how "really hard to call" this has all gotten.
That sentiment, though, also has to give Sactown hope, given how widely it was assumed heading into the All-Star break that the Kings were all but Seattle-bound already.
The NBA Board of Governors will vote on the proposals from the two cities April 18-19 after the Sacramento counter offer is formally presented to league officials next week.
Yet the surest way for Sacramento to keep the Kings, another source stresses, is matching or even exceeding the $525 million valuation of Seattle's offer. Because rising franchise values, more than any other factor that gets thrown out there, presumably means the most to the governors who''ll be doing the voting.
---
Some numbers of note in the West this week:
42: The Clippers, by securing their 21st road victory of the season Wednesday night, clinched the first winning road record in franchise history, halting a 42-season streak of futility -- longest in NBA history -- that stretched all the way back to the club's maiden season in Buffalo in 1970-71.
1: With 25 points, 16 rebounds, 5 blocks and 5 steals in the Lakers' win Wednesday night at Minnesota, Dwight Howard became the first player to hit all of those levels in one game since Shaquille O'Neal during the 1996-97 season.
22: L.A.'s win over the Wolves makes it five teams in history that have won 22 or more consecutive games against one opponent. And Minnesota has been on the wrong end of three of those streaks, losing 26 games in a row to Seattle from 1991-97 as well as 25 straight to Phoenix from 1989-95 before the Lakers stretched their unbeaten run over the Wolves to 22 games. The Lakers also had a 24-game winning streak against Sacramento from 1983-88, preceded by Boston posting 22 wins in a row over the Buffalo Braves from 1970-74.
3: Dallas, once mired at 13-23, is trying to become just the third team since 1989 to reach the playoffs after falling 10 games under .500. Both Phoenix and the Clippers rallied into playoff spots from at least 10 games under .500 during the 1996-97 season.
15: The Lakers, after losing Thursday night in Milwaukee, have failed to sweep all 15 of their back-to-back sets so far this season. They have one more chance (April 9-10 at home against New Orleans and on the road in Portland) to avoid making this the first season in franchise history, according to the Elias Sports Bureau, that they don't sweep at least one.
5. Eastern Conference

It's the same two questions, over and over, every single day in the East.
1. Does anyone in this conference have a prayer of beating the Heat four times in a seven-game series?
And ...
2. Will we see Derrick Rose before this season is out?
The answers from this April fool: No and no.
Not exactly going out on a limb when it comes to the prospect of pinpointing someone in the Leastern Conference to step up and prevent Miami from reaching its third successive NBA Finals. It's pretty much a consensus "no" at this point.
Rose's situation, by contrast, is considerably trickier, but rumbles persist that those close to the 2010-11 MVP are telling him that there's nothing wrong with sitting out what's left of this lost season to make a more natural, gradual comeback in 2013-14 with the benefit of a regimented offseason and a full training camp.
Yet the nearest thing to a consensus on Rose's plans, at this point, is that the decision whether to come back at this late stage of the 2012-13 season is all Rose's. I came into the season firmly convinced that the Bulls themselves secretly wanted him to take a full season off, since they had no hope of winning the championship without him, but that's clearly not the case now. There's no doubt they want Rose on the court. The decision, though, rests fully with the 24-year-old. Until he's convinced that his surgically repaired left knee can handle anything he needs it to do, we won't see him.
Sources close to the situation say D-Rose hasn't ruled out deciding to give it a shot in the playoffs even if he doesn't play a single regular-season game. And he'd actually be the fourth former MVP in league history to start a season so late after missing at least the first 50 games, joining Bill Walton (1979-80 and 1986-87), Moses Malone (1992-93) and Michael Jordan (1994-95).
The expectation here, however, remains that he will continue to wait. The window to return will stay open -- and I don't see any reason why D-Rose needs to heed the calls to definitively announce his plans just to satisfy those of us on the outside who want to know -- but playing a few games late in the regular season and then abruptly dialing it up a few notches to get to Tom Thibodeau-level playoff intensity doesn't sound appetizing at all. Especially after watching Danny Granger's comeback with Indiana last all of five games before it ended badly.
---
Some numbers of note in the East this week:
6: LeBron James has fallen short of a triple-double by a single point, rebound or assist six times this season after his 24 points, 11 dimes and 9 boards in Monday night's win at Orlando, backing up his claim that he'll go down as the "Almost Triple-Double King." James' six such misses represent the highest single-season total for any player since Boston's Kevin Garnett, then with Minnesota, had six in 2004-05.
13.4: The Nets entered Wednesday's play getting a league-low average of 13.4 points per game this season from its two starting forwards. Reggie Evans responded by scoring a career-high-tying 22 points to go with a career-best 26 boards in a win over Portland.
4: New York's J.R. Smith is the first player to post four 30-point games off the bench in a single month since Milwaukee's Ricky Pierce did it four times in November 1990. The teams on the other end of Smith's outbursts in March are Memphis (35 points), Boston (32), Oklahoma City (36) and Portland (33).
5: This will be only the fifth season, since the Nets joined the NBA in 1976-77, that both teams in the New York metropolitan area both finish over .500. It's the first time both the Knicks and Nets have had winning records in the same season 1997-98.
36: In 10,000 Accuscore computer simulations, Chicago was only given a 36 percent chance of bringing a halt to Miami's 27-game winning streak Wednesday night.
---
Cavaliers assistant coach Joe Prunty has been lined up to succeed Rockets assistant Chris Finch as coach of Great Britain's national team. It's an undeniably high-profile break for Prunty after Team GB's presence in last summer's Olympics as the host nation, but funding issues have made a very complicated job even more daunting. The program will only continue to receive government backing in excess of $10 million over the next four years, in the name of ensuring that the sport has a post-Olympics legacy -- but only if the Brits finish sixth (or better). And without the assurance of that funding, affording the insurance costs to be able to keep the likes of Chicago's Luol Deng and Portland's Joel Freeland on the roster might prove impossible, which presumably puts that sixth-place finish out of reach. We'll have to see how much money British basketball has in reserve when it tries to at least bring Freeland back for EuroBasket 2013 in Slovenia in September. ... Sources close to the situation say that one of Washington's motivations in trading Jordan Crawford for Leandro Barbosa's expiring contract -- despite the fact that Barbosa was already out for the season -- was creating a little extra financial flexibility to enhances the Wizards' chances of re-signing Martell Webster.
6. Thanks For The Memories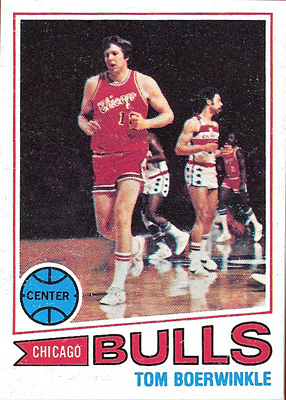 ToppsFormer Bulls center Tom Boerwinkle passed away this week at age 67. He'll always be remembered warmly at Stein Line HQ ... and this 1977 Topps basketball card helps explain why. (See Box 10)
7. Chatter Box
Marc Stein joins Ian Fitzsimmons and Richard Durrett on ESPN Radio in Dallas (103.3 FM) to talk about the end of the Heat's winning streak and the Mavericks' flickering life in the hunt for the eighth and final playoff spot in the Western Conference.
• Listen to the audio here

8. Marc's Quote
"It was audacious to predict [that], but when this Miami team was put together, I just thought they would be dominant."

Van Gundy
ESPN analyst Jeff Van Gundy, after calling Miami's streak-busting loss Wednesday night in Chicago, reflected Thursday morning on a forecast he gave the Miami Herald back in the summer of 2010 about the Heat besting the Lakers' all-time record for the longest winning streak in top-tier shelf North American team sports.
Like many of you, I've long considered those 33 wins in a row strung together by the Los Angeles Lakers of 1971-72 to be an untouchable record akin to Joe DiMaggio's 56-game hitting streak. But let the record show that our own Coach Van Gundy did publicly proclaim Miami capable of breaking that record shortly after LeBron James hooked up with Dwyane Wade and Chris Bosh in the unforgettable free-agent summer of 2010.
"They will break the single-season win record [of '72]," Van Gundy told the Herald at the time. "And I think they have a legit shot at the Lakers' 33-game [winning] streak as well. And only the Lakers have even a remote shot at beating them in a playoff series. They will never lose two games in a row this year."
The "Heatles'" first season together, of course, didn't go quite as swimmingly as Van Gundy envisioned, with Miami stumbling to a 9-8 start and ultimately blowing a 2-1 lead in the NBA Finals to Dallas in a rewrite of the Mavericks' collapse in the 2006 Finals. But since I can't remember anyone else suggesting that this Heat team ever had a shot at 33 in a row, then or now, I'd say JVG has undoubtedly earned a Weekend Dime hat tip.
"This run at the record," Van Gundy said Thursday on his way home from Chicago, "really helped the NBA to keep the normally boring dog days of the season exciting."
9. Consolation Prize?
Bryant
What if?
What if Kobe Bryant, after being handed Dwight Howard and Steve Nash as teammates before he got home from the Olympics last summer, has nothing but his progress up the all-time scoring charts to show for the 2012-13 season?
It has to be considered a realistic possibility for the 34-year-old after what we've seen this week, with Metta World Peace forced to undergo knee surgery, Nash afflicted with a new hip spasm in Milwaukee and Kobe himself last seen hobbling out of Bradley Center on one crutch late Thursday night with a burning sensation in his problematic left foot.
At this rate, the creaky Lakers will be fortunate to be upright after 82 games, let alone playoff-bound. The best thing you can say about L.A.'s playoff prospects at the minute is that neither Utah nor Dallas look especially capable of bumping Kobe & Co. out of the top eight.
I'm stubborn, though. So I'm still claiming, as I blindly have for weeks, that the Lakers' aging cast of marquee names will find a way to hang on to the West's No. 8 seed even at their worst and, if not win an actual playoff series, then find a way to fill San Antonio or Oklahoma City with some first-round dread ... harder as that gets to envision in the wake of MWP's exit.
As such, I'm forging ahead here with some detailed historical data about Bryant's impending rise to No. 4 on the NBA scoring charts -- now that he'll pass Wilt Chamberlain on Saturday night in Sacramento with five more points -- because the milestone is pretty massive, even with the Lakers still at risk to go down as the biggest, most star-studded flop in league annals. And because these lists, kindly passed along by Gregory Found from ESPN Stats & Info, might wind up being the only thing Kobe Bean Bryant wants to remember from the 2012-13 season.
MOST CAREER POINTS IN NBA HISTORY
| | |
| --- | --- |
| Kareem Abdul-Jabbar | 38,387 |
| Karl Malone | 36,928 |
| Michael Jordan | 32,292 |
| Wilt Chamberlain | 31,419 |
| Kobe Bryant | 31,415 |
MOST CAREER POINTS (IF WE COULD INCLUDE POSTSEASON PLAY)
| | |
| --- | --- |
| Kareem Abdul-Jabbar | 44,149 |
| Karl Malone | 41,689 |
| Michael Jordan | 38,279 |
| Kobe Bryant | 37,055 |
| Wilt Chamberlain | 35,026 |
KOBE VERSUS WILT
| Category | KOBE | WILT |
| --- | --- | --- |
| NBA seasons | 17 | 14 |
| Seasons with Lakers | 17 | 5 |
| NBA titles | 5 | 2 (1 w/LA) |
| NBA MVP awards | 1 | 4 (0 w/LA) |
| Finals MVP awards | 2 | 1 (1 w/LA) |
| All-Star selections | 15 | 13 |
| Career points | 31,415 | 31,419 |
TWO HIGHEST-SCORING GAMES IN NBA HISTORY
| Cat. | WILT's 100 | KOBE's 81 |
| --- | --- | --- |
| Date | Mar. 2, 1962 | Jan. 22, 2006 |
| Team | Warriors | Lakers |
| Opponent | at Knicks | vs. Raptors |
| FG | 36-63 | 28-46 |
| FT | 28-32 | 18-20 |
25.0 PPG, 5.0 RPG, 4.0 APG IN NBA CAREER
Name
PPG
RPG
APG
Michael Jordan
30.1
6.2
5.3
Wilt Chamberlain
30.1
22.9
4.4
LeBron James*
27.6
7.3
6.9
Elgin Baylor
27.4
13.5
4.3
Jerry West
27.0
5.8
6.7
Oscar Robertson
25.7
7.5
9.5
Kobe Bryant *
25.5
5.3
4.7
*Denotes active player
Five more pertinent thoughts/nuggets:
• Kobe is still a whopping 6,972 points shy of Kareem Abdul-Jabbar's NBA record of 38,387.
• Wilt Chamberlain's Overbrook High School in Philadelphia and Kobe Bryant's Lower Merion High School in Ardmore, Pa., are separated by 3.6 miles, according to ESPN Stats & Info's Gregory Found.
• Five of the top six scorers in NBA history have played for the Lakers, with Shaquille O'Neal at No. 6 with 28,596 career points.
• Kobe has played 1,232 regular-season games to Wilt's 1,045 thanks to playing three extra seasons in the NBA.
• Wilt's career scoring average of 30.07 points per game is second all time, just behind Michael Jordan's 30.12. Kobe's 25.5 points per game ranks 11th, behind Elgin Baylor, Allen Iverson, Kevin Durant and George Gervin among others.
10. Corner 3
Three quick slams and dunks from the deepest recesses of Weekend Dimedom:
1. Any list of the greatest single seasons ever has to start with the 1995-96 Bulls and 1971-72 Lakers. The 1985-86 Celtics and 1965-66 Celtics are up there, too, along with the 1987-88 Lakers who repeated as champs and the second of L.A.'s three-peating squads in 2000-01. And no such list is complete without acknowledging the 1966-67 Sixers and the 1982-83 Sixers. The larger point: It's a really, really crowded list already. And we haven't even figured out how to wedge in at least one of Michael Jordan's teams from the Bulls' first three-peat in the early 1990s. Or one of Tim Duncan's four Spurs title teams. Or what to do with the Knicks team in 1973 that ousted the 68-win Celtics on the way to the mountaintop. What I do know amid all this congestion: Miami has to have a spot in the top 10 teams of all time if the Heat heap another championship onto last June's title and the second-longest winning streak in league history. Has to. That's why Twenty-Seven Straight was so meaningful. It squeezes Miami into one of the NBA's most exclusive and prestigious clubs --because winning 27 games in a row is so much harder to pull off than it sounds ... as long as this season is capped with a second straight title.
2. A legitimate question: What should the Clippers do when they clinch the Pacific Division to claim the first division crown in franchise history? Sharing the same building with the Lakers, should they go ahead and hang a banner anyway? I'm asking because I can't decide. (All I really want to see, to be fair, is an exhibition game played in Buffalo with Chris Paul and Blake Griffin wearing Ernie D and McAdoo's powder blue ... and me on press row.)
3. I have no Chicago connection. My favorite Chicago Bull growing up was indisputably Kenny Reeves. But I was truly saddened earlier this week to hear that Tom Boerwinkle had passed away at the age of 67. When I think of the NBA in the '70s, Boerwinkle always comes to mind, probably because I had such a knack during my first two years of collecting basketball cards -- 1976 and 1977 -- for racking up Tom Boerwinkles. And that kind of stuff stays with you. Same thing happens every time I see veteran NBA scout Greg Ballard at a game I'm covering. Ballard was a rookie on the 1978 Washington Bullets team that won it all. And that's the first NBA Finals that I remember being old enough to watch ... at least bits and pieces of it. Don't know why Mitch Kupchak, who I've crossed paths with so much more frequently over the years, never triggered the same effect. But seeing Ballard unleashes my nostalgic sappiness every time.