1. Early Ride On The Coaching Carousel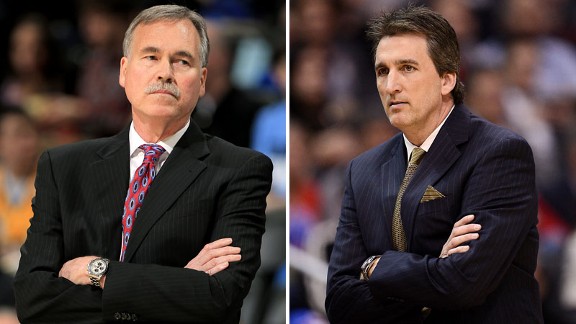 Getty Images, USA TODAY SPORTSAre Mike D'Antoni and Vinny Del Negro's jobs safe in Los Angeles? We examine their situations here.
Coaching contracts are generally shorter. Coaching salaries are generally lower. Add up those variables and the impact is clear.
Firing coaches is easier than it used to be.
Shorter deals and more modest wages, not terribly far removed from the days when the $5 million-a-year coach was commonplace, gives teams the incentive to change course more regularly. As we could well soon see.
The fast-approaching end to the regular season means that the NBA's coaching carousel will soon be spinning with its first wave of firings. And the league record for the most offseason coaching changes -- 11 between 2002-03 to 2003-04 and between 1975-76 to 1976-77 -- is not out of reach when you scan through the following breakdown listing every team in the league whose coach's future is either in immediate doubt or has been questioned at some stage this season.
A breakdown that, based on those parameters, amazingly includes 17 of the league's 30 teams:

ATLANTA HAWKS
Larry Drew is the first Hawks coach to get to the playoffs in each of his first three seasons since the venerable Lenny Wilkens in the mid-1990s.
But Drew, like most of his players, is also a free agent at season's end. So his ability to keep so many players with uncertain futures reasonably bonded and on a playoff track, Eastern Conference or not, might earn him another deal. Or it might not.
The intentions of new Hawks GM Danny Ferry, who inherited Drew, are still a tough read at this juncture, not unlike Ferry's plans with the Hawks' cap space if, as expected, they're unsuccessful in their free-agent pursuits of Atlanta's own Dwight Howard and Chris Paul. What we do know: Ferry remains one of Mike Brown's biggest fans. So assumptions about Ferry's interest in bringing Brown to Atlanta will live on until Brown is no longer a coaching free agent.

BROOKLYN NETS
P.J. Carlesimo has been more successful since succeeding Avery Johnson than many expected, with a record of 29-18 as interim coach entering Friday's play, but the consistent word out of Brooklyn remains that the playoffs will determine whether he has any legit hope of landing the job full-time.
Any hopes of getting to the Eastern Conference finals and helping his cause tremendously, however, would appear to require the Nets to slip to the No. 6 seed from their current slot at No. 4 to avoid a second-round collision course with Miami. If they stay where they are and go out to the Heat in the second round, as we'd all expect even should Brooklyn survive its first-round series, how competitive do the Nets have to be with Miami to keep Carlesimo in the running?
It's a question only Mikhail Prokhorov can answer. Yet the safe bet remains that the Russian billionaire won't wait too long after the Nets' elimination before re-opening the pursuit or Phil Jackson or Jeff Van Gundy or another marquee name (if there's another one to chase) given how much easier it'll be to make a splashy coaching hire to try to elevate this team than making major changes to such a high-dollar roster.

CHARLOTTE BOBCATS
Could Mike Dunlap actually be a victim of his own success?
Let me rephrase that: Could the Bobcats' inability to build off a 7-5 start no one saw coming, descending instead into a nosedive that has parked them for months in the bottom-two dungeon of ESPN.com's weekly NBA Power Rankings amid the predictable whispers about how resistant Charlotte's vets are to a rookie coach branded as a college guy, cost Dunlap his job after just one season?
I really didn't think so, but more than one source consulted this week identified Dunlap as a coach in potential jeopardy, which undoubtedly stems from Michael Jordan's recent proclamation to a group of season-ticket holders that major offseason changes are coming in Charlotte. I'm just not quite sure how much more Dunlap -- who was hired, remember, for his rep in player development -- was supposed to get out of a group that still needs lots of developing. Lots.

CLEVELAND CAVALIERS
The pressure is undeniably mounting on Byron Scott. Even after the final year of Scott's contract, worth a reported $4.5 million, was picked up well in advance of next season.
The pressure has been mounting, despite the fairly regular unavailability of Cleveland's three best players due to injury, through a 10-game losing streak that finally ended with a Friday night victory in Boston -- but not before testing the patience of Cavs owner Dan Gilbert.
Scott is believed to have the support of the front office, but there's a growing sense in Cleveland that Gilbert will be moved to make a change regardless, no matter how much Scott's fortunes have been affected by the various absences of Kyrie Irving, Anderson Varejao and Dion Waiters, and irrespective of the money Scott's owed in 2013-14. And if Scott sticks? It could well have as much to do with the Cavs' reluctance to dive into a crowded marketplace to find a replacement as anything.

DETROIT PISTONS
Even with so many teams being discussed here, no team in coaching circles is rated as more likely to make a change than the Pistons, whose 4-18 record since the All-Star break and increasingly frequent struggles to keep games competitive have clearly put Lawrence Frank's job in jeopardy despite the one season, followed by a team option, left on his contract.
League coaching sources consistently submit Frank's name as poised for dismissal when the regular seasons ends, with the Pistons said to be increasingly concerned by some of the body language and lukewarm responsiveness from Frank's players that's often evident to scouts sitting courtside.
Few coaches in the game are as prepared and thorough as Frank, but it's not resonating with this group. It would thus be a big surprise, at this stage, if the Pistons aren't soon in the market for a coach -- possibly a former player -- who might be able to vibe better with Greg Monroe, Andre Drummond & Co.

HOUSTON ROCKETS
The Rockets have been included in this discussion only because of the inevitable questions about Kevin McHale's interest in coaching onward after the unspeakable personal tragedy he and his family have been confronted with all season in the wake of daughter Sasha's passing in November.
But sources say McHale, within team circles, has quietly let it be known that he's planning to stay in the game. Which surely comes as welcome news to Rockets owner Les Alexander, who is said to be a huge McHale fan.
"Coach McHale 4 Coach of the Year," Rockets general manager Daryl Morey tweeted Friday, lauding McHale for his role in getting such a young team -- albeit transformed by the late October arrival of James Harden -- to the playoffs.

LOS ANGELES CLIPPERS
Vinny Del Negro insisted before a recent loss in Dallas that he has "a great future no matter what." The signals are nonetheless getting stronger and stronger that said future won't be at Staples Center, with Del Negro working on the flimsy final year of his original Clippers contract and L.A. looking nothing like the team -- whether that's due to health woes, locker-room fissures or coaching issues -- that won 17 straight games in December.
Could a deep playoff run save him? Even that might not be enough entering the most critical summer in the Clippers' history, with Chris Paul becoming a free agent July 1 and Clips management having always planned to let Paul have a big say (assuming he wants one) before any coach gets another long-term deal from them.
The Clippers' many injuries this season have to be factored into any evaluation of Del Negro. Seeing so little of Chauncey Billups, in particular, has really held them back, scuttling the plan to give Paul more of the time playing off the ball he relishes and robbing L.A. of its most proven playoff performer.
But Del Negro's well-chronicled desire for the Clips to trade for Boston's Kevin Garnett in February, coupled with his bosses' well-chronicled reluctance to part with both Eric Bledsoe and DeAndre Jordan in a KG deal, has spawned the impression of competing agendas behind closed doors in Clipperland. It's also undeniably worrisome for Del Negro that, according to sources, Stan Van Gundy's availability already has the Clippers highly intrigued.

LOS ANGELES LAKERS

If you listen to sports-talk radio in Los Angeles, chances are you see Mike D'Antoni as the Staples Center coach in the deepest trouble. Especially after all those "We want Phil" chants during Shaquille O'Neal's jersey retirement.
The reality is that it would likely take something way more drastic -- Dwight Howard, for example, telling the Lakers that he won't re-sign as a free agent if D'Antoni stays -- for the Lakers to change coaches again this soon. (There are plenty of L.A. insiders, for the record, who would argue that Dwight won't have as much say on bench matters, even as he heads to free agency on July 1, as Chris Paul across the hall.)
Even missing the playoffs entirely, which remains an eventuality all too real for the Lakers, wouldn't automatically doom D'Antoni. Not when he had to coach an old and injury-riddled team without the benefit of a training camp. And not with the Lakers widely expected to slice player payroll next season and thus believed to have little interest in spending top dollar on yet another coach while paying D'Antoni and Mike Brown.
It should be clear by now, with this bunch, that there are no guarantees. So we wouldn't dare suggest that D'Antoni is unequivocally safe. Things could change quickly if the playoffs, assuming the Lakers get there, get ugly.
There's also no denying that speculation about Phil returning to the organization -- either in a front-office role alongside Jeanie Buss, with Brian Shaw on the bench, or with Phil coaching for a brief third stint before handing off to Shaw -- won't go away. At this juncture, though, most signs point to D'Antoni returning next season and indeed getting that shot to not only have that training camp but also a healthier roster.

MEMPHIS GRIZZLIES
Lionel Hollins does not yet have a contract for next season. The emphasis, though, is firmly on yet.
One coaching source consulted this week said it was "very likely" that Hollins will receive a new contract from the Grizzlies after the playoffs, as initial frustrations from the coach in the wake of the Rudy Gay trade in late January -- and the bosses subjected to those frustrations -- have quickly faded thanks to the fact that Memphis still has the best team in franchise history even without Gay.
Word is that even a first-round exit is unlikely to dissuade the Grizzlies from trying to retain Hollins. There's also a theory out there that Hollins would actually like to survey the field, knowing he's sure to receive offers from other teams, but I'm not buying that one. Given how successful Hollins has been in Memphis and how well-regarded he is by Grizz fans, I don't see him looking to leave.

MILWAUKEE BUCKS
The Bucks' chaotic end to the regular season and their corresponding 4-10 funk, when they should be capitalizing on the absence of Rajon Rondo and Kevin Garnett in Boston to try to escape the East's No. 8 slot, can't help interim coach Jim Boylan's chances of returning next season.
Boylan's return has not been ruled out, with word circulating that no formal evaluation will be made until after the playoffs. But the Bucks are almost certainly headed for a dreaded first-round date with the Heat, so it's hard to picture how the playoffs are going to help any.
Perhaps they'll give Miami more resistance than the so-called experts expect, since the Heat have been troubled in the past by Milwaukee's frontcourt length and backcourt speed, but the Bucks' tension-filled finish prompted one source close to the situation to say he'd be "very surprised" if Boylan hangs on. Other coaching sources, meanwhile, continue to link Houston Rockets assistant Kelvin Sampson to the job if it does become open.

MINNESOTA TIMBERWOLVES
Wolves owner Glen Taylor recently told ESPN 1500 AM contributor Darren Wolfson that he thinks Rick Adelman will be back next season as Wolves coach. That was after Adelman recently told NBA.com's Scott Howard-Cooper he twice contemplated stepping down this season to be with his ailing wife at all times.
Taylor, though, also recently acknowledged to Wolfson that former Wolves coach Flip Saunders, now an ESPN analyst, recently met with him on behalf of a group interested in buying into the Wolves, which has since prompted considerable speculation about Saunders returning to the organization in management or a potential Adelman replacement should he decide to step down.
Either way it's Adelman, one win shy of 1,000 in the regular season, who'll decide whether or not Adelman is coaching the Wolves in 2013-14, when they have to have better luck after injuries to Kevin Love and just about everyone else in town submarined a season of KG-level hope and anticipation before it ever really got started. Front-office chief David Kahn, by contrast, will have to wait to hear from Taylor if he's keeping his job beyond this season, after Taylor said late last month that he's still deliberating.

PHILADELPHIA 76ERS
The distinct sense I get in Philly is that the decision whether Doug Collins, at 61, decides to continue coaching the Sixers after projected franchise cornerstone Andrew Bynum played zero minutes this season will be left fully up to Collins.
He suggested as much recently while Adam Aron, Philly's CEO, told a town-hall style gathering of Sixers fans in late March that "Doug Collins is under absolutely zero pressure from ownership."
The toll of this Bynum-less season on Collins, mind you, has been there for all to see, with historians quick to note that the uber-intense star of the United States' 1972 Olympic squad and former Sixers draftee has never lasted more than three seasons in any his three previous coaching stops. Year 4 on Collins' contract with the Sixers, interestingly, was officially a team option that the club already picked up in October, but the team's stance has made it Doug's option.

PHOENIX SUNS
Lon Babby received a two-year contract extension this week to continue running the Suns' basketball operations, meaning he'll have been granted a full five years by the end of that run to get the Suns on some firm post-Steve Nash footing.
It's not Lindsey Hunter's fault that the Suns aren't anywhere close yet. Or that they're on course instead to record the second-lowest winning percentage in franchise history. The jury, though, is still out on whether Hunter is NBA coaching material, with the Suns focused on getting minutes for their kids and improving their draft prospects -- more than trying to win games -- since Hunter replaced Alvin Gentry. Further questions stem from the fact that Hunter is known to be leaning so much on assistants like Igor Kosokov because of his lack of prior coaching experience.
One source with knowledge of the situation said this week that Hunter has a "good shot" to see his interim label switched to permanent head coach at season's end. Makes sense with Babby staying and general manager Lance Blanks already under contract for next season, but the reality is that Goran Dragic, Jared Dudley and Marcin Gortat need a lot more help for the coaching to really make a difference. Assuming Dudley and Gortat aren't dealt to teams better equipped to use those two vets.


SACRAMENTO KINGS
A housecleaning is expected in Sactown as soon as the small matters of where the Kings play next season and who owns them are resolved.
The only thing clear here at the minute, after everything we heard out of New York on Wednesday, is that what was long presumed to be a slam-dunk sale to Seattle is even more of a 50/50 charge-or-block sort of call than we described in this cyberspace last week, thanks to the relentless work of Sacramento mayor Kevin Johnson to keep his city in the game.
The leaguewide presumption remains that longtime front-office chief Geoff Petrie and coach Keith Smart will not be retained by whoever ultimately assumes control of the Kings. But that's a far easier conclusion to reach than trying to identify who's leading the Kings Sweepstakes at the minute.

TORONTO RAPTORS
The Raptors are limping to the end of a frustrating fifth straight season out of the playoffs, after coming into 2012-13 harboring genuine aspirations about competing for a playoff spot. But this time they're approaching the finish line in the unorthodox position of the coach having already seen his option for next season picked up, while the front-office chief awaits word on whether he's staying or going.
Team president Bryan Colangelo is still waiting to hear if he'll be extended or at least have his 2013-14 option activated. Dwane Casey has one season left on his original three-year deal because his 2013-14 option was invoked after last season and, as such, would appear to be on safer ground than Colangelo.
Yet getting a dependable forecast on what the Raptors will end up doing on the bench after another season of disappointment -- with the brief lift provided by the midseason Rudy Gay trade gambit fading fast -- will have to wait until Colangelo's fate is known. And the signals there, so far, are mixed, with the new owners who run both the Raptors and hockey's Maple Leafs still settling into town & but having already fired Maple Leafs GM Brian Burke.

UTAH JAZZ
My Grantland colleague Zach Lowe has written twice about the Jazz in recent weeks (found here and here) if you want to go in-depth about the team locked in battle with the Lakers for the West's No. 8 seed.
The quickie summation for this format, from those plugged into the coaching grapevine, is that Corbin's position is likely endangered only if the Jazz miss out on the playoffs. And even then -- even amid ongoing doubts about his ability to make on-the-fly game adjustments and what has been described as an unremarkable sideline presence -- Corbin could well hang on.
Don't forget that (A) he's working for a franchise not exactly known for shuffling coaches in and out and (B) Corbin had one of this season's tougher coaching assignments given all the free agents on Utah's roster and the accompanying mystery surrounding what happens with Al Jefferson and Paul Millsap with Derrick Favors and Enes Kanter in line for bigger roles. So don't be surprised if he's back for the final year of his contract.

WASHINGTON WIZARDS
The Wizards' John Wall-fueled revival over the past 42 games hasn't just banished the painful memories of that 4-28 start. It has also given new life to Randy Wittman, who entered the season with a career winning percentage of .331 as a coach and wasn't sure he'd make it to the All-Star break amid all the early losing.
Now?
Wittman's situation is being cited in this late-season spin on the carousel to emphasize that he's no longer in danger. He would appear to have less to worry about than virtually all of his aforementioned colleagues, with one year left on his contract and the Wiz possessing a team option for the 2014-15 season.
Dimes past: March 24 | 25 | 26 | 27 | 28 | 29-30 | 31 | April 1 | 2 | 3 | 4
ESPN Senior Writer
• Senior NBA writer for ESPN.com
• Began covering the NBA in 1993-94
• Also covered soccer, tennis and the Olympics
2. Big Man Of The Hour

O'Neal
Maybe he wasn't quite the MDE he always proclaimed himself to be ... but he's up there. Way up there. Shaquille O'Neal is one of the two or three most dominant singular forces in NBA history.
As the following compilation of his accomplishments will attest.
In tribute to Shaq's jersey retirement in Lakerland, this weekend's array of lists, charts and tables has been assembled to remind you just how much good havoc O'Neal wreaked in his career, highlighted by those three titles he co-delivered to Hollywood with Kobe Bryant in their eight seasons together.
You could quibble with Shaq's questionable-at-times conditioning. Or those rebounding numbers that weren't sufficiently gaudy for some. Or the obvious: all those clanked free throws.
Just don't forget how good he was at his best ... as seen in 1999-2000 when Shaq joined Michael Jordan and Willis Reed as the only players in NBA history to win the All-Star Game MVP, league MVP, Finals MVP and the NBA championship in the same season.
He's the ninth player to have his jersey immortalized at Staples Center, with all eight predecessors already in the Naismith Memorial Basketball Hall of Fame. The rest of the résumé ain't bad, either, as you'll see below:
Retired Lakers Jerseys
| Player | Number | Tenure w/ Lakers |
| --- | --- | --- |
| Wilt Chamberlain | 13 | 1968-73 |
| Elgin Baylor | 22 | 1958-71 |
| Gail Goodrich | 25 | 1965-68, 1970-76 |
| Magic Johnson | 32 | 1979-91, 1995-96 |
| Kareem Abdul-Jabbar | 33 | 1975-89 |
| Shaquille O'Neal | 34 | 1996-04 |
| James Worthy | 42 | 1982-94 |
| Jerry West | 44 | 1960-74 |
| Jamaal Wilkes | 52 | 1977-85 |
Shaq's Career Breakdown
Lakers
Other Teams
Seasons
8
11
PPG
27.0
21.2
RPG
11.8
10.1
Titles
3*
1
* NBA Finals MVP All Three Times
Legendary Lakers Centers
| | PPG | RPG | Titles |
| --- | --- | --- | --- |
| Shaquille O'Neal | 27.0 | 11.8 | 3 |
| Kareem Abdul-Jabbar | 22.1 | 9.4 | 5 |
| Wilt Chamberlain | 17.7 | 19.2 | 1 |
Most Career Points
| | |
| --- | --- |
| Kareem Abdul-Jabbar | 38,387 |
| Karl Malone | 36,928 |
| Michael Jordan | 32,292 |
| Kobe Bryant | 31,457 |
| Wilt Chamberlain | 31,419 |
| Shaquille O'Neal | 28,596 |
Most Postseason Points
| | |
| --- | --- |
| Michael Jordan | 5,987 |
| Kareem Abdul-Jabbar | 5,762 |
| Kobe Bryant | 5,640 |
| Shaquille O'Neal | 5,250 |
| Karl Malone | 4,761 |
Highest Career PER
| | |
| --- | --- |
| Michael Jordan | 27.9 |
| LeBron James | 27.6 |
| Shaquille O'Neal | 26.4 |
| David Robinson | 26.2 |
| Wilt Chamberlain | 26.1 |
Most All-Star Game Selections
| | |
| --- | --- |
| Kareem Abdul-Jabbar | 19 |
| Shaquille O'Neal | 15 |
| Kobe Bryant | 15 |
| Kevin Garnett | 15 |
Most NBA Finals MVPs
Michael Jordan
6
Shaquille O'Neal
3
Tim Duncan
3
Magic Johnson
3
Note: Award has existed since 1969 Finals
3. Western Conference

These are interesting times in Houston, with the Rockets headed to the playoffs for the first time since 2008-09 as a high-scoring, lower-seeded upstart while planning behind the scenes for this summer's all-out pursuit of Dwight Howard in free agency.
The Dallas Mavericks have long been regarded as the biggest threat in Texas to steal Howard away from the Los Angeles Lakers, but the Rockets' case looks increasingly strong thanks to the presence of James Harden, whose 25.9 points per game are the most we've ever seen from a player who switched teams after appearing in the previous season's NBA Finals.
The Rockets, furthermore, are unconcerned by the fact that, at present, they wouldn't be able to offer a four-year maximum contract to Howard. While true that Howard is eligible to earn $20,513,178 next season -- and that Houston's current ceiling for a Year 1 offer to Dwight is believed to be in the $18 million range -- sources close to the situation say the Rockets are confident that they can make the necessary trades to get to a full four-year max if Howard is willing to join them.
The Heat did something similar in the summer of 2010, offloading Michael Beasley to Minnesota to create the requisite salary-cap space to flank Dwyane Wade with LeBron James and Chris Bosh. In Houston's case, sources said, one obvious option is trading Thomas Robinson for a future draft pick without taking any salary back if necessary, which shouldn't be as hard as finding a taker for Beasley was for the Heat.
Robinson's rookie season has been underwhelming in the extreme, but much of that is widely believed to be circumstantial after the former Kansas star was taken No. 5 overall by Sacramento in the 2012 NBA draft when the Kings already had DeMarcus Cousins. No one is about to write Robinson off yet after he became just the fifth top-five pick to be traded as a rookie in the NBA's lottery era dating to 1985, stolen by the Rockets on the eve of the trade deadline in February in a deal that sent Patrick Patterson to the Kings.
---
Some numbers of note in the West this week:
2,889: Portland's Damian Lillard entered the weekend having logged 2,889 minutes this season, only 12 shy of league leader Kevin Durant's 2,901. If Lillard manages to pass Durant during the Blazers' final seven games, he'd become just the third rookie in NBA history to rank No. 1 overall in that category, joining Wilt Chamberlain (1959-60) and Elvin Hayes (1968-69).
6: The Nuggets outscored the opposition by nearly six points per 48 minutes with Danilo Gallinari on the floor this season. Now lost until 2013-14 after suffering a torn ACL in Thursday's one-point home escape against Dallas, Gallinari also had a plus/minus of plus-334 to lead Denver.
4: Andre Iguodala's driving bucket to seal Denver's comeback over Dallas in that 95-94 triumph was the fourth game-winning basket in the final five seconds of the fourth quarter or overtime in Iguodala's career. The first three were in a Philadelphia uniform against Minnesota (January 2006), Memphis (December 2007) and the L.A. Lakers (March 2009).
19: Houston's James Harden is up to 19 30-point games in his debut season with the Rockets. In 220 regular-season games with Oklahoma City, Harden got there just three times.
94: Kobe Bryant has played 94 of a possible 96 minutes in the Lakers' past two games and, at age 34, averages 38.2 minutes per game, fourth among guards this season.
---
The Mavericks, if you're still curious, currently have only one second-round pick their own -- in the upcoming draft. Which means they'd have to trade for that theoretical pick in the 50s if they're in any way serious about having one available at the end of the second round to use on women's basketball star Brittney Griner. Because Griner is not an early entry candidate, she doesn't have to formally declare for the NBA draft to be eligible for selection. ... The Blazers played host to Houston on Friday night facing official elimination from playoff contention, but that's realistically the direction they've been heading since a Jan. 10 win at Miami that hiked them to seventh in the West. Since that mammoth upset, Portland is 13-27 despite the rookie brilliance of Damian Lillard. The solace for Blazermaniacs: Lillard, LaMarcus Aldridge and Nicolas Batum form a promising three-man core for the future. And their team is on course to keep its pick in the June draft instead of sending it to Charlotte to complete the conditions of Portland's acquisition of Gerald Wallace in 2011. The pick is top-12 protected in the next three drafts but must be conveyed to the Bobcats in 2016 if they haven't already claimed it. Portland, of course, traded Wallace to Brooklyn last season to land the draft pick that became Lillard.
4. Eastern Conference

I'd like to think that the previous Weekend Dime was the catalyst for Philadelphia signing Justin Holiday for the rest of the season Monday.
It probably wasn't, of course, but what's the harm in letting me think it?
The call-up from the D-League's Idaho Stampede reunites Justin with younger brother Jrue Holiday and takes this season's total of siblings on the same team to an NBA-record three such duos. You'll recall that the impetus for last weekend's extended discussion about brother tandems in the same locker room was sparked by the prospect of Markieff Morris and Marcus Morris playing host to Indiana's Tyler Hansbrough and younger brother Ben Hansbrough last Saturday night in the NBA's first-ever sibling duel. Before this season, there had been only eight sibling duos on the same team in league history.
The Sixers, interestingly, had to waive Jeremy Pargo to make roster room for Justin Holiday, reducing the overall total of active brother tandems in the league just as Jannero Pargo was being signed to a rest-of-the-season deal in Charlotte.
In addition to the Holidays, Morrises and Hansbroughs, there are three other sibling combos on different teams: Memphis' Marc Gasol and the Los Angeles Lakers' Pau Gasol; Brooklyn's Brook Lopez and New Orleans' Robin Lopez; Atlanta's Jeff Teague and Chicago's Marquis Teague. The Pargos and the Zellers have also been on that list this season but are off now after Luke Zeller was released by Phoenix in February, leaving only Tyler Zeller in Cleveland.
The not-so-heartwarming aspect of the whole trend: Jrue Holiday missed 22 of 24 shots from the field Wednesday night in Charlotte -- in one of the worst single-game shooting performances ever -- in Philly's first game after Justin's arrival. According to the Elias Sports Bureau, only four other players in the shot-clock era dating to 1954-55 have endured nights that frigid: Truck Robinson (2-for-23 in 1978-79), Mike Newlin (1-for-22 in 1972-73), Bob Cousy (2-for-22 in 1960-61) and Kenny Sears (2-for-22 in 1960-61).
---
Some numbers of note in the East this week:
7: Carmelo Anthony is now up to seven games this season with at least 40 points entering the weekend, tied with Kobe Bryant for the league lead and one ahead of Team USA teammate Kevin Durant. Melo awoke Friday trailing Durant by 0.18 points per game in the race for the league scoring title and is trying to become the first Knick to win it since Stein Line HQ Hall of Famer Bernard King back in 1984-85.
3: Melo's 50 points Tuesday night in Miami accounted for just the third 50-point game this season, following Steph Curry's 54 against New York and Kevin Durant's 52 against Dallas. He got there without taking a single shot in the paint and with all 53 of his offensive touches originating outside the paint. The average distance of his field goal attempts in that game was 20.4 feet, compared to 11.3 feet and 10.9 feet in Anthony's two previous 50-point games.
90: Anthony's combined 90 points against the Heat and Hawks this week fell one basket shy of the season's highest two-game total. Golden State's Steph Curry scored 92 points in a two-game span in February, unforgettably fueled by the 54 points he rang up at Madison Square Garden on Feb. 27.
1: Brooklyn's slimmed-down and increasingly spry Deron Williams finally brought his season-long dunk drought to an end this week by throwing down at last in Cleveland. D-Will had 13 dunks last season and 9, 15, 7 and 15 in the previous four seasons before that.
122: "Clutch time" is defined as the final five minutes of the fourth quarter and overtime with the score within a margin of five points. In 170 minutes of clutch time this season, Miami has outscored opponents by 122 points, good for a league-leading margin of plus-34.5 points per 48 minutes. The Thunder and Bucks are tied for second in that category, but with a margin of just plus-14.5 points per 48 minutes.
5. One-On-One ... To Five
Five questions with Pacers center Roy Hibbert:
Hibbert
Q: How close are the Pacers to where they should be heading into the playoffs?
A: I'd say we're getting there. Toward the end of the [regular] season, we all need to start peaking and buckling down. I think we're gradually starting to do that.
Q: I was watching NBA TV that night that you guys were way up on Atlanta at home and let them get back into it and then you went on the air [in a postgame interview on NBA TV] and ripped the whole team for not playing hard enough. How did that go over?
A: I talked to some of the guys [afterward], some of the coaches. I think they were pretty happy with how I wanted to be a leader. ... I just want to win so bad. And we have the capability to do it. We're a better team than we were last year. I just don't want us, as a team, to have any hiccups.
Q: But I'm sure you know that pretty much all of us on the outside are already writing Miami into the Finals and saying no one in the East can touch 'em. How much of an annoyance is that?
A: They are the best team. They're the king of the hill right now. They are the best team and went on an incredible streak. But there are other teams out there that are hungry to go out there and compete with them.
Q: I know the season didn't start off for you personally how you wanted, but how do you rate the state of your game right now?
A: I've gotten past that. If I can't score, I'm just going to be a defensive presence, block shots, get rebounds. Just be an all-around team player. ... My teammates have been rallying around me, but I just want to take good shots and be a complete player. Don't force things.
Q: Was that part of the problem early? Trying to force things or pressing because you signed a big contract [in the offseason]?
A: I had a wrist injury and it was affecting my touch. My wrist was a real big problem. I'd shoot [the ball] straight and it would be off a little bit to the right. But we got that fixed and I've been shooting a higher percentage and playing a little bit better. The confidence is there.
6. Paving The Way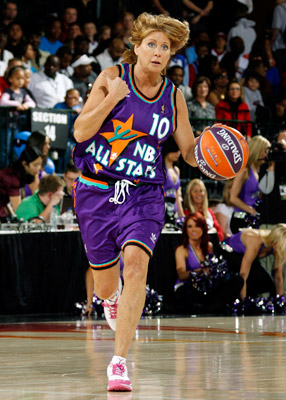 Joe Murphy/NBAE/Getty ImagesNancy Lieberman, who played in two NBA summer leagues in the 1980s, is encouraging Brittney Griner to give it a go in the NBA. (See Box 8.)
7. Chatter Box
In his weekly visit with the NBA on ESPN Radio studio show, Marc Stein and host Kevin Winter discuss Miami's decision to rest LeBron James and Dwyane Wade in San Antonio ... and some of Stein's favorite memories from covering Shaquille O'Neal.
• Listen to the audio here

8. Marc's Quote
"There's going to be that segment that just keeps asking: 'Why?' Everyone has an opinion and they think we're all entitled to hear it."

Lieberman
Women's basketball pioneer Nancy Lieberman, addressing the naysayers Brittney Griner will subject herself to if she decides to take Mark Cuban up on his offer to try out for the Dallas Mavericks.
The bulk of Lady Magic's views on the subject are contained in this story, but one element of the modern game that wasn't discussed in depth there -- and which makes Griner's situation so different when compared to old-school groundbreakers like Lieberman and Ann Meyers Drysdale -- is the heft and volume of the criticism she's already getting via social media just for expressing a willingness to try to hang with NBA players.
"Twitter and all the social media," Lieberman said this week, "is just going to exacerbate it."
Lieberman reminds that there was no shortage of negativity inside and outside arenas when she went to summer league in the early 1980s with both the Lakers and the Jazz -- "I heard some of the idiots," she says now -- but the 54-year-old got a taste of the new-age blowback smothering Griner already after tweeting out some support for the Baylor star Wednesday night.
Meyers Drysdale, who went to training camp with the Indiana Pacers in 1980, raised similar concerns.
Employed now by the WNBA's Phoenix Mercury, who happen to have first crack at Griner in the WNBA draft on April 15 as holders of the No. 1 overall pick, Meyers Drysdale insisted to USA Today that she wasn't trying to dissuade Griner from following in her footsteps ... but also echoed the idea that the external noise nowadays would probably be as uncomfortable for Griner as anything she encountered on the floor in the men's game.
"It would be the media, what people are tweeting, websites," Meyers Drysdale said.
"Even now they've questioned her gender. Why are people so mean to her? She's a great kid."
Or as famed English soccer manager Harry Redknapp put it this week, talking about the noise directed at modern-day players and coaches via Twitter: "The world is full of nutters." Tuning them out would be as key for Griner as anything if this story goes any further.
9. Griner Debate
Q: Does this discussion do a disservice to the women's game?

Griner
Stein: I've heard that point raised and I totally understand why. And the pessimistic nature of some of my answers might seem to support that argument. But I'm not buying it. Not when a pioneer like Nancy Lieberman, in a chat we had Wednesday night, acknowledged that women "cannot compensate" for their physical differences from men but also said she doesn't regret anything about her two summer-league stints in the early 1980s with the Lakers and Jazz. If someone who's done as much for the women's game as Lieberman sees Griner trying out for the Mavs' summer-league squad as a move with "no downside" -- since it'll unequivocally make her a "better player" -- I'm not going to try to manufacture outrage for her.
To read the whole 5-on-5 roundtable discussing Mark Cuban's offer to Britney Griner to audition for the Mavericks in a pre-draft workout, click here.
10. Corner 3
Three quick slams and dunks from the deepest recesses of Weekend Dimedom:
1. Not going to lie: I was disappointed during Shaq's jersey-retirement ceremony when he didn't mention Kobe -- or any of his former Lakers teammates -- amid a stream of the requisite thank-yous. Especially after what I found to be a pretty warm video tribute from Kobe that No. 24 recorded before the game because he knew he'd have to get treatment during halftime of a must-win game against Dallas. So I tweeted out that disappointment as all this was happening Tuesday night. However ...
2. 2. I've come to believe that Shaq fully intended to mention Kobe, Robert Horry et al, and just lost his bearings in the moment. And even if that hunch is wrong? I don't want to get overly preachy about it. The Shaq-and-Kobe tag team, with all its highs and spats and rings and titles squandered, was so consistently good to media pests like me. We got more mileage out of that marriage than they did, probably because -- as Kobe so colorfully likes to explain these days -- it's not so easy to fit two Wilt-and-Michael-sized supernovas in the same locker room. If there's always going to be a measure of unease between them, we're just going to have to live with it & with those of us in the media having the least reason to complain. They were an irresistible tandem to cover, flaws and all, just the way they were and still are. So instead of lamenting what they might have achieved with more harmony, I prefer to look forward with great anticipation. Just imagine how good the 50-for-50 doc on these two is going to be someday.
3. Lots of talk out there lately about Steph Curry and how consistently good he's been since that All-Star snub. Sports Illustrated's Chris Ballard took it up a notch with this in-depth piece on the Golden State sharpshooter that you're urged to read. Allow me, though, to boil it all down for you in (uncharacteristically) succinct fashion: Curry's $44 million contract extension back in October, for all the legit concern every time those ankle woes resurface, is an absolute steal for the Warriors. And no longer can anyone dispute that. You've got to live with the fear of more ankle trouble when Steph can do what he's been doing.
P.S. Thoroughly enjoyed my beloved Washington Post's efforts to deeply detail the importance of gum in an NBA locker room, specifically Washington's, in this Thursday piece. It's one of the season's must-reads and skillfully sets me up to give you yet another glimpse into the freak show that is your Weekend Dime gatekeeper. So here goes: I, too, am ridiculously particular about my gum like some of those Wizards quoted by The Post. How ridiculously particular? Let's just say I've been known to special order my go-to gum of choice -- Chiclets! -- and make use of only the 200 spearmint pieces from these bulk boxes which also happen to contain 200 peppermint pieces. I wish I was making all this up, but I know these little tidbits bring us closer together. So I feel obliged to share them no matter how alarming they are.