4. Eastern Conference

It's easy to forget now, after they tried so hard to trade him in February, but the Hawks did want to sign Josh Smith to a contract extension before the season started.
The figure shared with me this week: Atlanta's offer coming into the 2012-13 campaign was a three-year extension worth in excess of $45 million.
Yet sources close to the situation say that the extension talks never got too deep because Smith made it clear from the start that he wanted to make it to free agency, which would enable him to sign a longer deal. League rules on extensions precluded the Hawks from offering anything longer than three extra years during the season.
The Hawks, however, grew increasingly uneasy with the arrangement as the season wore on, since Smith's stance set him up to be an unrestricted free agent July 1 who could leave town without compensation. So Atlanta aggressively shopped Smith before the Feb. 21 trade deadline and was engaged in serious talks with Milwaukee right up to the trade buzzer. But the Bucks, unwilling to include Monta Ellis or Ersan Ilyasova in the deal, watched the Hawks walk away from the table with mere minutes to go before the deadline and instead swing a deal with Orlando headlined by J.J. Redick.
Now to see what happens on the open market for Smith in 80 days. The all-purpose lefty forward who perennially ranks as one of the league's foremost defenders has no shortage of detractors as well as fans. Just don't forget that he's headed into a players' market -- with numerous teams projected to have salary-cap space to spend -- as the No. 3 available free agent in the latest ESPN rankings courtesy of ESPN Insider's Amin Elhassan.
---
Some numbers of note in the East this week:
8: LeBron James has crossed the 2,000-point plateau for the eighth time in his 10 NBA seasons. Only Michael Jordan and Karl Malone, before James, managed that feat eight times in their first 10 seasons.
12: When the Knicks' freshly halted 13-game win streak reached 12, it marked the first time in league history that five different teams in a single season had amassed winning streaks that spanned at least a dozen games. The Heat, Clippers, Nuggets and Thunder are the other four teams.
1: Orlando's Nikola Vucevic, with his 30 points and 20 boards against Milwaukee on Wednesday, joined Shaquille O'Neal (eight) and Dwight Howard (six) as the only players in Magic history to post a 30-and-20 game. Vooch, though, is the Magic's first-ever player to reach 30 points, 20 boards and 5 assists in a single game.
9: Brooklyn's Reggie Evans leads the league with nine 20-rebound games this season. Tyson Chandler and Dwight Howard are tied for second with four; Vucevic has three. Evans has also snagged at least 13 rebounds in eight straight games, good for the longest such streak in Nets history. Buck Williams (twice), Jayson Williams (twice) and Kris Humphries all had streaks spanning seven games with 13 boards or more. (Anyone else surprised Jamie Feick isn't on the list?)
3: Thanks to LeBron James and Dwyane Wade, 2012-13 will go down as just the third season in league history with two teammates averaging at least 20 points, 5 rebounds and 5 assists. Michael Jordan and Scottie Pippen did it in Chicago in 1991-92; John Havlicek and Jo Jo White did it in Boston in 1971-72.
---
The Bucks' 8-3 start under interim coach Jim Boylan is a distant memory. In the wake of our Weekend Dime spin on the coaching carousel, I've only heard stronger rumblings that Boylan has little-to-no shot of retaining the job beyond the playoffs given Milwaukee's 5-12 slide entering the weekend and the increasingly unresponsive play from his team approaching the first-round buzzsaw that is Miami. ... Philly management has said repeatedly that the decision to either keep coaching or step aside will be Doug Collins' call, with Collins staying on in a front-office or advisory role if he decides to leave the bench said to be one potential option. ... The Sixers' rest-of-the-season deal with Justin Holiday includes a team option for next season that must be bought out for $50,000 by Aug. 15 if they decide not to retain Jrue's older brother. The Nets on Friday signed swingman Kris Joseph to a similar rest-of-the-season deal with a team option for 2013-14.
5. Western Conference

Kobe Bryant, at the age of 34, went into the weekend averaging 45.2 minutes in the month of April.
Which makes this the busiest month of his NBA career on a minutes-per-game basis.
In December 2004, at 26, Bryant averaged 45.1 minutes per game. In March 2007, at 28, he averaged 44.8 minutes per game.
Yet you could argue that these Lakers, compared to any purple-and-gold assemblage in Bryant's previous 16 seasons, have never been as desperate as they are now ... which must be why Mike D'Antoni can't bear to drag Kobe off the court no matter what the postseason cost might be. Kobe's premise appears to be that the Lakers have to at least make the playoffs at any cost, even as a lowly No. 8 seed, to have any hope of dodging the Biggest Flop Of All Time label that potentially awaits this star-studded cast.
I was nonetheless heartened this week to see Kobe finally ease off the retirement chatter he's been throwing out there since the summer, if only slightly, by acknowledging that he "could play another five years" if he wanted to. The prospect of him walking away after next season, no matter how many times he's volunteered that scenario lately, is simply impossible to fathom given Bryant's level of play lately on top of his famously hypercompetitive nature and how well he's been coping with such a ridiculous workload.
How ridiculous?
Kobe played 80 percent of L.A.'s minutes through the season's first 71 games ... and then 95.2 percent of the available minutes in the Lakers' past six games. And then Micah Adams and my pals from ESPN Stats & Info dropped this one on me Thursday night: Bryant is now up to nearly 20½ seasons of full-blown competitive minutes when you add in his time from the playoffs and with Team USA.
Entering Friday night's home date with Golden State, Kobe had logged 45,325 minutes in the regular season, another 8,638 in the playoffs and 747 in competitive games with the national team. The total, representing an additional 3.2 seasons, is 54,710 minutes at the highest level.
---
Some numbers of note in the West this week:
2,000 and 400: Want more? Bryant recently became the first player in NBA history to rack up at least 2,000 points and 400 assists at the age of 34 (or older) on the day of his team's season opener. Not a single 33-year-old, according to the Elias Sports Bureau, has ever done that. The previous "oldests" were a couple of 32-year-olds: Alex English in 1986-87 and Allen Iverson in 2007-08.
47: Bryant's 47 points Wednesday night in Portland were the most by a visiting player in Rip City since Larry Bird scored 47 at the old Memorial Coliseum on Valentine's Day in 1986. Elias says Golden State's Purvis Short was the last visiting player to score that many points in a non-overtime game in Portland back on Nov. 11, 1984.
8: Entering the weekend, Kobe and Carmelo Anthony were tied for the league lead with eight 40-point games each this season. OKC's Kevin Durant is next in line with six.
4: The Clippers recorded 4-0 sweeps this season over the Timberwolves, Jazz and Lakers. It's the first time in franchise history that the Clips have managed three 4-0 sweeps in a single season. They actually enjoyed just three 4-0 season sweeps combined over the previous 18 seasons.
15 and 10: Tim Duncan is the first NBA player aged 36 or older to be averaging at least 15 points and 10 rebounds per game since Robert Parish, at 36, averaged 15.7 points and 10.1 boards for the Celtics in 1989-90.
---
Utah's hopes of sneaking past the Lakers into the West's final playoff berth have dwindled since a hope-generating win at Golden State as recently as Sunday night. After finally finding a way to win one in Portland, L.A entered the weekend as a 73.5 percent favorite, according to ESPN.com's Hollinger Playoff Odds, to snag the No. 8 spot. But one source close to the situation, echoing the sentiments in last weekend's Weekend Dime, insisted to ESPN.com this week that Tyrone Corbin will be back next season for the final year of his contract even if the Jazz -- filled with free agents and youngsters -- fail to reach the postseason. ... Suns center Jermaine O'Neal, I'm told, is leaning strongly toward playing in 2013-14 in what would be his 19th season. He's as healthy as he has been in years, so score another one for the knee clinic in Germany that Kobe happens to swear by, as well as the Suns' vaunted athletic training staff. The 34-year-old big man will be a free agent in July.
6. Paving The Way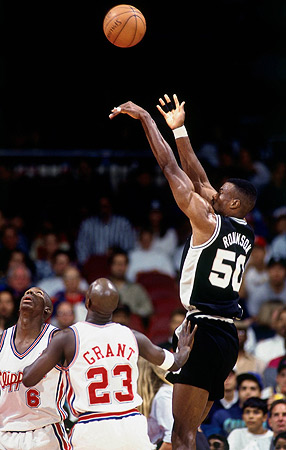 Andrew D. Bernstein/NBAE/Getty ImagesIt won't be enough to make him an MVP for the first time, but Kevin Durant is producing at a level unseen since David Robinson in 1993-94. That's the season The Admiral capped with a 71-point game against the Clippers. (See Box 3).
7. Chatter Box
Marc Stein joins host Marc Kestecher on the NBA on ESPN Radio studio show to discuss the Knicks' winning streak, Miami's focus on late-season rest and Jay-Z's decision to sell his shares in the Nets to become a player agent.
• Listen to the audio here

8. Marc's Quote
Hibbert
"You're still using the BlackBerry?"
Pacers center Roy Hibbert, sounding even more incredulous than the words can convey, upon seeing the hardware yours truly was toting to tape our recent chat in last week's Weekend Dime.
The truth is that I do now carry an iPhone everywhere as well. Not trying to be a two-phone showoff, but the debacle that ensued when I tried to snap occasional pictures during the 2012 Olympics -- who can forget this unforgivably fuzzy snap of Brazilian legend Oscar Schmidt interviewing Kobe Bryant from July? -- convinced me to add the NBA smartphone of choice to my nightly tool belt.
Yet as I patiently explained to the understanding Hibbert, I can't -- and won't -- give up my beloved BlackBerry keyboard. Until the day comes that you can type as fast on an iPhone as you can on a BlackBerry, my BB Bold sports a no-trade clause. Ironclad. (Until I can acquire the newest BB with an even fancier keyboard.)
The exchange was good for a laugh, though. It also gave me an idea: Start seeking reader input in hopes of compiling the quotes you find funniest so far in 2013 so I can keep a more thorough collection for year-end usage.
I'll put a reminder out on Twitter, too, but consider yourself encouraged to tweet in your NBA quote submissions whenever you see something.
A recent example from Kobe Bryant that I also loved when someone asked him about fear: "I don't f--- with bees, man. Other than that, I'm not afraid of nothing."
9. Alternative Listening
What happens in Dallas now that the Mavs' run of 12 successive trips to the playoffs is over? How likely is a big move from the Mavs this offseason? Marc Stein joins Ian Fitzsimmons and Richard Durrett on ESPN Radio 103.3 FM to assess things.
• Listen to the audio here

10. Corner 3
Three quick slams and dunks from the deepest recesses of Weekend Dimedom:
1. You did the math correctly. LeBron James received nothing but perfect 10s in this week's bonus in-season edition of #NBArank ... which indeed means he even got one from stingy old me. You probably remember where I stand on handing out perfect scores. So I (grudgingly) decided to make him my only 10 ... grudgingly because I was forced to vote before the playoffs. He's a 9.6 or maybe even a 9.8 under any circumstances -- scores that the current #NBArank system do not allow us to assign -- but there will have to be a revision if Miami fails to repeat as champs.
2. Am I being selfish when I say that I want to see first-round matchups pitting Miami or New York against Boston, Oklahoma City against Houston ... and San Antonio against the Los Angeles Lakers? Not sorry for being greedy.
3. I already threw this one out on Twitter earlier this week but can't stop harping on it, because this has to be one of the five best #hoopidea concepts going: When is the NBA going to adopt the D-League's playoff format and let the top three seeds in each conference pick their first-round opponent? Can't stop dreaming of that nationally televised selection show where the Thunder and Spurs are forced to announce to the world that they want to play the Lakers in the first round. Or, more likely, that they don't.