Andrew D. Bernstein/Getty Images
Take A Spin On The Kobe Coaster

Let's rewind for a moment to the first weekend of last season. What would you have said then if someone had written that
Allen Iverson
,
Kevin Garnett
and
Kobe Bryant
were all about to be traded in a span of 12 months? If Bryant gets moved by Dec. 19, that fantasy trifecta becomes a reality. So maybe that's why it hasn't happened yet. Starting this season with a Kobe deal or seeing one in the next month just might be too soon, even after the Lakers spent much of October engaged in their most serious Bryant trade discussions ever. It's an incredibly difficult deal to do -- given Bryant's salary, his stature in Lakerland and the league's only active no-trade clause -- and it's awfully greedy for the transaction-thirsty masses to expect a trio of megastars to be moved in the space of a year. Trades that big don't happen in threes. Yet you're undoubtedly wondering where we're headed next on the Kobe Coaster, which we'll try to tackle with five quickie questions and answers.
1. First Mark Cuban says that a trade to put Kobe in Dallas is "not going to happen." Then John Paxson says that "there's not going to be a deal" to get Kobe to Chicago. So how will the Lakers react to the top two teams on Kobe's wish list attempting to publicly remove themselves from the running?
At least two prominent members of the operation will be borderline gleeful: Lakers coach Phil Jackson and general manager Mitch Kupchak. Lakers owner Jerry Buss might be ready to move on -- with his recent declaration that he's prepared to keep fielding Kobe offers widely interpreted as a step to start getting Lakers fans used to the idea of their darling in another uniform -- but neither of his top basketball men wants No. 24 to go. Jackson came back to the Lakers after a year in exile largely to coach Bryant. More than one rival executive, meanwhile, believes that Kupchak is literally "fighting" against a Kobe trade, at least in part to avoid being known as the guy who traded
Shaquille O'Neal
and Bryant. The latest developments, then, are ideal for them, giving Jackson and Kupchak more of a platform to insist that they've tried to honor Bryant's wish to leave but simply couldn't concoct a workable deal.
2. But don't the Lakers need to come out now with their own public statement, similar to Paxson's or Cuban's, to bring some calm to their locker room?
That would seem to be the advisable move. When asked by your humble correspondent Tuesday night, Jackson argued that the Lakers' current cast is sufficiently seasoned to handle a daily media circus. But I politely disagree. This group is not to be confused with the Shaq-and-Kobe Lakers or Jackson's Chicago teams. This much younger group could use any sort of shielding it can get from the daily barrage of scrutiny that is being trained on every twitch Kobe makes in games, practices, interviews, etc. Then again, this is Kobe Bryant. The mania generated by every turn and dip on the Kobe Coaster probably means that there's nothing L.A. could say to stop us all from searching for clues about the future in every little thing he does or says. Besides … Paxson said it for them, if you think about it. The Lakers' problems, remember, are unique, specifically the deterioration of the Buss-Bryant relationship. A proclamation that they're keeping Bryant might be what the public or media wants, but it might only make Kobe withdraw further.
3. So what can the Lakers do to bring a lasting peace to their season?
If they're not willing or able to deal Bryant in the short term and plan to proceed with a team that revolves around him, there's only one answer. They have to go back to one of Bryant's initial complaints during these wild five months and try to convince Jerry West to return to the organization as a consultant. I can't pretend to know if West is prepared to accept the invitation. It's not exactly an appealing situation to step into, especially for a guy who clearly needed a break when he resigned his post in Memphis after the draft. But I've been repeatedly told that Kupchak (as well as Jackson) would welcome West in an advisory role, which tells me there's no reason for the Lakers not to try again. West's deep fondness for Kupchak and corresponding reluctance to overshadow him were always considered the biggest obstacles to luring West back, even in a part-time capacity. But West returning would actually help Kupchak's standing in town, which has to help the Lakers' chances. Now imagine the benefits if West could be convinced to try to save the Lakers from themselves, something Magic Johnson seemed to be calling for Tuesday night on TNT when he said the club has "too many voices" in the front office and that there "should just be one voice like we used to have with Jerry West." West's return -- even if it's just as a
consigliere
to Kupchak and/or Bryant -- would give a huge boost to the whole organization. Buss and Kupchak would immediately win back some support from the frustrated fans by landing The Logo … and there's no one in the sport Bryant listens to like he listens to West. If Kobe is going to be around a while, it wouldn't hurt to have one management figure he'll embrace and respect. You figure it also wouldn't hurt to have West's input if the Lakers decide to start trying again to upgrade Bryant's supporting cast.
4. Is there any chance -- with or without West -- Kobe's discontent will fade and he'll want to stay?
That remains very, very doubtful. It's difficult to imagine even in the dream circumstances of a reunion with the legend who drafted him. I know, I know: Kobe patched up his differences with Phil after the disparaging comments made in Jackson's book. But as one Kobe confidante noted this week: "Once his mind is made up on something, it's not like him to go back." And that's the trait which suggests that this story is going nowhere no matter how many teams follow the Bulls, Mavericks, Rockets and Wizards by announcing that they aren't trying to trade for Bryant. If Kobe won't come out and directly recant his original trade request, you can continue to expect (a) speculation about where he might be headed to surface at any time and (b) widespread suspicion that Bryant will try to find new ways to exert pressure on the Lakers to deal when they'd clearly rather wait. That's because Bryant doesn't have the right to return to free agency and leave the Lakers with nothing until the summer of 2009, which is why we've always maintained in this cyberspace that he can't make the Lakers deeply nervous until closer to the draft, when the wait for free agency is only a year away. So exerting pressure internally by skipping practices or games or otherwise making life difficult on the floor or behind closed doors would thus appear to be the only way Bryant can speed up that timetable. The good news for the Lakers? He's still a dynamo even when he's seething and would have to seriously defy his nature to play less than his hardest. "Kobe kind of pouted through the first game," one Western Conference personnel man said, "and still went for 45."
5. Are the Bulls and Mavs really out of the Kobe Sweepstakes for good?
C'mon. Surely you realize that the intended effect of a statement like Paxson's is twofold. He's trying to convince his distracted players that they can stop worrying about being shipped out. But he's also trying to send a message to the other team that it's going to have to take back less in a trade than it was hoping for. The league consensus holds that the Bulls remain the most likely destination for Bryant, and neither Chicago nor Dallas will be "out" of this thing until he winds up elsewhere. Rest assured, both teams would still love to have him. You can't even scratch Phoenix off the list, no matter how many stories circulate on the grapevine about Kupchak telling the Suns that the Lakers would never trade him to the desert, since Phoenix is one of the few teams that has enough to offer directly to L.A. without needing to bring in a third trade partner. This is still the safest approach: Don't rule anything out when it comes to Kobe. As Jackson told L.A. reporters on Thursday, "I don't think anything ends." As we've seen all month since training camp started, things can change quickly.
Marc Stein is the senior NBA writer for ESPN.com. To e-mail him, click here.
Dimes Past:
October 31
|
November 1
|
2
From the Stein Line e-mailbag:
The Greek Bradley (Houston):
Why do I keep reading that Kobe has the only no-trade clause in the league? Why doesn't anyone else have one?

Stein:
We've covered this ground a few times in the past year, but it's a good time to revisit this matter, given that Kobe Bryant's no-trade clause now comes up daily. In the NBA, only players with at least eight years of service time and four with the same team are even
eligible
for a no-trade clause. Yet very few players have an opportunity to add a no-trade clause to their contract, even when they get to that point with one team. Why? The first big-money deal always presents itself well before the player's eighth season. The game's biggest names, furthermore, often sign extensions to those big deals ... and NBA extensions do not allow players to add major changes in contract terms, such as no-trade clauses. A player must go through free agency and sign a new deal with his current employer to change major terms in a contract. That's how Bryant put himself in the rare position to hold out for a no-trade clause. He was a full-fledged unrestricted free agent in the summer of 2004, and, having just completed his eighth season, was on the verge of jumping to the crosstown Clippers. That very real threat enabled Bryant to secure a no-trade provision in the seven-year, $136 million deal he ultimately received from the Lakers. It's a fallacy to think that the Lakers just decided to throw it in without considering the consequences. Allen Iverson, by contrast, never was eligible for a no-trade clause before his move to Denver, even though he spent 11 seasons with the same team in Philadelphia. His four-year, $72.4 million extension with the Sixers, which began in the 2005-06 season, operates under the same main terms -- without a no-trade clause, in other words -- as his previous contract, which he signed before he had eight years of NBA service time. The NBA, in short, simply doesn't operate like the baseball world, in which the rules allow for no-trade clauses or partial no-trade clauses to be built routinely into player contracts … and in which the famed 10-and-5 rule automatically enables veterans with 10 years of service time and five with their current team to veto trades. Now are you going to explain that nickname?

Five questions with Lakers forward Luke Walton:
Q:
How has all the talk about
Kobe Bryant
's future affected preparations for the season?
A:
It can't. If we sit around worrying about that, all it's going to do is take away from our chances of winning. We're ready to go out and play, hopefully with him.
Q:
But when you broke in with the Lakers, this was a veteran team. Can this younger group really handle the daily uncertainty and questions about Kobe's future?
A:
We feel we have guys that are capable of doing it. We're used to this kind of stuff by now. If something happens that's out of our control, then we'll deal with it.
Q:
Will you feel that way even if you have to deal with these kinds of questions from now until the February trading deadline?
A:
All you can do is prepare yourself to play, and that's what we've done.
Q:
Outside of
Derek Fisher
, you've played with Kobe as long as anyone on this team. So do you ever directly ask Kobe about what's going to happen?
A:
I can't speak for the rest of the team. But as far as I am with him, I don't really have in-depth conversations about it with him, no.
Q:
A lot of people on the outside have described Opening Night against the Rockets as the beginning of the end of Kobe's time with the Lakers. Is that how it feels to you?
A:
I see him as being a Laker all year long. That might be na´ve of me, or whatever, but that's the way I see it.

"It's never hard to start over playing basketball. We've got the best job in the world. You guys might think we live and die by it, but we don't. We can start over, and let's go at it again."
Mavericks swingman Jerry Stackhouse
, rejecting the notion that Dallas has been too scorched mentally from losing eight of its past 10 playoff games to regroup.
OK, OK. Can't deny that we've devoted lots of our maiden Weekend Dime real estate to that Kobe kid … and he's not the only franchise face with an uncertain future. So consider this your reassurance that we won't forget to track Indiana's
Jermaine O'Neal
. Does O'Neal, who sat out the Pacers' impressive overtime victory over Washington on Opening Night with knee trouble, finish the season in Indy? Let's just say that the signals at this early stage aren't exactly conclusive. Signal No. 1: O'Neal is not pictured on the cover of the Pacers' media guide. Not at all. And in his place is not new coach Jim O'Brien but young teammate
Danny Granger
. Signal No. 2: Some background-checking reveals that O'Neal hasn't been on the cover of the media guide since the 2004-05 season. It was
Jamaal Tinsley
in 2005-06 and longtime personnel chief Donnie Walsh last season. So that doesn't appear to be the sort of clue we thought initially. Signal No. 3: The Lakers, according to one plugged-in source, won't have much luck if they now go back to the Pacers in an attempt to rekindle trade talks for O'Neal. L.A.'s attempts to acquire O'Neal in the offseason stalled because it refused to part with
Lamar Odom
and
Andrew Bynum
, but the latest word is Indiana has no interest at present in parting with O'Neal.
---
Praise for Yi Jianlian isn't exactly prevalent outside of Milwaukee or China. His debut against Orlando was worlds better than Yao Ming going scoreless in his first NBA game, but Yi fouled out in 25 minutes in a lopsided loss to the Magic to overshadow his 4-of-5 shooting from the floor.
Unwise as it is to read too much into one game -- especially the first game for someone facing as much worldwide scrutiny as Yi -- you already can see the big Year 1 trouble spots he is facing in his transition to the NBA. He has a small forward's game at this stage but will have trouble keeping up with the small forwards on this continent. So he has to play power forward, too, which isn't any more appetizing at the moment because this league -- as
Dwight Howard
quickly illustrated -- is so much more physical. However … The Bucks privately are thrilled with Yi's progress to date, believing that his length and athleticism can offset some of the inevitable defensive deficiencies of a rookie. "Smooth" and even "fearless" were a couple of the words tossed around during training camp. Yi also had one high-profile fan before he ever even got to Milwaukee. The player Yi is most often compared to --
Dirk Nowitzki
-- has been high on the 7-footer ever since China played a few exhibition games in Germany in August. "He's long, he can jump and he's athletic as hell," Nowitzki said. "If he makes the 17-, 18-footer consistently, he's going to be a good player."
---
Dwyane Wade was cleared Friday to practice, but you can understand why the Heat continually refuse to target a firm date for his return to real games, even though they're already hurting without him.
It's not because Wade's recovery from shoulder and knee surgeries in May is going slower than expected. NBA medical staffs simply tend to be more cautious with shoulder injuries than knee or ankle injuries because the risk of a repeat dislocation is so high. So even though Wade says he could play right now if necessary, he knows he's raising the risk of a recurrence if he comes back too quickly.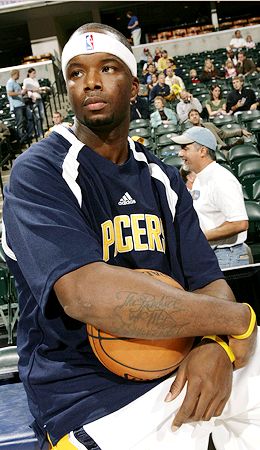 Ron Hoskins/NBAE via Getty Images
Don't worry, Jermaine. We're going to follow your season as closely as Kobe's. Promise.
In his weekly visit with Galloway & Company on ESPN Radio in Dallas (103.3 FM), Marc Stein is asked -- what else? -- lots of Kobe Bryant questions.
Galloway & Co.
Greg Oden
will become just the second No. 1 overall draft pick in league history to play zero games in his rookie season.
David Robinson
of the 1987 draft class is the other, but surely you remember that Robinson didn't enter the NBA until 1989 to fulfill his Naval Academy commitments. Yet we weren't kidding in
the training camp edition of the Power Rankings
when we noted that Oden will indeed be eligible to win the Rookie of the Year trophy in 2008-09 … as long as he sits out all 82 games in 2007-08. If he plays even one minute this season, according to the league office, '07-08 will be officially recorded as his rookie season. Denver's
Kenyon Martin
, however, is not eligible to win Comeback Player of the Year honors, even though his comeback as the first player attempting to return from microfracture surgery on
both
knees is undeniably historic. The NBA, remember, switched from a comeback player of the year award to a Most Improved Player award before the 1985-86 season … and players returning from major injury are not eligible for MIP consideration, either.
---

What kind of hoopaholic is the reigning MVP? Well … You know how Dirk Nowitzki has said in numerous interviews,
including this one
, that his five-week trip to Australia after the Mavs' ignominious playoff exit was the longest he has ever gone without touching a ball? Turns out Nowitzki didn't abstain completely. I received an e-mail from a Sydney resident named Mark Lambert asserting that Nowitzki worked out one morning at a local gym and even took pictures with the kids who regularly played there. Nowitzki since has confessed that he couldn't resist getting some shots up "just a couple times" while decompressing from the most deflating experience of his career.
---
Brace yourselves for as many mentions of this as I can sneak in between now and Nov. 11: Cal State Fullerton is holding its first official alumni game Nov. 11 before playing host to Cal State L.A., and naturally, I'm beyond giddy about it.
Bruce Bowen
has a prior commitment that night in San Antonio, but the Western Conference should be represented by Cedric Ceballos (the former All-Star and slam-dunk champion who still works for the Suns) and Henry Turner (who played for Sacramento, now works as a Kings broadcaster and threw down a 360 so viciously against the University of Washington in 1986 that no Pac-10 school has had the guts to play in Titan Gym since, with the Huskies even backing out of the 1987 return game in Seattle).
Click here for more info
, and don't worry. More player updates (and maybe even a wrapup of some sort) are forthcoming.
Mathieu (San Francisco):
So do the Power Rankings represent what's happening now or what will happen at the end of the season? Because I don't see any way that the Celtics, in their current iteration, are a top-10 team in the NBA. You honestly think that they'd beat Denver or Utah if a seven-game series was held this week?
Stein:
My Power Rankings have ALWAYS been a combination measurement of the current climate and the long-term outlook. But I've tried to make it as clear as I can that the first two editions of the rankings every season will put huge weight on summer business and how the previous season ended, because we don't have any games to work with yet ... and they are NOT to be confused with straight predictions, because we have those elsewhere on the site in a different format.
If I did it the other way you suggest, only keeping the prospects for the coming season in mind, there would be virtually no change in the rankings week-to-week, and there would be no need to do two editions of the rankings before Opening Night. And what fun is that? As for the Celtics specifically, Boston completely changed its outlook from a team that was devastated when it didn't get one of the top two picks in the lottery to a team that is now being widely picked -- by media members and league GMs -- to win the East. I'd argue that, before a ball was dribbled, no team apart from San Antonio started the season feeling better about its overall prospects than the Celts. That should explain their top-three status pretty clearly. That's why the committee has them up there, not because I'm claiming they'd beat Phoenix in a seven-game series that started today.
• Stein's full chat

|
Power Rankings