Getty Images

Seven games. Seven victories in seven games entering the weekend, won by an average margin of 17 points, were all I needed to see from the Boston Celtics to know that we needn't hold off any longer. You might not want to admit this, but you know you're already asking yourself: Do the Celts have the most fearsome threesome in the NBA? Now you can consult the official Stein List of Top Trios for answers, from No. 1 to No. 5 and with some honorable mentions below:

1. Tim Duncan, Tony Parker and Manu Ginobili
To knock the Spurs' iconic core out of the top spot -- San Antonio's fundamentally sound pillar in the low post and its two creators/havoc-makers flanking him on the perimeter -- Boston will have to win it all in Year 1 of its renaissance. But even then you couldn't really get away with bumping a threesome that has been crowned champions in three of the past five seasons. That's how special Duncan, Ginobili and Parker are together, with on-court styles that mesh so nicely and a chemistry that ranks as the envy of the league, extending to the point that the first two took significant discounts in their most recent contract negotiations to make it easier for Spurs management to keep the supporting cast around them stocked. Where else on the NBA map does stuff like that happen?

2. Steve Nash, Amare Stoudemire and Shawn Marion
It took a trio as historic as San Antonio's to prevent these three and their highly skilled supporting cast from breaking through last season. Maybe they don't quite have the Spurs' unity, with Stoudemire and Marion both known to crave more spotlight at times, but you can likewise ask yourself: Who does? The Suns naturally prefer to focus on what they do have, starting with a selfless (and imperious) floor leader who everyone wants to play with. There might be skeptics around the league who question how good Stoudemire and Marion would be without Nash, as I was reminded Friday by one executive, but their respective athletic gifts help make Nash even more dangerous than he was in Dallas … and make Stoudemire and Marion two of the most unique creatures in the game. Although there's a beneath-the-surface expectation that this season might be the last chance for this trio to win it all before the Suns pursue dramatic personnel changes, remembering how high they sit on this list always tends to give management pause.

3. Kevin Garnett, Paul Pierce and Ray Allen
Go ahead. Tell me it's too early to have them up here. Tell me that it's a trio featuring three No. 2 options, none of them truly comfortable as the alpha dog. Tell me that it's not the ideal mix for an NBA threesome since there's no ball-handling guard here as you'd hope to put alongside the big man and the explosive wing man. Say what you wish about the two megastars who have been imported to sandwich Pierce and everything they're allegedly missing as a triumvirate. I'm listening instead to the Western Conference executive who told me: "As a pure trio, who has three guys more talented?" They've also joined forces in a conference for the taking, which (as I keep saying) should offset the limitations of their supporting cast. If I have a concern about the Celtics at this point, it's that they remind me a bit of last season's Mavericks, playing with an intensity -- most of it spilling from Garnett -- that will overwhelm teams in the regular season but prove hard to maintain through the playoffs. Even so, Boston's new trio
has
to be this high. Yes, already.

4. Dirk Nowitzki, Josh Howard and Jason Terry
The Mavs rank as the NBA's ultimate prove-it-to-me team after their collapse in the 2006 NBA Finals was followed by last season's ignominious first-round exit. I freely admit, furthermore, that I was one of the loudest advocates out there for a bigger offseason shakeup to cleanse the locker room of past demons. For the purposes of this discussion, however, I don't see how you can exclude Dallas' core trio. Especially when Howard has so noticeably improved his shooting and ballhandling and with Terry flourishing in his new sixth-man role, which frees him up to do what he does best -- fire away -- as opposed to worrying about everyone else first. Nowitzki still suffers from the fact that, outside of reserve guard
J.J. Barea
and veteran swingman
Jerry Stackhouse
, he's the best passer on the team … and can't exactly pass it to himself to create shot opportunities. But Nowitzki remains an absolute matchup nightmare for pretty much every team this side of Golden State. Add it all up and this is still an elite, dangerous triad.

5. Carmelo Anthony, Allen Iverson and Marcus Camby
These guys haven't achieved what the mainstays have in Detroit and Utah … or even what New Jersey and Washington have done in the playoffs by getting to Round 2. But the Nets' and Wizards' trios are beset with injuries and other issues these days, while the Pistons and Jazz would honestly fit better in a discussion of Best Foursomes. Denver, meanwhile, shares much in common with Boston, given that this is the first full season together for these three and since it's a trio bubbling with talent. Anthony's game is starting to broaden and include more passing, Iverson remains a source of (welcome) offensive unpredictability and fierce competitiveness at 32 and Camby, the league's reigning Defensive Player of the Year, has quietly played 70 games twice in his past four seasons with the Nuggets..
Marc Stein is the senior NBA writer for ESPN.com. To e-mail him, click here.
Dimes Past:
November 10-11
|
12
|
13
|
14
|
15
|
16
The following threesomes were strongly considered for our five-deep list of Top Trios:
1. Chauncey Billups, Rasheed Wallace and Rip Hamilton/Tayshaun Prince (Detroit)
The line in bold highlights our issue with Detroit: Who's No. 3? Is it Rip? Or is it Tay? Answer: The Pistons remain an ensemble cast that you just don't think of in trio terms. Not unless they trade two of the above four stalwarts for
Kobe Bryant
.
2. Carlos Boozer, Deron Williams and Andrei Kirilenko/Mehmet Okur (Utah)
Same problem with the Jazz. Tough to grade their three-man core when it's not clear if Kirilenko or Okur is the No. 3 man … or whether Kirilenko and Jerry Sloan have reached a lasting truce. If they have, given where Boozer and Williams are now, this team has a real complaint and the best shot to move up.
3. Gilbert Arenas, Caron Butler and Antawn Jamison (Washington)
All three of these Wizards have been an All-Star at least once and they routinely form one of the league's highest-scoring trios. But the slow recovery o Arenas' knee after offseason surgery has dropped them into the second tier, at least for now.
4. Jason Kidd, Vince Carter and Richard Jefferson (New Jersey)
Kidd's presence alone -- after a brilliant summer with Team USA to remind folks that Steve Nash isn't the only beloved point guard in this league -- makes you wonder if the Nets' triad has been dismissed prematurely. Then you remember the ongoing doubts about Carter's compatibility with Jefferson … and the fact that the two swingmen rarely seem to be healthy even if you do believe they can play together.
5. The Field
A few more trios worth monitoring for the future:
Chris Paul
,
Tyson Chandler
and either
Peja Stojakovic
or
David West
in New Orleans;
Chris Bosh
Andrea Bargnani
and
T.J. Ford
in Toronto; Dwight Howard, Rashard Lewis and Jameer Nelson in Orlando; and Portland whenever
Greg Oden
joins
LaMarcus Aldridge
and
Brandon Roy
.
Throughout his inglorious tenure as Knicks coach and president, Isiah Thomas has always been able to draw a measure of reassurance from the knowledge that he generally had the support of his players … if only them. But that might be gone now, too. Isiah's apparent unwillingness to bench
Stephon Marbury
for at least one game in response to Marbury going AWOL earlier this week won't be soon forgotten in the Knicks' locker room. Thomas might be the NBA's ultimate Teflon Man after everything he's survived in New York to this point, including his recent sexual-harassment trial, but you'd have to think he'll finally lose his job if he loses the team first. Don't you? Well … There actually are two other life preservers, apart from his players' suddenly dwindling support, that Thomas has been clinging to. No. 1: Knicks chairman James Dolan is apparently willing to endure bottomless amounts of scorn before he admits that his guy isn't getting it done and fires Thomas. No. 2: Where is Dolan's pool of candidates to either replace Isiah as coach or take over the Knicks' basketball operations? Right. There is no pool. Ex-Nuggets general manager and ex-Knick Kiki Vandeweghe will be mentioned prominently when Isiah finally does go, but the other names I've heard sound like fantasies. One Jerry West intimate tried to convince me recently that West would strongly consider un-retiring to rebuild the Knicks, but I've since been advised that The Logo going to Madison Square Garden is an off-the-board long shot, which makes sense given the pessimism in L.A. that West -- as much as his beloved Lakers need him back just in a part-time role -- can be convinced to go back as a mere consultant. The other Hall of Fame name in circulation is Phil Jackson, with one source insisting that returning to the Knicks as coach
and
front-office chief is the only other NBA scenario besides continuing with the Lakers that Big Chief Triangle would even consider. I suppose you can't completely rule it out as long as Jackson holds off on signing the contract extension the Lakers have had on the table for weeks, but the task of trying to lift the Knicks out of the abyss at age 62 and after two hip replacements … getting
Kobe Bryant
to recommit to the Lakers, frankly, would be worlds easier for Jackson.
---
I'm putting this in the Eastern corner of the Weekend Dime because I'm still in denial about my Braves giving away or running off every NBA legend who ever passed through town before ultimately leaving Buffalo in 1978.
But it was inevitable: The Clippers' Mike Dunleavy needs just two wins to pass ESPN's own Dr. Jack Ramsay as the winningest coach in franchise history. Ramsay was 157-170 in four seasons, but that includes a 21-61 bow in 1972-73. The more pertinent numbers: Buffalo made its only three trips to the playoffs in an eight-year run in Western New York under Ramsay and won more games in those three seasons than all but three franchises: Boston, Golden State and Washington.
---

Miami has not reached a full-fledged state of hoops emergency. With Pat Riley ranting daily about the team's and his own failings and
Dwyane Wade
seemingly joining the chorus of
Shaquille O'Neal
critics by
telling local reporters this week
that "Shaq has got to be self-motivated," it only seems like a situation beyond salvation. We appear to have found one morsel of positivity amid the 1-7 misery and Wade's rushed return from knee and shoulder surgeries: Penny Hardaway's shocking reunion with Shaq has been quiet and smooth. Hardaway understands and even expects the reactions of disbelief to the sight of them together again, with Penny making an unlikely comeback at 36 after two years of inactivity … and now starting alongside O'Neal for Florida's other team. "It is a huge surprise," Hardaway said, "because people thought I was done and they never thought in a million years that I'd be in Miami. And neither did I. It's just a blessing to be here right now, because I worked out for about four or five teams [before signing with the Heat over the summer] and it didn't work out in any of those places." As for his relationship with the under-fire Diesel … "It's a great relationship," Hardaway insists. "Shaq and I never had any problems. I've never had a problem with Shaq and he never stated that he had a problem with me. But then every interview I've had over the years has been, 'Where did you and Shaq go wrong?' I think he just wanted to pursue a career in LA and decided to do that. I had nothing to do with that at all." Can't say that I remember Orlando being quite that rosy for Shaq and Penny, but the Heat have enough going on to quibble too much on this.

Mike (Washington, D.C.):
Did you read
Tim Legler's article
on the Chris Paul vs. Deron Williams debate? Which one of those two point guards do you favor?
Stein:
I have to send my kudos to the Jazz -- who were roasted, remember, when they made this decision -- and say that D-Will would be my choice (by a whisker) for many of the reasons Utah originally gave to explain how this close call was made. D-Will is obviously more of a physical presence than CP3 and that clearly makes him a handful. All it took was one sensational postseason run and now people routinely rave about D-Will's fearlessness, toughness and clutchness. Then there's my clincher: No one gave San Antonio defensive problems in the 2007 playoffs like D-Will. No one. The Spurs struggled to keep up with him no matter what they tried. That says something. Of course, I also had a very smart basketball man tell me this week that CP3 is playing such an impressive floor game these days that he's "starting to look like Steve Nash with quickness." In other words, it's probably best to keep a waffle iron handy with these two. They both look that good so far in Year 3.
• Read Stein's full chat

The seven-man media panel that selects the 120 names that appear on the All-Star ballot -- a panel that includes our own Ric From Cincinnati: ESPN The Magazine's Ric Bucher -- did pretty well if the biggest omissions are Dallas'
Devin Harris
and Seattle's
Chris Wilcox
. But there is one minor ballot controversy.
Tim Duncan
and the
San Antonio Spurs
are not pleased that Duncan has been listed as a center on the ballot for the first time in his career. OK, OK: This actually bothers the Spurs more than it bothers Duncan, who was clearly pretending to be devastated Thursday night when he said: "Obviously, it's tough." San Antonio's dismay, furthermore, doesn't really stem from the fact that Duncan is now certain to lose out on a starting spot to Houston's
Yao Ming
. The Spurs' point is that they've officially listed Duncan as a forward at every opportunity from the moment he came to the league in 1997 … and that they didn't know A) that the panel had the power to reclassify Duncan or B) that Duncan was indeed reclassified until the ballots were released Wednesday. While Duncan has ranked alongside Shaquille O'Neal as the game's foremost back-to-the-basket force for a decade now and certainly makes you think he's a center, San Antonio notes that Duncan has been joined in the starting lineup by various centers -- David Robinson,
Rasho Nesterovic
or one from the current tag team of
Fabricio Oberto
and
Francisco Elson
-- in pretty much every game he's ever played. Which can't really be argued. But what I can and did do -- something I've wanted to do for a long time -- is ask Duncan why he has a philosophical problem with being listed as a center, as we've always heard. "I'm not playing as a center and I don't like being labeled a center," Duncan said. "Without trying to cause too much of a stir, it just seems like a limited position. I think I can do a little bit more than what a center is labeled as [doing]. But it's just a label." I'll never understand why Duncan and
Kevin Garnett
insist on being listed at 6-11, because they apparently regard inclusion in the 7-Footers Club to be even more limiting, whereas I see their 7-footness as something that only makes their versatility more impressive. But I get what Duncan is saying here about the center stuff. I think. PS -- The biggest All-Star ballot omission is actually the Clippers'
Sam Cassell
, not Harris or Wilcox. Still a factor in this league even though he's turning 38 next week, Sam I Am merits one of those 24 guard slots in the West out of mere respect. League rules, however, dictate that each team must have at least three players on the ballot, which undoubtedly explains why Cassell lost out to the likes of Portland's
Jarrett Jack
and Seattle's
Luke Ridnour
. PPS -- The complete ballot panel, in case you're wondering, was comprised of Pro Basketball Writers Association president Rick Bonnell (Charlotte Observer), David DuPree (USA Today), Ernie Johnson (TNT), Jack McCallum (Sports Illustrated), Mike Monroe (San Antonio Express-News), Sam Smith (Chicago Tribune) and Bucher. PPPS --
Antoine Walker
appears on the ballot as a West guard because the Wolves, again, had to have three names on the ballot and were down to two when
Ricky Davis
was dealt to Miami in the 'Toine deal.
---

The injury is apparently not serious;
Tracy McGrady
is only expected to miss a week for the Rockets with a sprained elbow. But any missed game by a big name is a big deal at the top of the Southwest Division, with the three Texas teams already scrambling to avoid finishing in third place. I know it's early, but don't forget how the seedings work. The team that finishes second in the Southwest can still claim a No. 2 or No. 3 seed overall in the West as long as it has a better record than the division winners in either the Pacific or Northwest. The Southwest's No. 2 team will at worst be seeded fourth. Finishing third in the Southwest, by contrast, is very likely going to be a nightmare. The division's No. 3 team is almost certainly looking at the No. 5 seed, which typically results in an unappetizing first-round matchup as well as a spot in the No. 1 seed's bracket.
---
J.R. Smith playing as a point guard in spots?
Carmelo Anthony
operating as a point forward here and there? George Karl has been forced to get creative early, thanks to an injury hex that has seemingly claimed all of his ball-handlers. But the new wrinkles appear to be working, given how Denver rallied from a bad loss at New York and a close-your-eyes hammering in Boston to win four straight games entering the weekend. The Nuggets also averaged nearly 116 points in the victories -- on the road in Indiana and Washington and home routs of Cleveland and Portland -- despite the unavailability of
Chucky Atkins
,
Anthony Carter
and
Mike Wilks
. They finally got Wilks back Wednesday for the Portland game, but the Nuggets have also been dealing with the latest in a string of long-term setbacks for Nene while trying to restrict
Kenyon Martin
to a nightly load of 25 minutes or less in Martin's comeback from microfracture surgery on both knees. "George has done an incredible job of mixing and matching his pieces to hold us together," said Nuggets vice president of player personnel Rex Chapman. "We've pretty much played the first nine games without any point guards, but he's always been one of the best at adjusting to situations and making the most of what he has."
ESPN.com's Marc Stein and Ric Bucher of ESPN The Magazine run the three-man weave with Bill Simmons on The BS Report podcast to assess the season's first two-plus weeks.
Marc Stein joins host Marc Kestecher on the NBA on ESPN Radio pregame show to talk Mavs, Spurs and Stephon Marbury. •
Listen to the interview


"I go and play soccer. I stay in shape, I enjoy it and I get to a place where I'm excited to get back to work and try to top last year. I can find a lot of similarities in the two sports. "I am training for basketball even though I am doing something different. It allows me to be in a good position, mentally and physically, when I come back. Mentally I'm fresh and rejuvenated and physically I'm fit."
Suns guard Steve Nash
, explaining what he does to recharge mentally in the offseason with the same credo we live by at Stein Line HQ:
As much proper football as possible.
The 33-year-old says he does mix in "a bit" of summertime shooting so he doesn't totally lose the feel of a basketball in his hands. That would appear to be all it takes, too, given how Nash is connecting through the first nine games of the season: 55 percent from the floor, 51.3 percent on 3-pointers and 23-for-23 at the line in averaging 19.4 points to go with 9.9 assists.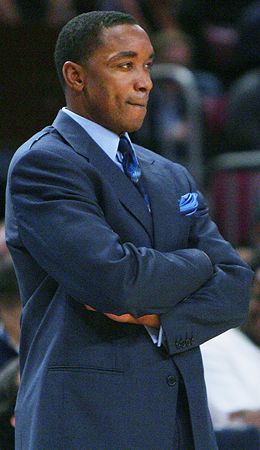 Nick Laham/Getty Images
How much longer will we see Isiah Thomas on the Knicks' sideline? It might depend on his ability to restore the faith of an angry locker room after the Stephon Marbury affair.

Five questions with Sixers guard Kyle Korver:
Q:
The Sixers were a much more competitive team (30-29 overall, 18-11 after the All-Star break) after
Allen Iverson
was traded in December. So is it safe to assume that teams won't be sleeping on you guys this season?
A:
I think people are still sleeping on us. I don't think people are gearing up for us here by any means. But we've got to get that chemistry flow that we had at the end of last year. We played really tough, hard-nosed basketball.
Q:
What's it like to play for a team that everyone knows is basically starting over?
A:
We're definitely in a building mode, but I don't think we're as far back as everyone's saying. We have some great pieces. We're missing a piece -- a down-low presence to post up -- but if we get that piece we've got a lot of complementary pieces that we can play around him. It's obviously hard to find that piece, but we're in a position where we'll have a lot of cap space [in the summer of 2008], so we'll have some opportunities to do some stuff. I don't feel like we're that far from it.
Q:
Where does that leave the Sixers in the meantime?
A:
I think the goal for this team is just to get the rest of us ready for whenever we can complete this building process -- they say they have a three-year plan -- so that the rest of us are ready to go. We do have a lot of pieces and a lot of pieces that mesh well.
Q:
But isn't it tough to be in a building mode when you were always considered a playoff team if nothing else?
A:
I would rather be on this team than some of those other teams that we had. I mean, sure, we had a shot at making the playoffs every year. But we didn't have that championship [potential]. I've got no problem with being a part of this team right now and taking a couple bumps and bruises and in the end being able to really make a run.
Q:
You're one of the vets on this team now, so how do you preach patience through the bumps and bruises?
A:
It's hard. We've taken some beatings, both through the media and on the court, to be honest. You've got to find a way to keep on going through those times. But I think we've done a good job with it.