(Photo by Nathaniel S. Butler/NBAE via Getty Images)
LeBron Impressive But Still Needs A Consistent Second Act

LeBron James has been on an absolute tear over the past two weeks, putting up triple-doubles in his last two outings entering Tuesday night's game with the Boston Celtics.
He didn't get the triple-double this time in the Cleveland Cavaliers' 109-104 overtime win against the Celtics, but his 38 points, including 11 in overtime, along with 13 assists against one of the top contenders for the Eastern Conference crown showed us once again his range of skills. The only thing he didn't do was rebound (four). He's right there in the MVP talk.
But even as you watch his game unfold so well, there's still the major issue that we can't escape: One guy cannot win an NBA title. He did yeoman's work to get them to the NBA Finals last season, performing what basically amounts to a miracle. But you saw what happens when a one-man team runs up against a big-time champion like the Spurs.
Almost all the great teams have that No. 2 guy at least. On this night, Drew Gooden (24 points, 13 rebounds) was terrific in that role, and other nights it's Zydrunas Ilgauskas or Daniel Gibson. But they don't have that constant No. 2. Shaq, for example, always played with another great player when he won titles.
When LeBron's out of the game, there's no one who can create offense for himself, or others for that matter. When LeBron briefly left the court, Boston went on a run. He played over 46 minutes out of a possible 53. You can't ask him to go that much. That's a lot of pressure.
So the Cavs are still in a bit of a quandary.
On the flip side, you saw a Celtics team with three different guys capable of carrying them. Which also points out what looks like something the Celtics are working on: Who is going to get the ball in crunch time? Is it going to be one guy, or is it going to be based on matchups?
What's clear is that second-year point guard Rajon Rondo has to get the ball in to one of the big three's hands -- there should never be a big possession in which Kevin Garnett, Paul Pierce or Ray Allen doesn't touch the ball. That failure happened in overtime, after Rondo missed two shots, including one that he had to take.
As the last 30 seconds of overtime went by, you saw Celtics coach Doc Rivers talking with Rondo, coaching him on how to handle those game situations. Rondo's a poised kid who's going to get better with time. Hopefully, his jump shot will, too.
One thing Boston apparently needs is a big guy who can score in the paint. In this one, the Cavs flat-out left Kendrick Perkins. And when he did get it in the paint, he kicked it out rather than challenging Ilgauskas.
Maybe Big Baby is that guy, though. Glen Davis, the rookie from LSU, showed some nice moves down low, making all three of his shots and his two free throws in five minutes of action.
Their bench play is important. In this one, Boston reserves outscored Cleveland's 26-8. Ideally, their big three should be going about 36 minutes per game (all three are over that now). And it has to be that way, because they don't have the luxury of a bench like the Spurs'.
You probably couldn't get Garnett out of there, anyway. When I've talked to Rivers about him, he says it's hard even getting him off the practice floor. Along with Allen Iverson, no one plays harder. Boston could probably get by if Pierce or Allen went down, but not KG.
So while the Celtics' 11-2 start is impressive, they just haven't had to deal with many close games like this one. They also haven't been tested by the top-notch teams. Still, you could probably put them down for about 54 wins. They are up there with my top four teams in the East, along with the Pistons, who are battling injuries, and the Magic, which I will point out were one of my preseason surprise picks. The fourth team is not as easy a call. For reasons I stated above, I'm not a big Cavaliers guy, and Chicago has dropped out. So, I'd say the Nets would be that fourth team now.
ESPN analyst Jon Barry is a regular Daily Dime contributor.
Dimes Past:
November 10-11
|
12
|
13
|
14
|
15
|
16
|
17-18
|
19
|
20
|
21
|
24-25
|
26
|
27

By Chris Broussard
|
ESPN The Magazine
When put under the microscope, you have a Chicago team with two above-average -- but below All-Star caliber -- players surrounded by a cast of role players, none of whom can score in the post.
The only way a team like that wins is by out-hustling and out-executing opponents. Scott Skiles got the Bulls to do that the past four years, but his words seem to be falling on deaf ears now.
Skiles motivates by riding his players relentlessly. That works with most rookies and youngsters, but as players age, they get tired of being treated like college kids who owe their scholarship to the coach.
That's when they begin tuning you out.
Skiles, in my opinion, is a good coach. He reminds me of Mike Fratello. He'll get the most out of mediocre talent and have his teams overachieve for a few years (this is his fifth in Chicago), but after awhile, players get sick of him and tune him out.
According to various players around the league I've talked to, that's what's happening in Chicago.
• See the full Chris Broussard blog

By John Hollinger
|
ESPN.com
Mitch: (Toronto, Ontario): Does Kevin Durant even deserve the Rookie of the Year award? He is putting up average numbers on a horrible team. Shouldn't the award at least go to someone who is helping their team win?
John Hollinger:
No, he doesn't, Right now it would probably go to
Yi [Jianlian]
or (gasp)
Jamario Moon
(right), but basically I see the award as vacant … just sitting out there waiting for somebody to claim it. So far, nobody has done so.
Chris (Broadview Heights, Ohio)
: If there was a "worst contract in the NBA" award, would it go to
Larry Hughes
? He's signed with Cleveland until the 2009-2010 season and he's going into the useless category. Can you also explain how a "buyout" would affect their cap?
John Hollinger:
I think
Darius Miles
and
Raef LaFrentz
are giving far less for the money, among others. As for a buyout, it doesn't help at all unless Hughes agrees to take less money than he's owed, which he doesn't have much reason to do, and even then it hardly matters because of the other money Cleveland has committed. So basically, you're stuck with him.
• See the full John Hollinger chat

Tuesday's Best

Mike Dunleavy, Pacers forward:
Of course LeBron was LeBest, but how about Dunleavy dropping 30 on the Nuggets on 12-of-19 shooting, lifting Indy to a 112-110 road win?
---

Tuesday's Worst

Rajon Rondo, Celtics guard:
Hoisted an ill-advised brick in OT loss to the Cavs. Had his worst shooting night of the season (1-for-9) against the Cavs. But to be fair, his zero turnovers, six assists and seven boards were quite good.
---
Quote of the Night

"We don't want any tag. We don't want any big three or whatever. We just go out there and do our job. Z is playing career basketball right now, Drew is getting better, and I'm going to do what I have to do for us to win, of course."
--
LeBron James,
after his team beat the C's big three, aided by Drew Gooden and Zydrunas Ilgauskas.
• See how all 140 players fared
-- Andrew Ayres

Chad Ford talks with Brian Windhorst about the contract dispute between the Cavaliers and Anderson Varejao.
Varejao And Tell
Five teams from the Western Conference who entered Monday with a win percentage of .600 or better lost to teams with losing records. Of note, the last time the Mavs, Spurs and Suns all lost on the same day was Nov. 28, 2003.
Upside Down Evening

Team
Lost to
Opp. Win Pct.
Spurs
Kings
.308
Suns
Warriors
.417
Jazz
Knicks
.250
Mavericks
Wizards
.462
Hornets
Timberwolves
.091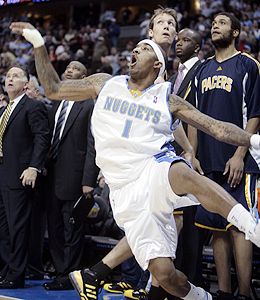 AP Photo/David Zalubowski
Nuggets guard J.R. Smith is fouled launching a 3-point shot with six seconds remaining in the Pacers' 112-110 win. Smith missed the third of three free-throw attempts that would have tied the score at 111.