(Photo by Elise Amendol/AP Photo)
After Horrific Outing In Boston, Knicks Return Home

It was scarcely more than a week ago that I cautioned never to declare anything a new low for the New York Knicks, because one can always be certain that no matter how bad things may look at the moment, there's always the distinct possibility no, make that the distinct certainty -- that something even more horrific is in store.
But dare we say the same thing again after watching the Knicks embarrass themselves anew Thursday night in a 104-59 loss to the Boston Celtics?
Well, there's always Friday night.
And if the Knicks pull a stink job at home Friday night against Milwaukee to match the bomb they laid on Thursday night, it'll immediately be time to re-raise the subject of whether Isiah Thomas' tenure as coach and president of the team is down to its final hours.
It was clear and evident to all Thursday night that the Knicks are a team that have quit on their coach, the TNT broadcast crew repeatedly observing that against the Celtics they played with the body language of a team playing out the string in April.
Given that it's still November, not April, we must agree that we've never seen anything quite like it.
It'll be a feisty crowd at the Garden on Friday night, a crowd that'll come prepared to lay it on Thomas thick should the game get away from the Knicks as quickly and as thoroughly as it did Thursday night.
If the Knicks lose by 40 again, the venom will be so poisonous -- especially if owner Jim Dolan is taking in the game from his usual front row seat -- that it might actually leave Dolan with no choice but to cut the cord with Thomas in order to be seen as doing something to placate the team's ever-shrinking fan base.
There comes a point when enough is simply enough, and that point may be imminent. One more quit job from the players, especially if it comes Friday so close on the heels of this latest debacle, and Thomas is going to have to go. But then again, even if it's the only move that makes sense for Dolan, history shows that it probably means he actually won't do it.
Still, the law of averages has to work in favor of common sense at some point, and common sense clearly shows that Thomas has to be in severe job jeopardy after a loss that pushed the Knicks from a 9.5 to a 10 on the laughingstock meter.
Things couldn't get worse than that, could they? The answer, of course, is yes, they could. And how could they possibly outdo the new low they dropped to on national television Thursday night? Perhaps we'll find out Friday, and then we can turn our attention to seeing whether Thomas makes it though Saturday.
Chris Sheridan covers the NBA for ESPN Insider. To e-mail Chris, click here.
Dimes Past:
November 14
|
15
|
16
|
17-18
|
19
|
20
|
21
|
24-25
|
26
|
27
|
28
|
29
The Scene From A Boston Massacre
By Marc. J. Spears | Special to ESPN.com

BOSTON -- The scoreboard read Celtics 95, Knicks 43 with 7:06 left in the fourth quarter at TD Banknorth Garden. No, this wasn't a JumboTron malfunction. This was "real talk," as the Boston Celtics' Kevin Garnett would say. Such an obscene lead would seem to give the Celtics fans ample time to head to the parking lots early from an already late game and get some extra night's sleep or an extra cold one across the street, right?
But no, these Celtics fans weren't ready to go. They wanted to see pathetic history. They wanted to see just how badly they could embarrass their rival Knicks. And they nearly got their wish if it weren't for a wild 37-foot 3-pointer at the buzzer by Nate Robinson during the 104-59 whipping the Knicks endured by way of the Celtics on Thursday night in front of a laughing or crying television audience, depending on where your allegiance lies.
Worst Losses In Knicks History
| | | | |
| --- | --- | --- | --- |
| Date | Opp. | Margin | Score |
| Dec. 25, 1960 | Nationals | 62 | 162-100 |
| March 18, 1972 | at Blazers | 47 | 133-86 |
| Nov. 29, 2007 | at Celtics | 45 | 104-59 |
| Feb. 20, 1980 | at Pacers | 45 | 131-86 |
"We didn't compete," Knicks coach Isiah Thomas said. "We just weren't competitive. Boston came out with a playoff type intensity, a national television game, and we didn't respond to that type of energy and it's disappointing. We're not ready for prime time yet. That's for sure."
The Celtics (12-2) are good, real good, but c'mon. This seemed more like a game between the Harlem Globetrotters and the Washington Generals than an NBA contest. All that was missing was Garnett throwing a pail of confetti on Thomas, Paul Pierce teasing the Knicks' Stephon Marbury with a ball on an elastic cord and Ray Allen doing dribbling tricks at center court.
If it wasn't for Robinson's H-O-R-S-E game like 3-pointer, the Knicks would have set a team and Celtics' opponent record scoring lows. The Knicks were 1-point shy of matching a franchise scoring low of 58 against Utah on Dec. 15, 2000. New York (4-10) also suffered its third worst loss in its lengthy and storied franchise history that began in 1946.
"That was embarrassing," Knicks guard Jamal Crawford said. "No way around it. No excuses."
Said Knicks swingman Quentin Richardson: "We played horrible. We played horrible. That's the bottom line. Taking nothing away from them, but at the same time we played horrible."
As low as horrible is, saying the Knicks played horrible is an understatement.
New York was down 52 points in the fourth quarter (95-43), which was more points than they had at the time. Robinson (11 points) was the only Knick to score in double-digits and remember, he needed the buzzer-beating trey to do that. New York was down 54-31 at halftime and its starting five combined to shoot 12-of-47 from the field.
"Of course I'm embarrassed by the loss," Knicks guard Marbury said. "We almost lost by 50 points."
And it wasn't like the Celtics were trying to run up the score either. Garnett exited the game with 5:47 left in the third quarter with Boston up 69-35. Pierce and Allen joined Garnett with Boston up 82-37 with 2:59 remaining in the third. "I definitely didn't see this type of game coming," Thomas said.
And with this loss, what Thomas will see coming is more and more heat on whether he will keep his coaching job with the Knicks. First the court problems, then the heckling at home and now the Boston massacre for Thomas. Just when you thought it couldn't get any worse for Thomas and the Knicks, they become road kill in Boston.
When asked if the Knicks had quit on Thomas, said Marbury in the understatement of this young NBA season: "No, I wouldn't say that. We just didn't play well tonight."
Someday, Perhaps Matrix Will Move

By Chad Ford
|
ESPN.com
Rocke (LA): Any rumors flying around about the Suns? They are off to a nice start, but I can't help but think that this team really needs to make a move. Thanks.
Chad Ford: I wonder if they are following the Anderson Varejao situation. Shawn Marion can opt out of his deal this summer and has been unhappy with his role on the team. He's represented by Dan Fegan. Fegan wants a big extension. So far, it appears that owner Robert Sarver, isn't inclined to give him one. They've tried to trade him in the past, I wonder if all of this will increase the urgency. Marion is hugely important to the Suns. But if you're going to lose him for nothing this summer, you may have to see what you can find.

Thursday's Best

Sasha Vujacic, Lakers guard:
Drops in 22 points while enduring the wrath of Melo in a 127-99 win over the Nuggets. At this rate, Kobe won't ever want to leave.
---

Thursday's Worst

The Knicks:
Hey, look on the bright side. How about that Nate Robinson shot? OK, it was 104-59. Reliable Zach Randolph shoots 1-for-10. Eddy Curry, 1-for-8. Whew. Isiah sits with that pensive forefinger over his lips, watching his team implode. Horror.
---
Quote of the Night

"To lose that bad was just ridiculous."
--
Knicks guard Stephon Marbury,
who had four points and one assist in 20 minutes of action.
• See how all 72 players fared
-- Andrew Ayres

ESPN the Magazine's Chris Broussard discusses the Knicks' embarrassing loss to the Celtics on GameNight on ESPN Radio. How bad is the situation with the Knicks? Has Isiah Thomas lost the respect of his players?
• Broussard

Chicago's On Historic Path
By John Hollinger
|
ESPN.com

Chicago was a mediocre offensive team a season ago, ranking only 20th among the league's 30 teams. The Bulls were in similar straits then at the 13-game mark. However, this season they've taken a quantum leap backward.
Chicago is dead last in the league in Offensive Efficiency, and even that doesn't do justice to the team's awfulness. The Bulls are producing a meager 89.1 points per 100 possessions. In a league where the median team nets 103.0, that is unspeakably bad. For some historical perspective, consider that if they keep this up they will rank as the worst offensive team in history relative to the league.
Breaking down the team stats, the mystery becomes more perplexing. Again, effort doesn't seem to be the problem. Chicago is playing at the same pace as a season ago. It turns the ball over about as much, gets about as many offensive rebounds, and shoots the same number of 3-pointers. Everything about the Bulls' offense seems exactly the same, except they're drawing slightly fewer fouls.
Oh, except there's one other little detail: They can't make a shot.
• See the John Hollinger story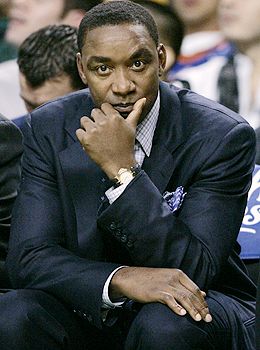 AP Photo/Elise Amendola
How low can you go? Isiah Thomas might need a deep-diving submarine to find out.