(Photo by Ned Dishman/NBAE via Getty Images)
Pistons' New Parts Give Them Winning Look Of Old

The Detroit Pistons, extending their win streak to 10 games with a 106-93 road win Wednesday over the Washington Wizards, are looking more and more like the team that won it all in 2004.
The balance is there offensively, but most importantly, they seem more recommitted to defense, taking pride in it again.
Pistons coach Flip Saunders seems to be one key believer in the defense, in his third season in Detroit. The first two years there, it seemed the majority of adjustments he made were offensive ones. Now I think their focus is to just go out there and shut people down defensively.
The second unit's improvement is helping make this possible. Jarvis Hayes and Jason Maxiell are two players in particular who are showing how they can affect the game without scoring. On defense, Hayes can cover a lot of 2s and 3s, while Maxiell's physical enough for 4s and 5s. And they can often affect a game with scoring too -- but it helps that in this win, Maxiell had 15 points and Hayes 12 in facing his old team.
Another new factor off the bench is rookie Rodney Stuckey. After returning from hand surgery, this was the 6-5 guard's seventh game with the team. He came off the bench for 22 minutes against the Wizards.
He's still a little rusty out there, but he's another one whose play doesn't make you fear the team defense will drop off when he's in there. He's going to show his explosiveness more and more. Fellow rookie guard Arron Afflalo plays good defense, too. Detroit's 89.3 points allowed per game is second only to Boston's 86.8. And the Pistons' scoring is up, while its defense is improving upon last year's 91.8 points allowed per game.
Let's look at how this might be affecting Chauncey Billups, who seemed worn down at the end of last season. He's right at 33.5 minutes per game, on pace for his lowest total in five seasons. That speaks volumes about what the bench has been giving the Pistons. In the win over Washington, only one starter went over 33 minutes (Richard Hamilton, 38). When you can get wins in this league with that kind of balanced effort, you are clearly doing something right.
Detroit's teams in recent years rarely had a second unit that was doing enough right. That's changing.
Saunders shortened his bench toward the end of last season -- and I think he held on a little tight to the reins. This season, I think his well-placed faith in the second unit can pay off in more than one way at the end of season: by keeping the first unit fresher and also developing the bench.
Overall, once again, another key factor is Rasheed Wallace. With Ben Wallace two seasons gone from Detroit, Sheed seems to have filled more fully the role as vocal and emotional leader of the team. The team feeds off his energy, but you always know that can be a distraction if he takes it too far. He can get them off course, so it remains important that he's buying into what the team is all about.
Right now, they seem all about getting back to being the East's top contender for the NBA title. The Pistons' story has been overshadowed by the rise of Boston. I expect the rematch of last month's two-point Detroit win in Boston to be a great one. As hot as Detroit has been, its 25-7 mark still puts it three games behind Boston (27-3) for the East's top record. Boston passed a good road test against the Lakers last week, but this one should be their toughest one to date.
Those two teams are clearly the class of the East, and I fully expect them to meet in the East finals.
In a seven-game series, I'd take Detroit.
ESPN analyst Tim Legler is a regular contributor to the Daily Dime
Dimes Past: December 21-22 | 23 | 24 | 25 | 26 | 27 | 28 | 31 | January 1
Stuckey Up In Rookie Ratings

By David Thorpe
|
ESPN.com
Detroit guard Rodney Stuckey reminds me of a young Tim Hardaway in that he's terrific with his stop-and-start dribble drives. He's a difficult guy to stay in front of. Since he just returned from an injury last week, he's just now learning that beating his defender is a small part of the battle in the NBA.
He's getting 48 percent of his shots from near the rim, but shooting just 38.5 percent on those shots, with 23 percent of those shots blocked, according to 82games.com. Compare that to a similar-sized guard in rookie Acie Law, who gets 43 percent of his shots off drives and has had only 5 percent of them blocked.
•
Aaron Gray
and
Joakim Noah
should not expect to see much action in the near future, because interim coach Jim Boylan is shortening his rotation in his effort to revive the Bulls. Gray's size is always a plus inside, but as teams forced him to make plays one-on-one, his effectiveness diminished. •
Thaddeus Young
showed some clutch shooting by draining two late free throws in a win over Memphis. But he rarely gets to the line, something we should watch for as his season unfolds. His combination of athleticism and timing should make him a guy who gets to the line a decent number of times each game. • In my last report, I suggested that despite having a huge game against the Spurs,
Al Thornton
still has some serious learning to do. Remember, he's already 24 years old, so there's concern that his upside may be small. I don't share those concerns, because I've seen players improve well into their 30s. But with Al going 10-for-29 from the field last week, it shows that he is still struggling with his shot selection. However, he did have one assist in each of his past four games, the longest such "assist streak" of his young career.
• See the full Thorpe rookie report

Wednesday's Best

John Salmons, Kings guard:
Dropping 32 points, 11 rebounds and six assists in a 117-107 win at New York goes a long way to making up for the absence of Bibby-Artest-Martin. Playing the hapless Knicks helps, too.
---

Wednesday's Worst

Luke Jackson, Heat guard:
Luke had the cool hand, going 1-for-7 in 12 minutes of action. Miami falls at home 103-98 at the hands of the visiting Bucks. Maybe Miami can bring Penny back again.
---
Quote of the Night

"I fed off this building. These fans are the spark plug and I just plugged in and didn't even think what I was doing."
--
Celtics forward Kevin Garnett,
after taking on the role of defending Yao Ming down the stretch to spark Boston's 97-93 win over Houston.
• See how all 237 players fared
-- Andrew Ayres

By Mark Simon
ESPN Research
Some notable things about the Detroit Pistons' 10-game win streak.
• Richard Hamilton: 35-for-60 from field in last four games, including 8-9 from 3-point range.
• Chauncey Billups: 37 assists, 12 turnovers in last five games.
Numbers On Detroit's Side

Category
Pistons
Opp.
Wins
10
0
PPG
100.8
84.0
FG Pct
47.4
41.2
3-Pt FG Pct
42.5
30.4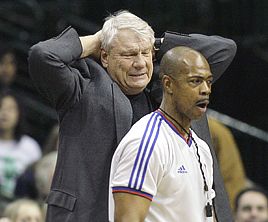 AP Photo/Matt Slocum
Golden State Warriors coach Don Nelson, left, reacts to a call by referee Tom Washington during his team's 121-99 defeat in Dallas.

Portland Trail Blazers coach Nate McMillan told ESPN Radio's Colin Cowherd about the growth of guard Brandon Roy, last season's Rookie of the Year. McMillan talks about coaching a young team and bringing in players with a good hoop IQ, and mixing in a quality veteran role player like James Jones.
McMillan's Way

By Mark Simon
ESPN Research
Add this to the list of horrifying stats about the Knicks. This season, the Knicks have blocked 70 shots, putting them on pace for fewer than 200 this season. They've had 177 of their own shots rejected, putting them on pace to get stuffed nearly 500 times this season. The current differential of minus-107 is, by far, the worst in the NBA.
Worst Shot-Blocking Differential, 2007-08

Team
Blocks
Opp. Blocks
Diff
Knicks
70
177
-107
Jazz
150
205
-55
Wolves
131
186
-55
Kings
118
168
-50