(Lisa Blumenfeld/Getty Images)
The Five Most Surprising Teams

After going over the five most disappointing teams, let's look at the five that are the most surprising.
1. Boston Celtics -- 29-4! It's not surprising that they are far better than last season, but the degree of improvement is the big news. This is a team that was in the early stages of an 18-game losing streak at this time last season.
When a team assembles a lineup consisting of three All-Stars there's no guarantee that it will have automatic success. The most impressive thing is Boston's defense; it is why the Celtics have been able to win at such an alarming rate. There have been nights on which two of the big three didn't have good offensive games, but because they've bought into a common defensive approach, the Celtics can still win.
They hold opponents to a league-low 41.7 field goal percentage. Bringing in assistant coach Tom Thibodeaux from Houston reinforces the defensive priorities of Celtics coach Doc Rivers, who having played for Pat Riley, comes from a strong defensive background.
Entering the season, Kevin Garnett was the only guy known to play well defensively among the three stars. Ray Allen and Paul Pierce have bought in and played to the defensive concept. But three guys don't make a team. They have had great contributions from many parts, including the recent big game by Glen Davis against Detroit.
2. Portland Trail Blazers -- I see no reason for a drop-off from the 22-13 start that has made them the Northwest Division leaders. The Blazers' confidence is building, and they have a great opportunity to play this well the rest of the year.
How did they get here? James Jones and Steve Blake are new additions, but it's not like the team went nuts on the free-agent market for this dramatic improvement.
Brandon Roy has been outstanding. It's clear that the Blazers are a young team way ahead of the curve, which is something coach Nate McMillan stated when we sat down to talk before a recent game.
There are good things around the curve, too. Most everyone thought this was another lottery season for the Blazers after No. 1 overall pick Greg Oden was lost for the season with a knee injury. Now, there's a whole new outlook.
3. Orlando Magic -- The first thing that impresses about this team is its 16-6 road record. Dwight Howard is proving he's an All-Star type of player, pulling down a league-leading 15.2 rebounds per game.
Hedo Turkoglu has played terrific basketball, and can be their go-to kind of guy on offense. Stan Van Gundy was an excellent coach in Miami and he has shown that again up the road in Orlando. Carlos Arroyo has helped give them good point guard play in support of Jameer Nelson. Still, I see them being a legitimate power forward away from being an upper-echelon team. And as good as they have been on the road, they still need to get over .500 (6-7) at home.
4. Los Angeles Lakers -- The biggest surprise is the way all the offseason talk about a Kobe Bryant trade really galvanized this team. With no major changes to the roster -- although they did bring back Derek Fisher -- this team has responded with a 23-11 start.
Andrew Bynum, who hadn't shown signs that this kind of improvement was coming, has been a dominant force for the team, averaging 12.9 points and 10 rebounds per game with an NBA second-best 62.8 field goal percentage. Jordan Farmar has played very well, and Trevor Ariza was a terrific early-season addition from the Magic.
I really expected, considering the way Kobe came in to the season, that there would be major distractions. Instead, the Lakers have been tremendous offensively, and Phil Jackson is doing the best coaching job he's ever done.
5. New Orleans Hornets -- In the best division in basketball, the Hornets are only one game out of the Southwest Division lead at 23-12. Winning is not a tremendous surprise; this was a team on the cusp of breaking through already.
They were hampered by injuries last season and still nearly made the playoffs. Chris Paul -- averaging 21.7 points per game and 10.2 assists per game, which is third in the league -- is becoming one of the premier point guards in the league -- in a Western Conference loaded with them. This is a Hornets team that no one really talks about much, but they bring a great road record (14-5) to the table.
ESPN analyst Jon Barry is a regular contributor to the Daily Dime
SportsNation: Centers Of Gravity
John Hollinger doesn't care what they've called Tim Duncan. The Spurs' big man is a center, not a power forward.
Give us your thoughts on these questions ... Is Tim Duncan a true center? Who should start at center for the Western Conference in the All-Star Game? Who should start at center for the Eastern Conference in the All-Star Game? What is the most important skill for a center? Who is the best center under the age of 25 in the NBA?
• Vote: Center of a debate?

Thursday's Best

Rasheed Wallace, Pistons forward:
You don't want a piece of a healthy and focused 'Sheed. He picks apart the Spurs for 23 points and 15 rebounds in a 90-80 win in San Antonio.
---

Thursday's Worst

Manu Ginobili, Spurs guard:
Held under 10 points for the first time since Nov. 26, Ginobili made only 3 of 12 shots en route to nine points in the loss to the Pistons.
---
Quote of the Night

"When 'Sheed is locked in and focused like that, he is, without a doubt, our No. 1 option. He does something out there that nobody can do."
--
Pistons guard Chauncey Billups
, on teammate Rasheed Wallace.
• See how all 54 players fared
-- Andrew Ayres

By ESPN Research

When the Boston Celtics face the New Jersey Nets on Friday (7:30 ET), keep an eye on Vince Carter, who seems to usually have the statistical edge on Ray Allen, but usually comes out on the losing end. In 23 head-to-head matchups against Allen, Carter has a 6-17 record. Allen has won 5 straight and 6 of his last 7 games vs. New Jersey.
Ray Allen vs. Vince Carter
Career Head-to-Head

Category
Allen
Carter
Wins
17
6
PPG
22.7
24.8
RPG
4.5
5.5
APG
3.8
3.7
FG pct
49.5
45.4
3-pt FG pct
41.2
37.5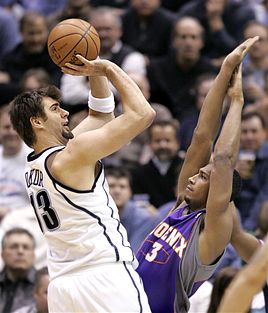 (AP Photo/Douglas C. Pizac)
Jazz center Mehmet Okur had his season high in rebounds (17) along with 22 points in Utah's 108-86 win over a Suns team playing without Steve Nash, Grant Hill and Shawn Marion.

Chad Ford and ESPN The Magazine's Chris Broussard discuss Los Angeles' Andrew Bynum. What has been the key to his success this season?
Development Plan
By Chris Broussard
ESPN The Magazine
As Baron Davis told me after Andrew Bynum put 17 and 16 on the Warriors last month, "That boy's gonna be a beast.''
For the past several years, we've all lamented the demise of the center. Shaq has told us he's the Last Don, the last true big man to walk the earth (or the hardwood).
But we've been wrong.