Noah Graham/Getty Images
A Diesel Dose Of Shaq-Related Chatter

PHOENIX -- Will eight more helpings of Shaquille O'Neal trade fallout be enough to get you through the weekend?
• It wouldn't be fair to isolate Shawn Marion as some sort of lone scapegoat for the frequently joyless nature of the Suns' season. Coaches and teammates have occasionally been just as frustrated over the years with the swaying focus of Amare Stoudemire, which contributed to what we've been writing in recent days about the organization's growing belief that the team's core needed a shakeup.
No one on the inside describes it as a Marion-Stoudemire conflict. As team president Steve Kerr said Thursday, "There wasn't turmoil in the locker room, people weren't fighting." But the constant refereeing and ego-stroking in the locker room took its toll, most of all on Steve Nash, whether it was the strain involved in trying get everyone on the same page to match San Antonio's maturity and togetherness or the effort required in getting those two to play with the same urgency as the Suns' veteran core of Nash, Grant Hill and Raja Bell.
"I don't think there's ever been a player who can change the attitude of a team like Shaq," Kerr said. "[The trade] was also done for the mental health and emotional well-being of the team.
"I think [Nash] needed something like this. I think we all did, actually."
• So …
What we're basically saying is that the Suns reached the point where they had to choose which one to trade: Amare or Shawn. Yet it was always going to be Marion, even after the draft-time flirtations with trading Stoudemire to Atlanta as part of a three-way swap that would have netted Kevin Garnett.
There are surely some Shaq skeptics out there who will be reminded of those discussions and would suggest that Nash might be better off if he were flanked by KG and The Matrix as opposed to Amare and Shaq, since there's little doubt that a big man who can run and shoot as well as bang with Tim Duncan -- Garnett, namely -- would be the best fit in coach Mike D'Antoni's system. But as owner Robert Sarver said this week: "Guys like Steve [Kerr] and Mike know our team better than anyone else, so I take my lead from them."
And those guys figure that they've improved their chemistry with Shaq replacing the unhappy Marion and the sulky Marcus Banks far more than they could have with any other newcomer. They also think Hill and Boris Diaw will be able do some of Marion's jobs. Most of all, Kerr and D'Antoni believe that they've addressed the Suns' longstanding lack of size and physicality inside and made the aforementioned upgrades while hanging onto the younger of the two unique talents to give them a base for building a post-Nash team. With a roster full of thirtysomethings and a future to consider after they're gone, Phoenix management simply sees Amare as too talented and resilient, after three knee surgeries, to part with at 25.
The bonus? In O'Neal, Phoenix gets an energizing fresh start and the one guy who Stoudemire will listen to more than anyone else in the league, which could be a crucial step in Amare's development if Shaq is serious when he says, "This is the Amare Stoudemire Project for me."
Said Kerr, "Amare respects him so much and needs him physically."
(The other bonus? No longer will Phoenix be subjected to hearing TNT's Charles Barkley taunt them by saying that the Suns' toughest player is their point guard.)
• The Nets insisted this week that they didn't register a Shaq bid of their own, but one source close to the process contends that New Jersey offered Vince Carter for O'Neal. Since Carter has an even longer contract, it's not tough to understand why Miami would pass.
Word is that the Nets have also resumed talks with Indiana about a possible Vince-for-Jermaine O'Neal deal, but sources stress that no deal is close.
• The Suns didn't just believe that Dallas was making its own hard push for Shaq before Wednesday's trade. It was likewise suggested out here that Mavs owner Mark Cuban was in Miami earlier this week working on the deal.
Yet even if that last part is true …
Dallas never offered Josh Howard to the Heat and never would have. Think about it, people. If the Mavs are skittish about losing Brandon Bass and/or DeSagana Diop along with Devin Harris in a Jason Kidd deal, as we've already established, you think they'd suddenly be prepared to part with Howard in a Shaq deal?
The Mavs, according to plugged-in sources, were willing to go one of two routes with the Heat. The primary option was encouraging the Heat to buy Shaq out, with the promise that the Mavs would use their full mid-level exception to sign O'Neal in an attempt to reduce Shaq's remaining salary-cap number in Miami starting next season. The only other way it would have worked for Dallas required Miami to take back Erick Dampier in a trade. The Heat, not surprisingly, weren't interested in either option.
• Teams talking trade with the Mavs these days naturally try to convince them to make all the complications go away by turning the rights they still hold to Keith Van Horn into an expiring contract, as described in Box 3.
The Mavs could actually make a trade for Kidd much easier if they were willing to throw a signed-and-traded Van Horn in to satisfy salary-cap requirements. That would amount to Van Horn getting a three-year deal with only the first year guaranteed … at a healthy $11.7 million. Package Van Horn with Harris and perhaps more salary-cap filler and the Nets would get good cap relief along with an on-the-rise point guard to replace Kidd, while Dallas would have its mega-trade answer to the Gasol and Shaq deals.
Only one problem.
Although he still refuses to address the prospect of trading for Kidd without chastising or mocking any reporter who dares to ask, Cuban did tell ESPN.com very clearly that "we won't use [Van Horn] in any deal for anyone."
Reason being: If Dallas did so in the scenario described above, Kidd would cost them nearly $40 million next season thanks to the luxury tax.
• One unintended consequence of the Suns acquiring O'Neal is that it might further complicate Dallas' ability to trade for Kidd. The Mavs, as stated above, were hesitant to part with Bass or Diop before Phoenix got Shaq. With the Lakers getting Pau Gasol and the Suns adding size for the first time in the Steve Nash Era, this probably isn't the time to go small.
• Sources say that the Suns' original arrangement with the Heat called for Phoenix's medical experts to fly to Miami to covertly examine O'Neal on Wednesday in Florida as opposed to bringing Shaq to the desert.
But those plans changed when the advanced nature of the trade talks were revealed online Tuesday night by The Miami Herald, leading some at US Airways Center to believe that the deal was leaked to the newspaper in hopes of locking the Suns into the trade.
Phoenix still had the right to back out of the deal Wednesday had Shaq's physical examination scared the Suns off. Kerr has said he was prepared to do just that "unless I felt really good about it from a medical standpoint." But it would have been a much bigger scandal if the trade had been aborted after O'Neal was flown in.
• Suns fans are still so stunned by the prospect of O'Neal in purple and orange that they probably haven't even realized yet that the biggest winner tied to the trade so far is the guy loathed in Phoenix more than anyone not named Robert Horry.
Seriously. Who could be happier about what's happened in the last week than David Stern?
In a span of just over six months, Boston and the Los Angeles Lakers have been resurrected. O'Neal's move to the desert, meanwhile, means three of the game's all-time icons -- Shaq, KG and Allen Iverson -- have all been traded in a span of 14 months, all in an era when big transactions and all the accompanying speculation and analysis tend to get folks more revved up than the games do.
In other words … does anyone ever remember Tim Donaghy?
Marc Stein is the senior NBA writer for ESPN.com. To e-mail him, click here.

"You get Shaq. C'mon, guys."
Suns coach Mike D'Antoni, sensing that the ever-expanding media audience in Phoenix this week wasn't buying the team's insistence that the most successful small-ball coach in league history was more eager than Suns president Steve Kerr to say yes to the Shaquille O'Neal deal with Miami.
Sources close to D'Antoni -- sources with no reason to spin us, we should add -- insist that he was among the most eager in the organization to acquire O'Neal, even though Shaq's arrival has an entire league wondering whether Phoenix is abruptly (and needlessly) ditching its famed intent to get a shot up in seven seconds or less.
The events of the past week -- and the fact that players can't start collecting pension benefits before the age of 45 -- raise an interesting question: Why would any retiring player ever turn in a retirement letter to the league?
If Aaron McKie had officially retired in writing, he wouldn't have been able to answer the recent phone call informing him that the Lakers were about to throw him into the Pau Gasol trade … even though he was working as an assistant coach in Philly.
Our own Henry Abbott of TrueHoop compiled a handy list this week of all the players who are out of the league at present but whose rights are held by the team they last played for. This happens as long as the player doesn't sign somewhere else or notify the league that he's retiring and if the ex-team chooses not to renounce its rights to the player.
Teams that want to create as much salary-cap space as possible will usually renounce such players. But it's clearly useful for teams -- since they're always trying to find creative ways of obtaining expensive players -- to keep the rights to a former player or two in this manner just in case they need one more piece to make the salary-cap math work on a trade, as seen with L.A. and McKie.
There are also four such players at present who are truly special. They're the ones who haven't officially retired and whose last NBA salaries were high enough that they can be re-signed by their most recent employer for a very substantial amount, then added to a trade as an instant expiring contract without base-year compensation rules kicking in.
Players who are signed and traded must sign a three-year deal. But only the first year is guaranteed, creating an expiring-contract effect. That means Minnesota (Latrell Sprewell), Dallas (Keith Van Horn), Chicago (P.J. Brown) and Indiana (Rik Smits) all possess a very valuable trade chip if they can find a way (yes, we jest) to convince the ex-player, like McKie, to take a lucrative handout without anyone expecting him to do anything more than sit at home and start waiting for the checks.
So why haven't we seen, say, Indiana take advantage, considering Smits last played in 1999-2000, meaning that the Pacers have had this option for some time? Luxury-tax concerns, as usual, are the deterrent, as explained in Box 1 with Dallas and Van Horn. If the Mavs were to use Van Horn as the primary piece in a Kidd trade, without sending out more long-term salary besides point guard Devin Harris, Kidd would almost be a $40 million player next season, costing Dallas nearly double his $21.4 million salary.
The Fab Four Retirees
Player
Last Team
Last NBA Salary
Maximum Salary*
Latrell Sprewell
Minnesota
$14,625,000 in 2004-05
$17,550,000
Keith Van Horn
Dallas
$15,694,250 in 2005-06
$16,478,962
Rik Smits
Indiana
$12,250,000 in 1999-2000
$14,700,000
P.J. Brown
Chicago
$8,560,000 in 2006-07
$10,272,000
*Maximum salary represents the most each of these players could receive in the first year of a new three-year contract.
---
Speaking of math, Lakers general manager Mitch Kupchak certainly won't protest if you decide now's the time to calculate the net effect of their decision to trade Shaquille O'Neal to Miami after the 2003-04 season.
As discussed here on numerous occasions, L.A.'s real sin was trading Caron Butler to Washington after getting Butler, Lamar Odom and Brian Grant from the Heat for O'Neal. When we recently studied the five most recent superstar trades before the madness of the past week, it was impossible to dispute (at least here at Stein Line HQ) that the Lakers did better in their Shaq Sale than Minnesota, Philadelphia, Orlando and Toronto did when parting with Kevin Garnett, Allen Iverson, Tracy McGrady and Vince Carter, respectively.
Make your calculations today, though, and the gap is even wider. I suppose Minnesota's Al Jefferson has a shot to narrow it with some of the flashes we've seen from him this season, but it doesn't take sophisticated calculations to see that the Lakers have turned Shaq (and the underwhelming package headlined by Javaris Crittenton that went to Memphis) into Gasol, Odom and Jordan Farmar, who was selected with the first-round draft pick Miami sent over in the original O'Neal deal. The Lakers' painful first post-Shaq season, furthermore, resulted in a trip to the lottery that netted Andrew Bynum with the 10th overall selection in 2005.
It must be noted that Miami's Pat Riley just pulled his own Kupchak by convincing Phoenix to take on Shaq, since the Heat's real error was not trading for Shaq at 32. The Diesel did deliver the championship he publicly guaranteed, after all, but it looked like Riley would be hamstrung for years thanks to the five-year extension worth $20 million annually Shaq received before the 2006 title run. Yet now it's Phoenix that will be paying almost half of that extension.
Shaq, incidentally, told the story Thursday that Riley actually offered him a three-year extension at a max rate or a five-year plan worth $100 million to give Miami sufficient wiggle room to bring in Antoine Walker, James Posey and Gary Payton. "Me being a team guy," Shaq helpfully explained, "I said, 'OK, I'll take the five.'"
---
Some All-Star trivia to break up all this trade talk …
Question: How many times has the city hosting the All-Star Game had two All-Stars from its own team?
Answer: When it happens in New Orleans next week with Chris Paul and David West, it'll be the eighth such occurrence in the past 20 seasons.
Paul and West will join Houston's Tracy McGrady and Yao Ming from 2006; L.A.'s Kobe and Shaq from 2004; Philadelphia's Allen Iverson and Dikembe Mutombo from 2002; San Antonio's David Robinson and Sean Elliott from 1996; Phoenix's Charles Barkley and Dan Majerle from 1995, and Utah's Karl Malone and John Stockton from 1993.
The last city to have three hometown All-Stars was Los Angeles in 1983, when Magic Johnson, Kareem Abdul-Jabbar and Jamaal Wilkes represented the Lakers.

This kind of deal might barely cause a ripple after the blockbusters we've seen lately -- and two sources close to the situation insist that it probably won't happen -- but New York and Chicago have apparently discussed a trade that would send
Ben Wallace
to the Knicks for
Quentin Richardson
,
Malik Rose
and
Fred Jones
.
Pardon our yawns, but it's difficult to imagine much of an impact on either team even if it does go through.
For the Bulls? I keep hearing that Wallace does expect to be relocated before the Feb. 21 deadline, which Chicago would undoubtedly regard as a form of addition by subtraction that creates more of an opportunity for rookie Joakim Noah. But that's about all it would be if these are the trade terms.
For the Knicks? Now that a seven-game losing streak has erased any of their playoff delusions, even in the East, Wallace sounds like little more than another past-his-best name for Isiah Thomas' collection.
The Bulls have fielded much more steady trade interest in another Thomas -- Tyrus Thomas -- but word is Chicago won't consider moving him now. Which makes some sense, since it'd be tough to get any kind of value for Thomas (as with most Bulls) because this season has been such a nightmare.
---

As time passes, Sixers general manager Ed Stefanski convinces more of his peers that he's serious about hanging onto Andre Miller. It was initially assumed that Stefanski had been making that claim publicly simply to increase Miller's value, but you hear more and more on the GM grapevine lately that Philly -- underwhelmed by its likely free-agent options this offseason -- would prefer to stagger its salary-cap flexibility so it has some this summer and some in the summer of 2009.
Miller seems like a natural candidate (at least to me) to help facilitate a three-way Jason Kidd trade scenario with Dallas because A) new Nets exec Kiki Vandeweghe signed Miller in Denver and remains a big fan of his and B) Miller's contract only has one season to run after this one, which should appeal to the Nets.
But there's been no indication yet that Philly is interested in participating in that kind of deal. Especially since there's a case to be made that Miller might be even more valuable as a trade asset next season when he's in the final year of his contract at $9,999,999.
---
Lakers at home, Nuggets at home, Bulls on the road.
Those are Miami's last three games before the All-Star break … and the post-Shaq Heat have to win them all for Dwyane Wade to dodge a slice of history he surely doesn't want.
Even going 2-1 in what will likely be Shawn Marion's first three games with the Heat, after going 1-21, would send Wade to New Orleans with the lowest winning percentage ever for an All-Star Game starter, according to the Elias Sports Bureau.
Thanks to that unfathomably hopeless nosedive that has stretched for 21 losses in the past 22 games, Miami takes a sub-Mendoza Line winning percentage of .188 into Sunday's ABC matchup with the Lakers. As the chart below indicates, no All-Star starter has ever been on a team that couldn't win 20 percent of its games.
Worst Team Winning Percentage For
All-Star Game Starter
Player/Team
Season
W-L
PCT.
Walt Bellamy/
Chicago Packers
1961-62
9-31
.225
Sidney Wicks/
Portland Blazers
1972-73
12-38
.240
Tracy McGrady/
Orlando Magic
2003-04
13-41
.241
Wilt Chamberlain/
S.F. Warriors
1964-65
11-33
.250
Ray Felix/
Baltimore Bullets
1953-54
10-30
.250
The weekly Stein Line segment on ESPN2's "NBA Coast To Coast" not only covers why the Lakers are unlikely to follow up their acquisition of Pau Gasol by moving Lamar Odom before the Feb. 21 trading deadline but also why the Lakers might be forced to shift Odom to a sixth-man role if they stick with those plans to keep him.
ESPN.com veterans Chad Ford and Marc Stein don't agree on the Shaquille O'Neal trade. Ford remains stunned that Phoenix would ever consider making this deal. Stein, meanwhile, has been warming to the idea after his own initial shock. Listen to the back-and-forth debate on the NBA Dish podcast.
• Listen to the interview

The Dallas Mavericks haven't been shy in admitting that they were rooting for Phoenix to swap Shawn Marion for Shaquille O'Neal. They figure the Suns just gave away their best Dirk Nowitzki defender to add a guy who will help the Mavs keep Erick Dampier on the floor against a team Dampier has struggled to run with.
So it comes as little surprise that the trade was greeted with even greater glee by the cast of Galloway & Co. on ESPN Radio in Dallas (103.3 FM), which brought in Marc Stein to explain the Suns' thinking.
Galloway & Co.
Instead of the usual one-on-one in this space, here are five topics of note touched on by Shaquille O'Neal during and after his introductory news conference in Phoenix on Thursday:
On his belief that he'd retire as a member of the Heat:
"I thought I was. But I'm the son of a military drill sergeant. So believe it or not, my mind is programmed for four and relocate. My whole life, four and relocate. Do what you do in four and relocate: Rebuild."
On last season's complaint (and perceived swipe at new teammate Steve Nash) that the MVP award "has been tainted" in recent years:
"No, I never said that. Did I? If I said it, delete it from the files."
On whether he viewed the Suns as a soft team until now:
"No. Never soft. They just could never get past the Spurs. They couldn't get past Mr. Duncan."
On how badly his résumée needs the boost of a fifth championship ring to break his tie with Duncan:
"A lot. I need five and six." (After which Suns coach Mike D'Antoni immediately interjected, "Mine needs one.")
On his willingness to guarantee a championship, as Shaq did when he arrived in Miami:
"Not yet. Let me get a few practices under my belt and, yeah, I'll let you know. I'll let you know."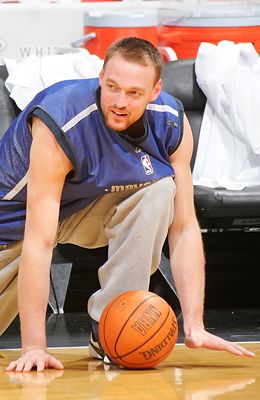 Jesse D. Garrabrant/NBAE via Getty Images
Mavs owner Mark Cuban told ESPN.com (Box 1) that he won't use the rights he still holds to Keith Van Horn in any forthcoming deal, even though a salary-cap technicality makes the retired forward (Box 3) a valuable trade chip.
Nate (Cleveland):
What do you see the Cavs doing? Trading for Mike Miller? If not Miller, then what?
Marc Stein: The issue here is that it's not yet clear what Memphis wants in exchange for Miller. LOTS of teams are interested. Does the team offering Memphis more salary-cap room and the best draft pick win? Presumably.
MANCHESTER CITY/CAL STATE FULLERTON: Shouldn't the Lakers have sent Farmar or Vujacic to Memphis for Pau instead of Crittenton? He has the most upside, talent and best NBA body of the three. Do you think Memphis or L.A. tried to get/give Farmar or Vujacic instead?
Marc Stein: I have a question. Although you shrewdly mentioned my two favorite sporting institutions to get your question picked, if I'm reading this right, you are a Laker fan who's not totally happy with the Pau trade. For real?
Memphis had to hold out for SOMETHING. Plus I like both Farmar and Sasha and the progress they've made, so I wouldn't be too sad that L.A. retained both.
Ron Kaminker (LA nee Buffalo): Thanks for mentioning the Buffalo Braves in your last Weekend Dime and the totally unexplained reason for Moses Malone playing two games in Buffalo being traded for cash. I was 16 when John "Why?" Brown decimated a really strong team and then moved the team by stating that the fans could not support them. Just another thorn in the side of long-suffering Buffalo fans!
Marc Stein: I will get us answers someday. I dream of putting together a Buffalo Braves reunion one of these years. I want to get every Braves alumnus in one hotel ballroom and find out everything I can about the team's brief glory days and hasty demise, because I was only 8 when the team (and my family) moved to Southern California after the 1977-78 season. If you look at some of the names that were run off in the last couple of years of the team's history (Moses, Dantley, McAdoo, Dr. Jack), it's flat-out criminal.
Gary (Sacramento): Are you going to shut everything down Sunday to watch City at Old Trafford?
Marc Stein: The game kicks off so early Sunday morning in the States that I don't need to shut anything down. English fry-up and a DERBY at 7:30 Texas time! Heaven. Prediction: City fans observe the Munich silence impeccably, Benjani scores on his debut and the Blues sneak ANOTHER 1-nil win.
• Read Stein's full chat