Brian Babineau/NBAE via Getty Images
New Kid On The Block Weighs Heavily On Duncan, Champs

BOSTON -- Remember this summer when everyone thought the Celtics were three All-Stars and nine CBA players? Might be time for a rethink, huh?
The reason Boston is 39-9 and making a run at the NBA title is because this team is much more than just its three heralded stars, and Sunday's 98-90 win over San Antonio provided further validation. With
Kevin Garnett
again sidelined, it was Boston's "other guys" who made the difference against the defending champs. Chief among them was backup forward Glen "Big Baby" Davis. Although the 290-pound rookie's minutes had dwindled in recent weeks, he earned 33 Sunday by playing strong on-ball defense against
Tim Duncan
and finished with nine points, eight boards and three steals. On a night when the Celtics were without both Garnett and starting center
Kendrick Perkins
(shoulder), his contribution was critical. "What we told Glen was, 'He's taller than you; you're heavier than him,'" said Boston coach Doc Rivers. "And we said 'and you're lower than him. You're not going to grow today. He's going to be taller than you … but because you're low and you have a low center of gravity, get into his legs and try to push him of the block.'" Indeed, Davis stymied Duncan's back-down efforts by using his heft to force San Antonio's star away from the block. Although Duncan's final numbers were hardly chopped liver -- 22 points, 14 rebounds, six assists -- Davis kept him off the line (four free-throw attempts), and two of his steals came when he used his surprisingly nimble feet to foil entry passes to Duncan. As a result of how well he played in single coverage, the Celtics didn't need to provide double-team help -- even though they were facing one of the league's premier post players with a short-handed frontcourt. "I'm sure people thought going into the game that we were going to trap Duncan every single time. The way he's passing now, I didn't think we could win the game that way," Rivers said. Because of the absence of Garnett on the Boston side and
Tony Parker
for San Antonio, this game fell a bit short of the "Finals preview" hype that otherwise might have followed it. Nonetheless, it was a hard-fought, defensive battle that had a playoff feel to it -- punctuated by
James Posey
's gratuitous after-the-whistle chuck of
Manu Ginobili
that got him T'd up in the third quarter. And you could tell it meant more to Boston than a typical regular-season win by the howling and screaming coming from the locker room -- boisterous enough that it was easily heard from the outside hallway. Davis wasn't the only "other" Celtic to make a difference.
Rajon Rondo
had 12 assists and 11 rebounds and played stellar defense.
Leon Powe
struggled with fouls but also did a serviceable job in single coverage against Duncan.
Tony Allen
came off the bench to help harass Ginobili into six turnovers, including one play on which a falling Ginobili drilled Duncan in the head with a pass from three feet away. And
Eddie House
scored 10 points in a 2:23 span of the second quarter to keep Boston in the game early. More than anything, however, the group's young legs helped Boston to a huge advantage in the running game. Boston had 18 fast-break points; San Antonio had
none
. "We could not win this game if the pace slowed down at all," Rivers said. "Even to the point with three minutes left, I told them, 'If we got a break, we're taking it.' We're not going to win a half-court game against the Spurs because we didn't have a post presence." Of course, Boston still needed some star power to close the deal.
Paul Pierce
was ridiculous in the first quarter, when he started 5-for-5 and scored 14 of his game-high 35 points. The highlight was a fadeaway from the right corner over Ginobili that set off a "That's my dog -- no, that's my dog" scream-off between bench cheerleaders Allen and House. As far as the Spurs are concerned, they looked as sharp as they have in weeks despite Parker's absence -- raising hopes that the Rodeo Road Trip again will be their salvation. They had won four straight coming in and need only a split of the final two contests (Monday in Toronto and Wednesday in Cleveland) to come away with a winning record on the nine-game stint. And even with Boston's kids playing so well and Parker out, San Antonio had a chance to tie when
Michael Finley
's 3-point try rattled out with 45 seconds left. "We're unhappy for the loss, but if Mike gets his 3, it's a tie game," said Spurs coach Gregg Popovich. "Missed shots have nothing to do with it other than you'd like them to go in, but you can't control that." Parker, incidentally, is expected to return either the first or second game after the All-Star break. His heel injury is said to be less of an "injury" per se than a condition he has had since childhood that occasionally flares up. These two sides will meet again in San Antonio on St. Patrick's Day (it just seems wrong that the game isn't in Beantown), when we hope Garnett and Parker will both be back. Boston will be on a five-game road swing then that will provide an even sterner test for the club's youth brigade. In the meantime, the Celtics proved again that they can more than hold their own against the league's elite. The win moved them to 16-0 against the West -- so much for the idea that they have beaten up only on Eastern patsies. In doing so, they proved once again that this team is far more than just Garnett, Pierce and Allen.
John Hollinger writes for ESPN Insider. To e-mail him, click here.
Dimes Past:
February 1
|
2-3
|
4
|
5
|
6
|
7
|
8
|
9-10
Kidd, Nets Leave Cuban Facing Defeat

By Chris Sheridan | ESPN.com

EAST RUTHERFORD, N.J. -- Mark Cuban wasn't going to win any whitest smile awards Sunday night at the Meadowlands.
Every time they showed the Dallas Mavericks owner's face on TV -- or any time you stole a glance at him sitting near center court, just a couple of seats down from Mavs coach Avery Johnson -- the guy had what appeared to be an incurable case of ickface.
"You know, the All-Star break hasn't started yet," a disgusted Johnson said after his Mavs allowed the New Jersey Nets to take control of the game with a 30-4 run bridging the second and third quarters in a 101-82 victory Sunday night.
The Mavs had very little energy in their second-most lopsided defeat of the season, allowing Jason Kidd to do something he rarely has done all season -- beat them over the top with alley-oop passes.
Kidd finished with 14 assists -- just two fewer than the entire Dallas team -- and Vince Carter scored 29 in one of the Nets' better all-around efforts in weeks.
"The way we've been playing has been unacceptable," said Nets coach Lawrence Frank, who will know in the next 10 days whether he'll continue to have Kidd on the roster for the Nets' playoff push. Kidd's name continues to be mentioned prominently in trade rumors, and the Mavericks are considered one of the main contenders to acquire him before the Feb. 21 trading deadline.
Cuban spent nearly 30 minutes before the game speaking with Nets general manager Kiki Vandeweghe.
"We talked more about our wives and kids than anything else. But we wanted to let everyone see us talk so you guys [reporters] can freak out," Cuban said.
As the night wore on, however, the only people freaking out were the fans reacting to Kidd's passes. Cuban can morph into that positive freak-out mode, too, if he can find a way to get Kidd -- although from everything we're hearing, the Mavs' reluctance to include Devin Harris in combination with other players makes such a trade unlikely.
So if Feb. 21 comes and goes without Kidd's becoming a Maverick, the dour expression Cuban wore on his face Sunday might have been just a sneak preview.
Chris Sheridan covers the NBA for ESPN Insider. To e-mail Chris, click here.
Even When Shot Deserts Him, Paul Stays Productive

By Elias Sports Bureau

In his first three games vs. Memphis this season, Chris Paul averaged 37.0 points and 10.3 assists per game while leading New Orleans to three victories. He used a different formula Saturday. Paul dished out 16 assists but scored only two points, shooting 1-for-10 from the floor in a 112-99 Hornets win over the Grizzlies.
But even that added another bullet point to Paul's expanding résumé. Consider: A player has had 16 or more assists in a game more than 1,600 times in NBA history, but in only three of those games did someone with that many assists have at least 10 field-goal attempts, shoot 10 percent or less from the floor, and still come up a winner.
• See more Elias facts that figure

Sunday's Best

Paul Pierce, Celtics forward
-- His hot start and 35 points helped deliver Tim Duncan's first defeat ever in Boston. It was his first loss in Massachusetts since Marcus Camby's UMass Minutemen beat Duncan's Wake Forest team on Dec. 6, 1995.
---

Sunday's Worst

Eric Snow, Cavs guard:
Spends 24 minutes on the court in a debacle of a loss to Denver that demoralized LeBron. Snow missed all four field goal attempts he took for the second straight game.
---
Quote of the Night

"I was hoping he would go back to North Carolina."
-- Mavs coach Avery Johnson,
on Vince Carter's leaving the floor late in the first half after taking a Brandon Bass elbow, only to return minutes later to lead a 101-82 Nets' win. Carter had 29 points and nine boards.
• See Sunday's daily leaders
-- Andrew Ayres
LeBron Fails To Join Huddle

The Associated Press

At the end of the third quarter, with his short-handed Cavs trailing the Nuggets by 26 points, LeBron James stormed off the court, took a seat at the far end of Cleveland's bench and didn't take part in coach Mike Brown's huddle before the fourth quarter began.
"It was definitely frustrating," James said after a 113-83 loss Sunday to the Nuggets. "We know we can play better. It was one game. That's something we can fix."
As a displeased James sat alone on the bench and stared straight ahead, Cavaliers guard Damon Jones let his teammates know their performance was unacceptable by yelling at all of them.
"I just think something had to be said at that point," Jones said. "No big thing."
Although he was looking in James' direction, Jones said his comments were intended for everyone wearing white jerseys.
"In those situations, you have to band together as a team. I wasn't singling anybody out," Jones said. "Everybody, including myself, we have to find ways to fight through situations like that."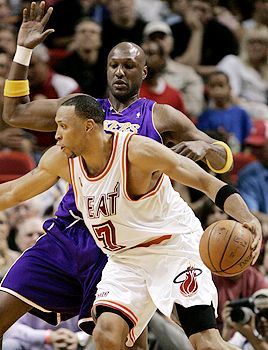 AP Photo/Lynne Sladky
Shawn Marion's first game in Miami: 44 minutes, 15 points, 14 rebounds and three blocks in a 104-94 loss to the Lakers.

ESPN Research

Orlando Magic forward Hedo Turkoglu didn't make the All-Star team, but he is having a career year. He has been stellar in his past 11 games, leading the team in scoring in seven of them. His Magic play host to the Cavs on Monday, having won the first meeting between these two teams, 117-116 in overtime on Nov. 14.
Dwight Howard had 35 points and 16 rebounds, and LeBron James had 39 points, 14 assists and 13 rebounds. Driving down the lane in the final seconds of overtime, James was tied up by Turkoglu for a game-ending jump ball as the Magic held on to win.
Hedo Turkoglu In Past 11 Games

Category
Avg.
PPG
22.1
FG pct
50.9
3-pt FG pct
45.3
RPG
6.4
APG
6.2