AP Photo/Phelan M. Ebenhack
Little Help? Why LeBron's Not Into Lobbying

ORLANDO -- A night after the two had a chilly exchange on the bench during an embarrassing loss, LeBron James rolled around on the floor of the visitors locker room at Amway Arena and mocked teammate Damon Jones.
Jones, speaking to a reporter, was trying to clear up a long-running mistake in his bio that he was a ballboy for the Houston Rockets as a kid. James didn't miss a chance for any sophomoric humor in any sentence containing the word "ball."
Then James went out and nearly posted a triple-double in the Cavs 118-111 victory over the Magic. It was as if he wasn't playing minus three key teammates -- down due to injury -- or in the team's fourth game in five nights.
The exchange between James and Jones was just a little slice of life in the Cavs' season, with no particular meaning except it is part of a behavioral pattern the Cavs have gotten used to with their superstar. There isn't much that worries him, there isn't much that gets him down and he's always smiling because he's got time on his side.
Two weeks ago, James raised eyebrows when he matter-of-factly said he hoped his front office was trying to get Jason Kidd when the Nets point guard went public with a trade demand. "I don't think that's something you have to tell the front office," James said.
Was it the beginning of a strategy, some wondered, to apply pressure to get some help on the roster? Was it the first indication of a Kobe Bryant-like demand to get help or else? Could it be the first signs he wants out?
Nope, that is not James. Not in the least.
Even as Cavs fans fill up message boards and pepper talk shows upset that it appears general manager Danny Ferry will let the trade deadline pass without the sort of blockbuster seen in Los Angeles and Phoenix -- a major talent influx that could get the Cavs over the hump -- LeBron will simply smile and solider on.
James said something about Kidd because he was asked about it. If broached with the same question about Pau Gasol or Shaquille O'Neal, he'd give versions of the same answer. Indeed, he would like to play with them, but who wouldn't? But he doesn't have to stand on a soap box to say it or send it through backdoor channels.
James sent his message loud and clear in the summer of 2006. He smiled and told the Cavs he'd be glad to take their maximum contract offer … for three seasons. The Cavs' entire organization relaxed and then took a gulp -- they were back on the clock.
Ever since, he doesn't really need to waste breath or lose sleep over potential trades and free agents. James will almost never put down his teammates. He will shy away from making excuses for the Cavs' shortcomings. He just produces and carries the Cavs night after night, being the difference-maker in virtually every victory.
That's why he didn't even feel the need to shoot Ferry a text message when Kidd's comments hit the national media. Nor was he inclined to check in to see if the Cavs are close to pulling a roster-shaking deal before next week's deadline.
His position on the matter is quite clear. He is committed, and fully committed at that, to the Cavs until the summer of 2010 when James will be only 25 years old and about to enter his prime. Then he'll be able to make another statement about his feelings on the franchise and the roster around him.
That looming date and the massive stakes that come with it in Cleveland, are more than enough to keep the Cavs' attention.
Brian Windhorst covers the Cavs and the NBA for the Akron Beacon Journal
Dimes Past:
February 1
|
2-3
|
4
|
5
|
6
|
7
|
8
|
9-10
|
11

Mike (LA): There are rumors floating around Lakerland that Andrew Bynum's injury is actually worst than expected, with that being said can the Lakers contend for a title without him in the lineup this season?
Chris Broussard:
I spoke with someone very close to Bynum a few days ago, and he said AB was fine and on schedule. Now, could he be lying? Possibly. But the few sources I've spoken with close to the situation have assured me he'll be back before the end of March. Without him, the Lakers would still be a contender, but I wouldn't pick them to win the West.
Gregg (Miami):
Chris, how would you rebuild the Heat? What do you think will actually happen?
Chris Broussard:
Gregg, the Shaq trade was a genius move. I actually think the Heat are in pretty good shape now. They look to be headed for a top lottery pick. If they can get Michael Beasley and team him with D-Wade and the Matrix, they'll be back in the playoff hunt next season. I'd probably try to convince Philly to give me
Andre Miller
for the expiring contract of
Ricky Davis
or
Jason Williams
, so he could run the show next season.
Brian (Phoenix):
What do you think of
Kyle Korver
's addition to the Jazz, I believe they are something like 17-3 since he was added, and he gives them a nice outside threat. How will they match up with the other powers in the West in the playoffs?
Chris Broussard:
Brian, I really like the Jazz. Getting Korver was a great move. One of their problems in December was the fact that
Mehmet Okur
's jump shot wasn't falling. That kept them from spreading the floor. But with Korver, they can now spread the floor and give
Deron Williams
and
Carlos Boozer
more room to work. Plus, Okur's starting to shoot better. I like them a lot, but I think they're at least a year away from being able to win the West. I know, the West is only going to get tougher with the Lakers next season, New Orleans having another year of seasoning and Portland getting
Greg Oden
, but I just think the Jazz are a little too inexperienced to make their way through that entire WC gauntlet. I think they could have the same type of postseason run they had last season.
• See the full Chris Broussard chat
Jefferson Knows The Score

By Eric Karabell | ESPN Fantasy Games
Nets forward Richard Jefferson is not the only surprise among the top-10 scorers at 23.5 points per game, but where did this come from? A season ago, Jefferson averaged 16.3 points before his season was truncated with ankle problems. The most points he has averaged in a season was 22.2 in 2004-05, which was the same season Vince Carter joined up a month in and averaged 27.5 points as a Net.
Jefferson still isn't an elite fantasy option, offering little in rebounds, assists, 3s and field goal percentage, and it's reflected in his moribund No. 56 rank on our Player Rater, the worst of any top-10 scorer. OK, so he's not having a great fantasy season, but only five players are averaging more points than Jefferson, and that has value. If
Jason Kidd
gets sent elsewhere before the trade deadline, it would affect Jefferson adversely; there might not be a better passer in the league. However, that doesn't mean Jefferson's point-per-game production will drop below 20.
• See full Karabell blog

Monday's Best

Stephen Jackson, Warriors forward
-- Playing on a sprained left ankle, Jax shows for 41 points, including 16 points in the fourth quarter, rallying GSW from 23 down to a 120-117 win over the Wiz.
---

Monday's Worst

Jason Terry, Mavs guard:
In his 27 minutes, goes 3-for-10 from the field, good for seven points in falling to the Sixers. The last three times JET has posted less than double figures in scoring, the Mavs have lost.
---
Quote of the Night

"I don't want to be the negative kink. I want to step in like I've been with this team the last three years."
-- Shaquille O'Neal,
after his first practice with the Suns.
• See Monday's daily leaders
-- Andrew Ayres

Michael E. Jackson
ESPN Research
Here's how new Suns center Shaquille O'Neal compares in scoring average to other centers who played a long time in the NBA and ABA.
Centers in Their 16th NBA Season

Year
Player
Avg.
1984-85
Kareem Abdul-Jabbar, LAL
22.0
1989-90
Moses Malone, ATL
18.9
2007-08
Shaquille O'Neal, MIA/PHX
14.2
1991-92
Robert Parish, BOS
14.1
1986-87
Artis Gilmore, SA
11.4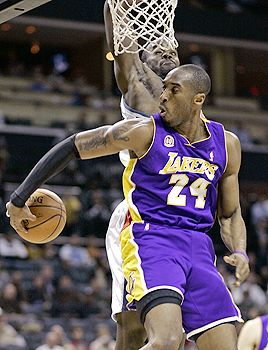 AP Photo/Rick Havner
Kobe Bryant throws a pass behind Charlotte's Emeka Okafor. Bryant 's 31 points helped the Lakers roll to a 106-97 win, improving them to 6-2 on their nine-game road trip.
Larry Brown, In The Wings

Waddle & Silvy, of Chicago's ESPN 1000: Philadelphia 76ers advisor Larry Brown says he hasn't talked to Bulls GM John Paxson and he won't comment on whether he's interested in coaching the Bulls, because they have a coach. He also says he misses coaching and hopes to return.
Talking With Brown