AP Photo/Phelan M. Ebenhack
All-Quasar: Honoring This Season's Finest Non-Stars

Worry not, those recent flashes of light in the corners of your eyes are not from retinal tears. They are merely the atmospheric signal that a seventh band of Quasars has arrived, a marginally successful but no less dogged annual attempt to recognize the players who have made indispensable contributions to this season's winning teams but will not be part of the league's All-Star festivities in New Orleans later this week.
Quasar, for those who let their Astronomy Illustrated subscriptions lapse, is scientific shorthand for quasi-stellar, celestial matter that sometimes resembles a star but is, in fact, not. Finding a title sponsor might've been easier if I'd originally called them human Lycra -- a team's fabric working in obscurity beneath much more visible threads -- but it's too late for that now. Who knows, maybe Tang will make a successful comeback.
The ground rules, for those chomping to complain about their favorite player being ignored, are as follows.
1. A candidate's team must have a winning record at the start of All-Star week. (That's why David Lee or Andres Nocioni or Quinton Ross wouldn't qualify.)
2. A candidate can't have been an All-Star or have much chance of ever being one. (The committee has only misjudged this once so far, selecting Caron Butler as an '06 All-Quasar. A year later, NBA coaches wised up and legitimized him by selecting him as a reserve for the Las Vegas shenan ... er, extravaganza.)
3. Special consideration is given to players who have washed out elsewhere or have rehabilitated a career spinning sideways. (Quasars being, of course, intergalactic first cousins to black holes. This didn't prove to be much of a factor this season.)
4. Statistical improvement is weighed only in context with its meaning to a player's role. Someone who shoots a high percentage but has never made a momentum-shifting shot or rebounds well but never takes the ball away from an opponent is merely cosmic dust, not Quasar material.
The telescope, please:
First Galaxy

• Jason Maxiell, Pistons forward
-- The Pistons starters can occasionally be seen pounding a couple of Red Bulls to prep for a game. Sometimes it works, sometimes it doesn't. Maxiell, however, never fails to energize whomever is on the floor with him, shaming them into matching his energy. He is, essentially,
Ben Wallace
Lite -- some of the production at 1/16th the price. His statistics are a modest 8 points and 5.2 rebounds per game.

• Linas Kleiza, Nuggets forward
-- He's scored 20-plus seven times, including a 41-point burst against the
Utah Jazz
. But he's just as capable of committing all his energy (and considerable athleticism) to playing lockdown defense, even if it means bodying up LeBron. No wonder the Kings asked for him as part of any deal for
Ron Artest
. Equally no wonder the Nuggets said forget it.

• Brandon Bass, Mavericks forward
-- If there's a reason to believe the Mavs won't put up with collectively being mad-dogged out of the playoffs again, Bass is it. Whether it's a rim-crushing putback dunk, muscling a rebound in a crowd or door-stopping a rolling big man, he's Josh Howard's super-sized twin.
• James Posey, Celtics forward -- Teammates Kendrick Perkins and Glen "Big Baby" Davis also received consideration, but Perkins' I-can't-believe-I-don't-get-more-respect face after making a play is an issue with the committee's old-school faction and Davis only hit his stride in recent weeks.

Posey's shooting has tailed off, but he's finding other ways to contribute, a standard Quasar characteristic. Boston's D wouldn't be what it is without him; Having Posey on the floor to take the toughest perimeter assignments allows
Paul Pierce
and
Ray Allen
to concentrate on their offense. Some guys would hesitate hoisting a shot with the game on the line surrounded by such stardom. Posey isn't one of those guys.

• Derek Fisher, Lakers guard
-- Reacquiring his calm presence under pressure, unerring decision-making and unquenchable competitive fire was the first step in renewing Kobe Bryant's confidence that the Lakers could compete for a title; Kobe, after all, spent his formative years playing with D-Fish on the Lakers' second unit. He's better now than the last time he wore a Lakers' uniform, thanks to a revised training program that has restored his balance and flexibility, reflected by career-high shooting percentages overall (46.8) and from beyond the arc (42.2). He's halfway to his 34th birthday but playing more tenacious D than ever.
Second Galaxy

• Kyle Korver, Jazz guard
-- What, accolades for half a season with a winning team? Yup, because the committee factored in time served since Korver has been Quasaresque for years but didn't qualify because he was on losing teams. Besides, when a guy joins a 16-16 team and they promptly go 17-3, it's fair to make a connection. Korver's arrival from Philly coincided nicely with Mehmet Okur's return from injury, opening the middle of the floor for
Deron Williams
and
Carlos Boozer
. But nothing speaks more of a guy's hoops IQ and effort at both ends than coach Jerry Sloan immediately giving him heavy fourth-quarter minutes. Which is exactly what Sloan did with Korver.

• Ime Udoka, Spurs forward
-- If there's another coach whose confidence is hard to win, it's Gregg Popovich. Udoka, however, has done exactly that -- even though he hasn't come close to his 40 percent shooting from Three-Land in Portland last year. Did you see him guarding Pierce down the stretch in Sunday's big tilt against the Celtics while
Bruce Bowen
sat on the bench? The Spurs have relied heavily on Udoka and another Quasar nominee,
Matt Bonner
, to limit the wear-and-tear on their jalopies (
Robert Horry
, Bowen). But by all appearances, Udoka could have a permanent role in San Antonio's small-ball lineup.

•Anthony Carter, Nuggets guard
-- A $770,000 salary and 3:1 assist/turnover ratio on a team as pricey in the pocket and casual with the ball as the Nuggets can't be overestimated. Not bad for a third guard picked up to stay on the right side of his and Carmelo Anthony's agent, Bill Duffy. Best part: He'll do whatever you ask on D and do it well. Now he's also knocking down huge shots; his efficiency has taken a monstrous leap from every distance. A mile-high version of D-Fish is what he is, and that's a good thing to be.

•Luis Scola, Rockets forward
-- The committee rarely considers rookies, but Scola's extensive European career puts him in a different category. He's not the ideal running mate for
Yao Ming
-- or
Shane Battier
, for that matter -- because he's neither swift nor particularly agile. But he makes up for all that by being relentless and showing the kind of total team commitment we've come to expect from Argentines. His presence improves the Rockets' mental toughness and intelligence, both essential for making the most of coach Rick Adelman's system. Teammate
Carl Landry
was a late entry but it's too difficult to tell if he can sustain his recent contributions.

•Ronny Turiaf, Lakers center
-- If he were merely an enthusiastic board crasher, he'd be
Reggie Evans
. Nothing wrong with that, but Turiaf is much more. Seven games with three assists or more, seven games with three blocked shots or more and a dozen double-doubles speaks to Turiaf's versatility. The man may wave a towel and hoot like a dreadlocked Frenchified bumpkin, but he has played impactful minutes all season long. Plus: If Perkins wants lessons on how to express the frustration of being a second-tier player and feeling shortchanged by the officials or the opposition, he could do a lot worse than Turiaf's disappointed headshake before sprinting back into position.
Ric Bucher covers the NBA for ESPN The Magazine
Dimes Past: February 1 | 2-3 | 4 | 5 | 6 | 7 | 8 | 9-10 | 11 | 12

By John Hollinger | ESPN Insider
ATLANTA -- The 3-point Shootout at All-Star Weekend may be four days away, but the trash talking has already begun.
Playing the role of
Damon Jones
this year is Detroit's normally low-key
Richard Hamilton
, who told me after the Pistons' 94-90 win over the Hawks that he's the man to beat this year. "I know for a fact Kobe can't beat me in a shootout, so that's one down," said Hamilton, who at 46.0 percent on the season is well ahead of fellow Pennsylvanian Bryant's 35.4 percent. "I just gotta figure out a way to beat the other guys." Hamilton also assessed himself as the toughest competitor in the six-man field -- one that also includes defending champion
Jason Kapono
of Toronto, two-time winner
Peja Stojakovic
of New Orleans, Cleveland's
Daniel Gibson
and Phoenix's
Steve Nash
. Mind you, this was with Hamilton laid low by a bout of food poisoning that caused him to miss the morning shootaround. He spelled out the beginning of an unprintable world to describe how he felt after the game, in which he shot 4-for-12 for a quiet 12 points. So if he can muster this much confidence when he's under the weather, how much more trash talk will we see from him in the next four days?

Tuesday's Best

Chris Paul, Hornets guard
-- More run-of-the-mill excellence from Paul, who registers 25 points and 14 assists in a 100-86 win over the Bulls.
---

Tuesday's Worst

Quincy Douby, Kings guard:
On Feb. 8, Douby's 15 points keyed an upset of Utah. That's what made an 0-for-5 clunker in a 107-94 loss in Memphis such a disappointment.
---
Quote of the Night

"I know it's been a tough year. But it won't last forever."
-- Heat guard Dwyane Wade,
whose final shot missed, leading to Miami's 23rd loss in 24 games, a 114-113 defeat to Denver.
• See Tuesday's daily leaders
-- Andrew Ayres

By Elias Sports Bureau
As the Heat continue to lose, Pat Riley finds himself on the opposite end of the spectrum he once saw as a player. Riley was a member of the 1971-72 Lakers, whose 33-game win streak was the best in NBA history. That Lakers squad also holds the NBA's best "and-1" mark, going 34-1 over a 35-game span incorporating that streak.
The Heat, with another loss on Tuesday, dropped to 9-41 overall, and 1-23 in their past 24 games. They're still a ways away from the worst "1-and" streak in NBA history (set by the Mavericks, who went 1-36 in a 37-game stretch in 1993-94) and that's certainly a kind of history that Riley would not want to make.
Riley's Best/Worst Streaks as Player/Coach

Category
1971-72 Lakers
2007-08 Heat
1-win/loss streak
34-1
1-23
Riley's role
Backup F
Head coach
Final W-L
69-13
??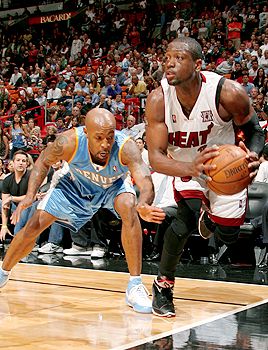 Issac Baldizon/NBAE via Getty Images
Dwyane Wade had the final shot, but could not deliver the Heat from their customary fate -- a loss.

David Thorpe and Chad Ford examine Shaquille O'Neal's move to Phoenix in the deal for Shawn Marion and Marcus Banks. Can he help the Suns?
Diesel Tracks

Former Texas Longhorn LaMarcus Aldridge scored 22 points in the Trail Blazers' 95-83 loss Monday at Houston. It was the fourth time Aldridge scored at least 20 points in five games in the state of Texas this season (once in San Antonio, twice in Houston and once in Dallas). Before this season, the last player from the University of Texas to score 20 points in an NBA game in the Lone Star State was the Kings' Travis Mays, who scored 23 on Dec. 1, 1990 at Houston.
• See more Elias facts that figure