Getty Images
Ranking The West's Power Moves

An astonishing nine teams in the Western Conference awoke Friday on a 50-win pace.
Eight of those teams made a notable alteration to the roster before Thursday's trade buzzer sounded.
You see where this is headed. Right?
So many good teams made major midseason changes -- more teams than ever before that already were considered title contenders -- that we were inevitably moved to pick out five and determine who traded best.
The five trades in the West that will make the greatest impact:
1. Pau Gasol to the Lakers
Did someone say impact?
Getting Gasol merely influenced the thinking of every team around the Lakers in the West, immediately vaulted L.A. into the league's top tier of teams and, most of all, lifted Kobe Bryant to new levels of intensity while giving him no reason to even think about forcing his exit any time soon. No matter what happens this season.
When you remember that the deal with Memphis, as we keep saying, also cost the Lakers none of Phil Jackson's 10 favorite players, you inevitably wonder: Can a trade get any better?
The new Lakers have quickly convinced lots of smart folks in this league that they can win the championship on their first attempt, even with Andrew Bynum still out indefinitely and Kobe allegedly vulnerable with a pinkie injury that didn't seem to be troubling him too much in Phoenix on Wednesday night. If it doesn't happen right away? Bryant doesn't turn 30 until August; Bynum doesn't turn 21 until October and Gasol is just 27.
Either way, I already find myself backing off my Power Rankings premise that the Lakers have too much going on healthwise and newnesswise to get out of the West this June, especially after a serious scolding Friday from a trusted Western Conference scout who said: "They've replaced Smush Parker with Derek Fisher at the point, which is a huge upgrade, and nobody's talking about Lamar Odom. If Lamar is the third-best player on your team, you're really good. And he might be the Lakers' fourth-best player."
2. Shaquille O'Neal to the Suns
This was the boldest of the 14 trades we've seen since Opening Night and honestly one of the gutsiest ever. So it doesn't feel quite right to put it this low.
We ultimately decided that the Great Gasol Robbery must be in a category unto itself because there's absolutely no downside for the Lakers -- and when does that ever happen in trades? -- but the O'Neal deal is bound to have a Shaq-sized impact because of the Shaq-sized extremes involved.
"It has the most potential upside and creates the most uncertainty," said one rival GM. "We just don't know for sure until we see."
Yet as someone who has observed the Suns from a fairly close vantage point the past few years, what I'm quite sure I do know is that Steve Nash has been re-energized by the possibilities, knowing that he (a) no longer has to expend energy policing the locker-room whims and whines of Amare Stoudemire and Shawn Marion because Marion is gone and Shaq is Amare's new mentor; (b) no longer has to drag his body through a pick-and-roll on every grinding possession in the postseason because the Suns have a legit low-post diversion to let Nash have some possessions off and keep some gas in the tank; and (c) no longer has to hear or fear how soft the Suns are or that the point guard is their toughest guy.
O'Neal has to prove he can stay healthy, true, but his mere presence makes the Suns tougher than ever if he does. The part that makes people skeptical is that O'Neal's arrival even if it halts the years of abuse they've absorbed in the low post -- makes them far more vulnerable defensively on the pick-and-roll, which was already troublesome for the Suns and which generally ranks as the first priority for any team's D.
If Shaq's presence really does cut down on the second-chance points Phoenix habitually concedes and he keeps providing the expected boost in the locker room and in the half court offensively when the game slows down in the playoffs, you're going to hear lots of those doomsday opinions retracted.
But if a defense that was already somewhat suspect just went down a notch because of the pick-and-roll vulnerabilities that will come with playing Nash, Shaq and Amare together … tick, tick, tick.
3. Kyle Korver to the Jazz
This deal happened in December and it happened in Utah, making it doubly likely to be overlooked amid all the February Madness. But that doesn't mean it wasn't brilliant.
The Jazz won the Korver Sweepstakes, such as they were, because they were the only suitors willing to package a first-round pick with an expiring contract. In return, Utah got its best 2-guard since Jeff Hornacek.
"For years, they've been trying to find a 2 who can fit," one West scout said. "Korver fits everything they do, won't say a word and is much more athletic than people give him credit for."
Throw in Utah's 19-3 record since Korver got there and that sounds like an impact player to us … although we concede that he's not going to make Utah's suspect defense any stingier.
4. Jason Kidd to the Mavericks
Of all the contending teams out there that took the rare step of making a big move largely to replenish their spirit and the fans' passion -- such as Phoenix and Cleveland -- Dallas needed its big splash more than anyone else.
They never wanted to admit it, naturally, but these Mavs likewise were never going to recover emotionally from their playoff humiliations against Miami and Golden State without a drastic change. Gasol, though, was never made available to Dallas. And Shaq is at the stage in his career when he needs to feed off a guy such as Nash as opposed to carrying a stale, wounded franchise. Having longed for a return to Dallas for months, Kidd was the best-fitting sidekick for Dirk Nowitzki, who has endured without a real point guard -- and without complaint -- for more than three years but could no longer wait for the help.
You wouldn't have been able to convince me otherwise even had Dallas lost by 40 to Chris Paul's Hornets in Kidd's debut, mainly because it wasn't long ago that Paul shredded Devin Harris just as easily. You likewise can't convince me that the Mavs have given up too much when Harris clearly needed a change of scenery to reach his full potential and when they've instantly made Nowitzki's life easier and happier … on the floor, in the locker room and late in playoff games when he gets swarmed more and more tightly every year.
Yet even I -- after lobbying in print for this trade almost from the minute Dallas was ousted by Golden State in May -- have to admit that I'd rank it higher if I knew for sure that Kidd and Nowitzki will get the offensive free rein that Mavs coach Avery Johnson has given no one in Big D previously, Nowitzki included. Johnson himself acknowledged the issue earlier this week when he cracked, "I was wondering how long it was going to take you guys to ask that."
The Mavs will find another big man to fill the DeSagana Diop void; Jamaal Magloire is the clear front-runner for the rest of the season. Attracting vets from here to fill in the Mavs' cracks is unlikely to be any kind of issue with a setup man extraordinaire like Kidd back in town.
Yet if there's skepticism around the league about this move, it's starts with Johnson's willingness to cede decision-making responsibilities to any QB, even one as accomplished as Kidd, and whether Kidd can indeed "impose his style on us," as Nowitzki describes it.
"All of our butts are always on the line," Johnson said Friday on his weekly ESPN Radio show in Dallas. "Me first."
5. Kurt Thomas (and Damon Stoudamire) to the Spurs
Facts is facts: San Antonio badly wanted Mike Miller before the trade deadline and couldn't get him.
But it's also true that lots of teams wanted Miller and no one could get him away from the Grizz. Furthermore …
As an accomplished post defender who also can routinely drain elbow jumpers, Thomas is far more than a consolation prize. That's especially true if the Spurs can bring back Brent Barry by beating out Phoenix, Golden State, Houston, Dallas and everyone else hoping to sign Barry now after Seattle promptly waived him.
I suppose you can argue that this is the season San Antonio needed more than Thomas or an insurance-policy signing such as Stoudamire. Rest assured that the Spurs know they need an infusion of youth and athleticism sooner rather than later.
But what they really wanted at the deadline is the knowledge that sustained health is forthcoming forTim Duncan, Manu Ginobili and Tony Parker, which might be enough to clinch the Spurs' first repeat title if it finally happens over the next few months. With the most accomplished core trio in the game -- which is saying something just looking at the various threesomes and foursomes in the West now -- San Antonio has earned the right to believe that this might be a good postseason to rely on its been-there, done-that, seen-it-all continuity, as long as it's coupled with good health.
Missed the cut
New Orleans' acquisition of Bonzi Wells has promise because Hornets coach Byron Scott has been openly complaining about his lack of bench options and because the Hornets are so thin behind the starting frontcourt duo of Tyson Chandler and David West. Yet even if Wells is an effective big forward in the playoffs for New Orleans, as he has been for other clubs, swapping Bobby Jackson for Mike James isn't likely to change much. The Hornets, as a result, aren't sufficiently deeper to crack our top five.
The Rockets, meanwhile, were motivated more by finances than by on-court concerns in making this swap, having found a greater comfort level off the bench with youngsters such as Aaron Brooks and Carl Landry. So they weren't even a consideration here. Nor were the other two teams in the West's ridiculously tight top nine, one of which did make a recent addition (Golden State and the inconsequential-so-far signing of Chris Webber) and another (Denver) that surrendered 135 points to the offensive lightweights from Chicago in its first game after coach George Karl felt it wiser to pass on a trade for Ron Artest.
Marc Stein is the senior NBA writer for ESPN.com. To e-mail him, click here.
Dimes Past: Feb. 9-10 | 11 | 12 | 13 | 14 | 15 | 20 | 21 | 22
For a team to win 50 games in the NBA, it must finish the season with a winning percentage of .610 or better.
Have you looked at the Western Conference standings lately?
As of Friday morning, nine teams were winning at least 61 percent of their games. NINE!
Common sense says this can't last, obviously, because West teams will be increasingly playing each other (and beating each other up) in the final third of the season as they complete the Leastern Conference portions of their schedules. Yet it's still amazing to see nine teams keep it up for this long … with No. 9 Golden State playing .688 ball since its 0-6 start.
Most 50-Win Teams, One Conference
| | | |
| --- | --- | --- |
| Year | Teams | Conference |
| 2000-01 | 7 | Western |
| 2004-05 | 6 | Western |
| 2003-04 | 6 | Western |
| 2002-03 | 6 | Western |
| 1999-2000 | 6 | Western |
| 1996-97 | 6 | Eastern |
| 1993-94 | 6 | Western |
| 1990-91 | 6 | Western |
The previous record for 50-win teams for one conference is seven, as witnessed in the 2000-01 season. On seven previous occasions, we've seen six 50-win teams from one conference in a single season. For the record: It's been the West on all but one of those occasions and all seven such seasons have occurred since 1990, just in case you still believe that the West's top-to-bottom excellence is in any way new or some sort of media myth.
P.S. -- Since the league expanded its playoff format to include 16 teams, Houston's 45-37 record in 2000-01 accounts for the highest winning percentage (.549) for a team that failed to make the playoffs. In 1971-72, when the league had only 17 teams and sent just eight to the playoffs, Phoenix missed out with a mark of 49-33, good for a .598 winning percentage.
---
You don't think we're done with L'Affaire Devean George, do you?
It's just the opposite: Now that the Jason Kidd deal has gone through and the trade deadline has passed, we finally have some time to dig into it.
Have to say, for starters, that I remain stunned how calmly Mavericks owner Mark Cuban has responded to George blocking the initial Kidd trade by citing a little-known league rule that prevents certain players with one-year contracts from being traded without their permission … and the $11-million-plus extra this season alone that it's going to cost Cuban to complete the follow-up deal that the Mavs and Nets hammered out. Cuban continues to reserve any venom for George's agent, Mark Bartelstein, and even that has been fairly restrained venom by Cuban standards.
However …
More than a week later, I still have yet to encounter a single agent or executive from another team who sees George and/or Bartelstein getting anything out of those Bird rights they preserved except for a seriously strained relationship with Dallas and Jersey.
One Western Conference exec I spoke to went as far as to call those rights "worthless" without the Mavericks' cooperation.
It's common for people to think of Bird rights as something owned by the player. They are actually a right conveyed to the team, which allows that team to spend more to re-sign the player. But after George's role in endangering the Kidd deal, how likely is it that Dallas will re-sign him at a higher number or use him in a sign-and-trade to help George land a bigger deal with another team?
Right. Not likely.
So George can salvage those Bird rights one of only two ways. He'll have to play very well for the rest of the season and somehow convince the Mavs that he's indispensable, which seems unlikely given his limited role until now. Or he'll have to be thrown into a sign-and-trade deal this summer, unless he plans not to go elsewhere in free agency and instead wait at home for the Mavs to sign-and-trade him into a future deal a la Keith Van Horn.
Oh, yeah: Had George agreed to the original New Jersey deal, he'd have received a trade kicker worth nearly $140,000 for his trouble. Adding to the intrigue here, George never would have had the right to block his inclusion in the deal without the Mavs' help.
George originally signed a two-year deal with Dallas in the summer of 2006. After one season, George and Bartelstein told the Mavs they'd like to opt out and test the free-agent market but re-sign for one year if the market proved unfriendly. Cuban agreed and ultimately brought George back this season at $2.4 million. But because the original two-year deal turned into two one-year deals, Dallas unwittingly created George's veto power.
---
With Sacramento releasing Justin Williams in the wake of the Mike Bibby trade, we were down to 16 other players in the league this season (see Box 8) who also had the power of George before Thursday's trading deadline.
That many, yes.
To get into that select club, which pretty much no one brought up until George blocked the first Kidd deal, you had to be a player with a one-year contract who also ended last season with the same team, thus making such players eligible for Early Bird or full Larry Bird free-agent rights at the end of the contract. Because those Bird rights are lost in a trade, NBA salary-cap rules dictate that such players cannot be dealt without their consent.
One follow-up financial footnote to Sacramento's deal: NBA front-office sources say Bibby had a 5 percent trade kicker in his contract that will earn him close to an extra million bucks for moving from Sacramento to Atlanta: $967,206 over the next two seasons, to be exact.

"I've never looked at things in life as pressure. I love the challenge, and this is just another challenge. I'm very excited about it because [of all] the talk of being old or not being as good as [Steve] Nash or those other guys."
Mavericks guard Jason Kidd, well aware of what the skeptics are saying about his trade back to Dallas and a conference filled with elite point guards.

Wondering which team trudges away from newsiest trade deadline ever as the biggest disappointment?
Is there even a debate?
After years of hearing geniuses like myself prattle on about how no team in the league had more tradable pieces than the Bulls and how no team would be faster to the front of the line than these guys when superstars started moving, you saw Chicago do roughly none of what we were all promised for so long.
From December 2006 through Thursday, no less than three former MVPs were traded -- Allen Iverson, Kevin Garnett and Shaquille O'Neal -- along with Pau Gasol, Jason Kidd and plenty of other "good names," as Don Nelson famously likes to say.
But the Bulls, as so aptly described by Professor Hollinger, wound up settling for Cleveland's leftovers when they finally did join the frenzy.
This continues quite a run for Bulls general manager John Paxson, who might never be subjected to Krause-ian levels of scorn but suddenly sports a record of questionable decisions as deep as his cadre of supposed trade assets. Even if you believe the signing of Ben Wallace (and corresponding exile of Tyson Chandler) was more of an ownership decision forced on the front office, Paxson still has to explain why he preferred Tyrus Thomas to LaMarcus Aldridge … and why Kirk Hinrich and Andres Nocioni are signed for the long term when Luol Deng and Ben Gordon are not … and why Chicago missed out on every big trade opportunity in a year-plus full of them.
Perhaps this all would have been a different story had Minnesota accepted the Bulls' reported offer of Deng, Chandler and a No. 1 pick for KG about a year before the Wolves decided they were ready to trade KG. But it sure looks now as though Chicago's four playoff wins against a Heat team that was poised to unravel like no champion in the game's history masked how far away this group really is and how many mistakes have been made.
---
More good news for Bulls fans: Chicago's players aren't exactly geeked about the latest tweaks, according to the early word I'm getting, so don't bank on some sort of energized response from them that gets the Bulls back in the playoff hunt.
For all Wallace's issues with coaches and management and the 33-year-old's inevitable standing as a fan scapegoat given what's happened to the Bulls this season, Wallace was largely embraced by teammates as a veteran protector they affectionately called "Body."
Larry Hughes' arrival, meanwhile, only heaps more uncertainty onto the futures of Gordon and Thabo Sefolosha, both of whom appear to have suffered on the floor because of all the tumult in Chicago already this season.
Thomas and Joakim Noah should see an immediate increase in minutes with Wallace gone. But that's the only clear-cut positive at first glance … along with the idea, if you still like this core, that Paxson found a way to end the failed Big Ben Experience without surrendering any of his young players.
---

The seemingly never-ending Kidd trade saga was not without at least one light-hearted moment.
During All-Star Weekend, Mavs owner Mark Cuban had just finished talking to Kidd at a Saturday night party and was walking toward the door when he saw someone gesturing to get his attention to help gain entrance to the exclusive soiree.
It was Nets president Rod Thorn.
By that point, New Jersey and Dallas were well into a seven-day trade roller coaster and still working on the second construction of a deal they'd need to finally complete to send Kidd back to his original team.
But the teams' respective power brokers maintained a good humor about things, given that most of the obstacles were developing out of their control.
So what did Cuban say after helping Thorn through the door?
"C'mon, Rod. We need a drink."

There were five trades on deadline day and 14 in all since Opening Night. No wonder Marc Stein and Chad Ford reconvened Friday for a special edition of the NBA Dish podcast to review the last-minute swapping in Cleveland and Chicago.
• Listen to the interview

In one of the upsets of trading season, Marc Stein was actually asked an Eastern Conference question during his latest visit with Galloway & Co. onESPN Radio in Dallas (103.3 FM). But a quick discussion about Cleveland's three-way trade with Chicago and Seattle proved only a brief diversion from the usual focus on the Western Conference landscape and, not surprisingly, Jason Kidd's return to Mavsland after more than 11 years away. (And if you click on the play button, as a bonus, you'll hear Randy Galloway's interview with a pretty good follow-up act: Kidd himself.)
Galloway & Co.
ESPN2's "First Take" wanted Marc Stein's take on the wild, wild Western Conference after all the trades we've since this month. The conclusion? No team made an over-the-top trade in the wild, wild West . . . mainly because you couldn't. Not when you have nine teams, as of Friday, on pace to win at least 50 games in the land of potentially historic depth, none of them ranking as a clear-cut favorite.
These were the 18 players in the NBA this season who, by virtue of a little-known league rule affecting certain players with one-year contracts, could not have been traded before Thursday's trading deadline without their consent.
The Lakers' Kobe Bryant has the league's only active no-trade clause written into his contract, but NBA salary-cap rules dictate that players on a one-year deal -- but who also ended last season with the same team and who are thus eligible for "early Bird" or full Larry Bird free-agent rights at season's end -- couldn't be moved without their sign-off because those Bird rights are lost in a trade.
The complete list, as compiled by ESPN.com:
CHARLOTTE
Derek Anderson, Jeff McInnis

CLEVELAND
Dwayne Jones

DALLAS
Devean George

DENVER
Anthony Carter

GOLDEN STATE
Kelenna Azubuike*, Matt Barnes, Mickael Pietrus

HOUSTON
Dikembe Mutombo

L.A. LAKERS
Chris Mihm*

MIAMI
Earl Barron

NEW ORLEANS
Jannero Pargo*

PHOENIX
Sean Marks

SACRAMENTO
Justin Williams

SAN ANTONIO
Jacque Vaughn*

TORONTO
Darrick Martin

UTAH
C.J. Miles

WASHINGTON
Roger Mason
*The four players denoted actually have two-year contracts. But the second season in each of those cases is a player option, so they are regarded as players with a one-year contract for trade purposes.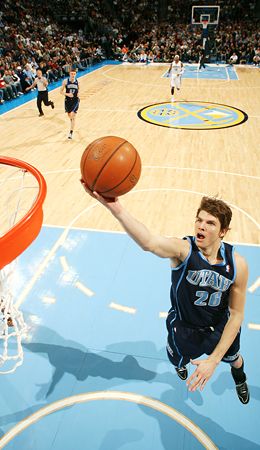 Garrett W. Ellwood/Getty Images
The Jazz didn't get Kyle Korver for his layups. They got him to be the coolly efficient, hot-shooting 2-guard no one has seen in Utah since the days of Jeff Hornacek … and Korver has been more than up to it.

Five (e-mailed) questions with Kings forward Ron Artest:
Q: How big a letdown was it not to be traded?
A: The last time I went home to my hood, all my boys told me not to worry about any negativity and that God will bless whether it's basketball or a school teacher. So all the [trade speculation] didn't affect me at all. … Sometimes the business of professional sports can be overwhelming, but at the end of the day you have to be grateful for being blessed.
Q: Why do you think you didn't get traded in the end?
A: I think due to my salary [of $7.4 million] it was hard to trade for me without losing out [in terms of equal value]. And none of the teams would give [up] one of their franchise players for a player who some of the public and some media gives a bad name. … I'll bet on myself that next year there will be a happy team with Ron Artest.
Q: Now you have to decide whether to opt out of your contract to be a free agent in July or play out next season as a King. Do you know yet what you're going to do?
A: Although my agent would like the best deal for me come summertime, he feels the Kings showed loyalty in not trading me and supporting me through tough times with my family. So we most likely would be in Sac [for] another year.
Q: I'm sure you heard about Carmelo Anthony saying during All-Star Weekend that he was pushing for the Nuggets to trade for you. What was your reaction?
A: When Melo said that, me and my wife thought that was great. Because with all the [negative] press, we thought no teams or [top] players would want to play with me. I am really an unselfish player and a good player when my mind is on it and if I had gone to Denver, I would have proved that and tried to contribute [toward] winning a ring.
I have so much more left in my body because the discipline I train with, but I don't think Denver would have had long-term money for me and I would have left at the end of a championship season … My son wanted it to happen because he loves Carmelo. He has more of his jerseys than his own dad's.
Q: We heard some reports close to the deadline that Phoenix also might have been interested in you, too. Did you hear anything like that?
A: That would have been sick.