Too early to see a Shaq effect in Phoenix?

Shaq's Impact Deeper Than Personal Numbers

When the Phoenix Suns host the Detroit Pistons (ABC, 2:30 p.m. ET) it will be the Suns' third game with their big addition from the trade deadline.
The ultimate success or failure of the Shaquille O'Neal experiment in Phoenix will not be determined until the postseason plays itself out. The Suns came to the conclusion that they needed to dramatically address the physical prowess of their front line to contend with the size of the San Antonio Spurs and Los Angeles Lakers in order to win a championship. The dice have been rolled, and now the NBA has to wait to see what number comes up. It is too early to tell whether it's a lucky seven or snake eyes, but Shaq's first two games have given an indication that he will have a significant impact.

The biggest beneficiary of Shaq's arrival undoubtedly has been
Amare Stoudemire
. The irony of it is that the paint has gotten significantly more crowded with Shaq on the floor but Stoudemire has more freedom than ever to use his athleticism without being hampered by having to bang with the big boys on the block and the glass. Shaq is a gravitational force that occupies extra bodies and leaves some unfortunate power forward with the unenviable task of being locked in a one-on-one battle with Stoudemire, the game's most athletic frontcourt player not named
Dwight Howard
. The key to Amare's success as the Suns move forward is whether he will be able to maintain the effort and motivation he needs to be dominant every night. The opportunity will be there with Shaq absorbing the physical pounding that limited Stoudemire's ability to control the paint. He must take advantage of it and put up MVP type numbers the rest of the way.
Shaq also has directly affected the Suns' ability to control their defensive backboard. His 14 rebounds against the Celtics enabled Phoenix to dominate the glass and limit Boston to one shot down the stretch of a tight game. One of the reasons the Suns have failed in the postseason in prior years has been their inability to get critical defensive rebounds on key possessions. Granted, it is a valid point that the Suns lost 11 boards a night by losing Shawn Marion, but a lot of his boards were gathered on long rebounds when he could use his quickness and athleticism. Shaq will get the tough boards in traffic against bigger front lines. His addition means the Suns know they can match up physically with any team when the game slows down. The importance of the confidence they gain from having the sheer power of Shaq on their side cannot be overstated.
Shaq also has shown he can still be a legitimate low-post offensive option if he gets single coverage. His late-game offensive burst versus the Lakers gave the Suns a crunch-time option they have lacked in the past. Shaq is not a 20-point scorer at this stage of his career, but he still can draw fouls and double-teams if he gets deep position. Remember, the fouls he draws have more of an impact than sending a 40 percent foul shooter to the line. It also gets the Suns in the penalty sooner, and that makes it a lot tougher to defend Steve Nash, Leandro Barbosa and Grant Hill on the perimeter as well as Stoudemire in the paint.

Another early benefit to the Suns has been Shaq's supreme confidence that this team can win a title. It's one thing to have your team leaders say you can win when they have never even been to the Finals. It's quite another to have a guy with four rings go out in front of the world and say he expects to win one this year. The Suns needed that kind of optimism, strength and downright arrogance. Everything Shaq has said about Stoudemire, Nash and the Suns' title hopes has been exactly what a finesse team needs as it heads toward the playoffs. It's called leadership, and it carries a lot more weight when it comes from one of the most dominant forces the game has seen.
Finally, the Suns have proved that they will not be slowed down to an extent that changes their identity. Yes, they will wait for the big fella when the early offense isn't there, but they will continue to play the same style that has been a proven regular-season winner for 3½ years. The difference is that now they can be more effective when the game ultimately dictates that a slower tempo will be played for stretches. That's what Steve Kerr is counting on. That's why you roll the dice.
ESPN analyst Tim Legler is a regular contributor to the Daily Dime.
Dimes Past: February 9-10 | 11 | 12 | 13 | 14 | 15 | 20 | 21 | 22 | 23-24

By John Hollinger
|
ESPN.com
What a whirlwind February. Eleven trades went down in just three weeks; combined with the three deals consummated earlier, we've had an unusually high 14 trades since opening night. And most of them weren't two-scrubs-for-a-second-rounder swaps, either -- nearly every trade involved at least one prominent player changing squads.
With the deadline past, it's time to hand out report cards. We'll do a quick recap of each trade this season and grade the outcome for each team involved. Obviously, a lot of water can go under the bridge between now and season's end (and beyond) that will determine how history remembers these deals, but here's my instant analysis:
Feb. 21: Detroit sends Primoz Brezec to Toronto for Juan Dixon It's a mild upgrade from the totally useless Brezec to the mildly useful Dixon -- if rookies Arron Afflalo or Rodney Stuckey lose their heads during the playoffs, he can come in and settle things down.
Well, as much as things can "settle down" when he's jacking up every 20-footer he gets a halfway clean look at. But he's a better shooter than Flip Murray, at least. Grade: A-
Dec. 14: Charlotte acquires Nazr Mohammed from Detroit for Primoz Brezec and Walter Herrmann
This just in: Joe Dumars knows what he's doing. Mohammed was dead weight to the Pistons, the fifth big in a four-man rotation. Converting him into two players with expiring contracts was good enough; the fact that one of those expirings (Herrmann) can really play is even better.
Surprisingly, he hasn't moved past Jarvis Hayes in the rotation yet. Brezec was later converted into the mildly useful Juan Dixon. Grade: A

We asked our panel of NBA analysts to size up Shaq, Kobe and the West playoff race:
1. What do you expect from Shaq the rest of this season?
Henry Abbott, TrueHoop: Phoenix continues to depend on Steve Nash, Amare Stoudemire, Leandro Barbosa, Raja Bell, Grant Hill and Boris Diaw. An out-of-shape dude from another system only hurts. And the Suns will miss Shawn Marion. But by the time he's in shape, my best guess is he'll win Phoenix a playoff game or two.
Chad Ford, ESPN.com: I'm very skeptical that he has much gas left in the tank. But I've talked with the Suns, and they swear that after just a few weeks of treatment, we'll be seeing a different Shaq. So ... maybe it will be somewhere in between, maybe something like the '06 version of Shaquille O'Neal. Good enough to help a talented team win a championship, but not dominant.
Chris Sheridan, ESPN.com: Very little. I didn't think Shaq had much left in the tank when he was with Miami, and I think Phoenix made a terrible deal. Who is going to defend the opponent's best player now? Shawn Marion used to do that.

On Sunday, the Chicago Bulls visit the Houston Rockets (ESPN, 8 p.m. ET).
The Bulls will have themselves a group of new players when they face off against the Rockets after their deadline deal with the Cavs.
That could be the best news for Chicago as it has had very little success against this Houston group the past four seasons.
To make matters worst, Houston has the league's longest winning streak, having won 11 straight and 15 of its past 16 games.
Bulls vs. Rockets (since 2003-04)

Chicago
Houston
Wins
1
8
PPG
89.3
100.3
FG Pct.
39.2
46.3
RPG
41.7
47.0
-- ESPN Research

In his career, Shaquille O'Neal has posted very strong numbers against the Detroit Pistons, including a 23-15 record.
The Phoenix Suns certainly hope that trend continues as they are only 3-7 against Detroit the past five seasons.
Career against Detroit

Games
Wins
PPG
FG Pct.
RPG
BPG
O'Neal
38
23
25.8
57.2
12.1
1.8
-- Peter Newmann, ESPN Research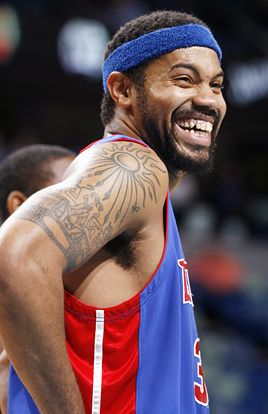 Getty Images
Rasheed Wallace is all smiles this season as his Pistons are a favorite in the East.

Steve Nash and Chauncey Billups are two of the best veteran guards in the NBA today.
Nash has the league MVPs and a career record of 12-8 against Billups, but it's Billups who has the ring Nash has been searching for.
Nash vs. Billups (head-to-head)

W
PPG
A/TO
FG Pct.
Billups
8
14.6
2.9
.424
Nash
12
14.7
2.7
.475
-- Peter Newmann, ESPN Research