Photo by Brian Babineau/NBAE via Getty Images
These Rough Rivals Could Settle Matters In Playoffs

BOSTON -- The Boston Celtics and Cleveland Cavaliers wrapped up their regular-season series Wednesday in an uneasy draw.
Ostensibly, they both left the court at the TD Banknorth Garden thinking about themselves more than each other, the Celtics clutching a 92-87 victory in a game that was not as close as the final score. The two Eastern Conference powers split four games head-to-head this season, Boston winning once when Cleveland was without LeBron James and the Cavs taking one when the Celtics were without Kevin Garnett. Nobody lost at home.
In reality, though, it's been one long saber-rattling session. As of this moment, Cavs vs. Celtics would be a second-round matchup in the playoffs and a potentially testy one.
This is pretty clear: The Cavs don't like the Celtics much and James always gets fired up playing against Paul Pierce. It goes back four years when the two had to be pulled off each other in the tunnel after a preseason game at Ohio State University after a more-than-contentious game in which Pierce spit at the Cleveland bench.
This season alone James has said the Celtics "talk the most trash in the NBA" and that it wasn't his or his team's style.
Off the court, though, the Celtics seem to offer nothing but respect to the team trying to catch them. Especially in regard to the 11-player trade the Cavs executed last week, bringing in Ben Wallace, Joe Smith and former Celtics Wally Szczerbiak and Delonte West.
"The trade was valuable to them, it made them tougher," Garnett said Wednesday. "This is a team to be reckoned with. They are deep and now they are experienced, and it makes the East a little more exciting."
At least the Cavs are trying to make it that way. One of the reasons they attempted to rework their frontcourt was to handle the way Garnett -- the centerpiece of Boston's offense. Wallace was targeted to be a versatile defender who could bang with Garnett in the post.
Wallace kept Garnett out of the post Wednesday, but Garnett burned him and the Cavs in pick-and-roll. Garnett nailed a series of jumpers over Wallace on his way to 18 points. After picking up 21 rebounds in his first two games as a Cav, Wallace had just six in the loss while Garnett had 11.
But there are personality battles beyond the superstars, too. Glen Davis is a perfect foil for Anderson Varejao, both energy big men off the bench and both skilled at getting on the other team's nerves.
Davis got the better of Varejao, who is still recovering from a severe ankle injury that cost him a month, by scoring nine points with four rebounds. (Varejao didn't score.)
Boston also was rough with the Cavs on defense, bumping players off course and denying about every pass and trapping James frequently. Boston's play on the defense end totally took Cleveland out of its offense and got a message across.
Cavs coach Mike Brown was so upset with the rough stuff that he was ejected for the first time in his career for arguing. "They are the best team in the league," James said afterward. "They are in the top five in most defensive categories and you have to give much credit to them."
For now, though, the two sides will prepare for a potential postseason matchup without seeing each other. The Cavs are still trying to get healthy -- they dodged a bullet when James' turned ankle Wednesday turned out to be minor. The Cavs are also trying to figure themselves out; unforced errors cost them a game Tuesday night in Milwaukee . The uneasiness on offense while everyone learns the plays made it easier for Boston to impose its will a night later.
The Cavs are battling the Raptors for the East's fourth seed and they are not taking their eyes off the Magic for the third spot.
The Celtics, meanwhile, are focused on getting Garnett back to 100 percent. For the first time since the All-Star break, Celtics coach Doc Rivers felt Garnett didn't move well coming back from his abdominal strain. Then there's their roster. They added P.J. Brown Wednesday and everyone knows they are waiting to make a call to Sam Cassell. All while holding off the surging Detroit Pistons.
"We're playing for something and so are they," said Szczerbiak, who made his first return to Boston after being traded last summer. "They have been playing together all year and they have the best record for a reason. We are looking up at them right now, but we will be working hard and give us a little time and we'll be ready to give them a good fight."
Brian Windhorst covers the Cavs and the NBA for the Akron Beacon Journal
Dimes Past: Feb. 9-10 | 11 | 12 | 13 | 14 | 15 | 20 | 21 | 22 | 23-24 | 24 | 25 | 26 | 27
Bibby's Debut In Atlanta A Success

By John Hollinger | ESPN.com
ATLANTA -- For Mike Bibby, it probably felt like another road game. Since joining the Hawks, he had spent five games out West and was living out of a hotel for the sixth, a home contest against his former Kings teammates. Just to cement the feeling, he spent his pregame time giving interviews to the Sacramento media, then waltzed over to the visitors' locker room to caucus with his former teammates.
Even during the game, his former mates were clowning with him -- with Francisco Garcia's joshing actually costing Sacramento a technical foul for delay of the game in the final two minutes.
But somehow, the home cooking seeped through. Bibby's home debut with the Hawks went significantly better than his first five games in an Atlanta uniform; his 24 points and 12 assists led Atlanta to a 123-117 win over suddenly wobbling Sacramento.
In an auspicious omen, Bibby's first quarter in Philips Arena was also the best of the year for the Hawks -- a 40-point stanza in which he handed out seven assists and added nine points of his own. It was a sight for sore eyes in Atlanta, as crisp ball movement replaced the everybody-stand-around halfcourt offense that had become a recent staple.
Not that this victory wasn't without warts. The Hawks gave up 117 points at home against a middling-at-best opponent, and in truth, it would have lost if not for an unlikely free-throw shooting disparity (the Kings, who were fifth in the league at 78.9 percent, bricked 12 of their 35 tries, while Atlanta made 35-of-40).
Nonetheless, this was what Atlanta hoped for when it made the trade -- better ball movement, better spacing in the halfcourt, and another go-to weapon when opposing defenses swarm Joe Johnson. Bibby's ability to keep providing that is the key to the Hawks' bid to end the league's longest playoff drought.
Elton's Call Looms On Clipper Tenure

By Chad Ford | ESPN.com
Clippers forward Elton Brand is among a group of players with an "early termination option" in their contracts, meaning they can opt to forego the final year(s) of their deals and become unrestricted free agents this summer.
The Clippers and Brand are in limbo. The team looks lottery-bound again, and to stay competitive, Donald Sterling is going to have to pay Brand, Corey Maggette and Shaun Livingston. (Add Sam Cassell to this list if he does not receive a buyout.)
Brand is the most important piece, but he may also be the most coveted free agent on the market. He turns 29 in March, but as long as he recovers from his ruptured Achilles tendon (he has began practicing again), he seems to be the player who has the most to offer in free agency.
Brand might want the long-term security of a new contract, or he might want to wait a year to prove he's fully healthy and increase his value. Another big consideration: To keep from losing money in the next year, Brand will need a team to pay him a starting salary of $16.5 million. No team is likely to have that kind of cap room. So would Brand leave the Clippers to play for less money?
Philadelphia, which is in need of a power forward, has been regarded as a potential destination, and Miami (which signed Brand to an offer sheet in 2003) would be expected to have major interest as well if Shawn Marion were to opt out.

WEDNESDAY'S BEST
Chris Paul, Hornets guard:
Goes for 25 points, 15 assists and 6 rebounds while counterpart Steve Nash managed only one field goal in New Orleans' 120-103 win. Encore? Let's see CP3 do that while dancing with that little yellow umbrella (as seen in a Louisiana TV promotion).
---

WEDNESDAY'S WORST

The weary Sonics
-- The Nuggets set a franchise record for shooting accuracy against Seattle, 67 percent. Seattle gave up 138 points in an utter beatdown. The Sonics were finishing off a back-to-back, having been run ragged at Golden State a night earlier.
---
QUOTE OF THE NIGHT

"We just caught a team that was called out by their coach and they played very well."
-- Suns center Shaquille O'Neal,
explaining the 120-103 thrashing his team absorbed at the hands of New Orleans.
• See Wednesday's daily leaders
-- Andrew Ayres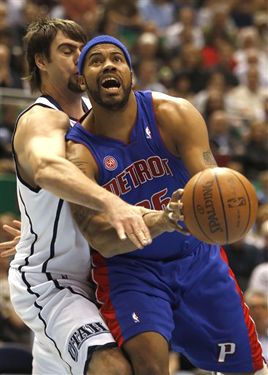 AP Photo/George Frey
Rasheed Wallace (2-for-12, 11 points) couldn't find the range while former teammate Mehmet Okur (24 points) sank clutch 3s down the stretch in a 103-95 Utah win over Detroit.
Ramez: LA, CA: Are the Lakers only playing this way because of the excitement of this trade or do us Laker fans really have more to be excited about out here?
David Thorpe: They're my ring faves, as of today.
Poris (NC): If Heat get No.1 pick in the draft, would they have to draft Michael Beasley?
David Thorpe: I'd like to see them trade down and take Derrick Rose. Fills a bigger need and maybe they can pick up another rotation player in the process.
LeBron Fastest To 10,000 Mark

By Peter D. Newmann
ESPN Research
LeBron James scored 26 points in the loss to Boston, making him the youngest to reach 10,000 for his career. James needed 19 to reach the mark. He's already the youngest to score 50, to record a triple-double and youngest to average 30 ppg in a season.
Youngest Players to 10,000 Career Points

Player
Age
LeBron James
23 years, 59 days
Kobe Bryant
24-194
Tracy McGrady
24-272
Bob McAdoo
25-147
Shaquille O'Neal
25-341
Michael Jordan
25-343
Kareem Abdul-Jabbar
25-343