Brian Babineau/NBAE via Getty Images
Basketball World Returns To Normal

BOSTON -- You can stop hoarding canned goods and bottled water and climb out of the basement bunker now. Apparently there will be no apocalypse.
The natural order of the world reasserted itself on Wednesday as the top-seeded Celtics said enough already and soundly beat the Hawks 110-85 to take a 3-2 lead in their best-of-seven first-round series. Boston can advance to the second round with a win on Friday in Atlanta's suddenly boisterous Philips Arena.
Playoff Schedule
WEST FIRST ROUND

For Boston, the key was dialing up the intensity after coasting through the final month and a half of the season. The Celtics came out strong on both ends, doubling
Joe Johnson
on the first possession, holding the Hawks to four fast-break points and getting a bounce-back game from
Paul Pierce
(22 points) to cruise to the easy win.
"Obviously, a better game," said Boston coach Doc Rivers. "The execution was as crisp and sound as we've had in a month and the defense was terrific."
Certainly there's little doubt which is the better team -- it was the sixth time in eight meetings this year that the Celtics beat the Hawks by double figures. Nonetheless, Atlanta was in reach midway through the third quarter at 60-54 before a barrage of Boston 3-pointers put the game away. Ray Allen made three and James Posey one at the buzzer in a 21-10 run to close the period, putting Boston up by 17 entering the fourth.
However, one could argue the key stretch of the game came much earlier. The Celtics led by 15 at the half thanks largely to the inspired play of reserve Leon Powe, who scored seven points, was responsible for six offensive boards (one officially went down as a team rebound) and took two charges in a 14-minute stint. Boston was a plus-10 with Powe on the floor in the half.
"I thought offensively and his rebounding was great," Rivers said. "Individually he was great on defense. Team defense, he still has a way to go, but he's getting it and he's getting better."
I'll say. Powe's positive plays included the game's most crucial one. At 4:26 of the first quarter, he stepped in front of a driving Joe Johnson to draw his second foul, sending Johnson to the bench.
That foul became huge because of an unnecessarily conservative reaction by Hawks coach Mike Woodson. Johnson played only 13:16 in the first half even though he has one of the lowest foul rates in basketball -- he averaged only 2.01 fouls per 40 minutes in the regular season. Johnson didn't pick up another foul the rest of the night and finished with two.
After the charge, Johnson sat out for a stretch of 9:25, during which the Celtics extended a three-point lead to 13 points. He came back in with 1:53 left in the half, at which time a 12-point lead jumped to 15 at the break.
This is straight out of the Larry Brown school of foul-trouble conservatism -- not surprising since Woodson was Brown's assistant in Detroit and has been proudly wearing his championship ring all series. Indeed, Al Horford and Josh Smith also sat out the final minute of the first half with two fouls, just as they had done for the final three and a half minutes of the first half in Game 4.
"It's still a long game," Woodson said. "I didn't think the game was out of reach. He still played 34 minutes; he's been playing about 40 a game in this series.
"I just didn't want to him to pick up the third, and then start the third quarter where he might pick up a quick one, and then he really has to go to the bench. I don't think that was a factor because we still made a nice run in the third quarter where we cut the lead to six and then it got away again."
Woodson's right about one thing -- it wasn't a factor ultimately. Atlanta got rolled Wednesday night, and eight more minutes of Joe Johnson wasn't going to flip a 25-point scoreboard margin. And Johnson himself didn't seem that upset about the move when I talked to him.
Instead, it was Atlanta's poor half-court execution that had the team perplexed, as the Hawks' road struggles -- they're now 12-32 on the season -- again reared their ugly head.
"I just thought we were sloppy offensively again tonight, really a carbon copy of the first two games we played here," Woodson said.
"We're not very disciplined on the road running our offense, or getting into sets, or moving the basketball," Johnson said.
Yep, that pretty much covers it. The truth about the Hawks all season has been that they're pretty good when they can run and pretty unsightly when they can't; and that they tend to run a lot more at home than on the road. Ergo, they had a 13-game difference between home and road, the largest in the Eastern Conference.
That gives the Hawks some hope heading into Friday, but even if they prevail, one can hardly imagine their winning in the Gah-den -- they've yet to play a competitive game here in five tries this season.
John Hollinger writes for ESPN Insider. To e-mail him, click here.
Playoff Dimes Past: April 20 | 21 | 22 | 23 | 24 | 25 | 26 | 27 | 28 | 29 | 30
Butler Saves Washington's Season

By Brian Windhorst | Special to ESPN.com
CLEVELAND -- He's an inch shorter and about 30 pounds lighter, and he likes to chew straws rather than fingernails during games, but Caron Butler sure looked like a perfect facsimile of LeBron James in the hot finish of this playoff game.
The Wizards small forward, an All-Star at the position just like James, brought some balance to the mostly one-sided saga that is the Cavs vs. Wizards, in carrying his team to an 88-87 win.
To read the full column, click here.
When In Doubt, Celtics Play D

By Marc J. Spears | Special to ESPN.com
BOSTON -- Much ado, deservedly so, has been made about the Boston Celtics' All-Star trio of Ray Allen, Kevin Garnett and Paul Pierce. You've seen them as the "Boston Three Party" on ESPN, on covers of countless magazines, and in commercials hocking shoes, energy drinks and video games.
But there is another star of the Celtics who doesn't sell jerseys or appear in commercials or All-Star Games. And without it, all this success and championship talk that Boston has been enjoying wouldn't be possible. This unheralded star is their defense.
And in each of the Celtics' three playoff wins over the young and hungry Atlanta Hawks, including Wednesday's 110-85 Game 5 triumph at TD Banknorth Garden, their defense has been the MVP carrying them to victory. Boston is now up 3-2 in the best-of-seven series, with Game 6 in Atlanta on Friday.
"When we lock in and decide we're going to make some stops, we really lock in," Garnett said.
Boston (90.3) was 0.2 points behind the Detroit Pistons in points allowed per game in the race for the NBA's stingiest defense during the regular season. And the Celtics were tops in field-goal percentage defense (.419) and 3-point percentage defense (.316).
And in this first-round series against Atlanta, the Celtics have been tough at home defensively and uncharacteristically generous on the road.
Boston won Game 1 at home after holding Atlanta to 81 points and 38.2 field goal shooting from the field. The Celtics won Game 2 at home after holding Atlanta to 77 points and 38.3 shooting from the field. Boston lost Game 3 in Atlanta after giving up 102 points and 47.4 shooting from the field. The Celtics lost Game 4 in Atlanta after giving up 97 points and 47.8 percent shooting from the field.
"It's obvious, hands down, when you watch both games, the [defensive] level of intensity that we play with at home, and for some reason we haven't carried that intensity on the road," Garnett said.
Boston also won Game 5 at home by holding Atlanta to 85 points, 40.6 percent shooting from the field and 30.8 percent shooting from 3-point range (4-of-13). After scoring a playoff career-high 35 points (20 in the fourth quarter) in Game 4, Atlanta guard Joe Johnson had 21 points on 6-of-11 shooting and 7-of-7 free-throw shooting in Game 5.
"The defense was terrific," Celtics coach Doc Rivers said. "We were trapping, smothering and we didn't make a lot of adjustments. We just did what we should do and we did it well."
When Game 6 arrives Friday in Atlanta, don't expect the Celtics to lean on Garnett, Allen or Pierce to end the series. Instead, expect the unheralded defense to lead Boston's path to the second round.
"At some point we are going to have to win a [playoff] game where our offense isn't very good and our defense has to be great," Rivers said.
Marc J. Spears is a regular contributor to ESPN.com and covers the Boston Celtics and the NBA for The Boston Globe.

WEDNESDAY'S BEST
LeBron James, Cavaliers forward:
Sure, his team lost the game, but as usual James did everything but sell tickets. He finished with 34 points, 10 rebounds and seven assists.
---

WEDNESDAY'S WORST
Mike Bibby, Hawks guard:
In 39 minutes, he connected on just 2 of 8 shot attempts, finishing with six points. If he wasn't scoring, he must have been setting his teammates up, right? Nope, he handed out only one assist.
---
QUOTE OF THE NIGHT

"This is my time of the year. I love playoff basketball. I understand what it means. I understand what it takes to be successful during this time of year."
-- Celtics point guard Sam Cassell, who signed with Boston in March to provide veteran leadership off the bench
• See Wednesday's daily leaders
-- Maurice Brooks
Heading back to D.C.
Detroit's Keys To Victory

Flip Saunders says there are three things Detroit needs to do to win: play with energy, give full effort, and be efficient on offense.
Mike Tirico Show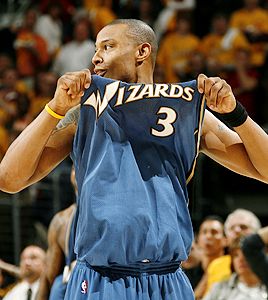 Nathaniel S. Butler/NBAE/Getty Images
With the season on the line, Caron Butler's layup with 3.9 seconds left helped Washington escape Cleveland with an 88-87 win.
Cavs Falter Down the Stretch

By Brian Windhorst
Special to ESPN.com
CLEVELAND -- Though the final shot is what everyone always remembers, often games that came down to the final shot don't really come down to the final shot.
Wednesday's Game 5 between the Cavs and Wizards was such a classic case. The Cavs lost and the Wizards won, 88-87, not just because Caron Butler made his driving layup and LeBron James missed his, but because of the way both teams approached the game's final two minutes.
The Cavs have been quite successful over the years in giving the ball to James and, as Delonte West said when describing the setup of his game-winning jumper in Game 4, "get the hell out of the way." But that isn't always the prudent way to play, especially when it isn't yet time for the last shot, a flaw the Cavs have shown often in the past.
Ahead by five points with the ball with less than two minutes on the clock in their home arena in a close-out game with one of the best finishers in the NBA, everything looked very positive for the Cavs. That's when the flaw was exposed, as the Cavs went through three questionable possessions that put wind back into the Wizards.
James spent each possession dribbling at the top of the key while his four teammates stood and watched. He let the shot clock go all the way down before doing anything, and then he didn't do much. He took a poor, contested 3-pointer that didn't even hit the rim. He dished out to Daniel Gibson for an open 3-pointer, but it was a low-percentage shot, especially with the officials calling fouls (James took 18 free throws) and an undersized Darius Songaila covering Zydrunas Ilgauskas, who had 19 points and helped foul Brendan Haywood out earlier in the quarter. Then James gave up the ball late in the clock that resulted in Joe Smith taking a much closer shot, from about 5 feet, but doing it in less than two seconds because a 24-second violation was imminent.
Meanwhile, the Wizards got three scores and went from being down five to up one valuable point.
"We didn't execute, being up five, and I had the ball in my hands for the most part," James said. "I'm supposed to put us in the position to do the right thing and I didn't do that."
Cavs coach Mike Brown defended the decision, saying that giving the ball to James and letting him make a play is always the team's strategy late. But both he and James admitted regret that things didn't go more smoothly, and James seemed prepared for another chance later in the series.
"It's not like it is over, we're up 3-2," James said. "As long as I am on the court, we have a great chance to win."
Brian Windhorst covers the Cavs and the NBA for the Akron Beacon Journal.

By Elias Sports Bureau
Ray Allen went 5-for-8, a 62.5 percentage, on 3-point field goals for the second consecutive game on Wednesday.
Only one other NBA player has had such a high shooting percentage on 3-pointers in each of two consecutive games (minimum: five 3-pointers in each game): the Timberwolves' Anthony Peeler went 5-for-8 and 6-for-8 from downtown in consecutive games of the 1998 playoffs.
• See more Elias facts that figure