Gregory Shamus/Getty Images
The Deadline Deal Never Looked Better

CLEVELAND -- Huddled outside the Cleveland Cavaliers' locker room Saturday night were two powerful men waiting to offer their congratulations to the man who made their series-changing win possible.
One of the men, Cavs owner Dan Gilbert, wanted to give him a handshake.
The other, Bob Ferry, wouldn't have felt silly giving him a hug.
After all, the latter was the man responsible for bringing Danny Ferry into this world. And Gilbert was the one responsible for letting Ferry pull off a mega-blockbuster trade that finally paid its first big dividends Saturday night.
Playoff Schedule
WEST SEMIFINALS

New Orleans 2, San Antonio 1
Game 4: Sun., 8 ET, at SAS
L.A. Lakers 2, Utah 1
Game 4: Sun., 3:30 ET, at UTH
EAST SEMIFINALS

Detroit 3, Orlando 1
Game 5: Tue., 7 ET, at DET
Boston 2, Cleveland 1
Game 4: Mon., 8 ET, at CLE
"Look at this: 21 for West, 17 for Smith, 16 for Wally, 9 for Ben. That's 63 out of 108 points," Gilbert said as he glanced down at the box score containing all the statistical details of Cleveland's 108-84 drubbing of the
Boston Celtics
. The victory cut the Cavs' deficit to 2-1 in their Eastern Conference semifinal playoff series.
Gilbert didn't mention the stat line belonging to his most important player, because this was the rare night when the Cavs did not have to sink or swim based upon how LeBron James played. Yes, James finished with a better-than-solid line of 21 points, eight assists, five rebounds, four steals and three skywalking blocks, but he again was inconsistent with his shot in missing 11 of 16 attempts.
Smith might have been the best of the newcomers, shooting 7-for-8 in nearly 24 minutes as he took over the backup power forward duties after Anderson Varejao injured his knee. But West was outstanding, too, with four 3-pointers in shooting 7-for-11 overall with seven assists and five rebounds. Wallace contributed nine points, nine rebounds and two blocks, and Szczerbiak scored 14 of his 16 points in the first half when the Cavs took control for good, opening up a lead that grew as high as 26 points and never dropped below double-digits thereafter.
"I said it before about this team, I like this team. We have guys that have a great feel for the game of basketball, they play hard, their effort is unbelievable -- all four guys that we brought in in the trade," Cavs coach Mike Brown said.
That trade, of course, is the one Danny Ferry called in to the league office just one minute before the trading deadline in February, a 10-player, three-team deal in which Ferry jettisoned six players -- Donyell Marshall, Larry Hughes, Ira Newble, Shannon Brown, Cedric Simmons and Drew Gooden -- to Chicago and Seattle and got back four in return.
It was a day that Gilbert recalled with mixed emotions Saturday, saying that he had been at his father's funeral that morning and then spent the next several hours on conference calls as the trade gradually came together.
"We had talked about pieces of it for weeks in advance, and it was interesting how it all came together at the last second -- somebody came up with the idea of the three-way," Gilbert told ESPN.com. "You always have some [apprehension], you can't always be certain with a big move like that, but I had a pretty good feeling about it. I thought it might take a little time to jell, like it did, but the guys we were getting we thought would be extremely valuable if we went up against Boston or Detroit in the playoffs.
"It's panning out -- at least tonight," Gilbert said.
The game was suspenseful for only a few brief moments, but there was a palpable nervousness in the building as things got under way. In fact, when the Celtics grabbed an offensive rebound on their first possession, and James followed by bricking a jumper on his first shot attempt, the arena grew stunningly silent. Less than 60 seconds had elapsed, and the fans already were expecting the worst.
But the Celtics quickly went cold from the field. (Ray Allen had another poor performance, shooting 4-for-12, and Paul Pierce went just 3-for-8 as part of the Celtics' 40 percent shooting effort.) In contrast, Cleveland bounced back strongly after averaging just 72 points in the first two games, shooting 53 percent, getting 29 assists on 37 field goals and knocking down 10 of 19 3-point attempts.
As was the case a year ago when the Cavs dropped the first two games of their playoff series against the Pistons, Cleveland earned a victory in a game it absolutely needed to have.
"Right from the beginning we jumped on them," James said. "Does it feel like Detroit? I don't know. After I see if we take care of business in Game 4, I can say for sure."
Whether the Celtics will have a full roster remains to be seen, because there's a chance the league office -- which routinely reviews all flagrant fouls -- will upgrade a flagrant-1 foul that James Posey committed against James to a flagrant-2, which would carry with it a one-game suspension. Posey caught James across the neck during the second quarter and knocked him to the floor, where James stayed for a while.
"I felt getting grabbed and choked by the neck, and whatever the refs wanted to do with the call, so be it," James said. "I think it was the right call -- flagrant-1. It was good."
Garnett wrote this one off as an "adjustment game" and said the Celtics will have to learn a lesson from it just as they did in the first round when they dropped all three road games against Atlanta.
As for Pierce, he said: "That's not the team we've been all year."
The Cavs weren't the team they've been all year either; they haven't even been the same team all season. And that was because of Ferry, who deserved as much credit for this victory as anyone else wearing wine and gold.
Chris Sheridan covers the NBA for ESPN Insider. To e-mail Chris, click here.
Playoff Dimes Past:
May 1
|
2
|
3
|
4
|
5
|
6
|
7
|
8
|
9
|
10
LeBron Raises Shooting Percentage To 22 Percent
By Brian Windhorst | Special to ESPN.com
CLEVELAND -- LeBron James was back making highlights in Game 3 against the Celtics on Saturday. They weren't offensive highlights, mind you, but the way things are going for him, he'll take anything.
James' impact on the Cavs' win was felt more at the defensive end. The memory he left was of a blocked shot, or in reality more of a plucked shot, when he soared high over Rajon Rondo to pull his layup attempt out of the air in the third quarter.
James had four steals and three blocks as the Cavs had a get-healthy performance. But his game is still a little sick, and not in the good way. The Celtics brought their now-standard defensive package for him, swinging big men to block his path to the basket and dropping defenders on pick-and-rolls to encourage him to take jumpers.
James made just five of 16 shots, which actually increased his shooting percentage for the series to 22 percent (13-of-58). He had 21 points, 7 assists, and 5 rebounds, but his defensive numbers should make him feel better. He also committed just two turnovers after piling up a gruesome 17 in the first two games.
All in all, it was a quality performance. But it wasn't the kind the Cavs are going to need if they have dreams of winning the series. All they did with their blowout win was hold serve: Every lower seed in the second round has won Game 3 at home.
"I haven't shot the ball like I like, but a win is all that matters," James said. "Even if I am not making shots, I'm able to do more. It was just key that other guys stepped up."
That indeed happened in Game 3, when the Cavs had five players in double figures. Joe Smith didn't miss on his first seven tries, Delonte West was 3-of-15 in Boston but 7-of-11 in Cleveland, and even Ben Wallace made four of six shots. But this series already has shown those players can't be counted on to put up numbers every night.
"When you get the other guys going besides LeBron, it's going to be a tough night," Celtics coach Doc Rivers said.
Historically, though, role players perform at home and not on the road. The Cavs need another home win Monday just to make it a series and must win in Boston if they have any hopes of advancing. So far, the tug-of-war is still going the Celtics' way. They certainly have no plans to alter their defensive strategy, and James knows it.
"I can't allow my shot to affect the way I play the game," he said. "Every shot I took tonight I felt was going in, and I made some key shots during the course of the game."
Brian Windhorst covers the NBA for the Akron Beacon Journal.
Boston Turning Into Road Worriers

By Marc J. Spears | Special to ESPN.com
CLEVELAND -- After killing almost everyone on the road in the regular season, the Boston Celtics have oddly become roadkill in the playoffs.
The Celtics surprisingly dropped to 0-4 on the road in the postseason after being hammered 108-84 in Game 3 by the Cleveland Cavaliers in an Eastern Conference semifinals matchup Saturday night at Quicken Loans Arena. The Celtics now own a 2-1 lead in the best-of-seven series. To make matters worse for Boston, it is now 0-3 on the road against Cleveland overall this season.
So Kevin Garnett, what's the deal?
"There are no excuses for it," the Celtics' All-Star forward said. "If we had that answer, we wouldn't get beat on the road, huh?"
Good point.
Believe it or not, the Celtics won an NBA-best 31 road games during the regular season. Do you remember that they were the first team since 2001 to win the tough Texas Triangle (games at San Antonio, Houston and Dallas)? How about the road wins against Detroit, Utah and the Los Angeles Lakers? Road wins seemed expected back then. But that was back then, not this postseason.
The Eastern Conference's top-seeded team was winless in three tries on the road against 8-seed Atlanta. And the Celtics' didn't mend their road confidence in losing by a season-high margin (26) on the road here.
"We've lost four in a row on the road," Celtics coach Doc Rivers said. "We haven't played well. Although, two of the games in Atlanta we did, but we lost them. Even if you don't [talk about 0-4 on the road], someone will. We have to win games. You got to win four. That's what you have to do."
Game 4 against Cleveland on Monday is pivotal for the Celtics for two reasons. Either Boston will go up an insurmountable 3-1 or t will go back home with a loss, desperately needing to rely on home-court advantage again. Also, the Celtics' regular-season road swagger would return with a win Monday, while a loss could leave them a psychological mess away from TD Banknorth Garden.
"A playoff series doesn't start until someone wins a road game," Cavs guard LeBron James said.
To earn a stranglehold on the series and get their road swagger back, the Celtics need to prove James right Monday.
Marc J. Spears is a regular contributor to ESPN.com and writes about the Celtics and the NBA for The Boston Globe.
D'Antoni Takes Winning Ways To NYC

By Elias Sports Bureau
The Knicks announced Saturday that they have reached an agreement in principle with Mike D'Antoni to become the team's head coach. Phoenix won at least 54 games in each of D'Antoni's four full seasons there. The only NBA coaches that changed teams after four straight seasons of 54 or more wins were George Karl (Sonics-Bucks, 1998); Pat Riley (Lakers-Knicks, 1991); K.C. Jones (Celtics-Sonics, 1990); and Bill Fitch (Celtics-Rockets, 1983).
The Suns won 232 games over the past four seasons, nine more than the Knicks' highest win total over any four-season span in their history (223 from 1991-92 to 1994-95).

SATURDAY'S BEST
Rip Hamilton, Pistons guard
: No chance without Chauncey? Nope. With Rip going for 32 points and six rebounds, winning was possible for Detroit in its 90-89 road victory.
---

SATURDAY'S WORST
Sam Cassell, Celtics guard
: No Sam I Am to the rescue this time. The clutch shooter from the first two games came up dry in Game 3, missing all six of his shots in 18 minutes of action.
---
QUOTE OF THE NIGHT

"The win is all that matters; I can't worry about how I'm shooting the ball."
-- Cavs forward LeBron James, whose 22.4 percent field goal percentage in the first three games is the worst of any three-game stretch in playoff history since the 1977-78 ABA-NBA merger.
• See Saturday's daily leaders
-- Andrew Ayres
Prince a winner for Detroit
Did Magic Help Stop Howard?

By John Denton
Special to ESPN.com
ORLANDO -- The Detroit Pistons alternated Rasheed Wallace and Antonio McDyess inside on Dwight Howard all game, making sure the Orlando Magic's 6-foot-11, 268-pound center always had a fresh body pressed against him.
And just for good measure, Richard Hamilton and Tayshaun Prince never strayed far away, digging down on Howard's catches on the low block.
But, according to McDyess, Detroit's famed defense wasn't the only thing stopping Orlando's first-team All-NBA center in Gamenbsp;4.
"[The Magic] played defense on him; we didn't,'' McDyess said, taking a not-so-subtle jab at Orlando's indifference to getting Howard the ball. "They stopped giving [Howard] the ball in the paint. [Hedo] Turkoglu just started taking over the game and he wasn't getting the ball in the paint. So that was huge, and we just tried to stay body to body with [Howard] and help out when Turkoglu came to the basket."
Orlando squandered a golden opportunity to draw even with the veteran-laden Pistons on Saturday, losing 90-89 in a game in which it once led by 15 points and had Detroit without star point guard Chauncey Billups because of a strained hamstring.
Point guard Jameer Nelson missed a free throw with 44 seconds remaining that would have put the Magic up two points. The Magic lost when they allowed McDyess to grab his 14th rebound of the game, one that eventually set up Tayshaun Prince's go-ahead points with 8.9 seconds remaining.
But ultimately, the Magic's undoing was their getting away from relentlessly pounding the ball inside to Howard. He scored six points in the game's first five minutes, but had just two free throws the rest of the game. His eight points were a playoff low, and afterward Howard could barely hide his frustration over not getting the ball.
"We can't get stuck in playing the way they play; we have to play our game,'' said Howard, referring to the Magic's offense not running more in the second half. "The main thing is to not get frustrated. I got a little frustrated. If we want to win this series, we've got to be able to play our game."
Wallace, like McDyess, saw Howard's frustration building throughout the game, when he launched just 12 shots and two free throws. Also, Wallace feels that the constant pounding might be starting to wear on Orlando's 22-year-old star. And those easy dunks and putbacks that Howard got so often in the first round when he hammered the Toronto Raptors for three 20-point, 20-rebound games have been nonexistent in this series.
"He couldn't get in there and get the easy buckets that he wanted, and we definitely saw that frustration from him,'' Wallace said. "We want a physical game. That's right up our alley.''
Howard refused to blame his teammates for not getting him the ball more, only promising that he will be better in Tuesday's Game 5.
"I missed a lot of shots," Howard mumbled. "I just had a little frustration and there wasn't a thing I could do about it. I just have to come back the next game and give a better effort."
John Denton is a regular contributor to ESPN.com. He covers the Orlando Magic for Florida Today.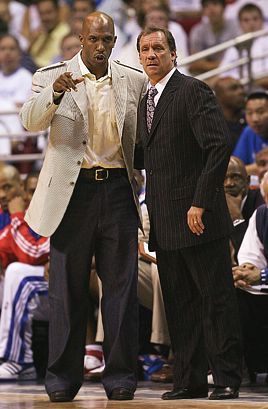 Doug Benc/Getty Images
Injured Pistons guard Chauncey Billups discusses strategy with head coach Flip Saunders during Detroit's Game 4 win. Fortunately for Detroit, Lindsey Hunter was still kicking around.
Thibodeau Could Fit Openings

By Chris Sheridan
ESPN.com
CLEVELAND -- A bad loss by the Celtics was a particularly tough loss for assistant coach Tom Thibodeau.
In a worst-case scenario, it may even keep him from getting an interview for one of the two NBA coaching jobs that remain open.
Sources told ESPN.com that the Celtics were considering giving Thibodeau permission to interview for the vacancy in Chicago if Boston were able to make quick work of the Cavaliers in their second-round Eastern Conference playoff series.
Thibodeau has been mentioned often in connection with the openings in Chicago and Phoenix. As of now, sources said, no one has made a formal request, though Chicago has made informal inquiries. A sweep would have given the Celtics numerous consecutive days off, and any team wishing to interview Thibodeau would have stood a better chance of gaining permission from Boston's ownership group.
But with the series now guaranteed to go back to Boston for a Game 5 on Wednesday, the earliest that Thibodeau might have a free day was moved back by at least 48 hours. And if the Cavs win another, that could remove any chance of the Celtics having enough free time to let Thibodeau step away and redirect his focus for a day or two.
Jobs remain open in Chicago, where Mark Jackson and Dwane Casey are among the candidates who already have interviewed, and in Phoenix, now that Mike D'Antoni has left the Suns to become the new coach of the New York Knicks. Dallas assistant Mario Elie's name already has been floating around the league as one of the people in whom the Suns have a particular interest.
Suns general manager Steve Kerr said he will not begin the process of looking for a new coach until Monday. The departure of D'Antoni stemmed in part from his philosophical differences with Kerr over how much emphasis to put on defense -- and Thibodeau is the man credited with being the brains behind the Celtics' league-leading defense.
But Thibodeau is not a one-trick pony, according to the coach who employed him as a Houston Rockets assistant for several seasons.
"Until you get the opportunity, no one knows who can make the jump from assistant coaching to head coaching," ESPN analyst Jeff Van Gundy said. "It's impossible to know, so what you're left with are the qualities you're looking for, and I think he'd do an excellent job from a leadership standpoint. They'd be organized, they'd have a defined system and roles; he's tremendous with individual player development.
"He's not what he's being portrayed as right now, which is a defensive guru. He's a basketball guru, the smartest coach I've ever worked with. If you limit it to defense, I don't think it's a fair assessment of all the skills he has as a coach."