David Liam Kyle/NBAE/Getty Images
The Dunk: Starring Cleveland's LeBron James

CLEVELAND -- We've seen dunks like that out of him before, but did you see LeBron James' face afterward? Did you see that grimace? That glare?
It was a Baddest Man on the Planet scowl that James wore on his 23-year-old face Monday night after throwing down one of the more vicious dunks that Kevin Garnett has ever been on the receiving end of.
First, James got freed by a pick and blew past Paul Pierce. Next, he made the subtlest little head fake to get James Posey leaning the wrong way, and finally, he went up over Garnett and was undeterred by the two hands KG shoved into his chest as he rose higher and higher and ultimately unleashed a windmill flush that brought the house down.
Playoff Schedule
WEST SEMIFINALS

New Orleans 2, San Antonio 2
Game 5: Tue., 9:30 ET, at NOR
L.A. Lakers 2, Utah 2
Game 5:Wed., 10:30 ET, at LAL
EAST SEMIFINALS

Detroit 3, Orlando 1
Game 5: Tue., 7 ET, at DET
Boston 2, Cleveland 2
Game 5: Wed., 8 ET, at BOS
It was a virtuoso finishing act from the Eastern Conference's top superstar, a game-defining dunk that gave the Cavaliers a nine-point lead as part of their 9-2 run to close the game as Cleveland defeated Boston 88-77 to even their second-round playoff series at two games apiece.
"He can dunk. And if you give him a running start at the basket, he's going to get a good dunk. Once he gets up there, there's not a lot you can do about it," Boston coach Doc Rivers said.
James turned and started hopping back up-court after the dunk, the look on his face reminiscent of a moment two decades ago, when Mike Tyson was in his prime, knocking out Michael Spinks 91 seconds into the first round to retain the undisputed heavyweight title and run his record to an unbeaten 35-0. There wasn't an athlete like Tyson on the planet at the time, and the scariest thing about him was how ruthless and unstoppable he could be when he summoned everything he had from deep down inside.
Sort of like how James looked after that dunk over KG.
"That was the play we needed as a team," James said. "Me as an individual hadn't had a play like that, our crowd hadn't seen a play like that since the alley-oop Daniel Gibson threw to me in the first series. They deserved it, our fans deserved it, they were great, and it was great that I was able to give it to them."
James said it was his best dunk of the season, besting a flush he had over Tim Duncan because this one took place in a playoff game and the other came during the regular season.
James noted that he had shied away from Garnett on his previous drive, switching the ball from hand to hand and trying a finesse shot, and had vowed to be more aggressive on his next drive.
He sure was.
• For the full Chris Sheridan story, click here.
Playoff Dimes Past:
May 1
|
2
|
3
|
4
|
5
|
6
|
7
|
8
|
9
|
10
|
11
|
12
Cavs Beating Celtics At Their Own Game

By Brian Windhorst | Special to ESPN.com
CLEVELAND -- In any heated playoff series, momentum is going to be fluid. But right now, the Cavs are stunningly winning the defensive battle with the Celtics.
This series, now tied 2-2, was aptly billed as LeBron James vs. the big three, with the greater numbers getting favored status. Instead, it's turned into who can keep the other guy from scoring, where the Celtics should have the edge as well. But after four games, it is the Cavs' defense that's building steam.
After keeping the Celtics from breaking 80 points for the second time in the series -- that only happened twice to Boston in the regular season -- the Cavs are holding the Celtics to 40.5 percent shooting and just 81.5 points a game.
James and his timely baskets made him a hero in Game 4, but Anderson Varejao (right) was just as vital to the Cavs' victory. Varejao guarded Kevin Garnett for much of the second half and did it one-on-one most of the time. He forced Garnett out of his favored positions on the left block and used his athleticism to stay in front of him on rebound attempts. Garnett shot just 1-of-7 and got just two rebounds after halftime.
Paul Pierce has done a great job of playing team defense on James, which has gotten noticed along with James' 26 percent shooting. But it's gone both ways. James has been doing an exceptional job dealing with Pierce and keeping him from getting clean looks or into scoring lanes. Pierce is shooting just 35 percent in the series and averaging just 12.5 points. James has 10 steals and seven blocks to go along with his offensive stats.
The Cavs are being very active in their rotations, helping off weak shooters like Rajon Rondo and Kendrick Perkins, and yet seemingly going full quarters without allowing the Celtics an uncontested shot.
"We've been able to cover for each other, flying around and contest at the same time," James said. "It's been amazing."
It could be argued that the Cavs have only truly played two bad defensive quarters in the series: the second and third quarters in Game 2, a Celtics rout. That was a game in which they didn't have Ben Wallace, who was out with an allergy attack and ear infection. Wallace has been effective when he's been in the game, making Garnett work hard for his post shots and rebounding at a higher rate (15.1 per 48 minutes) than any player in the series.
The Celtics have been exceptional on defense, too. They are only allowing the Cavs to shoot 41.2 percent and are giving up just 85.3 points. But their home and road defensive performances have not been consistent. The Cavs have had that consistency, holding the Wizards and Celtics to less than 90 points in eight of their 10 postseason games.
"We're not going to stop those guys, but the one thing we want our guys to do is make them work as hard as we can for their shots," Cavs coach Mike Brown said. "If we do, then we've done our job."
Brian Windhorst covers the Cleveland Cavaliers for the Akron Beacon Journal.
Postseason Pressure Bothering Celtics

By Marc J. Spears | Special to ESPN.com
CLEVELAND -- It was just one sentence, but Boston Celtics coach Doc Rivers' words spoke volumes.
"We have to play better under stress," said Rivers, following the Celtics' 88-77 Game 4 loss to the Cleveland Cavaliers in their second-round series Monday night at Quicken Loans Arena.
During the regular season, no NBA team seemed more focused than the Celtics as they rolled to a league-best 66 wins. No team was better on the road than Boston as it won 31 times.
Big wins? The Celtics completed the rare Texas Triangle triumph (winning consecutively at San Antonio, Houston and Dallas), and won at Detroit, at Utah and at Los Angeles against the Lakers.
But ever since a Game 3 loss at Atlanta in the first round of the playoffs, the Celtics' swagger, poise and big road wins have become a thing of the past. In fact, Boston's last road win was nearly a month ago: April 14 in New York.
A Game 4 road triumph could have brought Boston's bravado back. But Boston was outscored 20-12 in the fourth quarter and didn't receive a point during the final frame from Garnett or Allen. There were no big shots hit and few key defensive stops made. Instead, the big highlight was LeBron James muscling his way to the basket for a statement dunk.
Rivers is right. The Celtics aren't playing well under stress in the postseason. Some Boston players didn't like to hear that. Yes, the truth hurts.
There is still time for the Celtics to show the fortitude they did during the regular season, but the clock is ticking loudly.
"We'll go back home and hopefully take care of business, but like I said the last time we were in this spot [against Atlanta], we can't just go home and assume. We have to play," Rivers said.
Marc J. Spears is a regular contributor to ESPN.com and covers the NBA and the Boston Celtics for The Boston Globe.

MONDAY'S BEST
Cavaliers' reserves
: Daniel Gibson came off the bench to score 14, grab six rebounds and hand out four assists, and backup big man Anderson Varejao had 12 points.
---

MONDAY'S WORST
Celtics' reserves
: Sam Cassell, Leon Powe and James Posey combined to go 0-for-9 from the floor as Boston received just 17 points off the pine.
---
QUOTE OF THE NIGHT

"He can dunk. Especially if you give him a running start at the basket. It's probably going to be a pretty good dunk and he's so darn powerful that once he gets up there, there's not a lot you can do. I hate the fact that he got to the basket."
-- Celtics coach Doc Rivers on LeBron James' powerful dunk late in the fourth quarter.
-- Maurice Brooks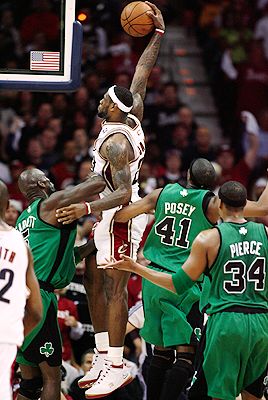 Gregory Shamus/Getty Images
This right-handed dunk by James over Kevin Garnett sealed Cleveland's 11-point victory and sent the series to Boston even at 2-2.
Road woes: C's 0-5 away from Boston

By John Denton
Special to ESPN.com
ORLANDO, Fla. -- Considering his history, you didn't really expect pint-sized point guard Jameer Nelson to back down from his Game 5 guarantee for the Orlando Magic to beat the Detroit Pistons, did you?
Nelson has spent a lifetime accomplishing feats few ever thought possible. He navigated his way through the troubled streets of Chester, Pa. Not even 6-foot tall, he was too short and played for a school too small to ever make it in the NBA.
And in the past year alone, he's had to fight through his roughest stretch in his life after losing his father, Floyd "Pete" Nelson, following a bizarre drowning death in the Delaware River.
Yet, there Nelson stood unflinchingly on Monday, a co-captain for the Magic, explaining exactly why he feels his upstart Orlando team is every bit the equal of the playoff-hardened Pistons even though it trails 3-1 in the series.
The Magic suffered an otherwise crushing defeat on Saturday, falling 90-89 in part because Nelson missed a last-minute free throw. He then said the Magic would rebound and win Tuesday's Game 5, and he backed up those comments again on Monday before Orlando headed for suburban Detroit.
"I've heard from people that I guaranteed a win, but what am I supposed to do -- guarantee a loss? We've got to win the game," Nelson said confidently. "We have the confidence that we can do it. I believe it.
"It's not that I'm saying it because that's what we have to do, I believe in this team. I'm not saying it to be arrogant or cocky or anything like that, but we know we have to win, so let's go win."
To read the full column, click here.

Gene Wojciechowski talks about spending the afternoon in the car with Jazz owner Larry Miller on Sunday. Miller couldn't watch Game 4 of Lakers-Jazz because of his religious beliefs.
ESPN radio

By Elias Sports Bureau
Home teams have a .746 winning percentage (44-15) during this year's NBA postseason. Should that form hold through the rest of the playoffs, it would be the first year in which home teams had such a high winning percentage since 1990, when home teams went 54-18 (.750).
• See more Elias facts that figure.