Jim Rogash/Getty Images/NBAE
Worth the Price of Admission: KG vs. Sheed
BOSTON -- It's virtually impossible to find two NBA players more intense than Kevin Garnett and Rasheed Wallace.
Whether you're a reporter or a teammate, don't dare talk to Garnett before a game. The 11-time NBA All-Star gets in a zone from the time his eyes open in the morning and he transforms into a warrior once the ball is tipped off. Wallace plays with a Cheshire grin or a scowl depending on what is going on in the game. And referees know that by game's end they'll have had more than an earful from Sheed.
All this toughness, focus and intensity, however, seems to change when they play each other. Pay close attention. Garnett and Wallace meet up for a hug before the game and find each other for one after.
Why? It's a mutual respect. These two near 7-footers can shoot from deep, take you off the dribble, hit an unblockable turnaround in the post and block your shot. It's almost as if they are looking at each other in the mirror when they play one another.
In Game 1 of the Eastern Conference finals, Garnett got the better of the matchup with Wallace. KG scored a game-high 26 points, grabbed nine rebounds and dished out four assists to lead the Celtics to an 88-79 victory at TD Banknorth Garden on Tuesday night. Wallace struggled, hitting just 3-of-12 shots (including 0-of-3 from 3-point range) and 5-of-6 free throws en route to 11 points.
But even though Garnett won the first head-to-head battle, he expressed unsolicited respect for Wallace, knowing there is still a lot of basketball to be played against his tough and gritty mirror-image foe in this series.
"Playing Rasheed is like looking in the mirror," Garnett said. "Aside from Joe Johnson, I think he's the most underrated player in this league, and when we play it's just like that. A lot of respect to that man and how he plays."
Marc J. Spears is a regular contributor to ESPN.com and covers the Boston Celtics and NBA for The Boston Globe.
Playoff Dimes Past:
May 4
|
5
|
6
|
7
|
8
|
9
|
10
|
11
|
12
|
13
|
14
|
15
|
16
|
17
|
19
|
20
Pistons Need A Fully Healthy Billups

By Chris Silva | Special to ESPN.com
BOSTON -- With a towel wrapped around his waist, Chauncey Billups made the 20-foot walk from the shower to his locker stall.
He didn't walk with a limp, wasn't covered in bandages or ice, and wore a straight face.
Right foot, left foot, repeat.
Billups looked fine.
He said he felt fine.
But the 31 minutes he was on the floor for Game 1 of the Eastern Conference finals against Boston didn't back that up.
Billups finished with just nine points and two assists in the Pistons' 88-79 loss to the Celtics.
To be fair, this was Billups' first game in 13 days since straining his right hamstring in Game 3 against Orlando, an injury that kept him on the sideline for Games 4 and 5 of that series.
Against an inferior and inexperienced Magic team, the Pistons proved they could win without their floor general and captain.
But now, facing the top-seeded Boston Celtics, the Pistons are well aware they'll need Billups in a greater capacity if Detroit is to advance to its third NBA Finals in the past five years.
"I felt good -- it was good just getting back out there," Billups said. "Obviously my explosiveness wasn't really there. But I felt good, I was happy to be out there, and I know I'll get better as we go along."
Billups, who wore leggings on Tuesday, was tentative early.
He shied from attacking the basket. He didn't take advantage of a few mismatches at the top of the key, one with 6-foot-10 Kendrick Perkins guarding him. Not until the fourth quarter did Billups drive the lane. But by game's end, he had attempted only six shots.
Pistons coach Flip Saunders said Billups didn't look as comfortable coming off screens but saw some progress as the game wore on.
"Even though he missed a couple late, he looked more for his shot," Saunders said. "He's going to have to be aggressive for us."
Asked whether it will take some time for Billups to establish a rhythm, veteran guard Lindsey Hunter said flatly, "He better get back in gear fast because we only have a little while. We need him now."
But is Billups capable of kicking it into fifth gear?
He said his hamstring felt no different after Game 1 than it did before, although at the morning shootaround he said he had not regained his full range of motion.
"Being the best I can be, I don't know if I can get to that," he said at the shootaround. "We only have a month left, so I don't know if I'll ever get to that. But I really wasn't asking for that. I just wanted to be good enough to play, and hopefully I'll be productive."
Certainly more productive than Game 1.
Billups said he started to loosen up in the fourth quarter and added that there are some things he should be able to do come Game 2 that he didn't -- or couldn't -- do on Tuesday.
"I started to see a couple gaps that I will take advantage of and I will, I will," Billups said. "I feel good enough to be a little more aggressive. I didn't want to come out and throw the rhythm of the team off too bad being too aggressive when I haven't played in a while, but the rhythm was off anyway."
Chris Silva is a Detroit Free Press sportswriter.
Is It the Pistons' Turns At the Top?

By Scoop Jackson | ESPN.com
Here we go again.
Are you ready? Am I? They are about to either send me into a non-optional state of euphoria or rip my heart apart. But if you are a fan or follower of Detroit Pistons (sing it) bas-ket-ball!, you are used to this. With them, we live life B.I.G., ready to die.
It's dysfunction. Them. Us. Together. A relationship built on hope without trust. They make you believe they can win it all, then ...
The fallout. Year after year. Potential unreached, business unfinished. Then ...
They reach a level of basketball no other team seems to reach. They play a brand of basketball no other team can play. They become heroes, gods of the moment. Sheed is everyone's favorite player. Smooth and Rip are one of the best guard tandems ever.
Then ...
The arrogance sets in, and that typical Pistons malaise begins. You know, when they start playing down to the level of their competition. When they allow a sub-.500 team, the Sixers, to take a 2-1 lead in the first round after they supposedly learned their lesson in last year's playoffs by losing to a one-man team called LeBron after being up 2-0. And right when you are about to give up on them, about to claim another team as your own, Tayshaun makes a thaumaturgic block, and you are hooked again! Sucked back into believing that this a team of destiny and dynasty. That no team -- even one with Shaq and Kobe on it (remember 2004?) -- can beat them. And they prove you right. Then ...
To read Scoop's full column, click here.
What Can the No. 1 Pick Mean?

Despite having just a 1.7 percent chance of landing the top pick, the Chicago Bulls moved up from the No. 9 spot to win the NBA draft lottery on Tuesday night. Here are the biggest turnarounds by teams that selected first.
Michael Beasley or Derrick Rose?

Year
Team
No. 1 Pick
Improvement
1997
Spurs
Tim Duncan
+36
1992
Magic
Shaquille O'Neal
+20
2006
Raptors
Andrea Bargnani
+20
2003
Cavaliers
LeBron James
+18
2001
Wizards
Kwame Brown
+18
2004
Magic
Dwight Howard
+15
2002
Rockets
Yao Ming
+15
-- ESPN Research

TUESDAY'S BEST
Kevin Garnett, Celtics forward
: There were six All-Stars on the floor for Game 1, but none of them performed on the same level as KG, who put up 26 points, 9 rebounds and four assists.
---

TUESDAY'S WORST
Rasheed Wallace, Pistons forward
: He missed all three of his attempts from deep, knocked in just 3-of-12 overall and finished with 11 points and 5 rebounds. Going head-to-head with Garnett, that isn't going to get it done.
---
QUOTE OF THE NIGHT

"I believe in him. I play him. I'm going to keep playing him. I told him before the game, 'Stop worrying about them. Make them worry about you, too. You're a hell of a basketball player.'"
-- Celtics coach Doc Rivers on his advice to point guard Rajon Rondo
-- Maurice Brooks
East finals: Boston 1, Detroit 0
Time For Detroit To Go Inside

By John Hollinger
ESPN.com
One game into the conference finals, Detroit has a lot to be worried about. There was the quiet night from Chauncey Billups and the question of whether the lingering effects of his hamstring injury had anything to do with it. There was the elbow Richard Hamilton aimed at Kevin Garnett's head, which may result in discipline once Stu Jackson gets a look at the tape.
And then there's the little fact that the Pistons couldn't get anywhere near the basket.
Partly, this is because of how they play. Detroit has been a jump-shooting team all year, as players like Hamilton, Tayshaun Prince and Antonio McDyess tend to shoot the midrange J rather than go hard to the rim.
But Tuesday night they took to extremes, especially in the first quarter. As you can tell by ESPN.com's handy-dandy shot chart feature, in the opening stanza Detroit attempted one shot in the paint.
One.
And even that shot came with an asterisk. It wasn't a sweet drive and dish or a transition layup, but a tip-dunk by McDyess of -- what else -- a missed Piston jumper. Take away that second-chance bucket and not one Detroit play produced a shot in the paint all quarter.
Two other attempts were at least from the general vicinity of the painted area. One other was a low-block attempt by Rasheed Wallace, and one was a short left-side try by Billups.
The rest of the shots -- all 16 of them -- were jumpers. Hamilton and Prince tried eight between them, none of which were in hailing distance of the paint, while McDyess launched five. And all but two of the Pistons' tries were 2-point J's -- the lowest percentage shot in basketball. It's no wonder the Pistons made only seven field goals and left the quarter down five.
While subsequent quarters weren't quite this jumper-happy, the overall result makes for pretty depressing reading. Only 16 of Detroit's 66 shot attempts came from within 10 feet of the basket. Eleven others were 3-pointers, leaving the vast majority -- 39 -- as 2-point J's. It's not a coincidence that the Pistons scored only 79 points.
The disparity was more glaring because of how many shots Boston got close to the rim. The Celtics took 29 of their 69 shots in the paint, whereas only 31 were 2-point J's. Even those jumpers tended to be closer in than Detroit's tries, as the shot chart shows. Overall, Boston had the edge in points in the paint by a 42-18 margin; Paul Pierce and Garnett alone matched Detroit's team total.
Because of differences in the two teams' playing styles, we can expect Boston to have an edge in points in the paint nearly every game; that part is no surprise. From Detroit's end, the idea is that the Pistons will make up for it with superior shooting and fewer turnovers.
If it's a 10- or 15-point differential, they can do it. But 24? Forget it.
In Game 2, Detroit has to get something at the hoop in order to have a chance. It's great that the Pistons have so many talented midrange shooters who can bail them out at the end of the shot clock, but a steady diet of those shots isn't going to move the scoreboard much. If things are to turn out different on Thursday, they'll need to sprinkle in a few more layups with those J's.
• Check out John Hollinger's blog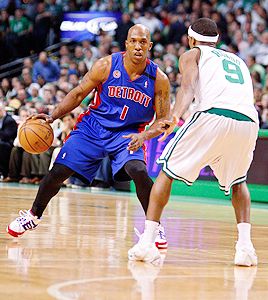 Jim Rogash/Getty/NBAE
For one game at least, the Celtics' Rajon Rondo was the best point guard on the floor during the East finals. Will the Pistons' Chauncey Billups bounce back? Stay tuned.
Boston Rules Home Openers
The Celtics defeated the Pistons 88-79 in Game 1 of the Eastern Conference finals. Since 1985, the Celtics have won the first game in 22 of 24 playoff series that started in Boston. The only losses were the two previous times that Boston hosted the Pistons in Game 1 -- in the 1991 Eastern Conference semifinals (86-75) and the 1988 conference finals (104-96).
• More from Elias Sports Bureau