Nathaniel S. Butler/NBAE/Getty Images
Pistons Prove Six Is Still Greater Than Three

BOSTON -- Somewhere, perhaps back home in Akron, perhaps in the back of a limo with Jay-Z, LeBron James had to be thinking to himself: "I told you so."
Only four days earlier, James exited the 2008 playoffs with some parting words of wisdom for the Boston Celtics, warning them that the Detroit Pistons team they were about to face probably takes more pride in winning on the road than in defending their home court.
In Game 2, the Pistons showed why James may have a future side career in prophesy.
Getting solid if not spectacular all-around efforts from each member of their starting five along with rookie Rodney Stuckey, the Pistons overcame the Celtics on a night when Boston's big three played better together than they had in any of their previous 15 postseason games.
All five Detroit starters, led by Richard Hamilton's 25, reached double figures and contributed to a defensive effort that gave the Pistons a 103-97 victory Thursday night that evened the Eastern Conference semifinals at one game apiece.
"In Game 1, we let one slip away because we didn't play with the intensity we needed," Hamilton said. "Tonight, it was like: 'OK guys, all year long we say we care about each other, so now when we go out there, don't leave anybody hanging.' I thought we did a great job of not leaving anybody hanging, not just on offense but on defense."
Still, it was the offense that came through in the final minute when the Pistons needed to make plays to maintain their comfort zone that was in danger of being squeezed.
With Detroit ahead 96-92, the Pistons got the Celtics to bite on a switch, leaving Hamilton isolated against Kevin Garnett beyond the 3-point line near the home bench. Hamilton's eyes lit up, and his swift feet carried him right past Garnett as he drove toward the free-throw line and tossed up a 12-foot floater that swished through.
Pierce answered with a driving shot that made it a four-point game again, and James Posey blocked a short jumper by Tayshaun Prince, sending the ball out of bounds with less than 3 seconds remaining on the shot clock and 18.7 on the game clock.
But when the Pistons came out of the ensuing timeout, they managed to confuse Garnett in the lane and got him to turn his back to Billups, who darted inside, caught what was practically a handoff inbounds pass from Prince and converted a reverse layup that upped the lead from four to six.
Game over.
"When it came down to hitting shots, they made their shots and we made ours, but it was like running uphill in sand at that point. We never could turn that corner. When we needed stops, man, we just couldn't get that one stop to get us over the hump," Garnett said.
So the Celtics' aura of home invincibility is now gone -- gone despite 26 points from Pierce, 25 from Ray Allen and 24 from Garnett. This was their first loss in 10 home playoff games, and they now bring their less-than-intimidating 0-6 road mark to Auburn Hills for Games 3 and 4 over the holiday weekend.
The question that needs to be asked now is this: If the Celtics, with their top three guys playing at near peak efficiency, couldn't beat the Pistons when they had six players in top form, how many members of the Detroit team need to be removed from the success equation in order for the Celtics to have a shot before we're all back here on Wednesday?
"You know, usually when we shoot basically 49 percent and score 97 points, we win games. Tonight, our defense just wasn't as good as it's been," Boston coach Doc Rivers said.
What was striking about the Pistons' side of the box score was the balance. Hamilton was 7-for-16 from the field and 10-for-12 from the line, and Billups went 5-for-10 from the field and 7-for-8 from the line despite clearly playing at less than 100 percent as he recovers from a hamstring injury. He was backed up admirably by Stuckey, the confident rookie from Eastern Washington who coach Flip Saunders credited with steadying the ship when the Celtics were making their biggest push late in the third quarter and early in the fourth.
Antonio McDyess had 15 points and eight rebounds, Prince had 14 and eight, and Rasheed Wallace contributed 13 points and 10 rebounds to keep from being dominated on the stat sheet as he was in Game 1 by the player he was defending, Garnett.
Pierce said Stuckey's 13 points, three assists and two steals made him the X factor, and that performance came on a night when the Celtics didn't have an X factor other than Allen finding some aggression and getting his offense untracked.
Whether that carries over -- and whether Allen's offense can be enough to overcome what appears to be a deeper, more experienced team -- will be just one of the many things Celtics fans need to look for as they get their hopes up for the next two games.
But if the Pistons can keep getting these kinds of contributions from so many key players, they may be more than the Celtics can handle.
Yes, the big three finally played well together. But the Pistons had a big six.
No matter how you do the math, that's a sizeable advantage for a team that just took over the momentum in this series.
Chris Sheridan covers the NBA for ESPN Insider. To e-mail Chris, click here.
Playoff Dimes Past:
May 7
|
8
|
9
|
10
|
11
|
12
|
13
|
14
|
15
|
16
|
17
|
19
|
20
|
21
|
22
Allen Returns To Form For Celtics

By Marc J. Spears | Special to ESPN.com
BOSTON -- As painful as Ray Allen's shooting slump might have been for the Celtics, a home playoff loss certainly hurt more.
Thursday night was definitely bittersweet for Allen. He broke out of a scoring drought by scoring 25 points on 9-of-16 shooting and nailing two 3-pointers in Game 2 against the Detroit Pistons in the Eastern Conference finals. But it was all for naught as the Celtics lost their first game of the postseason in the process -- a 103-97 loss at TD Banknorth Garden.
"I'd much rather be sitting here saying, 'I can't make a shot, but we won the game,'" Allen said. "It definitely is a different feeling."
Allen averaged 17.4 points during the regular season as he shared the scoring load with fellow All-Stars Kevin Garnett and Paul Pierce. But after Game 5 of Boston's first-round series with Atlanta, Allen's renowned sweet stroke went missing (6-for-38 on 3s -- or 16 percent -- in 10 games from Game 6 versus the Hawks through Game 1 versus the Pistons).
In the Celtics' 15 postseason games overall, Allen entered Game 2 of these East finals averaging 12.5 points on 38 percent shooting from the field (31.4 percent from 3-point range). And in Game 1 against Detroit, the 12-year veteran scored 9 points on 3-of-10 shooting and didn't hit a jumper.
With every miss at home, you could see Allen's frustration and hear the groans from the Boston crowd. For a man with a shooting philosophy that he doesn't miss, the ball just doesn't go in sometimes; a shooting slump like this wasn't supposed to happen. It was the worst of his storied career and had him thinking layup first.
But after Allen nailed a midrange shot with 9:10 left in the third quarter, he pumped his fist, and you could tell that the stress disappeared. Jesus Shuttlesworth (of "He Got Game" fame) was resurrected. In the second half of Game 2, Allen scored 20 points on 8-of-13 shooting from the field, nailed two treys and hit a pair of free throws.
Yes, Allen is back. His shooting slump is a thing of the past. But Boston isn't thinking about that anymore. The Celtics have much bigger problems to worry about now, like winning a road game in the postseason.
"To have an impact is one thing, but to come away with a win is much rather expected or wanted by me and everybody in this locker room," Allen said.
Marc J. Spears is a regular contributor to ESPN.com and covers the Boston Celtics and the NBA for The Boston Globe.
Scouts Inc. Update: Spurs vs. Lakers, Game 2

By David Thorpe | Scouts Inc.
There is little doubt San Antonio's players and coaches will need all the time between Games 1 and 2 to get over their opening-game loss. Being up 20 points in the third quarter typically translates into a win for any team, especially for this incredible Spurs squad. But losing this game was not the worst news for the Spurs; they know they can climb out of holes bigger than this. Rather, what should scare them most is the ease with which Kobe Bryant can pick up himself, and his team, to a playoff win.
As noted in the series preview, Bryant is the player most capable of doing just that -- and the Spurs have to do more to keep him somewhat in check. Otherwise, Game 1 might not be the only game in this series that features a Lakers comeback victory.
The Spurs executed their game plan well in the first half of Game 1. And the Lakers didn't. San Antonio got Tim Duncan involved right away, spreading the floor for him and letting him go to work inside. The Spurs also ran some sets for him instead of merely posting him up. When he scored on a simple post-to-post screen, it was evident L.A.'s defenders were not digging in enough on Duncan. They often seemed unaware of where he was. Pau Gasol was guilty of this, once jogging back on defense and not marking Duncan on ball penetration, giving Duncan an easy catch and layin. In games this tight, each bucket is important -- a lesson Phil Jackson will be giving to his team before Game 2.
The Spurs were crisp on offense overall in the first half, making easy passes and handling any Lakers double-teams with patience. Their defense was on, as well. Bruce Bowen was very effective denying Kobe important spots on the floor (which, for Kobe, is almost any spot). The Spurs tried to break up L.A.'s offensive rhythm not only by forcing players to go back door and limiting their options out of the triangle, but also by competing to deflect backdoor passes. L.A.'s best offense came from push balls, often with its unique set of power forwards, Lamar Odom and Luke Walton, doing the pushing.
The Spurs got caught a few times with bad matchups, and L.A. made them pay with ball reversals and patience. Once, Tony Parker got stuck on Bryant and Michael Finley was on Gasol, leaving Kurt Thomas on Jordan Farmar. The two bigger players went to both posts, with Gasol going away from Farmar to prevent Thomas from switching back to him. The ball was reversed twice, getting back to Farmar with Thomas laying far off him. Farmar stroked the 3-pointer, a much-needed shot for a player slumping from the field. The Lakers need that kind of patience and intelligence to solve the Spurs' defense -- and it all came about because of the initial push up the floor.
• Check out the full Game 2 preview

THURSDAY'S BEST
Chauncey Billups, Pistons guard
: In Game 1, it appeared that Billups wasn't over his strained right hamstring, and he scored just nine points. Thursday night, he looked a lot healthier, knocking down 5-of-10 shots en route to posting 19 points and dropping seven dimes.
---

THURSDAY'S WORST
Boston bench
: While the Celtics' big three combined to score 75 points, it was a quiet night for Boston's role players, who scored a combined eight points off the bench.
---
QUOTE OF THE NIGHT

"A lot of the teams they played in the postseason and the regular season were scared of them, as far as KG and Ray and Paul. They are good players, but we have good players, also."
-- Pistons forward Rasheed Wallace after Detroit stole home-court advantage from Boston
• See Thursday's daily leaders
-- Maurice Brooks
X Factor: Detroit's Stuckey

By Chris Silva
Special to ESPN.com
BOSTON -- Detroit Pistons veteran guard Lindsey Hunter said he stopped giving rookie Rodney Stuckey advice a long time ago.
Nowadays, especially in the playoffs, Hunter has one simple message to Stuckey:
"I just say, 'Hey, go out there and rock and roll,'" Hunter said with a laugh. "Do what you do. We trust him. We trust this team with him."
The Pistons have become enamored with Stuckey, their first-round draft pick out of Eastern Washington.
Their admiration and respect for Stuckey might have gone up tenfold after watching him carve up Boston's defense for 13 points on 5-for-8 shooting in Thursday's critical Game 2 win over the Celtics in the Eastern Conference finals.
When the Pistons went with a three-guard lineup of Stuckey, Hunter and Richard Hamilton in the second quarter, Stuckey would end up with three points, two assists and a steal while helping Detroit preserve a slim lead.
Stuckey did most of his damage at the start of the fourth quarter, when he scored six points in the first four minutes to help push the Pistons' lead to 11 points.
The TD Banknorth Garden was rocking, the Pistons were looking to tie the series at one game apiece, and here was Stuckey playing with nerves of steel in his biggest game yet.
Boston's Paul Pierce called Stuckey the X factor.
Time and again, the soft-spoken Stuckey has said that nothing fazes him. He has continued to back up his words.
"Like I said, again, I'm never scared. I'm not nervous. I've got Rip, Chaunce, Sheed, Tay and all these guys behind me and Lindsey Hunter, and they keep me poised and confident every day. Just being around them and them always being poised and confident gives me the extra energy and confidence that I need as a player and as an individual."
What Stuckey has accomplished as a rookie has been downright amazing, considering he missed the first 25 games of the regular season with a broken hand.
But ever since the start of training camp, Hunter knew that Stuckey "got it."
"He's so far ahead of the learning curve," Hunter said. "I like to say with point guards, there's learning curves you've got to go through that he's so far ahead [of] right now. He has that something that as a young point guard in this league, you've got to have. I'm not just talking about to make it, but to be one of the elite, and that's where I think he's headed."
But for the immediate future, Stuckey is headed in one direction.
"I'm sure he will be in their scouting report over there because he can make plays," Chauncey Billups said.
Chris Silva is a Detroit Free Press sportswriter.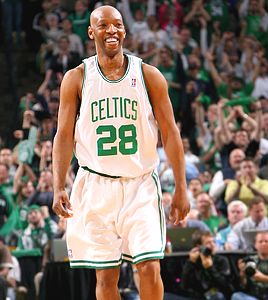 Jesse D. Garrabrant/NBAE/Getty
For the second straight game of this series, Sam Cassell had DNP -- Coach's Decision next to his name in the box score. Is it time for coach Doc Rivers to dust off the veteran?
The Herd With Colin Cowherd

Portland Trail Blazers coach Nate McMillan talks about playing against Kobe Bryant and compares the coaching styles of Phil Jackson and Gregg Popovich. He also comments on the health of Greg Oden.
ESPN Radio
Legendary Coaching Battle

Phil Jackson and Gregg Popovich entered the Western Conference finals with a combined total of 287 playoff wins (Jackson 187, Popovich 100). That's the most combined postseason wins for opposing head coaches entering any playoff series in NBA history. The previous mark was 274 combined wins for Jackson (183) and Jerry Sloan (91) in the Lakers-Jazz Western semifinal series this postseason.
• More from Elias Sports Bureau