Photo by Brian Babineau/NBAE/Getty Images
Celtics Close, But Not Quite Championship Ready

BOSTON -- We're not going to rain on the Celtics' parade, and it sure looked like a parade, by the way, as the fans in green and white streamed out of the arena, into North Station and onto Causeway Street, celebrating as though they had just won a championship.
But ask yourself this, Celtics fans: Was this victory -- a victory in which the home team held on despite giving up a 15-point fourth-quarter lead, a victory in which they took a late technical foul and went away from everything that had been working offensively for three quarters -- the performance of a championship-caliber team?
Before we let someone else answer that question -- someone who was actually on the court playing in the game, not merely watching it -- we'll first give credit where it's due for Boston's nail-biter of a 106-102 victory over the Detroit Pistons on Wednesday night for a 3-2 lead in the Eastern Conference finals.
We'll start with Kevin Garnett, who knocked down two free throws with 3.4 seconds remaining to clinch the win and finished with a team-high 33 points. We'll turn next to Ray Allen, who quieted his critics (but didn't silence them) with a 29-point performance that included 5-of-6 shooting on 3-pointers and two huge free throws with 6.3 seconds left that kept the Celtics ahead by three.
Props to coach Doc Rivers, too, for having his team foul the Pistons twice in the final 15 seconds rather than let Detroit attempt a game-tying 3-pointer. If you ever want to get a lively debate among coaches going, ask them what the correct strategy is in that situation. Those who say you should foul are just as adamant as those who say you should not, but in this case, Rivers' strategy worked.
And then there was Kendrick Perkins, whose 18 points and 16 rebounds carried the Celtics through the first three quarters when they built their lead as high as 17 -- although he did not score or grab a rebound in 6:50 of playing time in the final quarter, and it was his technical foul with 2:38 left that helped fuel a 6-1 run that cut the Pistons' deficit from eight to three. (Memo to Perkins: Championship-caliber players never get fourth-quarter technicals.)
And there was Rajon Rondo, too, whose 13 assists and four steals more than offset his 3-for-14 shooting.
But in spite of all those good things, the fact remains that the Celtics almost let this one get away in the face of a relentless never-say-die effort from the team whose main players already own championship rings.
Did the Pistons look rattled when they were climbing back in the fourth, outscoring Boston 31-22?
Did the Pistons, who are 5-0 following losses this postseason, sound scared afterward after forcing the Celtics into as many fourth-quarter turnovers (five) as they had field goals?
Do the Pistons like their chances if they find themselves in similar circumstances back here on Sunday, assuming they can get there by winning Game 6 at home Friday night?
No, no and yes.
And a big part of the reason why is the reason we hit on at the top of this column: The team that played like a legitimate championship contender over the bulk of the fourth quarter was most often the team in red, white and blue instead of the guys in green and white.
Even Pierce felt that way.
"Man, that was the longest fourth quarter out of all the games we played in. I was a little disappointed in the way we played the fourth. It's something we'll have to go back and look at, because if we get ourselves in this position again in Detroit, we've got to be able to close out the game a little better than we did tonight," Pierce said. "Thinking about having the lead in the fourth quarter, we have to continue to be aggressive. I thought we were a little passive when they put on the trap, but you've got to understand that's the playoffs, and it's not going to be easy.
"I thought we just kind of let time pass away hoping that we were going to win. We've got to put forth better effort and better execution in the fourth," Pierce said.
The Pistons took no moral victories from making it a close one down the stretch, and they've now got two potentially massive problems to worry about.
First, Rasheed Wallace picked up his sixth technical foul of the postseason, meaning he'll draw a one-game suspension for his next one. If it happens in Game 6 and Detroit forces a Game 7, he'll be forced to watch the deciding game from the team hotel.
Also, Richard Hamilton appeared to be in agony as he left the court with 8.2 seconds left clutching his right elbow, which the Pistons said was strained and possibly hyperextended. If he can't go Friday, his team-leading 22.2 points have to somehow be replaced.
"We don't like being in this position, but we've fought hard and we'll definitely be ready Friday," Chauncey Billups said.
Added coach Flip Saunders: "I told our guys after the game I was proud of them. We're not going away."
So we're not yet at the point where either of these teams is playing at a championship-caliber level, although one of them -- the Celtics -- is just one victory away from representing the East in the NBA Finals, where the pressure will be so high it'll make Wednesday night's parade-inspiring victory seem like a walk in the park by comparison.
The real parade in Boston, if it comes, will have to be earned with the type of fourth-quarter execution and precision that the Celtics were still lacking Wednesday.
And if that parade happens, no one will rain on it.
First, however, the Celtics have to get there. And judging from the final 12 minutes of Game 5, they aren't yet worthy. They're close, but they're not quite championship-caliber -- at least not yet.
Chris Sheridan covers the NBA for ESPN Insider. To e-mail Chris, click here.
Playoff Dimes Past: May 16 | 17 | 19 | 20 | 21 | 22 | 23 | 24 | 25 | 26 | 27 | 28
Welcome Back, Ray; Nice to Meet You, Kendrick
By Marc J. Spears | Special to ESPN.com
BOSTON -- Before Game 5 of the East finals, the thought of Boston Celtics starters Ray Allen and Kendrick Perkins sitting side-by-side victoriously on a postgame podium would be like an odd dream. But after the Celtics' 106-102 win over the Detroit Pistons at TD Banknorth Garden on Wednesday night, the mix of old and new getting a piece of the spotlight seemed like poetic justice.
Allen's lingering shooting slump seems to have finally come to an end as he scored 29 points and nailed five 3-pointers. Perkins surprisingly played like an All-Star center, earning a double-double of 18 points and 16 rebounds.
"I had confidence in Ray from the beginning," Celtics guard Rajon Rondo said. "He struggled at times, but he is Ray Allen for a reason. He has been consistent throughout his career, and you knew a game like this was going to be coming...
"Perk played well. He had a 20-rebound game against them early in the season. So Perk was out there playing with high confidence."
Allen averaged 17.4 points during the regular season and was nearly the MVP of the NBA All-Star Game. But the future Hall of Fame sharpshooter shockingly lost his renowned shooting touch in Game 6 of Boston's first-round series against the Hawks. Other than a 25-point performance in a Game 2 loss to Detroit, Allen was far from his normal self from the perimeter. Skeptics wondered if Allen would ever be Jesus Shuttlesworth-like again. But in Game 5, he showed he still got game, making 9-of-15 shots and 5-of-6 3-point attempts.
"For me, every game is a new journey, it's a new adventure for me," Allen said. "At any point, at any previous game going to the next game, I go on the floor before my game and get my shots up. Every day I'm working on trying to think about where I had the last shot I missed and getting my legs right and being explosive and just thinking about it and having an opportunity to get better. So those are my moments, and those are the moments that I enjoy."
The Celtics have their big three in Allen, Kevin Garnett and Paul Pierce. Boston has one of the most talented young point guards in the league in Rajon Rondo. And then there is the Ringo Starr of the Celtics' starting five in Perkins.
The 6-foot-10, 264-pounder has quietly played well against the Pistons, averaging 11 points and 8 rebounds in Games 3 and 4 in Detroit. He grabbed a career-high 20 rebounds against the Pistons in a regular-season game on March 5. In Game 5, Perkins played the biggest game of his pro career, earning 18 points on 8-of-11 shooting, grabbing 16 rebounds and blocking 2 shots.
"I was just coming in and thought I was going to provide energy for the team," Perkins said. "I said I was going to be aggressive offensively. I just said I was going to play with a lot of energy. I knew our big three veteran guys, I know this opportunity doesn't come much, and I knew if I was up in age, up in my 30s, and a young fellow was right there, I'd want him to go all-out for me, too. My thing is I'm going to leave it out there on the court, for myself, for my teammates and for everybody."
The biggest spotlight on the Celtics' starters during the playoffs has been on Allen. The dimmest has been on Perkins. But together Wednesday night, Allen made you forget about his shooting woes while Perkins introduced himself to a lot of basketball fans who had no idea who he was previously.
Marc J. Spears is a regular contributor to ESPN.com and covers the NBA and the Boston Celtics for The Boston Globe.
By Maurice Brooks
ESPN.com

WEDNESDAY'S BEST
Rajon Rondo, Celtics guard
: The Celtics had plenty of players handling the scoring responsibilities Wednesday night in a game that saw him struggle with his shot, so the floor leader contributed in other ways, tallying 13 assists, six rebounds and four steals while playing 46 of 48 possible minutes.
---

WEDNESDAY'S WORST
Antonio McDyess, Pistons center
: What a difference a game can make. On Monday he played a starring role, scoring 21 to go with 16 rebounds in a Detroit win. In Game 5, he was held to four points and five boards before fouling out.
---
QUOTE OF THE NIGHT

"I know our big three veteran guys. I know this opportunity doesn't come much. I knew if I was up in age, up in my 30s, and a young fellow was there, I'd want him to go all-out for me, too."
-- Celtics center Kendrick Perkins, who is 23, talking about his career night
Unplugged: Detroit's Wallace
By Chris Silva
Special to ESPN.com
BOSTON -- The answer had nothing to do with the question.
After the Pistons dropped Game 5 of the Eastern Conference finals to the Boston Celtics 106-102, Rasheed Wallace was asked whether Boston could ride some momentum back to The Palace of Auburn Hills for a win-or-stay-home Game 6.
Wallace didn't answer the question.
Instead, he embarked on an unprovoked verbal assault on the officiating crew of Eddie Rush, Mike Callahan and Ken Mauer.
"All that [expletive] calls they had out there, with Mike [Callahan] and Kenny [Mauer] -- you've all seen that [expletive]," Wallace spewed afterwards. "A lot of them phantom calls, cats are flopping and falling all over the floor and they're calling that [expletive]. That [expletive] ain't basketball out there. It's all [expletive] entertainment. You all should know that [expletive]. It's all that [expletive] entertainment."
Perhaps Wallace was peeved about being a technical foul away from facing a one-game suspension.
Or maybe Wallace was just ticked off about how the game was called down the stretch, when the Celtics attempted 25 free throws in the second half.
Boston was 29-for-38 from the charity stripe in Game 5 and made 11-of-14 in the fourth quarter of a one-possession game.
Either way, Wallace's comment is sure to result in a league fine.
One thing Wallace didn't talk about was his sixth technical foul of this postseason that was assessed with 5:18 left in the game. One more tech and Wallace will have to sit a game, whether it be Game 7 of the conference finals or some time during the NBA Finals if the Pistons advance.
The volatile Wallace got the tech for chirping to an official about what he thought was a bogus foul called on teammate Lindsey Hunter.
Prior to that, Wallace had played like his old self.
All six of Wallace's baskets came from behind the arc, where he is a career 34.1 percent shooter. Prior to Game 5, Wallace had made just 3-for-27 from 3-point range in his past eight playoff games.
Asked how he's been able to get his stroke back, Wallace deadpanned, "I don't know what it was." But whatever it was, the Pistons will surely need it again -- in some capacity -- if they are to force a decisive Game 7.
Chris Silva is a Detroit Free Press sportswriter.
No Conspiracy By the Refs
By Chris Broussard
ESPN.com
When it comes to the NBA, I don't believe in conspiracy theories. If the league was rigging things, the Knicks would not have gone winless in the draft lottery since 1985, and Yao Ming, LeBron James or Derrick Rose would be calling Madison Square Garden home.
To read Broussard's blog, click here.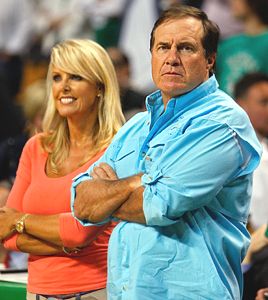 Jim Rogash/Getty Images
New England Patriots coach Bill Belichick, who was in the house for Game 5, knows a thing or two about coaching championship-level pro teams from the state of Massachusetts.

Elias Sports Bureau
The Lakers led from wire-to-wire in Tuesday's victory. It was the first home playoff game in which the Spurs never led since an 82-73 loss to the Jazz in Game 4 of the 1998 Western Conference semis.

Greg Anthony, Jon Barry and Stu Scott dropped by to talk about the controversy at the end of the Lakers-Spurs game. Anthony says a more experienced "closer" would have tried to draw the foul, not get a shot off.
ESPN Radio