Noah Graham/Getty Images
The Top 20 Expiring Contracts

A new month approaches with the over-under firmly set. Three more trades in December, anyone?
I suspect you won't complain if we do see three more deals between now and New Year's Day after such a lively November. I'm also guessing you could use a list of the 20 most lucrative last-year salaries in circulation, since the pursuit of players in the final year of their contracts has never been more aggressive, as teams all over the league seek salary-cap flexibility in advance of some tantalizing free-agent classes during the next two summers … or payroll relief in this brutal economy.
Says one Western Conference executive: "I honestly think it has more to do with the economy for some teams than the summer of 2010."
Either way, here we go with a detailed look at the 10 biggest expiring contracts and a quick run through the next 10, all after consulting with a handful of team officials for guidance:
1. Jason Kidd (Dallas Mavericks)
Expiring Salary: $21,372,000
Soon to be traded? HIGHLY UNLIKELY
All the regret the Mavericks are supposed to feel about parting with Devin Harris in February's megatrade for Kidd fails to account for a few key developments in Dallas. 1. Kidd's arrival, if nothing else, rejuvenated Dirk Nowitzki to the point that Nowitzki carried the Mavs into the playoffs late last season, which might have been the only way Dallas was going to get there. 2. Kidd is quietly playing quite well this season under Rick Carlisle, leading the Mavs to believe that one successful trade addition to fortify their woeful bench -- which they presently are pursuing hard by offering up Jerry Stackhouse's cap-friendly contract -- could keep their Nowitzki-Kidd-Josh Howard-Jason Terry core in the West elite. 3. Sources say Dallas has been rejecting all Kidd inquiries because it would prefer to (A) put off any further drastic alterations until after giving this group an entire season with its new coach and (B) play out the season without taking back any salary that extends past the 2009-10 season and into the free-agent bonanza that will follow and C) retain the flexibility afforded by Kidd's deal to start rebuilding sooner than July 2010 if this team continues to drift from contention.
2. Allen Iverson (Detroit Pistons)
Expiring Salary: $20,840,625
Soon to be traded? HIGHLY UNLIKELY
The Answer, as you undoubtedly know, began the season with "HIGHLY LIKELY" next to his name and indeed was already traded once. He'd have to skip out on numerous practices for the Pistons to consider trading him, since their desire to have loads of salary-cap flexibility to replenish their aging team -- either this coming July or in the summer of 2010 -- outweighs any concerns about in-house tension Iverson might cause or fears that the Chauncey Billups-for-Iverson gamble is already backfiring. You also have to believe that Pistons president Joe Dumars, who began chasing Iverson when he moved into management at the turn of the century, wants to give his dice roll a full season to pan out.
3. Stephon Marbury (New York Knicks)
Expiring Salary: $20,840,625
Soon to be traded? HIGHLY UNLIKELY
Trading Marbury is more like impossible … as much because of New York's unwillingness as anything. It's almost inconceivable that the Knicks could concoct a trade for Marbury that wouldn't require them to take back an unpalatable contract or two, which could undo all the future promise created by their recent deals that shed the contracts of Jamal Crawford and Zach Randolph. Buying out Marbury or releasing him outright and paying his full salary always have been the only options here. (Malik Rose, by contrast, is No. 13 on this list and does still rank as a trade candidate, but only if the player[s] coming back to the Knicks, as you probably could have guessed, has a contract that runs out after the 2009-10 season.)
4. Shawn Marion (Miami Heat)
Expiring Salary: $17,810,000
Soon to be traded? SOMEWHAT LIKELY
Marion's fate is one of the hardest for folks around the league to forecast. Some teams remain convinced Miami is determined to keep Marion on its books through the end of the season and then let him walk so the Heat can use the resulting salary-cap space to make a run at Utah's Carlos Boozer seven months from now. Others believe the Heat are willing to trade Marion between now and February if they can get back "star quality" or at least players they like whose contracts don't extend beyond 2009-10, when Dwyane Wade hits free agency. The strongest thing we can say is that Marion does have trade suitors (like Toronto) and is the most likely to be moved of the players in our top five. Which might or might not be saying much.
5. Mike Bibby (Atlanta Hawks)
Expiring Salary: $14,983,603
Soon to be traded? UNLIKELY
Bibby is a good fit with the Hawks fiscally and on the floor, as an accomplished shooter who plays well off star guard Joe Johnson … without taxing Atlanta's well-documented financial restrictions. It remains to be seen whether the Hawks will defy the skeptics and try to re-sign Bibby at season's end, but things have gone so well since Bibby arrived -- with Atlanta halting its long playoff drought and taking Boston to seven games in the first round, then starting well this season in spite of multiple injuries -- that you'd expect them to knock back any trade interest. One scenario floated this week suggested that Portland is putting Bibby proposals together.
6. Lamar Odom (Los Angeles Lakers)
Expiring Salary: $14,148,596
Soon to be traded? UNLIKELY
Odom repeatedly has insisted that, even in a contract year, he's OK with his new role as the Lakers' sixth man. If the Lakers are convinced of that, why would they dare mess with their chemistry by trading Odom during the season, especially given how well they've played in November? Even an Odom-for-Marion swap, which does make some sense for both teams, represents a risk for L.A. because Marion isn't big enough to stand in for Andrew Bynum should Bynum's injury issues return. So it's probably smarter for the Lakers to wait until the offseason and bank on the idea that they could convince Odom to participate in a sign-and-trade -- and thereby avoid losing him without compensation -- if the current harmony doesn't last.
7. Rasheed Wallace (Detroit Pistons)
Expiring Salary: $13,930,000
Soon to be traded? HIGHLY UNLIKELY
As with Iverson, Sheed offers a one-of-a-kind presence and skill set combined with a contract that folds perfectly into the Pistons' plans to enter the offseason with numerous options. It's a package way too valuable, in other words, to surrender between now and the deadline.
8. Wally Szczerbiak (Cleveland Cavaliers)
Expiring Salary: $13,275,000
Soon to be traded? LIKELY
As expensive as it'll be for a tax-paying team with Cleveland's $91 million payroll to take on more long-term salary by parting with Szczerbiak, imagine how costly it could be to the value of owner Dan Gilbert's asset if the Cavs don't load up as much as they can between now and July 1, 2010. They already know LeBron James is going to consider all his options in free agency, and they know 10 (or more) teams are going to try to sign him away. The Cavs' best counter is getting as good as they possibly can before James hits the open market in an attempt to convince him that Cleveland is the place to stay. One plugged-in exec insists he can see the Cavs parting with Szczerbiak only in a deal for New Jersey's Vince Carter, but I'm (grudgingly) more inclined to agree with Bill Simmons' belief that the Cavs are after Michael Redd, Mike Miller and several other recognizable names.
9. Raef LaFrentz (Portland Trail Blazers)
Expiring Salary: $12,722,500
Soon to be traded? LIKELY
The consensus as of Thanksgiving was that the Blazers would move LaFrentz only if they could get back an undeniable impact player or a top-notch veteran point guard who doesn't carry a long-term contract, such as Kidd or Bibby. Blazers front-office boss Kevin Pritchard then revealed over the weekend that he actually plans to be more aggressive than that with LaFrentz's contract, which will be largely covered by insurance payments once LaFrentz misses the first 41 games of the season with an ongoing shoulder problem. Pritchard referred to LaFrentz's deal as "the card I want to play," but another option is moving the likes of Sergio Rodriguez, Channing Frye and Ike Diogu (although teams prefer to ask for Travis Outlaw). Hanging onto the LaFrentz card and letting him come off the payroll at season's end might help the Blazers when they have to start paying the talented kids on the roster soon to be looking for contract extensions.
10. Andre Miller (Philadelphia 76ers)
Expiring Salary: $10,333,334
Soon to be traded? UNLIKELY
There will be no shortage of interest in Miller if the Sixers do decide to make him available. Most teams don't expect that to happen, given Philadelphia's playoff aspirations and the fact that Miller and high-profile newcomer Elton Brand already have some familiarity after playing together with the Clippers. But there is a sense that if the Sixers continue to disappoint/underachieve, Miller could end up on the market, since he's the most movable player Philly has and since the Sixers already are out of the 2010 free-agent frenzy.
The next 10 richest expiring contracts:
11. Memphis' Antoine Walker ($9,052,460)1; 12. Indiana's Rasho Nesterovic ($8,400,000); 13. New York's Malik Rose ($7,647,500); 14. Houston's Ron Artest ($7,400,000); 15. Cleveland's Eric Snow ($7,312,500); 16. Chicago's Drew Gooden ($7,151,183); 17. Indiana's Marquis Daniels ($6,864,200) )2; 18. Oklahoma City's Chris Wilcox ($6,750,000); 19. Sacramento's Bobby Jackson ($6,487,888); 20. Chicago's Ben Gordon ($6,404,750) 3.
1 The final two years on Walker's contract, worth more than $20 million, are based on a team option and will be declined by the Grizzlies. Any team that trades for Walker also would be expected to decline the option, but cash-strapped Memphis is unlikely to move him unless it receives expiring contracts in return.

2 Daniels has one season left on his contract after this one, at $7.4 million, but it's also a team option. That essentially turns Daniels, like Walker, into a last-year player.

3 Because he is playing on a one-year qualifying offer and will have his full Larry Bird rights at the end of the contract, Gordon cannot be traded without his consent. And since granting that consent would cause Gordon to lose his Bird rights and enter free agency July 1 as a non-Bird free agent, don't expect him to give his permission if a trade offer Chicago would consider materializes.
Marc Stein is the senior NBA writer for ESPN.com. To e-mail him, click here.
Past Dimes: Nov. 15-16 | 17 | 18 | 19 | 20 | 21 | 22-23 | 24 | 25 | 26 | 27

Last weekend's firing of P.J. Carlesimo in Oklahoma City didn't make much of a ripple, whether that's because of the Thunder's lack of national prominence … or because the firing of Eddie Jordan in Washington two days later overshadowed it … or thanks to the waves of Summer of Twenty-Ten coverage that we blame for everything wrong in the NBA these days.
Whichever theory you prefer, we're guessing that you must have missed this bit of P.J. trivia as a result: Friday's 25-point home loss to New Orleans, which turned out to be Carlesimo's final game in charge, was his 500th (and presumably last) game as an NBA head coach. He exits with a career record of 204-296, resulting in a .408 winning percentage that ranks as the fourth-lowest ever for coaches with at least 500 games of experience, behind Wes Unseld (202-345, .369), Tom Nissalke (248-391, .388) and Don Chaney (337-494, .406).
In a season and change with the Sonics and Thunder, Carlesimo went 21-74. And while no one ever said that Carlesimo was expected to win a lot more than he did with an overmatched roster and a franchise that was essentially starting over when he got there, those heavy losses were accompanied by rumblings that he never connected with cornerstone forward Kevin Durant … and the usual complaints about how Carlesimo dealt with players … and most recently concerns that the kids had tuned him out completely and were no longer playing their hardest.
So …
Perhaps this change happened so early in the season because everyone in OKC -- and maybe even Carlesimo himself, given that his family stayed behind in Seattle after the team relocated -- was bracing for it. It's no secret that the club considered firing Carlesimo after Year 1, amid suggestions that someone younger (like interim coach Scotty Brooks) might have a better shot at connecting with a group that has to find ways to measure its progress that aren't found in the standings.
As much as I, like many others who enjoy his company, was pleased for P.J. that he got a post-Golden State shot after his good work as a Spurs assistant, this situation never seemed like the right fit. NBA coaching sources insist that strong lobbying on Carlesimo's behalf by Spurs coach Gregg Popovich to Thunder owner Clay Bennett -- a former member of the Spurs' ownership group -- factored into Carlesimo's landing the job far more than Carlesimo's relationship with Thunder general manager Sam Presti, another Spurs alumnus.
---
Defending champion Dwight Howard isn't the only high flier who has some reservations about putting his name in for the next dunk contest.
Memphis' Rudy Gay told us this week that he, too, isn't sure if he wants to dunk again, after participating in an expansive YouTube campaign to promote the event last season. Says Gay: "I've been thinking about it. I have to think about it a little more."
When asked if he's reached that familiar point for dunkers where he feels as though he'd rather not go back to All-Star Weekend unless he makes it to the big game Sunday, Rudy admitted, "That is part of it."
---

Carlesimo's dismissal has generated presidential levels of coverage compared to the spotlight San Antonio's
George Hill
attracts. You'd have to have a deep conversation about rookie guards before you get to Hill, at a time when Chicago's
Derrick Rose
and Memphis'
O.J. Mayo
each entered the weekend with five 25-point games this month, which is only three 25-point games shy of the November that a rookie named
Michael Jordan
had in 1984.
Of course, Hill's low profile only makes him more of a trademark Spur. Right?
Hill had a disappointing summer after San Antonio unexpectedly made him the 26th overall pick in the June draft out of IUPUI, which suggested that he wouldn't be getting much of a look from Popovich as a rook. But the early injuries suffered by Tony Parker and Manu Ginobili forced Hill to play major minutes and make crunch-time decisions right away. Just knowing he'd be out there seemed to pump Hill with the sort of confidence that we didn't see in summer league, resulting in four straight games of 19 points or better entering Friday's play.
Devastating as the ankle injuries suffered by Ginobili and Parker should have been, they wound up nudging Hill and fellow newcomer Roger Mason into immediate roles of prominence, speeding up what is typically a slow transition to the Spurs' way. As the venerable Robert Horry shared last week, explaining why it didn't surprise him at all that the Spurs, with a lot of new faces, started 1-4 without Ginobili: "It's not an easy system to learn. I think they have about 300 plays."
Add it all up and concerns about the Spurs' depth have been reduced significantly, at least in the backcourt, with Ginobili back now and Parker's return coming soon. The Spurs could still use another scoring threat and some frontcourt depth, but a long-standing void at backup point guard looks like it's going to be filled by Hill. If it hasn't been filled already.
San Antonio Express-News columnist Buck Harvey, who has seen more of the Spurs over the past two decades than just about anyone, is already making the case that the emergence of Hill and Mason means Popovich suddenly has the deepest guard rotation he's ever had.

Five questions with Pacers center Jeff Foster:
Q: How do you evaluate the season so far?
A: We're doing a lot of things 10 times better than we did last year, but at the end of the day we're not winning games we're supposed to win. There's been a lot of tough losses and it's getting old real quick. If you don't win games, you're not going to get to the playoffs and you're not going to win the fans back.
Q: You signed a contract extension in October (worth $12.7 million over two years) and this is your 10th season in Indy. What does it feel like to be the last man standing from the best Pacers teams of this decade?
A: I'm a very loyal person. I was very fortunate to come to this franchise in 1999-2000 when we went to the Finals and learn from the prodigal Pacer in Reggie Miller. I love this franchise too much and this organization too much to have wanted to leave. I want to see this thing get back to where it was when I got here. We've been down in the dumps for the last couple of years, but we've got a lot of guys in here who want to make this thing right.
Q: One of those guys is obviously Danny Granger. I think it's fair to say that this team is somewhat under the radar now, so for those of us who don't see him every day, what can you tell us about how good Granger really is?
A: I've watched him progress now for four years. If he continues to go like this, it's going to be a heck of a deal that the Pacers made [when they signed Granger to a five-year, $60 million contract extension on Halloween]. But I think this whole team is under the radar. When we had Reggie and Jermaine [O'Neal] and Ron [Artest], we had 15 to 20 national TV games a year. We had one last year and we don't have any this year, so we're going to fly under the radar the whole year. It's just a matter of what we do with it.
Q: You mentioned trying to win the fans back. Is that starting to happen? It's almost a whole new team, which, from afar, seems to be what the people of Indianapolis wanted.
A: It's been night and day. I used to not like to be in Indy in the summertime because it was so crazy. I couldn't go anywhere. But the summer before last, it was, like, nothing. I was just a normal person, which was good for family time, but it was obvious that the state and the fans had completely turned us off and didn't care about us. This last summer there was a buzz again, people were excited. But at the end of the day, it still comes down to winning more games. You know how fans are. They're going to open up the paper and if they're thinking about spending their hard-earned money in these tough times, they're going to say: "You know what? I'm going to hold off until they get some more wins."
Q: Do you find yourself thinking back a lot to 2000 since that was the closest this franchise has come to a championship?
A: Obviously it was my rookie year, so I didn't know any better. I'll never forget, toward the end of that year, having a conversation with Chris Mullin. He said something like: "Rook, this is my 14th year. It's going to go by quick." I said, "Yeah, whatever." That really seems like yesterday. It's just amazing how quick it goes. Maceo [Baston] is older than me and Rasho [Nesterovic] is older than me, but these guys know that I've seen every Pacer game at Conseco Fieldhouse, so that's a scary thing. And I scored the last basket in Market Square Arena, which is even scarier. But it's a great franchise and we will rise again. It's just a matter of how long it takes.

Have to applaud the candor of Raptors president Bryan Colangelo (right). On Page 82 of the latest issue of ESPN The Magazine, there's Colangelo openly telling our own Ric Bucher that he's pursuing roster upgrades as we speak to make the team as strong as possible now. The reason: Toronto wants to do everything possible to convince
Chris Bosh
that staying in Canada is Bosh's best play when he becomes a free agent in that Summer of Twenty-Ten, which occasionally seems to get mentioned around here.
"I'm a realist," Colangelo says. "There are only three prize guys [in that free-agent class] and we're trying to keep one of them. I'm in the market to do something."
The list of coveted 2010 free agents, as you've surely heard by now, is actually a bit deeper than Colangelo describes, but you can see what he means. Knowing that both LeBron James and Dwyane Wade are likely to lobby Bosh to go somewhere as part of a package deal, Toronto wants to move firmly into the East's elite before those two get that chance, which means upgrading at the wing positions for starters.
NBA front-office sources say that Colangelo covets two of the players he drafted in Phoenix -- Miami's Shawn Marion and the Suns' Leandro Barbosa -- but likely lacks the assets to trade for either one. More realistic targets, sources say, are Phoenix's Boris Diaw, Chicago's Andres Nocioni or Charlotte's Gerald Wallace, all of whom possess contracts which stretch beyond the 2009-10 season, with cheaper but less inspiring alternatives (Houston's Luther Head and Golden State's Marco Belinelli) also available.
It is nonetheless considered an inevitability in Toronto, as Colangelo ponders his wisest course, that two players whose last-year salaries weren't high enough to make our adjacent top-20 list -- Joey Graham ($2.4 million) and Colangelo favorite Anthony Parker ($4.6 million) -- are virtual locks to be moved before the Feb. 19 trading deadline, as well as 2007-08 darling, Jamario Moon. Colangelo would prefer not to part with Parker, but the former Maccabi Tel-Aviv star's expiring contract would appear to be the Raptors' best trade chip.
---
If you think that Twenty-Ten Mania is suffocating now, just wait until July or August, when it emerges that James has turned down an extension from the Cavs.
It won't just be LeBron, either. James, Bosh and Wade are all eligible to sign extensions with their current teams during the forthcoming offseason. It becomes an option for Wade on July 12, 2009, which is the three-year anniversary date of the last contract he signed. For Bosh, it's July 14, 2009. For LeBron: July 18, 2009.
You can safely assume that none of them will accept their teams' kind invitation to just extend at the first opportunity and avoid the entire hassle of the 2010 frenzy.
But it is worth remembering -- since you're going to hear about this plenty when the invitations do get politely declined -- that the three Olympians will at least have the option to tack on three years to their current deals. Each of them, though, would first have to be willing to exercise his 2010-11 option, worth $17,149,244 in all three cases.
---
I remembering hearing Bruce Pearl's name mentioned as potential future Wizards coach as early as last season, which undoubtedly stems from Wizards president Ernie Grunfeld cementing himself as a Tennessee legend long before Pearl took over the Volunteers.
Yet sources close to the situation insist that Pearl, as we were told back when this first came up, is not a legit candidate to matriculate to the Wiz and become the next college coach who fails in the pros.
Washington is quietly confident that it will have no shortage of good applicants when it decides it's time to choose a permanent successor to Eddie Jordan, with the Wiz believing, among other things, that the attractiveness of the job and the city where they play has only been enhanced by Barack Obama's forthcoming installment as the nation's 44th president.
The Magic have quickly reconfirmed their status this season as one of the league's most ruthless road teams, but Marc Stein tells ESPN on NBA Radio studio host Amy Lawrence why it's premature to put Orlando up there with Boston and Cleveland in the East's elite, followed by a look at what convinced the Washington Wizards to replace Eddie Jordan with Ed Tapscott.
NBA on ESPN Radio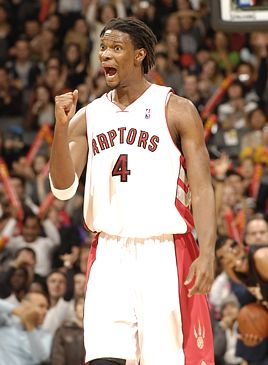 Ron Turenne/Getty Images
Raptors front-office chief Bryan Colangelo doesn't deny that keeping No. 4 happy is job No. 1 for the NBA's only franchise that sits north of the border. (See Box 4).

A slew of factoids follows to get you ready for the eighth season of the NBA Development League, which already has placed 60 alumni on NBA opening-day rosters. The 16 teams tipped off their 50-game schedules Friday.
The three teams owned and operated by NBA franchises: Austin Toros (Spurs), Los Angeles D-Fenders (Lakers), Tulsa 66ers (Thunder).
The three most intriguing stories: 1. Coby Karl (above, right) going back to his Boise State roots with the Idaho Stampede after being released by the Lakers in October; 2. How another Lakers castoff, (Smush Parker) adjusts to life in Hidalgo, Texas, with the Rio Grande Vipers after lasting until the 12th pick of a 16-pick first round in the D-League draft; 3. Hamed Haddadi's journey from the Middle East all the way to Bismarck, N.D., after the Grizzlies assigned their 7-foot-2 Iranian history-maker to the Dakota Wizards.
The other history-maker: It's believed that DeMarcus Nelson became the first player to start at point guard on opening night in the NBA and opening night in the D-League when the Golden State rookie -- who began the season in Don Nelson's first five with the Warriors -- joined Mateen Cleaves in the Bakersfield backcourt for the Jam's Friday opener against the D-Fenders.
The player on a baseball-style rehab assignment: After he averaged 17.1 points and 8.2 rebounds last season while leading Austin to the championship series as the D-League's best big man, Ian Mahinmi wasn't expected to be back in the minors. But a stubborn ankle injury that has plagued the Frenchman since Tim Grgurich's annual skills camp in Las Vegas in August prompted the Spurs to start Mahinmi with the Toros to get him ready for minutes with the big club.
The complete list of NBA players currently on D-League assignment: Boston's J.R. Giddens and Bill Walker (Utah Flash), Golden State's Richard Hendrix and Nelson (Bakersfield), Memphis' Haddadi (Dakota), Oklahoma City's Steven Hill (Tulsa) and San Antonio's Mahinmi (Austin).
The first call-up: It's already happened. Dakota guard Blake Ahearn, who played in 12 games for Miami last season after being named D-League rookie of the year, got a summons from San Antonio last week almost immediately after landing in Bismarck for training camp. Eighteen players accounted for a combined 29 call-ups to the NBA last season.
The player who has our strongest rooting interest here at Stein Line HQ: D-Fenders forward Jamaal Brown … also known as the only Cal State Fullerton alumnus presently on a D-League roster.
The marquee coach: Austin's Quin Snyder remains a highly recognizable name after his college coaching days at Missouri, but Snyder has to share the marquee this season with Sam Vincent. Hired and fired by Michael Jordan as Charlotte's coach, all in the span of 11 months, Vincent now has the same job with the Anaheim Arsenal.
The compensation: D-League players are placed in one of three classifications (A, B or C) based on experience and earn salaries of $25,500, $19,000 or $13,000, respectively. (Karl, for example, is at the $25,500 mark after making $427,163 as a Lakers rookie last season.) Daily per diem on road trips is $30, compared to $114 in the NBA.
The buyout rules: Foreign teams that wish to extricate D-League players from their current contracts must pay between $15,000 and $45,000, depending on the player's salary.
The All-Star Game: It again will be staged during the NBA's All-Star Weekend … with some interesting concepts to spice things up in circulation. One idea the NBA is expected to resist is a game featuring D-League All-Stars against NBA rookies, as an alternative to the current NBA rookies-versus-sophomores game we get every February. Another idea that apparently still has some life calls for an All-Star game pitting the best players assigned to the D-League by NBA teams against non-assigned players.
The NBA D-League Showcase: All 16 teams will convene in Orem, Utah, from Jan. 5 through 8 to play 16 games in four days, all of which will be televised on NBA TV. Each team plays two games at the showcase in addition to its 24 home games and 24 road games.
The favorite to win it all: There isn't one. Conventional D-League wisdom holds that every team will spend some time during the season in the top five and the bottom five of the mythical D-League power rankings because rosters are always changing.

"I always tell players that it's the toughest league in the world. Tougher than the NBA. Tougher than Europe. The money's not very good, the travel is really hard and if you get caught up in that stuff -- especially guys who have played in the NBA before -- you're not going to do very well."
Bakersfield Jam coach Scott Roth, sharing part of the message he's been disseminating in advance of Friday's opening night in the NBA Developmental League.
This is the D-League's eighth season overall, and the fourth season that its 16 teams will carry direct affiliations to parent clubs in the NBA.
And Roth has more mileage than most when it comes to assessing where the D-League fits on the worldwide basketball landscape. He's played in the NBA for Utah, San Antonio and Minnesota. He's played in Turkey and Spain and in the CBA at the height of the Albany Patroons' glory days. He's also been an assistant coach for two NBA teams (Dallas and Memphis), served as a lead scout for the Milwaukee Bucks before joining the Jam and spends his summers as Al Horford's head coach with the Dominican Republic's national team.
So his viewpoint is probably worth considering, which you can also get from the weekly podcasts he's doing to give a glimpse into what Roth sees as the toughest grind in the sport.
"You have to be mentally tough if you want to succeed in this league and not let those things drag you down," Roth said. "But if you want to get to the NBA, or get to an NBA summer league or get to an NBA training camp, this is the way to go. This is the fastest route. And not just for players. For coaches, referees, everybody."
Mark (Oregon): Can the Wiz really justify firing Eddie Jordan? They have so many injuries. That's why they're so bad.
Marc Stein: Yes and no. Looks to me like The Thief of Baghdad -- which will always be the first thing that pops into my head when I see Eddie Jordan because I can still hear the one and only Chick Hearn calling him that on Lakers broadcasts from when I was kid -- was a victim of his own success.
I know I have to qualify the word "success," because the Wiz only won one playoff series during Jordan's tenure. But it's also true that Jordan's teams were almost never whole and, until now, had always coped well with their inevitable injuries. You'd struggle to remember the last time the Wiz had their full complement of players, but the flip side of that is that Jordan's bosses had come to expect .500 ball (or something closer to it) no matter who was out.
Even The Thief himself said on the eve of his dismissal that he expected more from this group, admitting that "never in our wildest dreams" did the Wiz imagine starting out 1-10.
Jordan understandably got a lot of sympathy from peers around the league when this happened so soon, because he's a popular guy who won consistently in the regular season even though his teams were frequently shorthanded. Yet I can't sit here and say that I was shocked or outraged that the Wiz did this now.
Jordan indeed did just have his contract extended by one year in September. Yes, a lot of us have underestimated the absence of Brendan Haywood for a team that has major defensive issues even when Haywood is out there. But the fight that we've seen from this group in the face of injuries wasn't the same as it's been in years past and appeared to be dwindling. So management decided it was new-voice time, given that Jordan began the season with the longest tenure of any Eastern Conference coach. It happens.
(For the record: I asked Jordan about this once and he told me that it was actually Kareem Abdul-Jabbar who dubbed him The Thief of Baghdad. Chick is the one who made it stick. The irony, of course, is that Jordan got that nickname for his fast hands on D, whereas his defensive rep as a coach is less than flattering.)

Jason Smith says he already has Summer of 2010 "fatigue" thanks to all of the focus on LeBron James' foray into free agency -- still some 19 months away, don't forget -- that was generated by New York's two trades last week and LeBron's visit Tuesday night to Madison Square Garden. Like some in his audience, Smith wonders why we can't focus more on the season at hand.
Yet Marc Stein quickly informs the host of ESPN's NBA Today podcast that his protests are futile, noting that the majority of basketball fans in this millennium generally care as much (or more) about the transaction game as the games themselves.
• Listen to the interview