David Liam Kyle/Getty Images
LeBron James became the Cavaliers' all-time steals leader during their victory over the Raptors.

David Sherman/Getty Images
As he has for the past 20 years, Jerry Sloan arrived at work ready to lead the Jazz into action.

David Sherman/Getty Images
Kevin McHale's second stint as Timberwolves' head coach began with a loss to the Jazz.
Best Night Of the NBA Season ... So Far

You know how the folks at NBA TV actually give us the chance to vote for the game we want to watch most every Tuesday night?
It sounds like one of the sweeter technological advances of our modern hoops existence until you get to a night like this particular Tuesday.
A night when the only right answer wasn't even an option.
We're not picking on the people's choice of Toronto at Cleveland just because that presentation was more of a dunk contest than anything, with LeBron James breaking loose for ridiculous takeoffs and throwdowns on the first two possessions of the game and punching through four or five more absolute sickies in an eventual rout
We're lamenting that selection because the only right answer for Tuesday's Game of the Night was this one:
All the games.
Seriously.
Not even the satellite luxury of League Pass in these tough economic times would have enabled you to take in everything that was happening. You would have needed an "Around The Horn" screen or about four picture-in-picture deals going at once to keep track of all this:
• Jerry Sloan reaching his seemingly unfathomable 20th anniversary coaching the same team coincided with the surreal image of Kevin McHale formally leaving the Wolves' front office to move into coaching full time. Then their showdown went down to the final minute before a Mehmet Okur jumper and a Rashad McCants turnover sealed Utah's 99-96 win in Minneapolis.
• San Antonio and Dallas, apparently unaware that many precincts on the NBA map no longer see the magnitude of their decade-long rivalry as Texas-sized, conspired to give us no less than a double-overtime classic that would hold up well against any of their best battles. A few highlights: Jose Juan Barea somehow zooming to the rim faster than Tony Parker in the fourth quarter; Bruce Bowen coming off the bench to take turns shadowing Barea, Jason Terry and Dirk Nowitzki and drain a backbreaking 3 from the corner on the only shot he took in the second half; and both teams getting too absorbed in the drama to make any lasting fuss about Terry's hard foul on Parker in the open floor. Soaking in his team's eventual 133-126 triumph, Spurs coach Gregg Popovich insisted: "I don't know how it could be any better."
• Did someone say better? The Orlando Magic, playing on the second night of a back-to-back, reminded us yet again that you can't have a conversation about road juggernauts in this league without mentioning them very early in the conversation. The Magic got a late trio of triples from Jameer Nelson, Rashard Lewis and Hedo Turkoglu to turn a 108-100 deficit into an improbable 109-108 victory over Portland ... with Turkoglu, in the unlikely event that you haven't already seen the highlight, unintentionally going Tim Duncan on us and smooching his game-winning 3 off the window from the middle of the floor. (Did we mention that the Blazers were unbeaten at home before this one?)
• All the above barely leaves us time to mention how the allegedly inspirational return of Antonio McDyess couldn't prevent the Pistons from blowing a 17-point lead to a Washington team that showed up with a 3-15 record and thus spiraling to a 7-9 mark since Allen Iverson replaced Chauncey Billups ... or that Elias Sports Bureau checked in with a bulletin to confirm that Shaquille O'Neal just rumbled for his first 30-point game in his past 98 games -- 35 points, actually -- in the Suns' 125-110 blasting of Milwaukee ...and that Cleveland's 20-point cruise in the dunk contest with the Raps enabled the Cavs to set an NBA record by posting their ninth consecutive win by a margin of at least 12 points.
That's because there was one more tremor to savor.
Reggie Theus' job security has to be a wee bit less of a worry today after the Sacramento Kings -- No. 28 in ESPN.com's weekly Power Rankings and No. 29 in John Hollinger's daily automated rankings entering Tuesday's play -- uncorked the upset of the season in the final game of the evening by pulling away for a 113-101 triumph over Kobe Bryant's Los Angeles Lakers.
The Kevin Martin-less Kings, we should say.
It's true that the night undoubtedly belonged to Sloan from a historical perspective. Perhaps in Sloan's honor, LeBron put his left hand behind his head as he soared in for one of his umpteen slams against the Raps, just as Karl Malone used to do.
Popovich has the second-longest active tenure of any NBA coach, at 13 seasons and counting, and can scarcely fathom sticking around as long as Sloan has.
"I have no doubt that Jerry has been remarkable, both as a player and a coach, in his longevity and his persistence," Popovich said. "And I also have no doubt that there's no way I'll get to 20 as a coach."
Just as we have no doubt that is true, too: Sloan's night -- in maybe the most fitting tribute to a guy who's been underappreciated for way too long -- has to be recorded as the best of the season so far.
Don't think a vote will be necessary there.
Marc Stein is the senior NBA writer for ESPN.com. To e-mail him, click here.
Dimes past: Nov. 26 | 27 | 28-29 | Dec. 1 | 2 | 3 | 4 | 5 | 6-7 | 8 | 9
Sloan Celebrates Anniversary; McHale Comes Up Short
By Tim Buckley | Special to ESPN.com

MINNEAPOLIS -- Before his Timberwolves lost to the Utah Jazz on Tuesday night, Kevin McHale plopped into a folding chair to field questions.
McHale -- the longtime Timberwolves front-office boss working the sideline for the first time since Minnesota fired coach Randy Wittman on Monday -- initially fielded a few mundane but obligatory lineup questions.
Then he was asked about the incongruent reality of it all.
Because there he was, toiling on the Wolves' bench for the second time in five seasons, this latest switch marking the 223rd NBA coaching change in 20 years.
And there, just down the hall, was Utah coach Jerry Sloan -- the only coach the Jazz have known since Sloan replaced Frank Layden on Dec. 9, 1988 -- celebrating his 20th anniversary in charge of the same team.
McHale didn't have much of an answer, really, other than to praise Sloan. And then he was asked whether he could see himself coaching 20 years.
"No sir,'' the former Boston Celtics great said with a hearty laugh.
The job, it seems, isn't one that appeals to McHale even now that he has it.
Again.
• To read the entire column, click here.
Just Like the Coach Drew It Up
By John Hollinger | ESPN.com

PORTLAND -- It was a gift from the heavens, and Stan Van Gundy knew it. The Orlando coach could hardly contain his glee after Hedo Turkoglu's contested, desperate fadeaway 3 banked in with 0.3 seconds left to cap a 109-108 comeback win.
"That was just brilliant, brilliant coaching down the stretch," Van Gundy said. "That is exactly the play we drew up, and we told him to shoot it off the glass if he could get the angle on it. That's exactly what we wanted, so I have to give myself all the credit."
Having cut an eight-point deficit to two, Orlando got the ball back with five seconds left and designed a play for Rashard Lewis or Jameer Nelson to get a shot. When neither came open, the final option was for the inbounder, Turkoglu, to throw it to Dwight Howard at the elbow, get it back and try to create a shot off the bounce. After a couple of dribbles to his right, his leaning hoist from the top of the key caromed in to stun a raucous Rose Garden crowd.
"There's no question we got lucky at the end," Van Gundy said. "If you're [Portland] you have to roll your eyes because we threw one in. But we had to do some very good things and show some resolve down eight with two minutes left to give ourselves a chance to throw one in."
Orlando gave itself that chance by switching defenses and trapping Brandon Roy at half court in the final two minutes to get the ball out of his hands, after he'd shredded every other look the league's third-ranked defense threw at him.
"I'm sometimes not a very bright guy, and it took him to get to 30 [points] before I said, 'We can't contain him,'" Van Gundy said. "We tried every scheme in the book, so we said, 'To hell with it -- we're going to trap him and make somebody else make a play.'"
Nobody else did, partly because it's a tactic the team hasn't seen much, a Blazers insider told me. I guarantee the tema will see more of it. Portland seemed unsure what to do, and on the final trip kept trying to force the ball back to Roy rather than attacking four-on-three. As a result, the Blazers bled out the shot clock on their final possession to cap a string of four empty trips in the final 2:15.
"When they doubled on Brandon, we're supposed to send a player to the middle, and we would have had an advantage," Blazers coach Nate McMillan said. "We have sets to counter and to attack that double-team."
As for the Magic, they improved to 17-5 by handing the Blazers their first home loss of the season. And now they have a much more compelling case for the backhanded compliment of king of the other 27 -- the battle to be the fourth-best squad in a league dominated by the Lakers, Cavs and Celtics.
By Maurice Brooks
ESPN.com

TUESDAY'S BEST
Sacramento Kings
: In the biggest upset of the season, the Kings ended their eight-game losing streak by dominating the West-leading Lakers, 113-101. Francisco Garcia and John Salmons scored 21 points apiece for Sacramento.
---

TUESDAY'S WORST
Kevin Love, Wolves
: The rookie made just two of nine free throws and missed four critical shots in the final period, allowing the Jazz to edge the Timberwolves in Kevin McHale's debut as Minnesota's coach.
---
QUOTE OF THE NIGHT
"They keep feeding me like that, those are the type of numbers that they can expect out of me."
-- Suns center Shaquille O'Neal after scoring a season-high 35 points in a win against the Bucks
By Elias Sports Bureau

The Cavaliers' 20-point victory over the Raptors was the team's NBA-record ninth straight win by 12 or more points. Cleveland now sets its sights on another NBA mark. The Cavs have won each of their past four games by 20 or more points. That leaves them one shy of the NBA single-season record for such a streak, five games. The mark is shared by the 1977-78 Trail Blazers and the 1970-71 Bucks.
• David Lee had 11 points and 15 rebounds in the Knicks' loss to Chicago. Lee has scored at least 11 points and grabbed at least 11 rebounds in each of his past 10 games. He has matched Patrick Ewing for the longest such streak by a Knicks player since the NBA-ABA merger in 1976. Ewing recorded a 10-game streak in January 1991.
• The Spurs beat the Mavericks 133-126 in double overtime in Dallas. It was only the second multiple-overtime game in the NBA this season, and both have been San Antonio road wins. The Spurs won 129-125 in two overtimes at Minnesota on Nov. 5. Entering this season, the Spurs had not played a multiple-overtime game since they did so on consecutive days in 2005: road wins on April 9 and 10 against the Clippers and Warriors.

Philadelphia forward Elton Brand thinks his team needs to find some consistency and grow as a group. He also points out that there are a lot of young guys on the 76ers.
Scott Van Pelt Show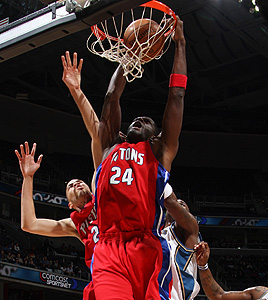 Ned Dishman/NBAE/Getty Images
Antonio McDyess, who re-signed with the Pistons on Tuesday a month after being shipped to Denver in the Allen Iverson-Chauncey Billups trade, scored nine, but Detroit wasn't able to make a 17-point lead stand in a 107-94 loss to the Wizards.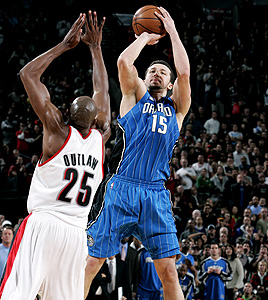 Sam Forencich/Getty Images
Hedo Turkoglu drained a 25-footer that banked in off the glass with less than a second left to play, lifting the Magic to a one-point victory over the Trail Blazers.