Jesse D. Garrabrant/Getty Images
LeBron James and the streaking Cavaliers sprinted past the Sixers for their 10th victory in a row.

Garrett W. Ellwood/Getty Images
Line of the Night: Anthony had four steals and 11 rebounds to go with his 45 points (33 in the third).
Williams Completes the Puzzle For Cavaliers

When Mo Williams arrived in Cleveland ahead of the Cavs training camp in September, he had a meeting with several members of the coaching staff to outline some of the plans they had in store for him with his new teammates.
The coaches had a lot of things to say; Williams only had one: "Whatever you need me to do, on the ball, off the ball, I'm cool with it all."
The early success the Cavs have enjoyed this season -- a 19-3 start and a 10-game winning streak after their 101-93 road victory over the 76ers on Wednesday -- began last spring when the restructured team began to gel in the playoffs. It continued over the summer as LeBron James gained extreme confidence as one of the leaders of Team USA.
And when Williams came aboard, bringing both the talent the Cavs were sorely lacking -- a high-level offensive point guard -- and a team-first attitude from his first day on the job, many of the Cavs' well-chronicled deficiencies started melting away.
Williams and James are now running the show of what so far has been the best offense in the NBA. That's a fairly shocking statement considering the way the team had performed in the James era.
Averaging 104 points and just 13 turnovers per game and shooting 48 percent, the Cavs thus far have the most efficient offense in the league. Seven players average seven points or more, and nine players are shooting 46 percent or better. Until Wednesday, each of the Cavs' past 12 wins had been by at least 11 points.
"When you look at the depth we have, we know we can score with anyone in the league," James said. "It doesn't just have to be me."
Could one player, Williams, have made that much of a difference? Well, yes and no.
For much of last season the Cavs had the lowest-scoring starting backcourt in the NBA. Larry Hughes started most of the games at point guard, but he was playing out of position. Several different players started at shooting guard, including Daniel Gibson, Devin Brown, Shannon Brown and Wally Szczerbiak, and none seemed to perfectly fit.
Things improved slightly when Delonte West was brought aboard, because it meant that Gibson could go back to the bench, the role in which he has performed best during his career.
Last year the Cavs were actually outscored by their opponents, and things improved only slightly in the postseason, when Cleveland still averaged less than 90 points and shot 42 percent. When the Cavs did win, most of the time it was because James -- who without a doubt had his best season as a pro in winning the scoring title and leading the league in fourth-quarter scoring -- carried them home.
Bringing in Williams, though, changed more than just one position. Knowing they had a lead guard who could run the offense on his own, the Cavs were able to move West over to shooting guard. That is his best position, in which he excelled in college at St. Joseph's next to Jameer Nelson.
That move not only allowed Gibson to come off the bench, but also Szczerbiak, who played well for the Sonics as a reserve last season before going stone-cold as a starter with the Cavs. So by adding Williams to the mix, the Cavs were able to position their top four guards to be successful, and successful they have been.
West's shooting has been strong, and he's averaging just under 10 points, with a 3-to-1 assist-to-turnover ratio. Because he is also the Cavs' best on-ball perimeter defender, he's been able to match up with tougher point guards on defense without having to handle too much on offense.
Because James doesn't have to handle the ball as much either, the Cavs have been able to play smaller and allow him to play some at power forward. Szczerbiak also gets chances there; his lack of quickness doesn't show up as much when he plays inside. But with Williams and James on the floor creating, Szczerbiak still gets open looks on the outside. And the benefit is clear: After shooting 36 percent with the Cavs last season, Szczerbiak is now at 48 percent.
Williams' scoring and assist numbers down slightly from last season. He's at a bit less than 16 points and five assists per game, but he's just as involved. Coach Mike Brown has set up the rotation to always allow Williams to be on the court when James is resting, so Williams gets to share time as the main offensive option with Zydrunas Ilgauskas.
Williams can take over when he needs to, such as when he scored six points in the last three minutes to clinch the win against the 76ers.
Williams has been so effective that James is playing the fewest minutes of his career. Only twice thus far has James played 40 minutes, which was his average last season.
To take advantage of Williams' talents, the Cavs also installed some new facets of their "early offense" so they could be more effective in transition. It was easier to do, considering James didn't have to lead every fast break.
Because Brown trusts Williams to run the offense, he allows Williams to handle much of the play calling. This is a switch from past seasons, and it enables the Cavs to be more fluid because they don't have to wait for a signal from the bench.
"Mo has been off the charts for us," Brown said. "With Mo calling the game it makes us harder to defend, and he's been doing a great job of getting everyone into a rhythm."
Factor in their always strong defense, which ranks first in the league in points allowed and second in field goal percentage allowed, and the Cavs suddenly have the look of a serious championship contender.
"Am I surprised we're 19-3? No, because I believed in this team when I got here," Williams said. "We have a long way to go, but we are focusing on the right things."
ESPN.com contributor Brian Windhorst covers the Cavaliers for the Cleveland Plain Dealer.
Dimes past: Nov. 26 | 27 | 28-29 | Dec. 1 | 2 | 3 | 4 | 5 | 6-7 | 8 | 9 | 10
TrueHoop: Suns Win Big In Trade With Bobcats
By Henry Abbott | ESPN.com

You have probably heard that the Suns have continued to overhaul the roster we all knew them for, sending mainstays Raja Bell and Boris Diaw, as well as youngster Sean Singletary, to the Charlotte Bobcats.
Suns fans will likely see this as confirmation that an era has ended.
They are right. I suspect that Steve Nash's Phoenix Suns will never be title contenders, which is sad.
But that horse has been out of the barn for a while now, and this is a great trade.
In terms of how everyone is playing right now, and how much money they make, you could make the case that of the six assets that changed hands -- Jason Richardson, Jared Dudley, a 2010 Charlotte second-round pick, Bell, Diaw and Singletary -- the Suns got the best three.
• To read the entire TrueHoop blog, click here.
Examining the Western Conference Playoff Race
By John Hollinger | ESPN.com

Excerpted from Hollinger's daily Insider Gems:
The bar for the Western Conference playoffs keeps rising. We've been monitoring this movement for a couple of weeks, and after Utah's 99-96 win in Minnesota on Tuesday, the projection for the No. 8 seed out West is 46 wins -- six more than the No. 8 seed in the East. In fact, the East now projects to have three sub-.500 teams in the postseason, and the East's projected fourth-best team (Atlanta) barely beats out the West's projected ninth-best team (Phoenix), 44 wins to 43.
With Utah and San Antonio still on the mend, expect the West's number to rise still. As of Wednesday, seven Western teams project to win at least 48 games, making the playoff-seeding race out West nearly as cutthroat as it was last spring.
The only difference this time is that the awfulness at the bottom of the conference is a major factor in the strength at the top. All Western teams benefit from playing 20 games or more against six of the league's worst teams, and that should pad their expected win totals accordingly.
• Read all five Insider Gems
By Maurice Brooks
ESPN.com

WEDNESDAY'S BEST
Carmelo Anthony, Nuggets
: It took 12 minutes for him to shoot himself into the NBA history book. Scoring in a variety of ways, Anthony tied George Gervin's record for most points in a quarter by dropping 33 of his season-high 45 on the Timberwolves in the third quarter. He went 12-for-15, including 4-for-5 on 3-pointers, in the period.
• Watch: Melo tie quarter scoring record
---

WEDNESDAY'S WORST
Elton Brand, Sixers
: Good news: EB was back in the lineup after missing two games with a strained hamstring. Bad news: Philly might have been better off without him. He turned the ball over seven times and scored just six points on 3-of-11 shooting.
---
QUOTE OF THE NIGHT
"It's the most miserable season I've ever been a part of: 2-21. It's tough. Hopefully we start winning and things will go a lot better."
-- Thunder forward Nick Collison after Oklahoma City blew a 21-point lead against Memphis for its 21st loss in 23 games
Breaking Down the Elite Teams

Bill Walton expresses his appreciation for the Cavaliers and talks about the differences between the Lakers and Celtics.
NBA Today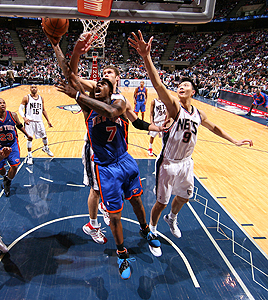 Ned Dishman/Getty Images
Former New Jersey high school standouts Al Harrington (7) and Tim Thomas had huge nights playing in the Garden State against the Nets. Harrington shook loose for 39 points and 13 rebounds, while Thomas scored 26 off the bench in the Knicks' 12-point victory.
CP3's Perfect Shooting Night
By Elias Sports Bureau

Chris Paul had 15 points and 15 assists with perfect shooting from both the floor (5-for-5, including a three-pointer) and the free-throw line (4-for-4) in the Hornets' win over the Bobcats. It was the second time in Paul's career that he had at least 15 points and 15 assists in a game without missing a shot from either the floor or the line. (He did it last season on Jan. 11 against Miami.) In NBA history, only two other players have ever had such a game, each doing it once: Jeff Hornacek for Phoenix (Feb. 25, 1988) and Steve Nash, also for the Suns (April 3, 2007).
• Carmelo Anthony tied an NBA record with 33 points in the third quarter of the Nuggets' victory over the Timberwolves. San Antonio's George Gervin is the only other player to score 33 points in one period of an NBA game (second quarter against the Jazz at New Orleans on April 9, 1978). Only two other players have ever scored more than 30 points in a quarter: David Thompson for the Nuggets (32 in the first quarter at Detroit on April 9, 1978) and Wilt Chamberlain for the Philadelphia Warriors (31 in the fourth quarter of his 100-point game against New York at Hershey, Pa., on March 2, 1962).