Andrew D. Bernstein/Getty Images
Stephon Marbury, who spoke with reporters at halftime, had a good seat for the Knicks' loss in L.A.

Sam Forencich/Getty Images
Brandon Roy and LaMarcus Aldridge combined for 44 points and 12 rebounds against the Kings.
Are the Lakers Busy Looking Ahead to Dec. 25?

LOS ANGELES -- If you have a kid who's distracted right now, who can't concentrate on his homework, who can't do anything but count down the hours until Christmas, then you know what's wrong with the Lakers. They can't wait until Dec. 25, when they get the Boston Celtics under their tree.
Everything before that is just busy work, like this series of 10 games in which they've faced only one team with a winning record. It's failed to stir the best from them. That's why they've lost ground to the Celtics and Cleveland Cavaliers in the public's eye even while pulling away from the rest of the Western Conference by winning four in a row and eight of 10.
There's a difference between winning basketball and championship basketball, and even though the Lakers came from 15 points down to beat the New York Knicks on Tuesday night at Staples Center, Sasha Vujacic could still be heard muttering "terrible game" in the victorious locker room.
Teams don't win titles by giving up 65 points by halftime and letting opponents connect on 11 of their first 23 3-pointers, which the Lakers did Tuesday. When facing a team on the second half of a back-to-back, a championship-caliber club should not need its star to invoke his superpowers, as Kobe Bryant did by making four of five shots in the fourth quarter.
After the Lakers survived, 116-114, Phil Jackson said he expected a close call.
"I think we anticipated that as a staff," Jackson said. "But I don't think our players anticipated that kind of a ballgame."
Jackson knows what's going on. Normally, he'd be the first to point out his team's flaws, but since so many others have been doing it for him, he has become a little protective of his club, blaming the media for exaggerating its shortcomings and explaining away the mini-malaise.
"These games aren't always easy," Jackson said beforehand. "You have to work your way through the schedule.
"We're seeking perfection. That's always what you're trying to do. Sometimes it takes competition to raise that level."
They got it, unexpectedly, from the Knicks, who ran around and rained 3s and brought boos down on the Lakers from the disgruntled fans.
Granted, the Lakers weren't in top condition. Pau Gasol (whom Lamar Odom called an "MVP candidate") was sent home with strep throat. Odom himself played through a respiratory infection, returning to the starting lineup in Gasol's place and recording 17 points and 12 rebounds in 38½ minutes.
But that didn't explain the lackluster performance. Maybe the Lakers can't focus while they're waiting for the green team, or maybe they were distracted by everything going on at the start of this game.
Bryant did a double-take when he entered the layup line and saw Stephon Marbury sitting courtside along the baseline. Vujacic had his pregame stretch interrupted by Spike Lee, who ran down and gave him a hug. (Yeah, me too. Vujacic said they've been cool ever since they started jawing at each other in Madison Square Garden a couple of years ago. Vujacic, by the way, gives a good review to Spike's "Miracle at St. Anna.")
Trevor Ariza, Marbury's former Knicks teammate, and fellow New York native Odom came over to give Marbury a hug, which is more interaction than any of the Knicks had with him. The Knicks' company line, from Mike D'Antoni to Nate Robinson, was they didn't see Marbury. But it was almost as if they were under orders not to talk to him.
When Al Harrington stood near Marbury, waiting for the ball to be inbounded, Marbury said something to Harrington. Harrington just nodded, barely even looking Marbury's way.
Marbury has spent the past couple of weeks in Los Angeles since buyout talks with the Knicks broke down. Knicks president Donnie Walsh didn't make the trip, so there was no chance they could meet to negotiate further. Marbury was there on his own, another spectator, even if he's the only one getting paid almost $22 million by the Knicks to be in the seats and not on the court.
As for his time in L.A., Marbury said he's "lovin' it. I got no complaints. I've got the greatest job in the world."
No progress toward a buyout?
"Just waiting," he said.
He'll do some of that waiting by the docks, like something out of Season 2 of "The Wire," waiting for shipments of his Starbury athletic apparel to come in so he can distribute them over the Internet.
As for his basketball freedom?
"I don't even worry about it," he said to a group of reporters at halftime. "They're going to do what they're going to do, and when they're ready, they'll make a decision.
"All I've got to do is get paid. Once I get paid, the team that I go to, I think a lot of people will be shocked."
He ended the session by swaying side to side, saying, "Still doing my thing, still doing my thing," then hugging a blogger he'd never met before.
We'll now blast off from Planet Starbury and return to basketball.
The Lakers had better return to their early-season ways, when they held four of their first five opponents below 90 points. Four of their most recent five have scored over 100 points.
The Lakers have been lulled into defensive complacency because their offense is so good.
"We know we can score," Odom said. "It doesn't matter what team you put in front of us, we can score. We've got 12 guys who can hit shots. We can do it offensively. We just have to focus on defense."
"We're still 21-3," Andrew Bynum said. "We're going to be able to go out there and execute the defense later on as we build together as a unit. I think everybody in here is pretty happy."
That's not the vibe I got. But maybe they've been content, satisfied, feeling they can turn it on whenever they want. But if the Lakers and Celtics keep playing the way they have lately, the Lakers won't want to see the Celtics on Christmas day.
J.A. Adande joined ESPN.com as an NBA columnist in August 2007 after 10 years with the Los Angeles Times. Click here to e-mail J.A.
Dimes past: Dec. 1 | 2 | 3 | 4 | 5 | 6-7 | 8 | 9 | 10 | 11 | 12 | 13-14 | 15 | 16
Knicks Putting Better Product On the Floor Now
By Eric Neel | ESPN The Magazine

LOS ANGELES -- The Knicks don't want to hear this -- they're in it for the wins, of course -- but even in a losing effort Tuesday night, they were awfully fun to watch. They pushed the pace, they penetrated and dished, they dove for loose balls, and led by Super Ball point guard Nate Robinson's 33 points in 33 minutes they hit big shots (13 from beyond the arc).
It's hard to describe how much different this team looked than the Knicks squads of the recent Larry Brown and Isiah Thomas eras. What's the difference between punching the clock and lacing up for a run at the park? What's the difference between going through the motions and committing yourself, headlong, to something only you truly believe in?
As he did in Phoenix, coach Mike D'Antoni has his players -- even when they're big-time underdogs, even when they're seriously outmanned -- giving it their all.
"They're playing free, open and confident," says Lakers coach Phil Jackson. "That's what you want your team to feel."
Robinson, who shot 3-for-7 from 3-point territory and hit all 12 of his free throws, embodied the feeling, consistently and fearlessly willing himself into free space and good looks, and pounding on his chest as if to say "bring it" whenever the Lakers pushed back into the New York lead.
"That's Nate," said shooting guard Quentin Richardson. "That's the Energizer bunny. He never stops. He energizes the whole team."
And it isn't just energy, it's also an unmistakable and healthy swagger, something that exceeds the individual accomplishments of the players on the roster and is more than you could expect given the accomplishments of a team now three games under .500.
"We battled them [tonight]," D'Antoni said outside the Knicks' locker room in the moments after the game. He was tired, he was disappointed, but he was proud too, proud of the way his guys had carried themselves in a yardstick game. Their attitude wasn't enough to hold off Kobe Bryant and the Lakers down the stretch, but it was enough to have a team many feel will represent the Western Conference in the NBA Finals back on its heels most of the night, and it was enough to suggest the Knicks just may be competitive in this league well before they make a play for LeBron James or Chris Bosh.
"We're starting to realize and believe we can be a really good team," said New York point guard Chris Duhon, who likes the open style D'Antoni has encouraged. "We're playing loose, but at the same time we're competing, we're competing to win."
The wins won't come easy or in abundance, but unlike any Knicks team we've seen in years, this one plays like they believe, like they know they will come. D'Antoni, knowing it's a long season, talked Tuesday night about how important it is for his team to stay positive night after night. Inside the visiting locker room at Staples Center, Duhon spoke of the future like that wouldn't be a problem: "There's going to come a time when we really start to click," he said. "And we're going to go on a run, and we're going to win a lot of games."
Eric Neel is a senior writer for ESPN.com
By Maurice Brooks
ESPN.com

TUESDAY'S BEST
Tracy McGrady, Rockets
: He had a triple-double by the end of the third quarter and finished with 20 points, 14 boards and 10 assists to lead Houston to a victory over the Nuggets.
---

TUESDAY'S WORST
Derrick Rose, Bulls
: He not only missed 13 of 16 shots from the field, finishing with just six points, but also was called for a foul in the closing seconds on a 3-point attempt by Bobcats point guard D.J. Augustin, who forced OT by making all three free throws (Chicago lost 110-101).
---
QUOTE OF THE NIGHT
"We just kind of plugged him into the plays we had for Elton Brand. They work just fine for him."
-- Clippers coach Mike Dunleavy on Zach Randolph, who had 22 points and 13 rebounds for his fourth straight double-double
Stepping Up Big For Boozer
By John Hollinger
ESPN.com

One item I didn't get into Tuesday's Daily Dime piece on the Celtics-Jazz game: Paul Millsap was awesome. The 6-foot-8 power forward was starting for the injured Carlos Boozer and tallied 32 points and 10 rebounds, and not just on garbage buckets, either. Millsap made several contested jumpers and was getting baskets in the post on plays that normally are run for Boozer.
It was a pretty impressive performance, considering the reigning Defensive Player of the Year -- Kevin Garnett -- was guarding him. And it wasn't unusual, either -- it was his 11th straight double-double. For the season Millsap is shooting 52.2 percent and is averaging 14.4 points and 8.7 boards per 40 minutes. His PER of 19.98 ranks him 12th among power forwards.
And why is this info so juicy? Because just like his teammate Boozer, Millsap will be a free agent this summer. The Jazz are already dancing with the luxury-tax line, and it appears Millsap's price is rapidly increasing.
• Read all five Hollinger Insider Gems
Which Teams Are the Best?

Jalen Rose says the Celtics and Cavaliers are the top two teams in the East, while the Hornets and Lakers are the best two squads in the West.
Herd with
Colin Cowherd
Entering the Record Books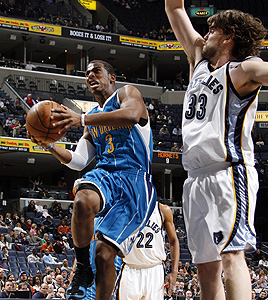 Joe Murphy/Getty Images
Chris Paul had 18 points, nine assists and five steals -- tying Alvin Robertson's NBA record by recording a steal in his 105th consecutive game -- as the Hornets stopped the Grizzlies' four-game winning streak, 91-84.
Another Rout For the Blazers
Elias Sports Bureau

The Trail Blazers beat the Kings 109-77, Portland's third 30-point win this season. That's the most by any NBA team in 2008-09. Over the previous six seasons combined, the Blazers had just one win by 30 or more points.
• Ben Gordon had 25 points but didn't pull down a rebound in the Bulls' 110-101 overtime loss at Charlotte. It was the third time in the calendar year 2008 that Gordon had at least 25 points without a rebound. That equals the number of such games by Bulls players in the previous 16 years (B.J. Armstrong in 1993, Jalen Rose in 2002 and Kirk Hinrich in 2006).