Victor Baldizon/NBAE via Getty Images
Time To Check Out Trimester Winners

The 2008-09 NBA season started a bit earlier than normal. A handful of teams, then, have reached the 27-game pole quicker than usual.
You know what that means.
With one-third of the 82-game schedule gone, it's time for ESPN.com's annual First Trimester Report, in which we take stock of the league's seven major award categories:
East MVP of the First Trimester
LeBron James (Cleveland)

He's playing the one-on-one defense we've always wanted him to play and mixing in some minutes at power forward these days.
He's finally making free throws at a rate (80 percent) a player of his stature should.
He's also more of a leader than he's ever been, on a team that hadn't lost a single home game entering the weekend; he's captaining what appears to be the only threat (besides injuries in Boston) to the Celtics winning the East.
So …
Impressive as Dwyane Wade has been in his renaissance, improving on what he did in Beijing to fully reclaim his 2006 NBA Finals form, James has to rank as the best singular force in the East right now. The whole league, probably.
I suppose you could say it helps his cause that you can't single out a Celtic to make it a more crowded race, but let's face it. The Cavs are on a tidy 69-13 pace of their own and winning by a nightly margin of 13-plus points. James is looking more and more like le roi all the commercials have been telling us he is.
West MVP of the First Trimester
Chauncey Billups (Denver)

It's a much tougher call over here.
How much tougher?
You can make the case -- and we're about to -- that neither Kobe Bryant nor Chris Paul has been the best player in the conference through the first third of the season. You likewise would struggle to make room in the discussion for the fast-charging Brandon Roy, even at a time of year when we're not so strict about our usual edict that MVPs come only from elite teams.
This choice at this stage comes down to Billups versus Tim Duncan. Bryant's fast-starting Lakers were the early story in the West, but the recent developments in Denver and San Antonio have been major, making this decision perhaps the hardest on the board.
A summer of boxing training and throwing tractor tires had Duncan sufficiently lean, spry and juiced to carry the Spurs by himself for much of November while Manu Ginobili and Tony Parker nursed ankle injuries. Duncan merely hoisted the Spurs out of a 2-5 start and prevented the rest of the West's contenders from gaining some real distance when they had the chance.
Yet I've surprised myself by spurning Duncan and choosing Billups, who really didn't leave me much of an alternative. The Nuggets were 1-3 before Billups played a game for them, widely expected to slide out of playoff contention and unloved by their own fans after being shredded all summer for handing Marcus Camby to the Clippers in a straight salary dump.
Now?
Without the benefit of gaudy numbers, Billups has triumphantly returned to his hometown to be the leader/organizer/stabilizer Carmelo Anthony and all the other Nuggets, coach George Karl included, needed. No one in the West -- not even Duncan and not even Paul, whose statistical prowess is fantasy stuff indeed -- has had Billups' impact so far.
Coach of the First Trimester
Doc Rivers (Boston)

Not sure who wants to be in the coach of the year race (or even the coach of the first trimester race) when three of the past four COYs -- Mike D'Antoni in Phoenix, Avery Johnson in Dallas and Sam Mitchell in Toronto -- no longer work in the cities where they won the award.
As always, though, there are numerous worthy candidates.
Mike Brown hasn't received enough credit for the long-awaited offensive improvements we've seen in Cleveland. Orlando's Stan Van Gundy never gets sufficient spotlight for the influence he has on Dwight Howard and a thin team that does nothing but win road games. San Antonio's Gregg Popovich and Utah's Jerry Sloan have kept their teams winning through significant injury obstacles; Atlanta's long-suffering Mike Woodson has helped the Hawks maintain this past spring's playoff momentum, despite losing Josh Smith for 12 games, when few pundits thought he could.
Phil Jackson's juggling of a deep bench, Miami rookie Erik Spoelstra's better-than-.500 start, even Mike D'Antoni's making the Knicks respectable (and watchable) so soon in spite of the Stephon Marbury circus … all merit a mention. Especially D'Antoni, for proving that his system can function without Steve Nash at the controls.
However …
The Celts are in the midst of a start for the ages, after we were told all summer that they wouldn't have the hunger to be anywhere near the team you see now. So we can't mention them enough in a column like this.
Which is why Rivers has to be the selection here. Everyone knows a good chunk of the Celtics' peerless intensity comes from Kevin Garnett and Paul Pierce, but don't downplay Rivers' role in it. He is using his bench better and getting more and more out of his youngsters, and he has a relationship with his stars that probably only Popovich can top.
Rookie of the First Trimester
O.J. Mayo (Memphis)

Point guard has always been my favorite position. Derrick Rose is obviously more of a point guard than Mayo.
Still …
I find myself drawn more to Mayo's start. And no, this has nothing to do with Rose cutting himself on an apple knife.
Maybe it's because I expected Rose to be in this ballpark. I saw Mayo's first NBA exhibition game in person and did not see much evidence of a kid who, at 21, would need not even 20 games to prove he's a top-shelf NBA scorer.
It's early. I suspect Chicago's flirtation with a playoff spot ultimately will help Rose win the ROY trophy. Yet to this point, Mayo has the slightest of edges with me, with an opening trimester in the pros sufficiently special to help Grizz coach Marc Iavaroni keep his job … and scorch another hole in Kevin McHale's draft résumé in Minneapolis.
Sixth Man of the First Trimester
Jason Terry (Dallas)

One of the easiest calls.
That's true even with Ginobili back to work, Nate Robinson and J.R. Smith heating up, and Andrei Kirilenko looking more comfortable coming off the bench than he has in years.
Reason being: Terry has been a sizzling scorer for weeks. He's clicking next to Dirk Nowitzki better than he has since Dallas' ill-fated run to the 2006 NBA Finals. Nowitzki would be the first to say that without Terry, the Mavs would not be 9-4 this season when Josh Howard doesn't play.
Defensive Player of the First Trimester
Kevin Garnett (Boston)

This one?
Turns out this one was the hardest call.
Dwight Howard is threatening to become the first player to swat four shots per game since Dikembe Mutombo did it for Denver in 1995-96.
He also is averaging more than 14 boards per game and could join Kareem Abdul-Jabbar (1975-76), Bill Walton (1976-77), Hakeem Olajuwon (1989-90) and Ben Wallace (2001-02) in the exclusive club of players to lead the league in blocks and rebounds in one season.
Likewise, it's increasingly evident that Howard's positioning and defensive activity have improved to the point that he's affecting lots of his opponents' shots, helping the Magic -- even though they play at a fairly fast pace -- move all the way into the league's top three in team defensive efficiency.
The problem?
Boston's start has been so historic -- and its defense remains so ferocious -- that I can't make this just about numbers. Sorry, Orlando. I simply can't turn in a trimester report with only one Celtics winner. KG's effectiveness and reach as a defensive anchor and chief of the intensity police, in conjunction with Rivers and Pierce, to keep these Celts so hungry has him just above Howard for now.
Most Improved Player of the First Trimester
Devin Harris (New Jersey)

You know what?
Even as Harris and Vince Carter take all the shots in Jersey, and even if, as noted in Box 6, Lawrence Frank rewrote his entire playbook for Harris' benefit coming into this season (a masterstroke that requires us to add him to the coach of the first trimester conversation), those moves wouldn't turn Harris into the league's No. 6 scorer at 23.8 points per game.
Give the Mavericks' castoff copious amounts of credit for improving his outside shooting tremendously, repeatedly forcing his way to the free throw line and generally capitalizing on the total freedom Frank gives him. Harris had many supporters in the Dallas public who lobbied against the trade from the start, but even his most ardent backers never imagined a breakout like this, especially after Harris' numbers over his final 25 games with the Nets last season weren't drastically different from his Mavs numbers.
This season? He's done so well so fast that the Mavs -- still smarting from Nash's free-agent departure in the summer of 2004 and the two MVP trophies he went on to win in Phoenix -- have to be wondering whether they can ever dare to let another lead guard go.
This much we know for sure: Paul Millsap has been amazing as Carlos Boozer's injury stand-in with the Jazz … and he didn't have a shot at this trimester trophy.
Marc Stein is the senior NBA writer for ESPN.com. To e-mail him, click here.
Dimes past: Dec. 1 | 2 | 3 | 4 | 5 | 6-7 | 8 | 9 | 10 | 11 | 12 | 13-14 | 15 | 16 | 17 | 18 | 19

As discussed here last week, it's quite possible the Cavs will elect to hang onto Wally Szczerbiak's $13.8 million expiring salary instead of dealing Szczerbiak -- as many teams expected coming into the season -- before the Feb. 19 trading deadline.
The thinking: Cleveland is rolling too smoothly, with Mo Williams clicking immediately, and with Szczerbiak and Ben Wallace looking far more settled than they did when they arrived in February, to change too much midstream.
The exception? If the Cavs can turn Szczerbiak's contract into something big and bold.
"Like a trade for Vince Carter," one rival executive said. "That's a name on their list."
The Cavs certainly have room for at least one more top contributor in the frontcourt as well as the backcourt, but saving the Szczerbiak chip for an All-Star caliber name such as Carter or Antawn Jamison feeds into the team's primary objective. Which, of course, is sparing no expense to make the roster as enticing as possible to discourage LeBron James from looking anywhere else in the summer of 2010.
At worst, it's Cleveland's 1A mission, right up there with its dreams of dethroning Boston as early as this spring.
---
Juwan Howard unexpectedly made his Charlotte debut as a starter in Tuesday night's 110-101 overtime victory over Chicago, after zero games in Dallas last season.
For you Fab Five fans out there who track this stuff, here's a list of the most recent NBA starts made by your faves:
Michigan's Fab Five: Last Start In NBA Game
Name
Last Start
Team
Juwan Howard
Dec. 16, 2008
Charlotte Bobcats
Chris Webber
March 2, 2008
Golden State Warriors
Jalen Rose
March 31, 2006
New York Knicks
Jimmy King
April 8, 1996
Toronto Raptors
Ray Jackson
Never played in NBA
None
---
Something else we touched on a week ago: Chicago showing a willingness to part with guards Larry Hughes and Thabo Sefolosha as well as forward Tyrus Thomas between now and the trading deadline … and an unwillingness to part with second-year center Joakim Noah.
According to NBA front office sources, after some progress from Thomas in the past week, we need to move Drew Gooden to the front of the list of Chicago's available players and push Thomas' status closer to Noah's status.
Interest in Thomas remains high, though, and Gooden is considered very movable with an expiring salary of $7.2 million.

The Bobcats' ongoing attempts to acquire a true big man to partner with Emeka Okafor have led them to propose the return of Gerald Wallace to the Kings, according to NBA front office sources.
The Bobcats, sources said, want
Brad Miller
in return. But the Kings, I'm told, are highly unlikely to bite. They've had some interest in recent years in reacquiring Wallace -- who has blossomed into a versatile, productive swingman at both ends since he was claimed by Charlotte in the 2004 expansion draft -- but they also have a surplus of wing players at present … too many to take on the four years and nearly $40 million left on Wallace's contract after this season.
---
One of the more interesting sidebars generated by all the activity on the coaching carousel this season involves the cumulative experience of the six replacement coaches.
Or, rather, the lack of experience.
Minnesota's Kevin McHale is the only new guy who previously had done any official head coaching at the NBA level. You'll recall that McHale coached the Wolves' final 31 games of the 2004-05 season after the dismissal of Flip Saunders, posting a 19-12 record.
But that's it. Officially.
Oklahoma City's Scott Brooks coached a combined six games as a fill-in for George Karl and Eric Mussleman during his stints in Denver and Sacramento, respectively, going 0-4 in Karl's place during the 2005-06 season and winning two games in February 2007 while subbing for Musselman. NBA rules, however, dictate that those games go on the head coach's record whether or not he actually coached the games. The league's record books also don't give much space to Toronto's Jay Triano, who coached Steve Nash, former NBA center Todd MacCulloch and the rest of Canada's Olympic team to within one win of the medal round at the 2000 Summer Games in Australia.
Yet you really can't be too surprised that experience has been such a non-factor in filling the season's first six openings. Not with so many firings this early and not in this economy.
Teams clearly are not prepared to consider spending the kind of money it takes to hire one of the established coaches available -- such as Eddie Jordan, Avery Johnson or Saunders -- before the offseason when they still have to pay the guy who just left.
Newcomers Ball
Team
Replacement
NBA HC experience
Prior job
Kings
Kenny Natt
0
Assistant coach
Sixers
Tony DiLeo*
0
Assistant GM
Wolves
Kevin McHale
31 games (19-12)
VP of basketball ops
Raptors
Jay Triano*
0
Assistant coach
Wizards
Ed Tapscott*
0
Director of player development
Thunder
Scott Brooks
0
Assistant coach
*Never played in NBA
---
It should be a nice coup Monday when the Thunder get the signature of restricted free-agent center Nenad Krstic on a three-year offer sheet in the $15 million range.
Nice as long as the Nets -- who retained their rights to Krstic when the Serbian signed to play in Russia this season -- decline to match the offer sheet within the mandatory seven-day window, setting up the Thunder for the sort of free-agent score that rebuilding teams in unglamorous NBA outposts rarely enjoy.
The Thunder, meanwhile, continue to make forwards Chris Wilcox and Joe Smith and guard Earl Watson available on the trade front. It's believed Oklahoma City is simply looking for expiring contracts and/or future first-round picks in exchange; sources say a deal sending Watson to Toronto for Anthony Parker and Joey Graham is a possibility.
If it's not too soon to start talking about the free-agent bonanza of 2010 -- and obviously it isn't, given how much 2010 chatter we've already heard this season -- it can't be too soon to start thinking about the Christmas Day showdown in Los Angeles, which pits the Celtics against the Lakers in an NBA Finals rematch. In this spin around the league with Marc Stein, NBA Today podcast host Joe Mead hears why the Celts are the only team in the league that should be discussed as a candidate to win 70 games.
• Listen to the podcast


Five questions with Knicks forward Al Harrington:
Q: You know people say you haven't stopped smiling since you got to this team?
A: Love my team, man. Love my teammates. Love my coach. It's a perfect situation for me. A lot of times in this league, when teams know and when it gets out in the public where you want to go, it never happens. So I feel blessed, because the Warriors knew this is the first place I wanted to go.
Q: Why has this trade clicked for you so quickly?
A: This offense is perfect for a guy that's very versatile. I can just focus on everything I'm good at. I may not be great at everything, but I'm good at a lot of things. It just works for me.
Q: So I guess what you're saying is that playing for Mike D'Antoni is even better than you expected?
A: He's the most positive dude I've ever been around as far as a coach. He knows how to keep you up, keep you confident. He doesn't beat you down. That freedom can do a lot for you.
Q: You've been averaging about 25 points and eight rebounds as a Knick. Can you really keep that up?
A: I don't think it'll be hard at all. I feel like the things I do, this team will keep asking me to do. … I didn't know it was going to be this good, but I know I prepared for this. I came up under Reggie Miller in Indiana. He's one of them guys who made sure I'm one of the last guys to leave the gym. And I still am.
Q: How hard is it to block out all the talk about LeBron James and the summer of 2010, because I'm sure you want to stay with this team? Are you worried that they're just going to clean house after next season?
A: I'm gonna stay. I ain't worried about it. I'm going to do what I have to do [to stay with the Knicks]. Like I keep saying, you can't play two versus five. You need a team, and you can't bring three players off the street and expect to win. It's not going to happen.
This year, it's not even a thought. Maybe it'll come up next year, because that's when everybody's in their contract year. That's when you might run into it, when you've got 10 guys playing for their next contract, so everybody's going to want to play well. But that's so far away.

"I still love playing with Jason. He's done everything we've asked him to do. I just think he fits in better with what we're trying to do.
"We all knew Devin would be a great point guard someday, but I think it's good for him that he went somewhere new. He plays more free now. His shot looks better, and he's not looking over his shoulder at Avery every time for the play call. He's having a great season.
"I'm happy for Devin, but I don't really look back. We made a decision, and I think it was the right one."
Mavericks forward Dirk Nowitzki, revisiting the controversial February trade that sent Devin Harris and two first-round picks to the Nets for Jason Kidd.
Nowitzki was speaking before Kidd, who will turn 36 in March, went back to New Jersey on Friday night for the first time since the deal and wound up on the painful end of a vengeful drubbing, with Harris erupting for 41 points and 13 assists in a 121-97 Nets rout to reinforce the growing notion that New Jersey won this trade handily. It was Harris' second 40-point game in three weeks, and he is the league's No. 6 scorer at 23.8 points per game , underlining his status as a leading contender not only for the NBA's most improved award but also a spot on the Eastern Conference All-Star team.
Yet Harris is the first to acknowledge something important that second-guessers of the Dallas side tend to overlook: Nets coach Lawrence Frank changed his whole playbook for Harris and has established the 25-year-old as his No. 1 option -- ahead of even Vince Carter -- with a "dribble-drive" system that, in Harris' words, is "not your typical NBA offense."
Amassing such gaudy numbers in Dallas, in other words, almost certainly wouldn't have been possible.
The Nets spread the floor and invite Harris to attack the rim possession after possession, pinning much of their offensive success on Harris' penetration. The Mavericks will never know how much the move from Avery Johnson to Rick Carlisle might have liberated Harris, but it seems safe to suggest that staying in Dallas couldn't have been as liberating as the move to rebuilding Jersey.
"A new coach would have helped Devin, too," Nowitzki said. "He could have done a little more [under Carlisle]. But he and Vince take every shot [for the Nets], and it's not like that would have happened here."
The Mavericks, though, will continue to absorb heavy criticism for the trade -- given how nicely Harris is blossoming -- unless they can put more pieces around Nowitzki and Kidd to move back into the West's elite or reconfigure the roster in a meaningful way in coming months with the help of Kidd's monstrous expiring contract.
It's a misnomer to say the Mavs made the Harris-Kidd trade because they felt they were one piece away, even though they're being second-guessed on that basis. They saw Kidd as an answer to their leadership void at perhaps the most important position on the floor, as a locker-room energizer who could lift the growing gloom in what turned out to be Johnson's last days as Mavs coach after some painful playoff failures and as a guy who could rejuvenate a weary Nowitzki after his three-plus years of heavy lifting without complaint following the equally controversial departure of Steve Nash.
Mavs owner Mark Cuban was likewise hoping that reacquiring Kidd would bring some local buzz back to a team that had gone stale, as big deals in Detroit (Allen Iverson) and Phoenix (Jason Richardson) recently have done.
So Kidd deserves a full season back in Dallas before the full autopsy about what he did and didn't do.
"Jason has been great for us, on and off the floor," Nowitzki said. "One thing … I think he's even a better shooter than you [media] guys give him credit for."
The Mavs' miscalculations? Cuban certainly will have the opportunity in June (and subsequent Junes) to buy back first-round picks to replace the two he surrendered to the Nets, but dealing Harris for Kidd didn't change enough to prevent him from firing Johnson less than three months later. Mavs management, furthermore, sees quite clearly now that a group it felt needed a significant shakeup 10 months ago still needs at least one more quality newcomer via trade -- preferably a scoring threat at either shooting guard or center -- to nudge Dallas back into the West's elite.
That's the move, according to NBA front office sources, that Dallas is chasing hard now. Cuban, meanwhile, apparently is still determined to resist trade interest in Kidd and retain his expiring contract (worth $21.4 million this season) through the Feb. 19 trading deadline and into July 1, setting the Mavs up to pursue drastic changes as early as this summer or wait until the summer of 2010, when Nowitzki has the right to become a free agent as well.

Do the Spurs and the Magic belong in the same conversation with the Celtics and the Cavaliers? Marc Stein says yes to San Antonio and makes it a conditional yes on Orlando -- depending on how you define the word "elite" -- in a chat with NBA on ESPN Radio studio host Marc Kestecher.
NBA on ESPN Radio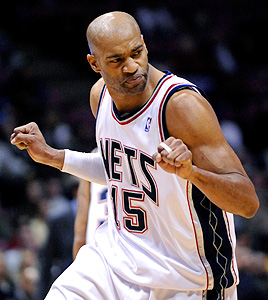 Bill Kostroun/AP
It's believed the Cavaliers would be willing to part with Wally Szczerbiak's lucrative expiring contract before the February trading deadline if they could convince the Nets to let Vince Carter take a ride the other way to Cleveland. (See Box 2.)
Hopefully we don't have to make this a weekly feature, but an update to last week's information in this cyberspace was necessary after Philadelphia's Maurice Cheeks and Sacramento's Reggie Theus (right) became the fifth and sixth coaches to be fired before Christmas this season.
The NBA's previous record for firings before Christmas?
Three.
The rash of dismissals undoubtedly seems so cold because we witnessed only one in-season coaching change last season -- Chicago ousted Scott Skiles on Christmas Eve. The firing spree we get every year didn't commence until after the 2007-08 regular season, when eight teams -- Charlotte, Chicago, Dallas, Detroit, Miami, Milwaukee, New York and Phoenix -- made changes.
Some more tidbits from the coaching carousel:
• Not sure how well I explained this point on Tuesday's "NBA Coast to Coast" on ESPN2, but the depressed economy has most certainly been a factor in this season's firing spree. With just about every team in the league as concerned as they've ever been about filling seats -- and with teams knowing that change often gives a fan base fresh hope or at least fresh curiosity -- early firings probably were inevitable because hiring a new coach is so much easier than making a trade.
• Coaching changes don't guarantee a team will start winning, but you generally can bank on a team -- even a bad team -- to play with more focus and energy once the ax falls. Which can also help at the gate. As Philadelphia's Andre Iguodala explained after Cheeks was fired Dec. 13, "When a change like this happens, it sends a message of uncertainty that you don't know what might happen next."
• Another factor, as correctly predicted by one of our favorite scouts two Weekend Dimes ago: "The number of people who've been fired already means that the next few guys that are teetering -- [Reggie] Theus, [Marc] Iavaroni, [Randy] Wittman -- will probably get axed soon, too. The earliness of the firings makes it easier for teams [to follow] because there's no surprise factor. It won't look like you're jumping off a cliff."
• In only five other seasons, according to the Elias Sports Bureau, have there been at least six teams that changed coaches during the season. The most recent instance was the 2004-05 season, when a league-record nine teams employed more than one coach.
• The dismissals of Cheeks and Theus naturally make you wonder: Who's next? But the carousel might finally be slowing down, with eight teams employing first-year coaches and a few more coaches who appear capable of withstanding growing external pessimism about their job security.
Grizzlies owner Michael Heisley recently dismissed the ongoing speculation about Iavaroni's status with a public statement of support for his coach that sounded stronger (at least to me) than what those of us in the media are contractually obligated to refer to as "the dreaded vote of confidence."
More than one of my fellow pundits has suggested Don Nelson might be trying to get himself fired in Golden State, given the stunning lack of defense the banged-up Warriors have been playing. The Dubs, though, contend that such theories and reports of in-fighting in the front office have been exaggerated by media folks, insisting that the 68-year-old -- who in October received a two-year contract extension worth an estimated $12 million, which kicks in next season -- is going nowhere.
The Clippers' Mike Dunleavy, meanwhile, is facing mounting pressure in the wake of a 4-17 start. My ESPN The Magazine colleague Chris Broussard reported on Tuesday's "Coast to Coast" that, according to sources close to the situation, Dunleavy believes he'd have been fired already if not for his lucrative contract (he has two years worth more than $10 million left after this season). But that's just it. Does anyone really think Clippers owner Donald Sterling, after ousting longtime general manager Elgin Baylor, is going to pay Dunleavy millions to leave?
Don't forget that Sterling likely would have to hire two replacements, with Dunleavy now in charge of personnel as well. It has been suggested that Dunleavy could leave the bench to focus on his front office job and put assistant coach Kim Hughes in charge of a team still trying to find itself with Baron Davis and 10 other new players, but I just have a feeling it'll take a lot more losing in Clipperland before than happens.
Most in-season coaching changes before Christmas -- NBA and NHL combined
2008-09
9 (6 NBA, 3 NHL)
1980-81
7 (2 NBA, 5 NHL)
2003-04
6 (3 NBA, 3 NHL)
1981-82
6 (3 NBA, 3 NHL)
1971-72
6 (2 NBA, 4 NHL)
Reggie Theus lasted only 106 games as the coach in Sacramento. Marc Stein joins host Matt Winer on ESPN2's "NBA Coast to Coast" to examine why Theus' reign with the Kings was so short.