Brian Babineau/Getty Images
Rajon Rondo has scored in double digits 17 times. The Celtics are unbeaten in those games.

Ned Dishman/Getty Images
The Mavericks' Jason Terry came off the bench to lead all scorers with 25 points, including four triples.
Rondo, Quirks And All, Leads C's To 18th Straight Win

BOSTON -- Everyone around the country will have a chance to get a closer look at Rajon Rondo on Christmas afternoon in Boston's NBA Finals rematch with the Los Angeles Lakers.
And if his current form holds, all will respect, admire and appreciate his game even more than they did in May and June. As for the annual challenge folks face to come up with some Christmas night small talk while sitting in front of the tube? That may be fulfilled, too, for those who will learn from this column that Rondo has lip balm and headband quirks, too.
Just how much there is to admire was on full display Sunday evening as Rondo went 9-for-9 from the field in the third quarter -- with eight of the buckets coming on layups -- and finished 12-for-14 from the field as the Celtics won their 18th consecutive game, defeating New York 124-105.
Those who haven't been keeping a close watch on Rondo might be wondering this: Just who exactly is the crafty right-handed point guard with the knack for getting into the paint to score or rebound, knocking down open midrange jumpers and breaking down opposing defenses that 99 percent of the time are directing the bulk of their attention toward his Big Three teammates?
For starters, Rondo began the night ranked 19th in the league in field goal percentage (.519), the only nonforward or noncenter among the NBA's top 20. He is second in the NBA in steals and eighth in assists, and he posted his first career triple-double earlier this month. At that point, Boston was in the early stages of what has become the longest winning streak in franchise history, tying the mark set by the '81-82 team.
"He's like a combo of J-Will [Jason Williams], the way he goes behind his back, Tony Parker, the way he hits his floater and Gary Payton, with the way he plays defense," Celtics forward Paul Pierce said. "He's a rare combo of speed, long arms, toughness, and he rebounds like Jason Kidd at that position."
Teammate Sam Cassell, showing his age, said the player Rondo reminds him most of is Robert Pack, a player whom few people younger than 30 have heard of.
"Pack attacked the basket, and when Rondo attacks the basket like that, for layups, we're an unstoppable team," Cassell said.
Rondo is quirky, too, and we're not just talking about that, ahem, form he shows at the free-throw line (64 percent) and the 3-point line (4-for-14 for the season).
For one thing, he wears his headband upside down.
"The first year I was in the league, I wore it upside down and had a pretty good game, and I didn't know it was upside down until I looked in the mirror after the game," he said.
For another, he keeps a tube of Carmex lip balm tucked into his sock every time he plays.
"You know, my lips get dried during the game," he said.
You serious?
"Yeah, serious," Rondo said. "Ever since I started doing that, I've been playing well. A few guys know it. A few opponents will joke about it, say, 'Lemme get some Carmex.' So, a few people know. I guess everybody is going to know now."
This game looked as if it would be a laugher for the entire 48 minutes, especially after Boston shot 78 percent in the first quarter and opened a 40-21 lead that eventually ballooned to 23. But Celtics coach Doc Rivers went a little too deep into his bench and perhaps gave his starters a little too much rest, allowing New York to pull within six early in the third quarter before Rondo took over.
Making the most of New York's inability to defend him off the high pick-and-roll, Rondo repeatedly used his quick first step to get a head start toward the rim for a series of running lay-ins.
The first layup made the score 71-63 and began a 14-4 run over a span of 4:20 that put the Celtics ahead by 16. The last layup came with four minutes left in the period before the Knicks made one last run, only to have it snuffed out when Rondo hit an 11-footer to close the quarter with the Celtics ahead by 11.
The lead never dropped back into single digits at any time in the fourth quarter, allowing Boston to breathe easy down the stretch and look ahead to Tuesday night's game against Philadelphia, when it'll try to improve its record to 27-2 and surpass the '66-67 76ers and '69-70 Knicks for the best start in NBA history for a team with only two losses.
Like Pierce, Rondo has been through two of the biggest highs and lows in NBA history. The Celtics lost 18 straight games his rookie season (2005-06).
Rondo is being mentioned as a serious All-Star contender, and it's tough to imagine the coaches would leave him off the roster when they vote for the reserves. (Dwyane Wade and Allen Iverson have commanding leads in fan balloting.) Aside from Joe Johnson and Devin Harris (and perhaps Ray Allen), is any Eastern Conference guard more deserving?
"I try not to think much about it," Rondo said. "There's a lot of talk about it, but the more we get wins, then the more I probably push myself to become an All-Star."
He sure looked like one Sunday night.
Chris Sheridan covers the NBA for ESPN Insider. To e-mail Chris, click here.
Dimes past: Dec. 4 | 5 | 6-7 | 8 | 9 | 10 | 11 | 12 | 13-14 | 15 | 16 | 17 | 18 | 19 | 20-21

David (Springville, Utah):
John - the big debate in UT is between Carlos Boozer and Paul Millsap. If you were [Jazz GM Kevin] O'Connor, what do you do (barring an [Andrei] Kirilenko trade)? Go with the more economical, sturdier, and less-flashy Millsap or the proven scorer, injury-prone Boozer?
John Hollinger: Depends on the price. If you can get Millsap for midlevel money you're probably better off with that, and then maybe you can S&T with Boozer to get more help on the wings. But if Millsap is going to cost almost as much as Booz, I think you take Booz.
Anonymous (Tacoma, Wash.): Do you really think that the Cavs are a better team than the Celtics?
John Hollinger: I think the Cavs have played better than the Celtics. Whether they're a better team or just had a really hot 25 games is still to be determined. However, if I'm in Boston, they're the one team that I'm deathly afraid of -- if they're this good with LBJ playing 35 minutes, what will they be like when he plays 48?
• To read the entire Hollinger chat, click here.
Brand's Injury Not All Bad News For Sixers
By John Hollinger | ESPN.com

Losing Elton Brand for a month is a bummer for the Sixers, but it might present an opportunity. We've been hearing all season about how they haven't been running since the addition of Brand. Well, now they have no excuse. Plugging in either Reggie Evans or Thaddeus Young at the 4 gives the Sixers the same rotation they used in 2007-08, so it's on these guys (especially Andre Iguodala) to prove they still can perform at the level they did last season.
If so, Brand will have to be the one who adjusts once he returns to the lineup -- something the Sixers could facilitate by using him more as a center. If not? Then we can take the bull's-eye off Brand's back, because it will be clear the Sixers require much stronger medicine.
• Read all five Hollinger Insider Gems
By Maurice Brooks
ESPN.com

SUNDAY'S BEST
Rajon Rondo, Celtics
: Rondo played with three All-Stars, but he took over the third quarter for Boston, scoring 18 of his career-best 26 points (on 12-for-14 shooting) in the period. He also found time to grab six rebounds and hand out five assists.
---

SUNDAY'S WORST
Al Harrington, Knicks
: He has played great since arriving in New York but couldn't find the range against the Celtics, missing 13 of 15 shots, including 8 of 10 from distance.
---
QUOTE OF THE NIGHT
"The only thing we didn't do well is, we didn't defend Mike Bibby. It was just mental lapses. You can't ball-watch, and Allen [Iverson] struggles ball-watching sometimes. Bibby made him pay."
-- Pistons coach Michael Curry after Iverson lost Bibby on four 3-pointers.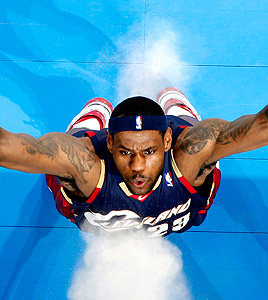 Layne Murdoch/Getty Images
LeBron James scored 31 points and gave out seven assists for the Cavaliers, who improved to 17-0 against teams with losing records by turning away the host Thunder 102-91.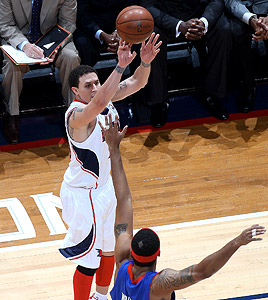 Scott Cunningham/Getty Images
Mike Bibby had the hot hand, making all six of his 3-point attempts, including five in the second quarter, on his way to 27 points in the Hawks' seven-point victory over the Pistons.
Elias Sports Bureau

• Jason Kidd assisted on 11 field goals with no turnovers in the Mavericks' 97-86 win over the Wizards. It was the 23rd game in which Kidd recorded at least 10 assists without a turnover, breaking a tie with Maurice Cheeks for the fourth-highest total since the NBA started tracking individual turnovers in 1977.
• The Celtics/Bruins juggernaut continued Sunday night, as both teams got off to quick starts in their victories. The Celtics led 40-21 after the first quarter of their 124-105 win over the Knicks; the Bruins led 3-2 at St. Louis en route to a 6-3 victory. It was the first time since Jan. 31, 1960, the C's scored at least 40 points and the B's scored at least three goals in the first period on the same day.