Andrew D. Bernstein/Getty Images
Toronto's Chris Bosh was back to soaring, scoring 31 points in a 97-75 win over the Clippers.

Bill Kostroun/AP Photo
Yao Ming seems pleased to meet Yi Jianlian again when their teams squared off in New Jersey.

Joe Murphy/Getty Images
When the Gasol brothers collided, Marc's Grizzlies were out front early, but Pau won with the Lakers.

Garrett W. Ellwood/Getty Images
Chauncey Billups had 10 assists and zero turnovers as Denver snapped a three-game losing streak.
What's Bosh Doing Now? Keeping It Light In Heavy Times

LOS ANGELES -- If, as Chris Bosh says, his free-agent decision in 2010 will be based on how he feels then, maybe he can just do us all a favor and keep an updated MySpace page. At 6:15 p.m. Monday evening the "current mood" would have read "cautiously optimistic."
"It's been tough," Bosh said of a team that is the league's biggest disappointment, with an 11-17 record even after beating the Clippers Monday night. "I'm not even going to lie to you. It's been tough. Keep in mind, there's a lot of basketball to play. You know how it is. You have one good run, everybody forgets about all the bad times and everything. I've just got to keep that in mind. I know that we're going to be successful later on."
It's a leap of faith on Bosh's part, given the first third of the season has been about losing, the firing of Sam Mitchell, then more losing as the team adjusts to new coach Jay Triano's faster-paced system. Maybe Bosh is optimistic because of the results he finds when he checks his own stat line and sees 23 points and 10 rebounds on the regular, the by-products of another stellar season.
Monday night, Bosh at his best was enough to end the Raptors' five-game losing streak, as he dropped 31 points on the undermanned Clippers. Bosh scored 16 points in the first six minutes of the fourth quarter, blowing by a defender for a dunk, spinning and using an up-and-under to draw an and-one, and popping out to hit a 3-pointer among other highlights as Toronto turned a nine-point lead into a 97-75 victory.
Against a Clippers lineup that was missing big men Marcus Camby (death in the family) and Chris Kaman (strained left arch), Triano sent Bosh out with Jake Voskuhl, Anthony Parker, Joey Graham and Will Solomon to start the fourth.
"We didn't have a lot of points on the floor," Triano said. "But I said, 'It doesn't matter -- we're giving the ball to Chris and they can't stop him.'"
It started with a driving layup, and from there, Bosh said, "Anytime you get confidence, you just want to keep going."
And those could be the words that determine if Bosh will have a long-term future in Toronto. He likes it there, the "or-gone-eye-zation" (as the Canadian-born Triano pronounces it) does its best to accommodate him, and the Raptors can clear cap space to bring in a sidekick from the talent-rich free-agent class of 2010 if Bosh decides to stay. The Raptors will have the home-court advantage to guarantee him more money than any other team, but Bosh said feelings will outweigh finances.
"I think happiness is key," Bosh said. "Being comfortable. That has a lot to do with happiness."
In the meantime, I would suggest that Raptors fans just chill. Don't freak out about the slow start to the season and its potential impact on Bosh's decision down the road. Don't press Bosh to do something, anything to make it. He gets it.
"As much as the media or fans think it affects them, we're the ones trying," Bosh said. "They have to keep that in mind. It hurts to try your hardest and still come up short sometimes. People have to keep that in mind. Some people ask me, 'Does it hurt you as much as it hurts me to lose?' It's like, 'Yeah, I'm out there playing. What do you think?' I give my effort. I give 100 percent."
He's also doing his best to give this personality-driven league a star in Toronto. It started with his car-dealer pitch for an All-Star spot last season and now includes his karate-style challenge to Baron Davis on Davis' Ibeatyou.com.
"That was kind of my chance to just put something out there that people wouldn't expect," Bosh said. "It's worked out pretty well. I think people still don't really get the whole feeling of who I am. That's cool. I just wanted to show that I can have fun."
So maybe that's the key: whether or not he has fun. Bosh isn't your conventional big man, nor is he your typical NBA player. As the Raptors prepared for a brief Christmas break before reconvening in Sacramento at the end of the week, Bosh walked down a Staples Center hallway, his brother by his side. Current mood: playful.
J.A. Adande joined ESPN.com as an NBA columnist in August 2007 after 10 years with the Los Angeles Times. Click here to e-mail J.A.
Dimes past: December 8 | 9 | 10 | 11 | 12 | 13-14 | 15 | 16 | 17 | 18 | 19 | 20-21 | 22
Yi vs. Yao Overshadowed By Brooks Schooling Harris
Chris Sheridan | ESPN.com

EAST RUTHERFORD, N.J. -- An estimated 200 million people in China were said to have watched Monday night's Rockets-Nets game, meaning the ratio of Chinese fans watching on TV to actual people attending the game at the Meadowlands was something like 12,000-1.
What'll those folks over in China be discussing at the watercooler after this one?
Well, there was Yao Ming, who decisively won the matchup with countryman Yi Jianlian, putting up a line of 24 points, 16 rebounds and four blocks to Yi's 10 points, seven rebounds and zero turnovers -- only the fifth time all season Yi has had a turnover-free game.
There also was the one and only Yi highlight of the evening, a block of Joey Dorsey's first official NBA field goal attempt late in the fourth quarter -- a distinction that we fear, for Dorsey's sake, will stick with him and haunt the rookie from Memphis through the rest of his pro career.
"I wanted someone to try and come block my second one," said Dorsey, who rattled the basket stanchion with a two-handed slam on career field goal attempt No. 2.
But there was more to this one than the Yao-Yi sideshow, and those folks over in China who have been paying close attention to both the Rockets and Nets also had to notice the single biggest surprise of the evening -- tiny Aaron Brooks thoroughly outplayed opposing point guard Devin Harris, tying a career-high with 22 points and single-handedly outscoring the Nets 11-9 as the Rockets were opening an early 25-9 lead to establish a comfortable cushion that held up all night.
Houston went 4-0 with Brooks filling in for the injured Rafer Alston (hamstring), who will return to the starting lineup Tuesday night when the Rockets travel to Cleveland.
"The important thing is, if Rafer starts, we know they can play together, and we've got to continue to get Aaron on the floor," Houston coach Rick Adelman said. "We always felt he was going to do a good job, but the most important thing maybe he learned [over the past four games] was he got some confidence in what he could do. He got more aggressive and was not afraid to take shots, whereas in the past he's just kind of hid when he went out on the court [with the starters]. That's going to bode well for us in the future."
Brooks, a second-year guard from Oregon, reached double figures for the 17th time this season after doing so only nine times all last season. He knew it was his night when he banked in his first shot attempt of the night -- a nearly straightaway 3-pointer.
Houston improved to 4-1 with Brooks as a starter, winning its fourth straight game and eighth in the past 10. (The Rockets are 14-8 with Alston in the starting five.)
"I knew it was going to only be a couple games while Rafer was down, and I wanted to make sure we didn't have any letdowns," Brooks said. "I did my job. I'm a backup point guard. You want to come in when the starting guard is down and make sure the offense doesn't miss a beat.
"I'm happy with my performance, and I showed that if something happens I'm able to step into that position. I'm not bittersweet or anything, I just did my job."
Chris Sheridan covers the NBA for ESPN Insider. To e-mail Chris, click here.
How Three Showdowns Went Down
ESPN.com


In three key matchups Monday, the player with more NBA tenure generally got the better of things. The battle of the brothers was held in Memphis. Rookie Marc Gasol's Grizzlies fell to big brother Pau (right) and the Lakers 105-96. In the same game, Kobe Bryant had the edge on impressive rookie O.J. Mayo. The Yao Ming-Yi Jianlian drew a Super Bowl-level TV audience in China in the matchup of two top exports.
Head-To-Head: How Key Matchups Played Out Monday
Matchup
Player 1
Min
Pts
Reb
Asst
Player 2
Min
Pts
Reb
Asst
Pau Gasol vs. Marc Gasol
Pau
33
15
7
6
Marc
32
8
7
2
Yao Ming vs. Yi Jianlian
Yao
35
24
16
2
Yi
26
10
7
0
Kobe Bryant vs. O.J. Mayo
Kobe
38
36
4
3
Mayo
37
22
3
6
By Andrew Ayres
ESPN.com

MONDAY'S BEST
Jameer Nelson, Magic
: He couldn't miss, kid. Made all nine of his shots (including four 3-pointers) in the 113-81 win over the Warriors. Is now averaging 24.4 ppg over his past five games.
---

MONDAY'S WORST
Keith Bogans, Magic
: The yang to Nelson's yin, he missed all seven shots, including five from 3-point range. The Magic (22-6) still won their fifth straight handily.
---
QUOTE OF THE NIGHT
"I did nothing to earn my money. [The players] coached. They communicated. They changed defenses, called plays. I just substituted players."
-- Spurs coach Gregg Popovich after his team's 101-85 win over the Kings.
By John Hollinger | ESPN.com

Those who follow the Playoff Odds and Power Rankings will notice one surprising team that refuses to go away -- Milwaukee. The Bucks are just 13-16 on the season but have played a relatively tough schedule, much of it without star guard Michael Redd. In the wake of Saturday's 119-85 desecration of the Clippers, they've moved up to 12th in the Power Rankings. Meanwhile, the Playoff Odds project them to win 44 games and grab the No. 5 playoff seed in the Eastern Conference.
If that scenario comes to fruition, Scott Skiles will be a serious coach of the year candidate, most notably for the way he has improved the defense. The Bucks rank 10th in the NBA in defensive efficiency after being near the bottom of the league for the past half-decade; shockingly, they're the league's second-best team on defensive rebounding, grabbing 76.1 percent of opponents' missed shots, even though the frontcourt personnel hasn't changed much from last season's crew.
•
Read all five of Hollinger's Insider Gems.
Elias Sports Bureau

Brandon Roy, who scored 52 points Thursday against Phoenix, was held to eight points in Portland's loss at Denver on Monday night.
Only two other players in NBA history scored fewer than 10 points in the game after they scored at least 50: Vernon Maxwell in January 1991 (51 and 4) and Tony Parker last month (55 and 4). One additional player did it spanning an offseason. Larry Kenon scored 51 points in his final game of the 1979-80 season and then six points in his first game the next season.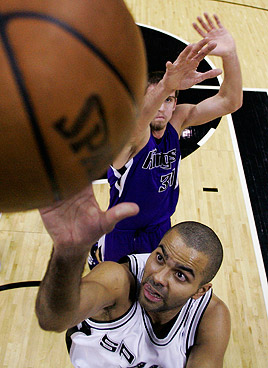 AP Photo/Eric Gay
Tony Parker settled down after committing five turnovers in the first 10 minutes. Parker finished with 18 points in a 101-85 win over Sacramento.