Melissa Majchrzak/NBAE/Getty Images
Chris Paul (26 points and 7 assists) won the statistical battle against Deron Williams (8 and 8).

Garrett W. Ellwood/NBAE/Getty Images
ESPN college basketball analyst Dick Vitale called the Nuggets' 11-point victory against the Heat.
Playoffs The Only Payoff For D-Will

SALT LAKE CITY -- It was their first face-to-face hookup since Beijing, with nearly half the regular season already gone, but Wednesday night was less than momentous if you try to reduce this to Chris Paul versus Deron Williams.
You really can't play the Paul-or-Williams game when neither is on the floor.
There simply was no comparison in the fourth quarter because, well, there was no Paul and no Williams. These "great friends" who communicate "every day," as Paul informed us, both were granted total rest when we wanted to see them most. There was little point in either of them playing after the third quarter with the Utah Jazz already up 20 on the second night of a back-to-back for the visitors.
Yet we suspect you won't be terribly surprised to hear the Jazz didn't mind one bit that the 11th regular-season installment of this rivalry -- now 9-2 in D-Will's favor -- failed to deliver anything close to a classic. Coach Jerry Sloan's teams, for starters,have never worried about feeding the media on their story lines. Then there's this: The Jazz are too busy to think about much else these days beyond trying to make sure they make it to the playoffs.
"There's no way you can't be worried in the West," Williams said, "because of how tough it is."
How tough?
The banged-up Jazz, who began the season with championship aspirations, awake Thursday as the West's No. 9 team, percentage points behind Phoenix. That's after playing through the ongoing absence of Carlos Boozer and Williams' head cold Wednesday to pull away for a 116-90 rout of Paul's New Orleans Hornets, who, not surprisingly, appeared to leave their best game somewhere in Los Angeles after Tuesday night's breakthrough victory over the Lakers.
How worried?
Williams volunteered the concern even though the Jazz are only two games back of the No. 4 Hornets, concern that stems largely from the fact that he and Boozer have played only two games together. Missing the playoffs is a fear shared by several perennial contenders, Phoenix and Dallas among them, but the standout moment for the Jazz in the latest installment of Williams' lifetime of unavoidable comparisons to his Olympic teammate was probably the sight of C.J. Miles twisting an ankle after stepping on the foot of New Orleans' James Posey in the third quarter. Such is the constant focus on Utah's team health, which essentially started with the ankle sprain Williams suffered in the preseason.
"It's been a recurring theme for us," Williams said of Utah's Houston-like succession of injury problems this season. "I don't know what's going on, if it's bad karma or if you put the hex on us."
Not sure whether Williams was referring to ESPN.com specifically ... but we can confirm he did his postgame interviews clutching throat spray in his right hand and lozenges in his left. He sounded sincerely grateful to have made it through 28 minutes with a quiet eight points and eight assists after arriving for work with "no energy" and having trouble breathing.
"I was [getting] dizzy," Williams said, "trying to chase the blur around."
D-Will was obviously referring to Paul there and, obviously again, never seriously considered staying home in bed as he jokingly claimed was his preference. Part of that certainly was Paul's presence at EnergySolutions Arena -- in what turned out to be a steady fade from the Hornets that virtually reduced Paul (26 points) to a one-man team by the end -- but also the reality that Williams can't sit now unless he's truly a mess.
Boozer will undergo a knee operation Friday in Los Angeles that he estimated -- after missing the past 24 games -- will keep him out until Utah's final "20 or 30 games." The Jazz (21-15) already have lost 97 man-games to injury this season and, although just 3½ games behind first-place Denver in the Northwest Division, find themselves fighting daily urges to give into the inevitable questions: What next? Why us? The "hex," as Williams called it, even extended to one of their athletic trainers, Brian Zettler, who has continued to work despite recently suffering a torn biceps tendon while working out with a few players in Chicago.
"I've never been on a team that's been hit [by injuries] like we have," Jazz sharpshooter Kyle Korver said.
The stern and famously consistent Sloan, though, will just keep telling his guys that no one outside of snowy Utah cares, which just might work with what could be the deepest team he's ever had. Paul Millsap posted another stat line Boozer would have happily claimed with 27 points and 14 boards. Utah's active zone defense in the second quarter completely befuddled the Hornets, and the home team wound up pounding New Orleans in a ridiculous way on the boards (55-26) to record its third successive victory by at least 22 points over the Hornets in this building.
"I tell the players, 'I'm sorry that you got hurt, but there's not a thing I can do about it,'" Sloan said. "You've got to go forward. That's the only thing I know. That's what I've tried to convey to our players.
"We've been fortunate here. Our organization for 18 years had very few injuries when John [Stockton] and Karl [Malone] were here ... I understood all along we were fortunate our guys stayed healthy. That's life in the NBA. If you don't like it, there's other jobs."
Few of the Jazz's final 46 games are bound to unfold as comfortably as this one did, with the Hornets predictably fading after four tough road stops in six days, but it's difficult to imagine the team with perhaps the most intimidating home-court atmosphere in the league missing out on the postseason entirely. The Rockets are actually in even worse shape physically than the Jazz. Western Conference visitors, furthermore, are now 0-11 here this season in spite of Utah's health woes.
It becomes even more difficult to imagine if Millsap continues to be a double-double machine in Boozer's absence (19 in a row) ... and if Boozer makes good on his insistence that he'll be back in the season's second half to "help lead my team to the playoffs."
While conceding that he won't have a firmer idea of his recovery timetable until after Friday's procedure, Boozer looked and sounded rather upbeat for a guy who's been absorbing criticism lately like he did in his first season in town.
"I had to go through the same thing three years ago with my hamstring," Boozer said, scoffing at suggestions that he has drawn out his recovery to protect himself for free agency in July.
The suggestions would certainly appear to be misplaced now that the 27-year-old needs surgery, but Boozer always seems to arouse suspicions around here.
"I mean, c'mon," Boozer continued. "If I could play, I would play all day long. People thought I was doggin' it or whatever, but I'm not that kind of dude. If I can play, I'll play through anything. And I've already played through a bunch of stuff that people don't know about.
"I know I'll be back before [the end of the season]. We've been able to stay above water without me, so when I get back for those 20 or 30 games, hopefully we'll be able to take off."
Marc Stein is the senior NBA writer for ESPN.com. To e-mail him, click here.
Dimes past: Dec. 20-21 | 22 | 23 | 24 | 27-28 | 29 | 30 | 31 | Jan. 1 | 3-4 | 5 | 6 | 7
Hawks Come Up Short In Showdown With Magic
By John Hollinger | ESPN.com

ATLANTA -- Use the backboard.
It's a simple mantra preached by coaches from grade school on up. It's much easier to make a layup by banking it in off the board than by trying to loft it over the front of the rim, especially when racing in at high speed.
NBA players are good enough to get away with ignoring that rule the vast majority of the time. But not all the time ... as Atlanta's Mike Bibby learned Wednesday.
Cruising in for a layup that would cut a four-point Orlando lead to just two with 55 seconds left in the game -- after the Hawks had trailed by 21 late in the third quarter -- Bibby eschewed the board and blew the chippy. To their credit, Jameer Nelson and Hedo Turkoglu chased the play to regain possession for Orlando, and the Magic were able to hang on for a 106-102 win.
That wasn't the game, of course. Atlanta fell way behind because "in the first three quarters we were nonexistent," in the words of Josh Smith.
But Bibby's miss was the perfect metaphor for an ugly night for the Hawks. They shot 14-of-25 from the line, ceded a 60-point first half, and oddly sat Al Horford for a nine-minute stretch of the second half even though he had only one foul and Zaza Pachulia was out with the flu.
"I missed an easy layup, but it happens," said Bibby. "We need to start from the first quarter and play the whole game."
"If Bibby makes that layup, it's another possession for us and possibly another defensive stop," said Hawks coach Mike Woodson. "[But ] you can't wait three quarters and decide you want to play."
For Orlando, the win, combined with Boston's loss to Houston, pulled the Magic even with the Celtics in the loss column in second place in the East -- as well as giving them a league-high 13 road wins.
And since the Celtics play at Cleveland on Friday, and the Cavs are 17-0 at home, there's a good chance Orlando will wake up in second place in the East on Saturday morning ... just as long as it can conjure up a repeat effort against these Hawks on Friday night.
It should be a much easier fight for Orlando, who came into this one on a back-to-back against a team with four days of rest -- a fact that had Magic coach Stan Van Gundy kicking himself for riding his starters too hard and, perhaps, contributing to Atlanta's comeback.
"But I'm not going to quibble," said Van Gundy. "This is a very good win against a very good team, where they have been dominant."
And if they can pull off an encore performance, they'll get a chance to prove their newfound standing in the league's elite to a still mostly skeptical public a week from Thursday -- when the Celtics pay their first visit to the Magic Kingdom on national TV.
John Hollinger writes for ESPN Insider. To e-mail him, click here .
Celtics Heading In the Wrong Direction
ESPN Research

Yao Ming dropped in 26 points to lead the Rockets to an 89-85 win over the Celtics on Wednesday night -- the sixth loss in eight games for the defending champions. Boston, which ended Houston's 22-game winning streak last year, isn't the first team to slump after stringing together a long win streak.
Longest Win Streaks In League History (*won NBA title)
Year
Team
Wins
Following the Streak
1971-72
Lakers*
33
Lost 4 of 6
2007-08
Rockets
22
Lost 5 of 8
1970-71
Bucks*
20
Lost 5 of 6
2008-09
Celtics
19
Lost 6 of 8
1999-00
Lakers*
19
Won 11 of 12
By Maurice Brooks
ESPN.com

WEDNESDAY'S BEST
Danny Granger, Pacers
: Not only did Granger (37 points) nail the game-winner at the end of regulation, but he also became the first player in Pacers' history to have three straight games with at least 35 points.
---

WEDNESDAY'S WORST
Oklahoma City Thunder
: Where's the D? The Thunder gave up 72 points to the suddenly surging Wolves -- winners of four straight -- en route to getting blown out, 129-87. Randy Foye matched his career high with 32 points for Minnesota.
---
QUOTE OF THE NIGHT
"Go to work."
-- Blazers coach Nate McMillan to Travis Outlaw during Portland's final timeout. Outlaw followed orders, hitting the winning jumper with 8.9 seconds left to play in the Blazers' win over the Pistons.
Saving Their Best For Last
ESPN Research

Danny Granger drained a 3-pointer at the buzzer to lift the Pacers to a 113-110 victory over the Suns on Wednesday night. The hot-shooting forward, who matched his career high with 37 points, isn't the only player who has come through before the final horn sounded this season.
Oct. 31: Rudy Gay hit an 18-foot jumper as time expired to give the Memphis Grizzlies an 86-84 win over the Orlando Magic.
Nov. 8: Brandon Roy made a 30-foot jumper as time expired in overtime to lift the Portland Trail Blazers to a thrilling 101-99 win over the Houston Rockets.
Nov. 24: Larry Hughes hit a 22-foot jumper as time expired to give the Chicago Bulls a 101-100 win over the Utah Jazz.
Dec. 2: Troy Murphy tipped in a missed shot at the buzzer as the Indiana Pacers completed an improbable 118-117 victory over the Los Angeles Lakers.
Dec. 23: Devin Harris hit a 22-footer from the top of the key at the buzzer to give the New Jersey Nets a dramatic 108-107 victory over the Indiana Pacers.
Dec. 25: Roger Mason hit a 3-pointer from the corner as time expired to give the San Antonio Spurs a 91-90 win over the Phoenix Suns.
Jan. 2: Vince Carter hit a long 3-pointer at the buzzer in overtime and the New Jersey Nets rallied from a 20-point halftime deficit to beat Atlanta, 93-91.
Jan. 3: Tony Parker got an offensive rebound with 0.9 seconds left, turned and hit a high-arching 15-footer at the buzzer as the San Antonio Spurs beat the Philadelphia 76ers, 108-106.
What's Wrong With Boston?

Three of our NBA experts break down what's going on with Kevin Garnett and the rest of the defending champions.
B.S. Report: NBA Roundtable
Gasol's Big Double-Double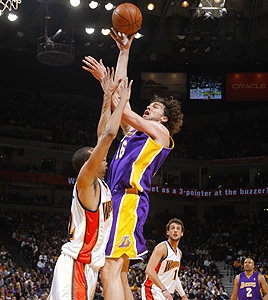 Rocky Widner/Getty Images
The Lakers are 9-0 (5-0 this season) when Pau Gasol leads them in scoring. Gasol had 33 points and a career-best 18 rebounds in L.A.'s victory over the Warriors on Wednesday.
Cavaliers Stay Perfect At Home
Elias Sports Bureau
The Cavaliers are 18-0 at home this season after their 30-point victory over the Bobcats. Cleveland is the 12th team in NBA history to begin a season with 18 straight home wins and the first to do so since the Bulls started 1995-96 with a 37-game home winning streak (at United Center), a league record to begin a season. The Cavaliers have a 16.6-point average margin of victory at Quicken Loans Arena this season, scoring 299 more points than they've allowed. Over the last 10 years, the only other NBA team to outscore its opponents by such a large margin over its first 18 home games of a season was the 2002-03 Nets (305 points).
• Andrea Bargnani made 4-of-5 3-point attempts in the Raptors' win at Washington despite missing his first shot of the night from beyond the arc. It was the second straight game in which Bargnani made at least four consecutive 3-pointers; he hit five in a row from downtown on Monday night at Milwaukee. No 7-footer had done that in consecutive games since Dirk Nowitzki, more than nine years ago (Dec. 27-30, 1999).
• The Sixers erased an eight-point fourth-quarter deficit to post a 110-105 victory at Milwaukee. Philadelphia hadn't won a game in which it trailed by at least eight points in the fourth period since its last game against the Bucks, a 93-88 win at Wachovia Center on Dec. 17. With those two victories, the 76ers grabbed the lead in their all-time regular-season series against Milwaukee (87 wins, 86 losses).