Credit: D. Clarke Evans/Getty Images
Mason drained a jumper and hit the winning free throw after being fouled by Fisher with 10 ticks left.

Ron Turenne/Getty Images
Derrick Rose scored 17 of his 25 points in the final quarter as the Bulls held off the Raptors.

Andrew D. Bernstein/NBAE/Getty Images
Joe Johnson dropped in 21 points to help the Hawks defeat the Clippers, ending their four-game skid.
Mason Provides Exciting Ending To Spurs' Win Over Lakers

SAN ANTONIO -- He makes the big shots and gets the crunch-time call when he collides in midair with Derek Fisher.
Looks like Roger Mason is a bigger free-agent steal than the San Antonio Spurs had ever allowed themselves to believe.
So we have to talk about that first.
Remember that Mason dagger from the corner that beat Phoenix at the buzzer on Christmas Day? That was a yawn compared to the wild scenes of Wednesday night, when Mason was not only asked to replace Bruce Bowen as the Spurs' primary Kobe Bryant defender but also intersected in the final seconds with the most notorious Spurs Killer not named Kobe Bryant ... and out-Fishered him.
"Typical Spurs-Lakers stuff," Bryant said with a smile, trying to shrug off the crazy back-and-forth of a final 28.9 seconds that somehow left San Antonio clinging to a 112-111 victory.
"That's how it is," Kobe continued. "I hope they get it out of their system and there are no bullets left."
It was the first encounter for these teams since last spring's Western Conference Finals ... and it was honestly more than anyone could have hoped for. Except that the amazing ending to this game of ridiculously good execution and shot-making really wasn't so typical.
Not in this building. Not when Fisher's involved. Surely you're aware, if you've followed this Spurs-Lakers stuff with any regularity, that it's rare when the final play doesn't go Fisher's way at the AT&T Center.
Exhibit A for the forgetful: Fisher's crushing shot to beat the Spurs in Game 5 of a second-round series in 2004 after catching, spinning and shooting with four-tenths of a second on the clock. Exhibit B: Fisher landing on Brent Barry -- but avoiding a whistle -- on the last shot in Game 4 of the 2008 conference finals.
Asked to do a little reflecting after the crowd around his locker dispersed late Wednesday, Fisher conceded: "I guess I've been involved in some interesting moments here."
This, however, is January.
So ...
Sweet as it was for the Spurs to see Mason (18 points) shake free from Fisher near the baseline, gather Matt Bonner's hurried fastball pass and do what Barry couldn't -- initiate contact but also draw the foul as he banged home a long jumper that put him on the line for the decisive point -- there is only so much vengeance San Antonio can claim from a regular-season game. Even an extraordinary regular-season game during which Bryant, before Mason's magic, responded to Tim Duncan's go-ahead heave in the lane by splashing in his own 3-pointer from the left wing with 12.9 seconds remaining.
Which brings us to Part 2 of this tale.
That would be the part about the Lakers looking so good with three regulars out and dressing only eight guys Phil Jackson trusted to play on the second night of a back-to-back. (Fine: It's nine if you count Sun Yue's 82-second stint.)
Spurs coach Gregg Popovich said something afterward about how "what goes around comes around," in an apparent reference to San Antonio's luck with Fisher, but Pop's words were a lot louder last week when he said of the purple and gold: "We're just not in the same league with the Lakers right now."
You have to wonder how he sees it after this.
Jordan Farmar, Sasha Vujacic and Luke Walton are sidelined by injury. Odom isn't all the way back after rushing back this week from a bruised knee after sitting out just three games. Fisher managed to suffer a groin injury during Wednesday's busy proceedings but was cleared to return for the finish after some quickie treatment from Lakers flexibility specialist Alex McKechnie.
Yet none of that stopped the Lakers, after winning the previous night in Houston, from finding the gas to erase San Antonio's 11-point lead with 6:55 to play.
"That was a big game for us," Jackson said. "This was a game that I was proud of the guys for coming back and playing like that. [San Antonio has] been here for three days waiting for us."
So Jackson could live with the Lakers' final possession, when San Antonio forced the ball out of Bryant's hands, only for Trevor Ariza to be hit with a traveling call as he drove to the bucket. He saw no need to chastise Bryant for what turned out to be a premature rendition of Sam Cassell's infamous celebration dance, after Kobe's 3 put L.A. up 111-109. Like Popovich with Mason, Jackson clearly enjoyed having options -- such as using the long-limbed Ariza to guard Parker or putting Andrew Bynum (18 points) on Duncan -- that he didn't have in May.
The comeback, even in defeat, might have made a louder statement about L.A.'s well-chronicled depth than anything we've seen all season. The rally actually gathered steam when Kobe found himself running side pick-and-rolls in crunch time with the little-used Josh Powell on back-to-back possessions ... both of them ending with Powell leaving his hand in the air to punctuate a drained midrange jumper after rolling into daylight and getting the ball from the blitzed Bryant.
Let's be clear here: San Antonio should get a tangible boost from pulling this one out. Manu Ginobili scored a season-high 27 points -- which included a buzzer-beating 3 to cap an equally chaotic final minute of the third quarter -- with the sort of power in his legs that we never saw when the teams met in the playoffs. Duncan had two big buckets in the final 1:15 and quietly flirted with a triple-double (20 points, 10 rebounds and eight assists). The Spurs also indoctrinated rookie George Hill to the rivalry with 14 quality minutes and wound up enhancing Mason's growing reputation to the point that no one even remembered to ask Popovich why Bowen received only six minutes off the bench.
Yet it's no secret in NBA front-office circles that the Spurs, in spite of their limited trade assets, hope to acquire at least one more quality player before the Feb. 19 trade deadline. It would be tough, on this evidence, to dispute the theory that they'll need another big man or another scoring threat to move into what Pop is now referring to as the Lakers' league.
That's especially true if the Lakers -- given all of their health issues -- can bank on the following claim from Bryant as L.A. prepares for two more immediate challenges: Orlando visits Staples Center on Friday, followed by Cleveland on Monday.
Before racking up 29 points, 10 assists and seven boards in defeat, when asked in a pregame chat if he can withstand L.A.'s wave of injuries, Kobe said: "I feel as good as I've felt in a long time."
Marc Stein is the senior NBA writer for ESPN.com. To e-mail him, click here.
Dimes past: Dec. 29 | 30 | 31 | Jan. 1 | 3-4 | 5 | 6 | 7 | 8 | 9 | 10-11 | 12 | 13 | 14
Despite All the Losing, Camby Still Giving His All
By J.A. Adande | ESPN.com

LOS ANGELES -- Marcus Camby did something I'm not sure I've seen before. It wasn't just that he was still hustling, giving everything he had in another losing cause in another hopeless Clippers season. It was the way he did it, tapping a ball to keep it alive, then saving it back onto the court, all while falling backward out of bounds. We've all seen the over-the-shoulder saves. Even behind-the-back saves. I can't recall seeing a tap-while-falling-backward save.
"At that point I was just out there scrapping," Camby said. "We were in a rut a little bit, shots weren't falling for us, we weren't getting stops. I was just trying to get us an extra possession."
It resulted in a pair of free throws for Al Thornton. The Staples Center crowd gave Camby a standing ovation. Lately, with Baron Davis, Chris Kaman and Zach Randolph injured, and promising guard Eric Gordon subject to the ups and down of rookiedom, Camby is the only player who regularly justifies the cost of a ticket.
He leads the league in rebounding and is second in blocked shots.
The fact that he puts up such big numbers in stats that belong on the hustle board is a testament to him. No one in the NBA is working harder under more depressing circumstances.
He didn't want to get traded from Denver in the first place, but was sent to Los Angeles for next to nothing in a cost-cutting move by the Nuggets. Then the Clippers turned out to be much worse than he or anyone else could have expected. And just to add insult to injury (Camby's, inevitably?) the Nuggets have become even better since they traded for Chauncey Billups.
None of it has deterred Camby.
"I only know how to play one way, and that's all-out," Camby said. "I love to go out there and play, most importantly I love to go out and compete. The chips are down right now. We're missing a lot of key components, but me being a veteran on this team, a lot of young guys look up to me, so I just try to lead by example."
If the young Clippers didn't notice Camby's hustle on the floor Wednesday night, they could look in the box score and see his 18 rebounds, four blocked shots and two steals to go with 12 points.
It seems like there should be some reward for Camby's effort. Aren't 13.9 rebounds and 2.6 blocks per game worth a trip to Phoenix for the All-Star Game?
"No, not with 8-30," Camby said. "No."
He'll have to settle for the gratitude of a handful of Clippers fans and a nation of fantasy basketball owners.
By Maurice Brooks
ESPN.com

WEDNESDAY'S BEST
Chris Paul, Hornets
: As eye-popping as the numbers that made up his triple-double against the Mavs were -- 33 points, 11 assists and 10 rebounds -- the most impressive stat for CP3 might have been his seven steals.
---

WEDNESDAY'S WORST
Corey Maggette, Warriors
: He is an 85 percent free-throw shooter this season, but in Golden State's 135-133 triple-overtime loss to the Kings, he shot only 4-for-12 from the charity stripe.
---
QUOTE OF THE NIGHT
"Coach is telling us, if you got it, shoot it. Stop passing up shots."
-- Philadelphia guard Andre Iguodala after the hot-shooting Sixers won their fifth straight
Miller Dominates the Glass
Elias Sports Bureau

Brad Miller had 30 points and 22 rebounds in Sacramento's triple-overtime victory to join Orlando's Dwight Howard (Nov. 29 vs. Indiana) and New York's David Lee (on the same date vs. Golden State) as the only NBA players with a 30-point, 20-rebound game this season. Since the franchise moved from Cincinnati to Kansas City following the 1971-72 season, the only other player with a 30-20 game for the Kings was Chris Webber (51 points and 26 rebounds) in an overtime loss to Indiana on Jan. 5, 2001.
By John Hollinger | ESPN.com

With Richard Hamilton healthy again, Pistons coach Michael Curry has a big decision to make. But Tuesday he sidestepped it, starting Hamilton, Allen Iverson and Rodney Stuckey at the same time in a 80-78 home loss to Charlotte, continuing the lineup trend of underperforming. It's not hard to see why -- Hamilton will get killed if he's guarding 3s the entire game, and ditto for Tayshaun Prince at the 4.
Additionally, it's tough for all four of Detroit's ace perimeter players to get shots if they're playing most of the same minutes. The obvious move is to bring Hamilton off the bench, as Stuckey is the most compatible of the Pistons with Iverson, and Hamilton is the most compatible with the fourth guard, Will Bynum. But there are secondary issues here -- most notably how well Hamilton, an All-Star the past three seasons, accepts coming off the bench.
Ultimately, however, performance has to be the final arbiter. And this season, Hamilton (PER 15.67) hasn't performed as well as Iverson (16.29) or Stuckey (17.83). Plus, with much of Hamilton's offense coming off of set pieces that rely on his movement off the ball, it's much easier to get him his shots when more nonscorers are around him -- i.e., playing with the second unit.
• Read all five Hollinger Insider Gems.

Jalen Rose looks back on the Michael Jordan era and tells us how the new stars of the NBA are evolving the game.
NBA Today
Getting Their Acts Together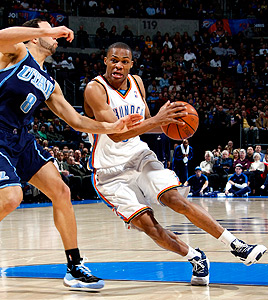 Layne Murdoch/NBAE/Getty Images
Rookie Russell Westbrook had 22 points, seven assists and three steals for the Thunder, who won for the fourth time in eight games, quieting the Jazz 114-93.