Melissa Majchrzak/NBAE/Getty Images
Utah's Deron Williams, who had 11 assists, has scored at least 30 points in five straight games.

David Liam Kyle/Getty Contributor
Mo Williams got a hand from Cleveland fans before going out and dropping 44 points on Phoenix.

Mark Duncan/AP Photo
Shaq couldn't get past Big Z and the Cavs, and the Suns fell to ninth place in the West playoff race.

Phelan M. Ebenhack /AP Photo
Defending Carmelo Anthony (29 points) proved too difficult for the Magic in Denver's road win.

Bill Haber/AP Photo
Paul Pierce (30 points) talks with Chris Paul, who returned from a groin injury with an 89-77 loss.

Ron Turenne/Getty Contributor
Jamario Moon and the Raptors had reason to shout, taking a 91-89 win over the Spurs.

Duane Burleson/AP Photo
Tayshaun Prince and Rip Hamilton lost again, falling into a three-way tie for fifth in the East at 27-24.
Sluggish Lakers Can't Quiet the Jazz In Utah

SALT LAKE CITY -- "Loss due to attrition in scheduling" is the term Phil Jackson likes to use for games like this, but he wouldn't go there Wednesday.
I will. Playing their eighth game in eight cities in 14 days, Jackson tried every trick in the book to get one last gasp from his troops heading into the All-Star break -- limiting Kobe Bryant to 36 minutes, screaming at Sasha Vujacic and Jordan Farmar in separate timeouts after defensive breakdowns, and taking the unusual step of having a shootaround on the morning of a back-to-back with just 22½ hours between tip-offs.
And while the Lakers' tired legs were up to the task offensively, L.A.'s fatigue betrayed itself on D in a 113-109 loss to the Jazz.
Bryant conceded a wide open 3-pointer to Ronnie Brewer on the opening possession, Pau Gasol was a step slow on Mehmet Okur all evening, and nobody had an answer for Deron Williams, who blistered the Lakers for 31 points and 11 assists on 12-of-17 shooting en route to his fifth straight 30-point game (and the seventh straight where he's made more than half his shots).
"We had ample opportunity," said Jackson when I asked him whether this was an example of his famous attrition quote. "We just didn't measure up tonight."
Indeed, the Lakers had chances. Utah kept L.A. in the game by missing 12 free throws, making two horrific backcourt turnovers that led to layups, and failing to extend a lead while Bryant was off the court late in the third quarter and early in the fourth.
But ultimately L.A. couldn't cash in, missing three potential game-tying 3-pointers in the final 29 seconds. And the fact it came down to those shots was a result of their lethargy at the other end.
"Our problem tonight was that we gave them too many good looks," said Jackson. "They had too many things at the rim, they didn't really have to make shots."
The fatigue showed in other ways too. When some calls didn't go their way and the typical Things That Happen in Utah started happening -- shoving off the ball, contact around the rim and the like -- L.A. uncharacteristically got too focused on the refs and not enough on the game. They came especially unhinged in the third quarter, when a series of off-ball fouls and a no-call when Bryant appeared to be hit on a jumper led to a tech on Bryant.
"We're usually a little tougher mentally at the end of games, as far as playing without the refs." said Lamar Odom. "Tonight we could have done a better job of that."
Bryant fought his way to a 37-point night, but needed 33 shots to do it and had only four assists to go with four turnovers. Against a Utah defense he normally carves up like a Thanksgiving turkey, it counts as an off night -- especially when he missed three jumpers and had an unforced travel in the final 2:29.
"It looked like it," said Bryant of whether his team was fatigued. "But we still had opportunities down the stretch and it didn't happen for us."
Meanwhile, Gasol picked up some of that flu Kobe had in Cleveland. He had just three defensive boards to go with his 16 points and lost Okur on a 3-pointer with 42 seconds left that put the Jazz ahead for good.
"I thought Okur took Pau out of the game," said Jackson. "He looked tired out there tonight."
Ironically, Gasol was also sick the last time he went to the All-Star Game (as a member of the Memphis Grizzlies), though this time he says he thinks he'll be better by Sunday.
More importantly, Gasol has also played far too many minutes since Andrew Bynum went out -- he's played at least 41 in all six contests, averaging 43.3, and that's something that can't be allowed to happen over the season's final 30 games. Somehow Jackson needs to find a way to trust Josh Powell or Chris Mihm in the middle, or the Lakers are going to run him into the ground.
"Energy-wise tonight I was pretty low," said Gasol. "I fought through it the best way I could, but obviously the fatigue catches up to you at some point. You put those two things together and you can see why I wasn't as effective."
If you want another sign of the grind of the schedule, check out what Odom's doing. It's no accident after his recent promotion to the starting lineup following Bynum's injury, he was the one Laker with some bounce in his legs. With less mileage on him than the other Lakers starters, Odom had his third straight season high in rebounding. He had 19 boards to go along with his 19 points and kept L.A. in the game at several critical junctures.
To understand just how effective Odom was on the glass, consider how few shots were missed in this game -- Utah made 58.6 percent from the floor. Odom grabbed 19 of the 65 boards available when he was on the court, for a rebound rate of 29.2. A rate over 20 normally leads the league.
"I'm just focusing on completing the defensive play, trying to crash the offensive boards and get the ball back for us. I'm trying to catch close to the basket so if I miss I'm there for the rebound. We need that presence on this time right now with Andrew out."
The Lakers, of course, still enter the All-Star break with the league's best record at 42-10, and finishing their eight-game odyssey with a 7-1 record is nothing to sneeze at.
Yet how they manage the grind in Bynum's absence, and particularly how they ration Gasol's minutes, remains perhaps the biggest question for their moving forward. L.A. gets to do this all over again during a seven-game Eastern swing at the end of March, part of a stretch where they play 14 of 20 on the road -- with 13 of the 14 in a different time zone.
To achieve their long-held goal of having the league's best record and clinching home court throughout the playoffs, they'll have to hold off the fatigue on nights like Wednesday and find a way to get a few stops down the stretch.
For now, they can head to the All-Star break seeing the glass as half full. Seven times in eight tries they managed to pull it off in the past two weeks. Despite Wednesday's setback, they'll achieve their goal if they keep up that success rate over the final 30 games.
John Hollinger writes for ESPN Insider. To e-mail him, click here.
Dimes past: Jan. 27 | 28 | 29 | 30 | Jan. 31-Feb. 1 | Feb. 2 | 3 | 4 | 5 | 6 | 7-8 | 9 | 10 | 11
Lots Of Points, No All-Star Selection For Durant
By ESPN Research

Oklahoma City forward Kevin Durant scored 20 points against the Blazers on Wednesday, lowering his scoring average to 25.5 points per game. He has the fifth-highest scoring average in the past 20 years at the All-Star break for a player not chosen for the All-Star Game.
Last 20 years (since 1988-89)

Player
Season
Points Per Game
Michael Redd, Bucks
2006-07
27.7
Jim Jackson, Mavericks
1994-95
26.0
Carmelo Anthony, Nuggets
2005-06
26.0
Mitch Richmond, Warriors
1990-91
25.7
Kevin Durant, Thunder
2008-09
25.5
Michael Adams, Nuggets
1990-91
25.3
TrueHoop Network: Tribute To Johnny Kerr
By Henry Abbott | TrueHoop

On Tuesday, the Chicago Bulls, with Michael Jordan and other greats, paid tribute to legendary player, coach and broadcaster Johnny "Red" Kerr.
Matt McHale of the Bulls By The Horns blog and the TrueHoop Network describes the scene:
"There was a stirring video homage with footage of Johnny both as a player and a color commentator. They gave him a collage of pictures and mementos for display in his home. A bust (representing his broadcasting days) was unveiled, and it will be prominently displayed in the United Center as long as that building still stands. Last, but certainly not least, Johnny was presented with the 2009 John W. Bunn Lifetime Achievement Award by the Naismith Memorial Basketball Hall of Fame.
"And there were some very special guests, including Kerr's lifelong friend and NBA Hall of Famer Dolph Schayes, Jerry Colangelo (who convinced Johnny to coach in Phoenix many years ago), Kerr's old broadcasting buddy Jim Durham, NBA commissioner David Stern (via video), the great Scottie Pippen, and the even greater Jordan (who, in honor of their past together, clapped some rosin powder in Johnny's face).
"I didn't think it would be possible to top Jordan's speech, but then they aired a video tribute from Barack Obama, otherwise known as the freaking President of the United States!
"Kerr earned his reputation as the NBA's original iron man for playing in 844 consecutive regular season games, but the fact that he wasn't weeping like a child after all that is proof positive that he has a heart forged of pure steel. I know I was crying. (But in a manly way. While crushing rocks with my bare hands.) Even MJ was misty-eyed throughout.
"It was everything Johnny deserved. The only part of the event that hurt was seeing Johnny -- who had always been so vigorous -- appear physically diminished. In case you didn't know, Kerr was diagnosed with prostate cancer last year and his declining health has been something of an open secret around Chicago (to long-time Bulls fans, anyway). In fact, his condition is the reason that the organization moved up the ceremony, which was originally scheduled for April.
"Johnny's son, Matt Kerr, had to read a statement that Johnny had prepared. And when Johnny finally did speak, it was obviously with great effort. I can only hope that Johnny's health will improve, at least enough for him to enjoy this long-overdue honor for many years to come."
By Maurice Brooks
ESPN.com

WEDNESDAY'S BEST
Mo Williams, Cavaliers
: He has already been added to the All-Star team, but he looked like a player with something to prove against the Suns, scoring a career-high 44, including seven 3-pointers. He also gave out seven assists.
---

WEDNESDAY'S WORST
Anthony Johnson, Magic
: Hurry back, Jameer, Orlando needs you. His replacement went 1-for-5 from the floor, giving out just one assist, while turning the ball over four times in a nine-point home loss to the Nuggets.
---
QUOTE OF THE NIGHT
"We shouldn't have lost this one. It's important to go into the break feeling good about yourself and on a good stretch. We were playing a team that isn't doing so well and has two injured players, so we should have done much better."
-- Spurs guard Manu Ginobili after San Antonio's two-point loss to Toronto, which played without injured stars Jose Calderon and Chris Bosh
Robinson Steps Up For Knicks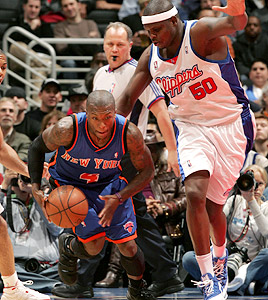 Wendi Kaminski/Getty Images
With starting point guard Chris Duhon on the sidelines with a sprained ankle, Nate Robinson filled the void, posting 33 points, 15 assists, nine rebounds and a career-high five steals in a 128-124 overtime loss to the Clippers.
Best Players Belong In Phoenix
By John Hollinger
ESPN.com

So Mo Williams is finally an All-Star ... and Vince Carter isn't. Let me get on my soapbox one last time -- we're really so caught up with trying to correlate a team's win-loss record to how many All-Stars it gets that we're going to put Williams on the team ahead of Carter? Really? Does anyone out there actually think Williams is a better player than Carter? Does Williams even think he is a better player than Carter?
Sorry, but we officially have been pushed to the point of the ridiculous. I've said this before, and I'll say it again: It's completely plausible for a team to have two of the conference's 12 best players and be sub-.500, especially if that team is starting Bobby Simmons and Ryan Anderson at the forward spots. And it's completely plausible for a team to have only one of the conference's 12 best players and still roll toward 60 wins, especially if that team's one star is the best player in the world and there's a deep supporting cast of decent-to-good players surrounding him.
Using the standings to choose All-Stars virtually guarantees there will be at least one terrible pick (or more -- take a bow, David West and Rashard Lewis); in fact, nearly every bad selection in the past decade has been a result of this standard. Coaches are fond of saying the All-Star Game should be a reward for winning, but it's not -- it's a game for the fans to see the league's best players all compete at once. By setting up a separate agenda, they're choosing to give the fans a worse game.
Interesting Stat Line For Diaw
By Elias Sports Bureau

The Bobcats defeated the Wizards on Wednesday with Boris Diaw posting a line in the box score that included the curious combination of seven assists, seven blocked shots and seven turnovers. Since the NBA began tracking individual turnovers (in 1977), only three other players have had at least seven assists, blocks and turnovers in the same game: Sam Lacey (for the K.C. Kings on Oct. 27, 1978), Kareem-Abdul Jabbar (for L.A. on Jan. 29, 1980) and Charles Barkley (for the Sixers on Nov. 28, 1986). Diaw and Lacey are the only players to have exactly seven of each.
• The Hawks' victory at Detroit dropped the Pistons' record in home games to 14-13 this season, including a 3-11 mark at The Palace against teams that are currently above the .500 mark. Only the Timberwolves (2-15), Kings (2-11) and Clippers (3-15) have a worse record in home games against teams with a winning record than the Pistons.
• Manu Ginobili (32 points), Andrea Bargnani (23), Roko Ukic (22) and Tony Parker (22) were the leading scorers in the Raptors' 91-89 win over the Spurs on Wednesday. It was the second NBA game this season in which players born outside of the United States posted the four-highest point totals. The other game was San Antonio at Chicago on Jan. 17 (Ginobili, Parker, Tim Duncan and Ben Gordon).