Jesse D. Garrabrant/Getty Contributor
What Scouts Are Saying, Part 3

It's a common mistake made by sports writers who like to make incremental sweeps through the leagues they're covering. I messed it up more than once until a few patient readers woke me up.
The quarter pole in the NBA is not reached 20-ish games into the season.
The quarter pole is where we are now, with 20 (or so) games to go.
So …
With all but two teams (Detroit and Philadelphia) having played at least 60 games entering Friday's schedule, we have arrived at our third and final visit with some of the league's top advance scouts, who spend pretty much their entire lives in airports and arenas to closely monitor what every team is doing.
The following are views from five scouts -- who have been granted anonymity so they can speak as freely as possible -- about various hot topics as we enter the final fourth of the regular season:
An Eastern Conference scout on which is the more likely scenario: Allen Iverson accepting a bench role in Detroit or Stephon Marbury making a positive impact in Boston:
"I really think the Marbury thing is going to work for the Celtics. Maybe it's as simple as one important basket that he makes. They don't need much.
"I saw him work out in the summer at Tim Grgurich's camp and I thought his attitude was great. I thought his conditioning was excellent. He was making deep 3s. We're talking some very unorganized summer-league-type games against a lot of young players, but [Marbury] was one of the best guys out there.
"You saw him in that first game [for the Celtics] getting stripped a couple times, but that's just rust. His reaction time, hand-eye coordination; give him some time to get those things back. But this late in the season, when Marbury is walking into such a great situation and you've got veterans like [Ray] Allen and [Paul] Pierce and KG to police that situation, you'd really have to be messed up to blow it."
Another Eastern Conference scout on the same topic:
"What the Celtics are banking on is the wild-card factor: Marbury wins them a game or two along the way in the playoffs. I don't think they're banking on him to make a major league difference. I'm just a little surprised that so many people are so quick to dismiss that the guy has been a complete knucklehead for so long. I don't get that. He's been a problem for a really long time.
"With A.I., I really don't think [his Detroit teammates] dislike him personally. They've known him forever. A.I. and Rip [Hamilton] have the same agent [Leon Rose]. They just don't like playing with him. But with the success they're having without him, [Iverson is] going to be forced to accept that [new sixth-man role] if he wants to play."
A Western Conference scout on which of the buyout guys -- Joe Smith, Drew Gooden or Marbury -- will make the biggest contribution:
"If Drew Gooden is healthy, San Antonio got a steal. I know Drew a little bit and his basketball IQ is higher than people think. He's a big body. He can give you a double-double. He can be a low-post presence for that team; San Antonio doesn't have one when Duncan goes to the bench.
"But that groin looked like it was definitely bothering him when I saw him play [recently], and I've heard that it's something that's been there for about two years."
A Western Conference scout on whether anyone in the West can beat the Lakers in a series:
"I'm one of those guys who still thinks there's going to be a wild card. It's probably Utah. They're a dangerous team now that they're healthy. Maybe they can't beat the Lakers in a seven-game series, but they take things out of you. Going into the next round, you're behind a little bit after you play Utah.
"And San Antonio is still right there if they're healthy. I'd say they're better defensively and two steps better offensively than they were last season with [the contributions they're getting from Roger] Mason and [Matt] Bonner.
"The problem is that the Lakers are better, too. Even without [Andrew] Bynum. Trevor Ariza has a defined role. They got rid of [Vladimir] Radmanovic, which is addition by subtraction. The only chance you have to beat the Lakers is containing their bench. You cannot let their bench guys get away from you."
A Western Conference scout on which of the nine teams in the playoff hunt in the West misses out:
"It's not just nine teams going for eight spots. It's eight teams going for [Seeds] 2 through 7. It's still a shock to me to see how much is up for grabs at this time of year. But I think Phoenix doesn't make it. It's going to come down to Phoenix and Dallas, and I just don't think that the Suns will catch 'em.
"Phoenix really can't stop anybody. Sometimes it looks like they don't even try. I know they're running again and they're calling it 'Seven Seconds or Shaq.' And Shaq has been a monster this [season], I'll give you that. But I have not heard one word about D since Terry Porter was fired.
"It's going to be close, though. Dallas is close to teetering, there's no doubt about it. When you can't guard Oklahoma City when [Kevin] Durant isn't even playing … there's no way Dallas should have to go into a zone out of desperation against Oklahoma City. That was ugly. That was brutal."
An Eastern Conference scout on this season's best coaching job:
"I have to say Erik Spoelstra. He's got like 1½ players and he's in the hunt for home-court advantage [in the first round]. He's had to rely on rookies [Michael Beasley and Mario Chalmers] all season. I think he's got to be the guy.
"I don't know if [Dwyane] Wade likes him, but he definitely respects him. That's one reason why he got the job. Everybody wondered how a young coach would do taking over for Pat Riley, but he has his players' respect and they play hard for him. [Spoelstra] has quickly figured out how to put those guys in the best position to be successful."
A Western Conference scout on this season's most disappointing team:
"I think a lot of people would say Toronto. Not me. The Clippers are the laziest team I've ever seen. I know they've had a lot of injuries, but they just don't play hard. Their good players don't play hard.
"They have enough talent to be relevant. But it looks to me like they're trying to become the Oakland Raiders, going out and getting all the guys who are on their last chance.
"So don't be surprised if they go after Iverson in the summer. If there's one place where [signing Iverson as a free agent] can sell tickets, it's there."
A Western Conference scout on George Karl, Carmelo Anthony and the overall state of the Nuggets:
"The biggest change I've seen from any team this [season] is Denver. They're No. 2 in steals and No. 3 in blocks. They dump [Marcus] Camby in a salary move and all of a sudden they're in the top five in two major categories.
"Chauncey [Billups] obviously has to get a lot of the credit. George [Karl] came into the season pushing that they've got to have a more defensive mindset. He's been able to get Nene and Kenyon Martin playing well again, but I'd say Chauncey has to get most of the credit for changing that team's mentality. He gives them a swagger that they haven't had. He's a better defender than Iverson, shoots the 3 better and looks to deliver the ball to scorers when they have the opportunity to score. But the biggest thing is Chauncey's sense of confidence. Other players believe in Chauncey.
"My only [disappointment] is that I expected Carmelo to be a top-10 player by now, and I don't think he is. He can dominate games when he's focused, but he still has little interest in defense and rebounding, and I still see him taking bad shots.
"I really think that punch he threw in New York changed everything. He was an absolute monster before he threw that punch, and then he had to sit out six weeks or whatever and I don't know if he's ever regained it. Now he and George are having problems again. If they go out in the first round again, after another year of a bad relationship, I can't see both of them being in Denver when next season starts."
A Western Conference scout on the MVP race:
"LeBron does so much for his team. And he's the most talented player in the NBA and the best athlete in the NBA. But Kobe has mastered the game just like Jordan did.
"He knows when to take a game over. He knows how to win a close game. He's making other players better now. He has improved his low-post game and his long-range game. He has shown us footwork that has never been seen before. He's also the best defender in the NBA when he wants to be.
"LeBron has to strip Kobe of the MVP trophy, and he has not done that yet."
Another Western Conference scout on the same topic:
"I was a Boston guy until I saw Cleveland up close and personal. Then I saw Cleveland about three times. They are really, really good, especially now with Delonte [West] back.
"Mike [Brown] has done a really good job with that team. So much less structure on offense now, which has really helped them. Mo [Williams] and Delonte space the floor and make shots. But it's mostly LeBron. He's all over the floor. They're so hard to match up with because he will take the bigger guys off the dribble and post up all the small guys. He has really improved his outside shot and his D.
"Kobe is still the better player, but LeBron is having the better season. He does more things, and his team would be a lot worse without him [than the Lakers without Kobe]."
Marc Stein is the senior NBA writer for ESPN.com. To e-mail him, click here.
Dimes past:
Feb. 22
|
23
|
24
|
25
|
26
|
27
|
Feb. 28-March 1
|
March 1
|
2
|
3
|
4
|
5
|
6

The Bulls have publicly described Luol Deng's leg injury as an "early" stress fracture, but the milder impression that leaves would appear to be mere semantics.
After consultation earlier this week with a specialist that Deng sought on his own revealed a stress fracture, further consultation with an orthopedic specialist is expected early next week, likely leaving Deng and the Bulls looking at four courses of treatment to deal with what's been plaguing his right leg for the past few weeks:
1. Deng comes back to the Bulls' lineup after a period of further rest and tries to play through the injury for the rest of the season before undergoing surgery.
2. Deng plays through the pain for the rest of the season and then tries to let it heal without surgery.
3. Deng undergoes season-ending surgery immediately.
4. Deng bypasses surgery but also halts his season to try to recover through rest, which would likely require at least three months away from the game.
It's believed that Deng will try to stay off the leg for two or three weeks, then attempt to come back for the last few weeks of the season to see if he can help the Bulls snag one of the last two playoff spots in the East.
If there's no progress this month, since trying to play through a stress fracture on a weight-bearing leg might not be possible, surgery would appear to be unavoidable.
---
Why are the Celtics determined to be super-cautious with Kevin Garnett?
It's not because they were able to beat Cleveland without him Friday night.
It's because the Celtics know that, since Garnett's rookie season in 1995-96, no one in the league has played more regular-season games.
No one.
Entering the weekend, Garnett had played 1,051 of a possible 1,096 games with Minnesota and Boston. That's 95.9 percent.
The league's top five active players in games played since the 1995-96 season, entering Friday's play, courtesy of our friends at the Elias Sports Bureau:
1. Boston's Kevin Garnett: 1,051
2. San Antonio's
Michael Finley
: 1,035
3. Dallas'
Jason Kidd
: 1,009
4. Detroit's
Rasheed Wallace
: 998
5. Charlotte's
Juwan Howard
: 966
---
It's not going to help Toronto in this slipping-away season, but it has been mentioned a few times this season and was strongly suggested to me again by a knowledgeable informant in the past few days: Carlos Delfino will return to the NBA next season after a season in Russia, and is determined to return to the Raps, who still hold his NBA rights.
Major Steps For The Minor Leaguers?
The D-League could look a little bit more like a baseball-style minor league next season. With an emphasis on
could.
As touched on
here
after January's D-League Showcase in Utah, several NBA teams have expressed interest in gaining total control of basketball operations with their D-League affiliates … but
without
absorbing the non-basketball costs involved in running a minor league franchise.
Control of basketball operations had only been possible by buying and operating a D-League team -- as the Spurs, Lakers and Thunder have done -- but there is a new option. According to a league memo obtained by ESPN.com, NBA teams were informed Thursday that the 2009-10 season in the D-League will introduce what will be known as the "hybrid affiliation."
The new policy will enable an NBA team to assume "full control over all basketball operations of its D-League affiliate, including coaching and player personnel decisions." In return, NBA clubs must make a three-year commitment to covering the expenses for the affiliate's basketball operations, which includes player salaries, paying for the coaching and training staffs and absorbing all travel costs.
The NBA estimates the annual cost of those expenses to be $300,000 to $400,000 annually. Which equates to the single-season amount NBA teams spend on a minimum-salaried rookie.
The cost involved in running all levels of a D-League franchise, by contrast, was estimated by one Western Conference executive as "a million-dollar loss for one year."
So it sounds like a decent bargain.
Our initial quickie poll of a handful of teams, however, suggests that only a few NBA clubs are expected to take advantage of the new model, even though the push for this option came from the teams as opposed to the league office in recent months. The deterrent is the mandatory three-year commitment which makes it a potential investment of $1.2 million. As one East exec noted: "This couldn't come at a worse time economically. I love the idea and we'll look at it, but [it's] hard to stomach more costs for most teams now."
Back in January, we looked at some of the biggest issues confronting the 16-team circuit, starting with the levels of compensation compared to what players can make in foreign leagues. Although there is a widely held view among NBA general managers that salaries have to go up to improve the quality of the D-League -- with players earning a mere $13,000 to $25,500 in salary and receiving a $30 per diem on road trips compared to $114 in the NBA -- neither NBA owners nor league officials are eager to fund pay hikes in this brutal economy.
So the biggest lure for NBA dreamers to stay in the States, given the minimal money available, remains the fact that the D-League is regarded as the most scouted league in the world outside of the NBA itself, with players also receiving in-season housing and medical benefits.
I've been led to believe that NBA teams would jump at greater D-League participation if, like their baseball brethren, they held more player rights to minor leaguers. Only affiliated players who are sent down from the NBA on assignment belong to their parent clubs baseball-style, with just four currently in the D-League -- Memphis Grizzlies center Hamed Haddadi, Toronto Raptors center Nathan Jawai, Denver Nuggets guard Sonny Weems and Los Angeles Lakers guard Sun Yue -- and a total of 25 NBA players assigned to a D-League affiliate 28 times over the course of this season.
Yet I've also been advised that NBA commissioner David Stern is strongly opposed to the idea of his teams holding the rights to even a few non-NBA players.
"All things being equal, it's better to do it than not do it," one West exec said of buying into the new hybrid model. "You get first-hand knowledge of the players. You get to hire the coaches. You get to put in your own offensive and defensive systems.
"But it's a massive difference from baseball when you don't get to control player rights. What are you really getting? The Lakers or the Spurs could develop a guy in their D-League program and we can sign him if he's not [on their NBA roster]."
What we can conclude, at the minimum, is that things are moving in a decent direction for those of us out there who have a bit of a minor league fetish and want to see the affiliations between NBA teams and their D-League feeders keep growing into something more baseball-like.

Five questions with Raptors forward Chris Bosh:
Q: Given all the talk around the NBA about how much the economy is causing teams to reel in spending, has that changed the equation at all as far as whether you'd consider signing an extension with the Raptors this summer?
A: The economy doesn't play any role in my decision. It is what it is. I believe that it's going to go back up like what [the economy has] done in the past. Hopefully it's only a matter of time.
Q: So you feel like you're at a level where you're going to be OK if you decide to be a free agent in the summer of 2010, no matter what's happening with the economy?
A: If I keep playing well. I've got to keep playing well. If I take care of my game, I think I'll be in the best position possible.
Q: Is there still a chance that you would sign an extension this summer or are you pretty much committed to opting out in 2010?
A: I'm really not sure. You never know. It's tough to call right now. I'm just trying to finish the season strong right now.
Q: Is it still a shock to the system to look at the standings and see that this team is 14th in the East?
A: The shock is slowly wearing down because we've been struggling for so long. I really anticipated a good season with this team, and nothing has happened the way we wanted it to. But we've got to keep playing. If we don't make it [to the playoffs], it'll hurt, but you've got to be men about it.
Q: How are you feeling physically? I was sitting with someone on press row and we both were saying that the brace [on Bosh's right knee] looks heavy.
A: I'm 100 percent. I feel good. It's not heavy. You get used to it.
(Editor's note: This interview with Bosh was conducted before Shaquille O'Neal slammed him as the "RuPaul of big men" earlier this week. Bosh's reaction to being linked to the cross-dressing entertainer can be found here in the Toronto Sun.)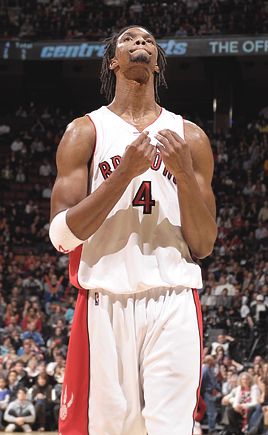 Ron Turenne/Contributor
Chris Bosh is waiting to see how the season plays out before he thinks about his next step. (See Box 4.)

One pertinent follow-up to last week's discussion about the Kings and concerns that the Maloof brothers -- who are now flying via Southwest Airlines instead of private planes to save money, according to our man Sam Amick of The Sacramento Bee -- might not be able to afford Eddie Jordan as their next coach:
NBA coaching sources confirmed this week that Jordan has $4 million coming from the Wizards next season.
So …
If the Kings offered Jordan a contract that only paid him $2 million in Year 1, he'd still get an extra $2 million from the Wiz when the contract offset is applied.
That still might not make a difference, given all the coaching variables at work for the Kings as laid out previously, and the severity of the Maloofs' cost-cutting, but it's a detail worth remembering.
---
The games-played tracker we used in Box 2 with
Kevin Garnett
isn't as kind to
Greg Oden
.
Portland's (latest) injury-tortured center has missed 97 of a possible 143 games since being drafted by the Blazers. That's 67.8 percent … with his 100th missed game coming Wednesday against Dallas.
Amid inevitable fears that the chipped kneecap in his left knee is more serious than we've been told, we still hear Portland-based whispers that the team is more worried about the mental toll this absence is taking on Oden -- who has been admittedly downcast all season because of his health woes and the huge expectations he's carrying -- than this latest injury specifically.
Not that we probably have to say it when talking about the franchise that already lived with this with Bill Walton and Sam Bowie … but stay tuned.
---
Plugged-in sources say
Drew Gooden
forfeited just under $1.5 million in salary in Sacramento to secure his release in time on March 1 to have the freedom to move on to San Antonio.
That figure is not a coincidence.
The most San Antonio could offer Gooden for the rest of the season was just under $1.5 million: $1,484,029 to be exact.
The doubts about Gooden and Cleveland's Joe Smith getting waived before the March 1 deadline, in retrospect, seem a bit silly now. Both players are represented by the ever-forceful Dan Fegan, who was bound to get them to the open market.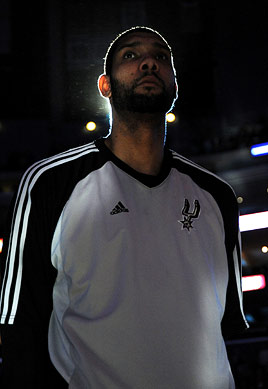 Andrew D. Bernstein/Getty Images Contributor
Playing at less than 100 percent, Tim Duncan hopes to emerge in the spotlight with a title-contending team. (See Box 8.)

"I don't think I'm exactly 100 percent, but I don't know that I will be. It's just the wear and tear of the season. This is just how I'm going to be for the rest of the way here."
San Antonio's Tim Duncan, acknowledging that his season-long sharpness hasn't been there since he took three games off to rest his ailing right knee.
Duncan shot 20-for-47 from the field in his first three games back and blamed himself for San Antonio's 107-102 loss in Dallas on Wednesday, insisting that he was "awful" at both ends.
He chastised himself for flubbing defensive rotations on a Dirk Nowitzki 3-pointer and a Josh Howard drive -- both in crunch time -- and acknowledged that he allowed himself to get too frustrated by a few non-calls on his own work inside … without acknowledging any of the referees by name on a night when Duncan and Joey Crawford were back in American Airlines Center some two years removed from the late-season game when Crawford ejected Duncan as the Spurs star laughed on the bench.
It probably wasn't the best night, adding up all those details, to ask Duncan how he was feeling. He was undoubtedly being unusually hard on himself, in trademark Spurs fashion, after a tough loss to a team they still view as a rival … even if few league observers still have the Mavs in San Antonio's class.
But the comments about his knee have to be filed away, because the prospect of a competitive Western Conference finals probably rests on Duncan's health. And Manu Ginobili's.
Should the Spurs be able to keep the newly signed Drew Gooden (and his dodgy groin) on the floor, along with smash-hit summer signing Roger Mason and the emerging Matt Bonner, they've quietly assembled what appears to be the most offensively potent supporting cast for Duncan, Ginobili and Tony Parker they've ever had in San Antonio. Add the scorers to the supporting-cast vets who have been well-drilled in the Spurs' ways -- Bruce Bowen, Michael Finley, Fabricio Oberto and Kurt Thomas -- and you have the one team out West that can conceivably beat the Lakers in a seven-game series. Even if L.A. gets Andrew Bynum back.
But that's obviously only if the stars that flank Parker are reasonably sturdy in late May. Ginobili had surgery on his left ankle in the offseason and has been out since the Spurs returned from the All-Star break, when increasing pain in the other ankle forced San Antonio's medical staff to put his right foot in a boot for a week. Duncan's struggles were more surprising, even though he's 32 and Ginobili is 31, because Timmy looked so fresh and spry in November, December and January after a summer of boxing training and tossing tractor tires to prepare for his 12th season.
"He's Tim," Spurs coach Gregg Popovich said, insisting that he's not doing any extra fretting about Duncan's condition.
"There's no 'progress to be made.' It's not like he was out [so] long where he's got to get a rhythm back or anything. … Overall he's doing fine."

Justin (Detroit): [Allen] Iverson informed [Pistons coach Michael] Curry that he would be ready to go Tuesday night at home, but now he's saying that the injury is more serious. Do you think that he's trying to avoid coming back to the team because the Pistons are finally playing like we expected?
Marc Stein: That conspiracy theory is definitely out there, that we've seen the last of Iverson for the season because he's going to shut it down in protest of Rip Hamilton's restoration to the starting lineup. That bit of gossip has been circulating on the NBA grapevine for the past few days.
But I'm struggling to buy it.
Iverson has been such a gamer for so long that it's hard for me to believe -- no matter how wounded his pride is -- that he's going to sit out the rest of the season. Don't forget, furthermore, that this is a contract year, which can heal pride wounds pretty quickly.
The market was already going to be tight for Iverson, at nearly 34, after a season like this, in which the Pistons didn't start looking like the Pistons until Iverson went to the injured list. I think -- actually, I know for a fact -- that Iverson loathes the idea of coming off the bench. But he'll grudgingly accept it when he gets back. He has little choice.
We repeat: C-O-N-T-R-A-C-T year.
So what I most want to see now is whether Chris Webber's prediction is right. Webber knows a little bit about playing with A.I. from their days together in Philly, and said recently on NBA TV that Iverson moving to a reserve role could (in a way) replicate his heyday with the Sixers back in 2001, when Iverson got to take all the shots and everyone else did all the dirty work.
Wishful thinking, perhaps, but it's an experiment that has to happen. The other Pistons, out of deference to Rip, clearly were never going to accept Rip coming off the bench behind A.I. Michael Curry should have accepted that a lot sooner.
For the full chat, click here