(Jesse D. Garrabrant/NBAE/Getty Images)
Dwight Howard had a double-double for Orlando, which beat Boston for the first time in three games.

(D. Clarke Evans/NBAE/Getty Images)
Tony Parker erupted for 30 points, the fourth time he has scored at least 30 in his past eight games.

(Jeff Zelevansky/NBAE/Getty Images)
Vince Carter and the Nets stumbled but were able to hang on for the win against the visiting Knicks.

(Bill Baptist/NBAE/Getty Images)
The Grizzlies had no answers for Yao Ming, who posted 24 points, 17 rebounds and three blocks.
What We Learned About the Cavaliers, Celtics and Magic
BOSTON -- It's not often that ESPN.com has five writers and editors covering a regular-season game, but it happened twice this weekend at the TD Banknorth Garden.
With all those extra eyeballs tracking Boston-Cleveland on Friday night and Boston-Orlando at Sunday lunchtime -- sandwiching the MIT Sloan Sports Analytics Conference that brought all those staffers to town -- we decided to survey our deep crew for their thoughts on what they learned about the three East powers and what we should expect going forward.
---

John Hollinger, ESPN.com:
You can get by without one of your stars, as Boston showed Friday. Without two stars? At that point you just become a different team … as Boston showed Sunday.
With Rajon Rondo sitting out with an ankle sprain suffered Friday (he returned to the game and played well, but clearly it tightened up on him overnight), Boston's point guards combined for a measly nine points and two assists and committed four turnovers.
Stephon Marbury, brought in for situations exactly like this one, showed he's clearly not in game shape yet; he hardy played after a brutal first quarter and finished with a -14 +/-, the worst of any player on the court.
• One of the things we kept discussing was how much Marcin Gortat might fetch as a free agent this summer. Orlando's backup center gets little mention, but has been amazingly productive this season. His 21.0 rebound rate is among the best in the league, plus he's shooting 53.7 percent and has a 17.18 PER (all numbers entering Sunday's game).
Additionally, he was an active force defensively, blocking two shots and altering at least three others. Given the sample size, we should take his numbers with a bit of a grain of salt, but he put up good numbers in limited minutes last season, too. I haven't heard anyone talking about him, and the 25-year-old from Poland could help a lot of team's frontcourt needs.
• From Boston's perspective, if you were going to split two games, this was the way to do it. For Boston, the Cleveland game was much more important than the Orlando game because of the tiebreaker implications. Boston all but assured itself of winning the tiebreaker if the two teams finish with the same record (the season series is 2-1 with one game left, and Boston is way ahead on the second tiebreaker, conference record), while the Celtics are already in strong shape against Orlando (again, up 2-1 even with the loss and holding a similar edge in conference play).
That said, those pesky Magic are still in position to throw a wrench into the playoff seeding. Orlando is only one game behind Boston and two behind Cleveland in the loss column, and has one game left against the Celtics and two against the Cavs; with a split of the latter two, Orlando would also own the tiebreaker against Cleveland.
---

Henry Abbott, ESPN.com:
LeBron James
is already planning in his mind how he's going to attack Boston next time these two teams play. Pressure's on.
• Hey, it's Rajon Rondo appreciation week!
• Dwight Howard's left hand is useful to shoot with, although maybe not yet a deadly tool.
• At the MIT conference, there was a robust presentation that there really is no such thing as a hot hand. I'll write more about that later. But I came away essentially convinced. Or at least I thought I was. But then … Ray Allen got hot in the fourth quarter as the Celtics mounted a comeback. He was unstoppable off the dribble. It was working like a perfect play. And then they ran a play for Paul Pierce on which he lost the ball. Allen, meanwhile, stood on the baseline without the ball, and I almost wanted to cry out "How do you not give that ball to Allen? He's hot." (After that, the Celtics did just that.) Turns out the new evidence, which makes sense in my mind, hasn't yet hit my bloodstream.
• In both big Eastern games of the weekend, Cavaliers vs. Celtics and Magic vs. Celtics, the team that was behind in the standings won, which is a bit of a gift for anyone who likes to see a nice tight playoff race.
---

David Thorpe, Scouts Inc.:
Assuming KG and Rondo return at full strength:
Boston's forwards and bigs have improved their ability to defend guys in space, thus allowing more switching flexibility on screens. Add their hyper-awareness on weakside help and you get a terrific defense on ballscreen actions.
They can make life more difficult for LeBron than anyone else.
• Joe Smith will be much better for Cleveland by playoff time. Leon Powe pushed him around and brought a lot more fire, but Smith just needs some time to rev his engine to a higher rpm. It's been awhile since he's had to do that.
Given Nelson's status, it's hard to envision giving either of the big two real problems without much better play from Turkoglu. More drives. More free-throw attempts. More made shots altogether. Lewis seems ready to raise his game to another level. Howard too. But Hedo?
• Overall, I still think the Celtics are the most comfortable at grinding things out. Their experience last year only helps, and they thrive on the competition. They'll play their best when pushed against the wall. And Ray Allen looks like he's 25 again, only smarter and grittier.
---

Kevin Arnovitz, ESPN.com:
On the surface, Orlando is regarded as the mystery guest at the adult table in the Eastern Conference. It's easy to forget that this "upstart" team has plenty of wily veterans:
Hedo Turkoglu
,
Rashard Lewis
and now Rafer Alston. When the Celtics made their fourth-quarter run, the Magic didn't wilt, didn't panic and didn't get away from their game. At the 4:07 mark of the fourth, having seen their massive lead of over 20 points whittled down to nine, the Magic come down and get a silky 3-pointer from Turkoglu off a beautiful possession, stretching the Celtics' defense with crisp passes on a great-looking reversal. That's Orlando basketball, and even when the Celtics tightened the game further in the closing minutes, the Magic never got away from what they do best.
• Glen Davis vs. Rashard Lewis worked in Lewis' favor early, as he was able to use his quickness against Davis to work him off the dribble. Normally a long-range bomber, Lewis hit three shots in the first quarter inside of nine feet, two of them uncontested layups after blowing by Davis, capping a 7-0 Orlando run. Lewis led the Magic with six points in the first quarter.
• Absent Rondo, the Celtics have trouble generating any sort of fluidity on offense. As frenetic as Rondo is, his ability to penetrate and scramble the defense opens up all kinds of opportunities for the Celtics on kickouts and nifty interior passes to cutting big men. Without Rondo, the Celtics' offense gets bogged down, with clean looks much, much harder to come by.
• The Celtics rank a woeful 29th in the NBA in turnover rate. They've been able to dodge the bullet against inferior opponents, but in the first quarter of Sunday's game against Orlando, they coughed up nine turnovers, and it cost them. If the C's don't tighten their grip on the handle in the postseason, it could be their Achilles' heel.
---

Marc Stein, ESPN.com:
Even on an afternoon when they commit nine turnovers in the first quarter, turn in a heinously bad first half, hear their coach call himself out for "a huge mistake" and lose two more players to injury, you can still come away impressed by the defending champs.
I definitely did.
Sunday's comeback from 22 points down in what wound up as a narrow home loss to Orlando was yet another reminder that the toughest team in the league plays in Boston. If you had forgotten that this team's self-belief was pitched to another level when it walked away from last season's roller-coaster playoff ride with a championship, Friday night's Kevin Garnett-less victory over Cleveland and Sunday's second-half rally against the Magic said it all over again.
However …
If not quite as conflicted as Doc Rivers, I will acknowledge that this probably isn't the best time to reiterate my long-held claim that the Celts are still the favorites in the East.
Doc was beating himself up afterward, publicly second-guessing his decision to start a still-rusty Stephon Marbury -- in his fifth game as a Celtic -- over Eddie House in place of the injured Rajon Rondo.
I won't slam myself as loudly as Doc did, but I do concede that we all have to start wondering if the Celtics simply aren't going to have the health it'll take to win a conference that houses threats at Cleveland's and Orlando's level. Boston stayed generally healthy throughout its championship season. These Celts are suddenly without one-third of Doc's roster: Rondo and Glen Davis are the most recent casualties, joining Tony Allen, Brian Scalabrine and KG.
Even the toughest team in the league has a limit.
And these Celts have to be getting close to theirs, especially knowing that A.) All these injuries are bound to cost them the ever-crucial advantage of a Game 7 at home in the East finals, and B.) There's no guarantee Garnett will be a full-speed KG when he finally does get back.
"It just seems like every game [that] bodies are going down," Paul Pierce said, giving us a hint of the frustration the champs must be feeling, even after a pretty good weekend.
Dimes past: Feb. 23 | 24 | 25 | 26 | 27 | Feb. 28-March 1 | March 1 | 2 | 3 | 4 | 5 | 6 | 7-8
Is Bosh Staying Or Leaving the Raptors?

Zach (Toronto): J.A., what is the consensus among your peers and other writers about Chris Bosh staying in Toronto? Is it likely Colangelo shops him on draft day to get a good package ?
J.A. Adande: The only people I talk to who believe Bosh will stay in Toronto are people with the Raptors. That's how they're operating, at least, hoping to put the right pieces around him. They should have the cap space in 2010 to do get another piece … the question is will it be an addition or a replacement? I think a replacement.
David (Austin, Texas): What do you think would be the SMARTEST decision the Rockets could pull with regards to Tracy McGrady? It's unfortunate it never panned out, and I think it's time for him to go … thoughts on a replacement?
J.A. Adande: The smartest would be to trade him. They might actually have a shot to get some decent players in return, because McGrady's $23 million contract would come off the books in 2010. But the Rockets would have to be willing to take back some long-term contracts at some pretty big $$$. If they want to spend the money, they could get two or three good players and be one of the deepest teams around.
• To read the entire Adande chat, click here
Thunder Better Defensively Without Durant

By Elias Sports Bureau
Kevin Durant averaged 30.6 points per game in February, when the Thunder lost nine of 12 games. But with Durant sidelined with a sprained ankle, Oklahoma City has posted a 4-1 record, including Sunday's 89-74 win over the 76ers, and that score suggests the reason: The Thunder allowed an average of 104.8 points per 48 minutes with Durant on the floor, 9.0 points more than their average without him (95.8 per 48).
By Maurice Brooks
ESPN.com

SUNDAY'S BEST
Devin Harris, Nets:
The All-Star point guard made sure the home team got a much-needed win, scoring 35 points and handing out 10 assists as the Nets turned away the Knicks 106-101.
---

SUNDAY'S WORST
Philadelphia Sixers:
Philly gave out just nine assists as a team (the lowest total since 2002) and was held to its second-lowest point total of the season in an 89-74 loss to the Thunder.
---
QUOTE OF THE NIGHT
"I was on the taping table laying down and I fell asleep. That was like 15 minutes before the game, so I was out of it."
-- Jazz guard Deron Williams after his team not only lost an hour of sleep because of daylight saving time, but also had to fly two time zones East
Kings' Martin Does It All In Win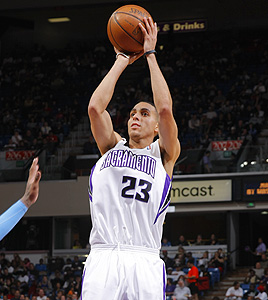 Rocky Widner/Getty Images
Kevin Martin shook loose for 26 points, seven rebounds and eight assists for the Kings, who notched just their fourth win since Feb. 1, defeating the Nuggets 114-106.
Knicks Need To Start Robinson
By Chris Sheridan | ESPN.com

EAST RUTHERFORD, N.J. -- A grimace crossed Mike D'Antoni's face as he answered his final question of the night, one he could see coming from a mile away given the conversation we had shared an hour before tipoff.
"Would you explain, Coach, why you kept Nate Robinson on the bench for almost the entire final 5½ minutes?"
Mind you, this was a final 5½ minutes that the New York Knicks needed desperately to win in order to keep from dropping even further out of an Eastern Conference playoff race that is slowly, steadily slipping away from them, a final 5½ minutes in which the mistakes came one after another after another in what ended up being a 106-101 loss Sunday to the New Jersey Nets.
"You know, Chris, I know you're on his bandwagon, but if you watched it he didn't have gas, wasn't getting over picks and wasn't getting good shots. It's pretty simple if you watched the game," D'Antoni said.
And while D'Antoni's point is well taken, the fact of the matter was that the lineup D'Antoni put on the floor to end the game (Chris Duhon, David Lee, Danilo Gallinari, Larry Hughes and Wilson Chandler) was devoid of anyone with the ability to light a fire under his team the way Robinson has all season, which gets back to the point I was questioning D'Antoni about on the visiting bench before tipoff: "Are you, or will you, consider moving Robinson into the starting lineup in place of the struggling Duhon?"
"Maybe, maybe, maybe, maybe," D'Antoni kept repeating as he discussed the pros and cons of such a move, indicating that he was hesitant to make that particular switch, even with the Knicks now needing to go 15-5 over their final 20 games to reach 40 victories, the benchmark D'Antoni believes will get his team into the postseason.
Robinson came off the bench Sunday and hit his first six shots, but he missed six of his final seven and finished with 17 points, five assists (against one turnover) and three rebounds in 24½ minutes; still a heckuva lot more production than D'Antoni got out of Duhon, who had six points, six assists and six turnovers to extend a personal slump in which he has had just 51 assists against 36 turnovers.
Speaking beforehand with Robinson, the diminutive combo guard took issue with my characterization of Duhon's recent stretch as a slump, pointing to the three-week period at the start of the new year (when he shot 38-for-121) as a real slump.
But there's no arguing with the fact that Robinson has been the third-highest-scoring player in the entire NBA since the All-Star break (his 26.5 average trailing only Dwyane Wade's 35.3 and Kobe Bryant's 29.7), and there's no arguing that the Knicks need to do something desperate if they want to stay in a playoff race in which they are only 3½ games out of the eighth playoff spot despite being 13th in the conference.
So I ask again the same question I was wondering both beforehand and afterward:
Do you play out these final 20 games with Duhon, whose legacy for this franchise will be a stint as a two-year rental, a stint in which he couldn't even be trusted Sunday to defend Devin Harris? (Wilson Chandler got that assignment instead, with Duhon checking Trenton Hassell.)
Or do they roll the dice and hand the reins over to Krypto-Nate, giving him a 20-game body of work to influence the debate one way or another whether he'll be a keeper when this franchise moves into the pivotal summer of 2010? He's the only player on the Knicks' roster who even remotely resembles Steve Nash, and if I recall correctly, Nash had a pretty nice little run under D'Antoni.
Maybe a better question is this:
What do the Knicks have to lose by giving Nate the ball, showing Duhon the bench and seeing what happens?
Nothing. Which is why it should happen beginning Tuesday night in Milwaukee.
Chris Sheridan covers the NBA for ESPN Insider. To e-mail Sheridan, click here.
By Henry Abbott | TrueHoop

You throw your fists in the air. You scream. You turn to the person you came with and you give them a big, hard, two-handed double high-ten. You pump your fists back in the air. You scream the whole time. You point at the replay and laugh with joy …
And then -- it's not uncommon -- you turn around, facing the people sitting behind -- total freaking strangers! -- and you high-five that guy. And his friend. And that girl, too.
If you've ever had a fantastic moment at a sporting event, it's something like that. This is the reality when you love and love and love a team so much, and then that guy makes that great play and now it's clear you're going to win that playoff game.
Oh, it is sweet.
• To read the TrueHoop blog, click here