(Scott Cunningham/Getty Images)
Deron Williams and the Jazz found the path to a 13th straight win blocked by Mike Bibby's Hawks.

(Bill Baptist/NBAE via Getty Imagess)
Ron Artest and Kobe Bryant tangled in contentious fashion, fueling KB's 37-point night and LA's win.

(Allen Einstein/NBAE via Getty Images )
Knicks guard Nate Robinson (30 points) avoided Jason Maxiell here in a 116-111 OT win in Detroit.

(Sam Forencich/Getty Contributor)
Dirk Nowitzki had 29 points in a 93-89 road win over Portland that tightened the 3-8 West seeds.

(Victor Baldizon/NBAE via Getty Images)
Helped by Dwyane Wade's 32, Heat coach Erik Spoelstra kept a stiff upper lip in a win over Boston.

( Ned Dishman/Getty Contributor)
Chris Paul took time from posting a triple-double to talk things over during the Hornets' win in D.C.
Jazz Woes Against Winning Road Teams Continue

ATLANTA -- Let's get right to the three key numbers from Wednesday: 1, 9 and 12.
Twelve is the big number you'll hear about, because Utah's 12-game winning streak ended in a 100-93 loss to the Hawks thanks to 31 points from Joe Johnson, Josh Smith's best game in several weeks and a lengthy, productive first-half cameo from Mario West.
But going forward, it's the 1 and the 9 that are of much greater concern.
The number 1, because after Wednesday that's still the number of times the Jazz have beaten a winning team on the road this year. Yes, just once: a 120-114 overtime win at Detroit on Dec. 19. They lost their other 10 tries -- make that 11 after Wednesday -- and most of them weren't even close: Only two were decided by six points or less.
And the number 9? That's how many road games the Jazz have left against winning teams, starting Saturday in Miami in the always-dangerous scenario of having two days off in South Beach preceding a 1 p.m. start.
So while the story of the moment is how Atlanta ended Utah's string, the big question going forward is whether the Jazz can pull out a couple of tough road games and hang on to a top-four seed in the West. And the implications for the postseason are just as large -- everyone thinks of this as the West's second-most talented team, but how much of a threat can these guys be in the playoffs if they can't beat a good team on the road?
"It's just our mentality," said Deron Williams, who led Utah with 20 points and nine assists. "We don't come out with the same mentality on the road as we do at home, because of not being in the comfort of your home and having the crowd to motivate you. But it's something you have to have night in and night out. We started out the road trip with that in Toronto and Indianapolis but we didn't come out with the same energy in the first quarter of this game."
"We were shorthanded early [in the season] and we didn't have our whole team back," said Jazz coach Jerry Sloan of his team's struggles away from home, and he has a point -- Utah is 6-5 on the road when Carlos Boozer plays but 7-13 when he doesn't.
"This was a good team we played and we had a chance to win the ballgame -- some of the games we played when we were short-handed I don't think we had enough to get it done. [Wednesday] we had enough but we didn't come with enough to start with."
You'll notice both Sloan and Williams cited the team's poor start, and there's a reason for that. Utah fell behind 14-4 before breaking a sweat and trailed by as many as 16 in the first half. As bad as the score was, Utah looked even worse -- including two separate turnovers where the Jazz lost the ball out of bounds without any Hawks nearby.
"We didn't run out of gas," said Sloan. "We didn't come with gas early. Nobody cares what you did last night, you have to come out and play hard. We didn't play hard in the first half -- we gave up 55 points. We played much harder in the second half, but you dig a hole like that for yourself to try to fight out of, it's huge."
If one thought it was an aberration, it would be easy to grant the Jazz some slack for this one -- they were on the tail end of a back-to-back and looked tired late, failing to score a field goal in the final five minutes and allowing numerous transition baskets to the speedier Hawks.
But it's worrisome because it's part of the larger trend. And while there was something to appreciate in the Utah locker room for the 12-game winning streak that moved them from the playoff fringes into the top four in the West, there's also a larger reality looming: The Jazz have yet to demonstrate they can beat a good team on the road, and most of the remaining games on their schedule are against good teams on the road.
Thus, don't pay much attention to the 12 that every story about this game focused on. It's the 1 and the 9 that matter much more going forward, because how much that "1" changes the course of the "9" will tell us everything we need to know about Utah's status as a contender.
John Hollinger writes for ESPN Insider. To e-mail him, click here.
Dimes past: Feb. 28-March 1 | March 1 | 2 | 3 | 4 | 5 | 6 | 7-8 | 9 | 10 | 11
It Is Time For the Clippers To Make A Change

By Bill Simmons | Page 2
You probably don't care. Wait, you definitely don't care. But there's an ongoing basketball atrocity happening right now in Los Angeles. As long as Mike Dunleavy remains employed with the Clippers, I cannot rest. I have to keep writing about it.
Tuesday night took the cake. The LeBrons were in town. Only eight current NBA players qualify for "There's No Way I'm Missing Them If They're In Town" purposes: LeBron, Wade, Paul, Duncan, Kobe, Durant, Howard and, strangely, Anthony Randolph (I will explain some other time). It's a once-in-a-generation experience to see LeBron right now if he has it going. I caught him in Boston on Friday and he stunk. But after Wade's 48-12 and surreal game-winning 3-pointer Monday night officially launched the "Wade for MVP" bandwagon, I thought for sure Bron would be kicking some Clippers butt Tuesday night. So I was giddy.
To read the entire Simmons column, click here.
Suns In Position For Playoff Push
By John Hollinger | ESPN.com

Phoenix's loss to Dallas on Tuesday night was a killer, cutting the Suns' Playoff Odds nearly in half. On the other hand, some may wonder how the Suns' odds can stand at 28.8 percent despite being five games down for the eighth spot in the West with only 18 left to play. So I'll remind you once again that after Wednesday's game against Cleveland, the Suns' schedule is cake-ola the rest of the way.
Clearly, the Suns would have to win the rematch in Dallas on April 5 -- which could cut the margin to a still-daunting four games. But if they do that, they project to go 11-6 in the other 17 games, while the Mavs' projected record is 8-9. That makes up three of the four games; even a one-game deviation from this projection would put Phoenix in the playoffs, as they'll almost certainly own the conference record tiebreaker.
Phoenix also maintains a sliver of a chance of passing Portland or Denver, though both teams would have to collapse for that to happen. Again, tiebreaks would be key -- the Suns have one game left against each team, and in each case would gain both a game and the tiebreaker edge with a win.
To see the four other Insider Gems, click here.
Timberwolves Stop Losing Streak In Style

By Elias Sports Bureau
Minnesota beat Memphis 104-79 on Wednesday night, ending the Timberwolves' 10-game losing streak. Only one other team in the past 10 years snapped a losing streak of 10 or more games with a victory by at least 25 points. In January 2002, the pre-LeBron Cavaliers broke a 12-game slide with a 114-81 win against the Timberwolves.
By Maurice Brooks
ESPN.com

WEDNESDAY'S BEST
Chris Paul, Hornets
: The Wizards threw countless defensive schemes at Paul and each time the point guard had the answer on the way to a triple-double of 30 points, 10 rebounds and 13 assists in New Orleans' 11-point win.
---

WEDNESDAY'S WORST
Chicago Bulls
: Fighting for the final playoff berth in the East, the Bulls fell behind by 13 after one quarter and never challenged in a 107-79 loss to the Magic. Orlando clinched a postseason spot with the win.
---
QUOTE OF THE NIGHT
"It wasn't much of a battle. I kicked his [butt] tonight. We've had some battles in the past and he's gotten the best of me a few times. Tonight, I got the best of him."
-- Lakers guard Kobe Bryant on Rockets forward Ron Artest, who failed to cool the hot-shooting All-Star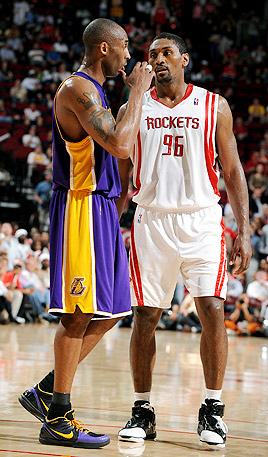 Garrett W. Ellwood/Getty Images
Kobe Bryant saved his best for last, torching Ron Artest and the Rockets for 31 of his game-high 37 points after intermission in the Lakers' 102-96 victory in Houston.
A.I. Not A Good Fit In Detroit

Bill Laimbeer thinks the Pistons are built for a five-person basketball team and Allen Iverson is a different type of player. Bill believes the Celtics will beat the Lakers again in the NBA Finals.
The Herd with Colin Cowherd