(AP Photo/Eric Gay)
Tim Duncan and the Spurs couldn't keep Trevor Ariza and the Lakers from clinching a playoff berth.

(AP Photo/Eric Gay)
Lakers center Pau Gasol (23 points, 11 rebounds) tried to go over the top against Tim Duncan.

(AP Photo/Matt York)
The Suns couldn't hold down Mo Williams for long. The Cavs guard scored 30 points in a road win.
The Biggest Weaknesses Of Top Title Contenders

There is about a month remaining in the NBA regular season and five teams seem to have separated themselves somewhat from the pack as title contenders. I like some of those teams more than others, but here's a quick rundown on the biggest concern I have about each team's chances this postseason.

Los Angeles Lakers
Biggest Concern: Beating Boston
The Lakers' biggest issue to me is meeting up with Boston in the Finals. If they play Cleveland, then I see the Lakers winning in five games with or without Andrew Bynum. But if they meet the Celtics again, I think they are really going to need Bynum to have a chance. Another question for me is that if Bynum does return, what will they do with Lamar Odom? That's a huge question.
Odom has been terrific in the starting role, but when he comes off the bench he doesn't seem to be nearly as big a factor. Maybe they'll consider bringing Bynum off the bench.
---

Cleveland Cavaliers
Biggest Concern: Ben Wallace

The loss of Big Ben is a bigger deal than people might think. His numbers certainly weren't what they've been in the past, but since he's been out the Cavs have been getting dominated inside.
Leon Powe
,
Glen Davis
and
Kendrick Perkins
dominated them the other night in Boston.
Atlanta hurt them down low recently as well. The Cavs have really struggled on the interior, giving up a lot of points in the paint and second-chance opportunities. Wallace isn't going to score a lot of points but at least he's forcing you to guard him, and at the other end he's at least taking one guy out of the mix down low. He's still a very good help defender and I think the Cavs have really missed him. Joe Smith is just not the type of player, at this stage of his career, who can make up for the loss of Wallace.
---

Boston Celtics
Biggest Concern: Injuries

I see Boston as the most mentally tough team. Still, I don't think the
Stephon Marbury
experiment is going to work out. They won a title last year without a backup point guard, so I'm not sure why they felt they needed him. Sam Cassel played a minimal role at best as their backup last year.
My only real concern this year is their health. If Kevin Garnett and the rest of the team are healthy, then I'll feel pretty good about their chances at a repeat.
---

San Antonio Spurs
Biggest Concern: Defense

Yes, actually their defense. The Spurs are not nearly the defensive team that they've been in years past, and I don't think they can stop the Lakers or score enough points to win a series against L.A. I know
Manu Ginobili
was a bit banged up last year against the Lakers, but the Spurs just didn't have the athleticism to compete.
Drew Gooden
should be a nice addition for them in the low post. He's a much better defender than
Matt Bonner
and he can stretch the floor out to 20 feet. He can't shoot the 3 like Bonner but, as I've said before, I think Gooden could turn out to be a huge pickup.
The Spurs rank ninth overall in field goal defense, but a good sign is that over their past 10 games, they have actually led the league (41.7 percent).
The Spurs always seem to be a factor, and Gregg Popovich never seems to get enough credit, but in the end I don't think they have enough to get by Los Angeles.
---

Orlando Magic
Biggest Concern: Style of play

The Magic just don't have a style of play that's good enough to win. They have
Dwight Howard
, but Orlando is really a jump-shooting team. Howard is literally their only post-up option, and I have questions about whether they can win by going through him in the final minutes of a close game.
Rashard Lewis
used to post up, but he hasn't done much of that as of late. So the question is: Can the Magic win with Howard at the free-throw line? Because that's where he's going to be.
Three-point shooting teams generally don't go very deep in the playoffs. The Magic may win a series, provided they don't face Detroit early on, but they are lacking a true 4-man who could give them another option down low. They are clearly the third-best team in the East, and I don't think a healthy Jameer Nelson would have made a bit of a difference for them this season.
ESPN analyst Jon Barry is a regular contributor to the Daily Dime.
Dimes past: Feb. 28-March 1 | March 1 | 2 | 3 | 4 | 5 | 6 | 7-8 | 9 | 10 | 11 | 12
The Lakers Make A Good First Impression

By Dr. Jack Ramsay | ESPN Radio
SAN ANTONIO -- The first quarter of the Lakers' 102-95 win over the Spurs here Thursday night was the best overall performance by any team I've seen this season. The Lakers got out to a 35-17 lead and played almost flawlessly -- not one turnover. They had balance -- everybody on the floor for them scored. They forced five turnovers from a team that is second-best in the league in committing the fewest turnovers.
That demonstration helped show why the No. 1 team out there this season is the Lakers.
The Lakers' defensive scheme is much-improved over last season. I think they took a page from the Celtics in that they like to regularly bring a weakside defender over to help on the ball side. That made it harder on Tim Duncan, who didn't have many one-on-one opportunities and finished with 16 points on 6-of-13 shooting.
Trevor Ariza had an outstanding game for L.A. in his second game as a starter. He's in the starting lineup after Luke Walton paid a visit on the plane to coach Phil Jackson after Monday's bad loss to the Blazers. Walton said he would do better in the second unit, which needed a passer. You might not get the idea that Phil could be that approachable on a subject like this, but it speaks to the team atmosphere they have. It's one the Spurs have always had.
So what happens when Andrew Bynum returns? It wouldn't surprise me to see him come off the bench. Adding Bynum could make this team into a real juggernaut.
For the Spurs, this is a team that needs Manu Ginobili healthy and back on the floor. Spurs coach Gregg Popovich told me before the game that Thursday was the first day since the injury that Ginobili took shots on the move during practice. However, he said Ginobili developed some soreness in his ankle that they didn't expect, so that might delay his re-entry into the game rotation.
Drew Gooden got into his first game as a member of the Spurs and I thought he did quite well, getting four rebounds in four minutes. He could help. He's a rebounder and shot-maker and gives the Spurs a physical presence that they need.
Dr. Jack Ramsay is a Hall of Fame coach heard regularly on NBA on ESPN Radio broadcasts.

By John Hollinger | ESPN
The battle for the league player efficiency rating title continues to tighten, as
Dwyane Wade
keeps closing the gap on
LeBron James
' once-commanding lead. After another explosion from Wade on Wednesday in the Heat's win over Boston, his mark stands at 30.66, within hailing distance of James' 31.27.
This has obvious implications for the MVP vote, as many of us (myself included) want to see how these two fare over the final month of the season before endorsing either candidate.
One thing that should be perfectly clear, however, is that these guys need to be Nos. 1 and 2 on every ballot. As good as Chris Paul, Dwight Howard and Kobe Bryant have been, they'd have to be historically great over these final weeks to present a body of work on the season that can match James' and Wade's.
To see the four other Insider Gems, click here.
By Andrew Ayres
ESPN.com

THURSDAY'S BEST
LeBron James, Cavs
: In addition to swatting a J-Rich 360 dunk attempt, LBJ goes for a third straight triple-double (34-10-13) in the 119-111 win in Phoenix.
---

THURSDAY'S WORST
Matt Bonner, Spurs
: Trying to cover Pau Gasol was a tall task. Bonner spent 13 minutes on the floor with no rebounds, turning in a minus-17 in the plus-minus gauge of his brief court tenure.
---
QUOTE OF THE NIGHT
"It's just a cockamamie rule. It's a rule [that] has some sense in it, but doesn't stand up all the time. It just doesn't."
-- Lakers coach Phil Jackson on the suspension of Lamar Odom for leaving the bench area during a confrontation Monday against Portland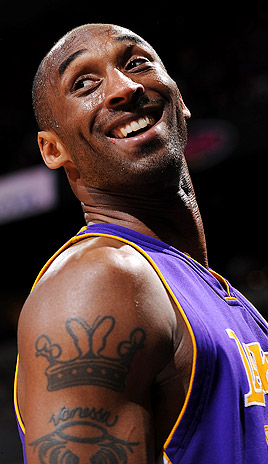 Garrett W. Ellwood/Getty Images
Kobe Bryant and the Lakers wrapped up a playoff berth Thursday with over a month left to play.

Joel (Philly via Youngstown):
What free agent signing from last offseason goes down as the biggest mistake? Has to be
Elton Brand
, right?
John Hollinger: So far it's Brand, but at least there's an excuse there that he's been injured the whole time -- maybe he comes back next year and turns out to be a monster. The same cannot be said for the folks who inked Andre Iguodala, Emeka Okafor, Luol Deng and Andrew Bogut to such big deals. The restricted free-agent contracts from last year were the real mistakes, and nobody's talking about them.
For the full Hollinger chat, click here.
Dallas Has Portland's Number

By Henry Abbott
ESPN TrueHoop
Dallas has proven to be a pretty good team this year. But the Mavericks are a stellar 3-0 against the Blazers. I get the feeling they could play four more games and Dallas would win those, too. A big long shooter like Dirk Nowitzki is a problem for a team that switches on a huge percentage of picks. (The Mavericks' margin of victory was similar to the number of points 7-foot Nowitzki scored while being solo-covered by 6-4 Steve Blake.)
Little quick guards like Jason Terry and Jose Juan Barea are another problem for Portland. The biggest problem of all, however, is the Mavericks' defense -- including a 2-3 zone -- which somehow makes Portland's offense wholly inefficient. Right now the Mavericks are holding the eighth spot in the West, but they're right up at the top of the list of teams that scare me as a Blazer fan.
For more, click here.