(NBAE/Getty Images)
Allen Iverson has struggled in his three games off the bench since returning to the Detroit lineup.

(AP Photo/Reinhold Matay)
Dwight Howard couldn't keep Chris Bosh and the Raps from pushing Orlando to No. 3 in the East.

(Photo by Glenn James/NBAE via Getty Images)
Michael Beasley and the Heat couldn't get past Jason Kidd and Dirk Nowitzki, falling 98-96.

(Photo by Gary Dineen/NBAE via Getty Images)
Kobe Bryant (30 points) pleads with Bennie Adams during the Lakers' 104-98 win over the Bucks.

(AP Photo/Elise Amendola)
Ray Allen and the Boston crowd love Allen's 3-pointer that sealed a 111-109 2OT win over Charlotte.

(AP Photo/Paul Connors)
J-Rich dealt with Shane Battier, left, and James White in the Suns' 114-109 win over Houston.

(AP Photo/Ben Margot)
Monta Ellis (42 points, 9 and 9) led the Warriors past the Kings in a 143-141 overtime win.
Time For Iverson To Put the Game First

If Allen Iverson means it when he says he'd rather retire than keep coming off the bench, then this isn't an issue for Pistons coach Michael Curry or president Joe Dumars to resolve. This is a matter for Dr. Phil, because this is about Iverson's love of the game, his commitment to a relationship that's lasted for a quarter of a century.
The Pistons have asked Iverson to come off the bench for the three games since he returned from a back injury that kept him out for a month. He's reacting about as well as if they'd asked him to come in early for practice.
"I'm in a position now that I've never been in my whole life," Iverson told reporters in New Jersey after the Pistons lost to the Nets on Wednesday night. "It's harder than I thought it would be. With the back injury, I have to sit out at the start, then go in, then sit again. It's tough to really get going. I take my hat off to the guys who can come off the bench and be effective. It's tough for me. I'm struggling with it.
"I'd rather retire before I do this again. I can't be effective playing this way. I'm not used to it. It's tough for me both mentally and physically. If I'm able to go out there, I should be able to get it done and I can't right now. It's my fault. I have to be able to overcome the adversity and do what I have to do. I just have to find a way to get it done. Not being 100 percent makes it harder and you can see that I'm not 100 percent."
If Iverson truly loves the game and wants to continue playing in the world's most prestigious league, he'll understand that it's time to continue on the game's terms. He had his turn in Philadelphia, when the roster was reworked around him while the likes of Derrick Coleman, Jerry Stackhouse, Tim Thomas and Larry Hughes came and went. He won an MVP that way, took a trip to the Finals that way. The game was good to him. It put him first.
This is the time to reciprocate, to realize that sometimes you have to put others ahead of you. The Pistons had a losing record with Iverson in the starting lineup after they acquired him in a trade with the Denver Nuggets. Richard Hamilton did his stint on the bench, did it without publicly questioning his desire to continue. It's not too much to ask Iverson to do the same.
I take Iverson seriously when he says he wouldn't want to stay in the league as a bench player. He's said in the past that he will play as long as he's among the elite, the brand names. He said it again after the All-Star Game in Phoenix, only it didn't jump out at me then, but it stuck with me just enough that I searched through the digital recorder Wednesday night to hear his exact words: "For me, once I can't play like this any more, once I can't compete with the younger guys and do things that I'm accustomed to doing on the basketball floor, I'll know it's my time."
The greats are often the last to know. They have to be told, explicitly. Nothing speaks louder than allocation of minutes. Iverson has played a total of 35 in the past two games, or two fewer minutes than Will Bynum.
There isn't a great big payday to be had for the free-agent-to-be. He won't be the second-highest paid player in the league like he was this season, when he made $22 million. The Pistons weren't going to pay him a lot to be a chemistry-clogging backup, especially if he balks at the role. The cash-strapped Grizzlies aren't going to lavish big contracts, the prudent Thunder won't go after a 33-year-old who still wants to be The Man. He'll have to go somewhere for less money; he'll have to go somewhere where he's asked to fit in.
So it's a question of what has the greatest tug on Iverson's heart: his love of the game, or his love of the way he's used to playing it.
J.A. Adande is an ESPN.com senior writer and the author of "The Best Los Angeles Sports Arguments." Click here to e-mail J.A.
Dimes past: March 19 | 20 | 21-22 | 22 | 23 | 24 | 25 | 26 | 27 | 28-29 | 30 | 31 | April 1
Wade Finally Returns To American Airlines Center

By Marc Stein | ESPN.com
DALLAS -- Scoreless for nearly six crunch-time minutes.
Way, way off with a triple from the corner at the buzzer that wouldn't have counted anyway because he got the shot off too late.
And ...
So ticked by a late charging call on Mario Chalmers -- actually it was fact that the ball never found its way to him on such a crucial possession -- Miami's Dwyane Wade eventually heaved the ball like a quarterback all the way to the other end of the floor.
D-Wade has finally played a game in Big D for the first time since Game 6 of the 2006 NBA Finals. This time, though, only about two things went right, as our brief review of his fourth quarter Tuesday night would suggest.
Those two things:
1. Rookie referee Eric Dalen elected not to hit Wade with a "T" after his angry QB toss with 2.3 seconds to go in what would wind up as a 98-96 loss to the Mavs.
2. As a calmer Wade said with a chuckle afterward: "I thought [Mavs fans] were going to boo me a little more."
That was a reasonable expectation given what Wade did to the Mavs in his last appearance on the American Airlines Center floor. With 36 points, 10 rebounds, five assists and three blocks that night, Wade cemented himself as an NBA Finals MVP as the Heat finished off the greatest comeback/biggest collapse in Finals history, depending on your perspective.
You only saw glimpses of that Wade on this night, after shoulder injuries prevented him from playing in either of Miami's annual visits during the past two seasons. There were a few trademark slashes to the cup for dunks and one nifty backhanded layup on drive early in the fourth. But Wade generally labored to total 23 points in 39 minutes after spending a good hour beforehand on the training table, presumably to get his ailing hip worked on.
The Heat nonetheless led by as many as 11 points in the third quarter in spite of the relative quiet from Wade, only for the Mavs to turn the game after Wade's jumper with 5:42 to play put Miami up 91-87. From that point, at the urging of assistant coach Dwane Casey, Dallas repeatedly sent an extra defender at Wade almost as soon as he crossed halfcourt.
And the Mavs' trapping indeed got the ball out of Wade's hands, forcing inexperienced teammates who aren't exactly reminiscent of the crew Wade had around him in '06 to try to win the game for the East's No. 6 team. On the fateful Chalmers play in particular, Heat coach Erik Spoelstra wound up saying it was his fault that the Heat didn't call a timeout before his rookie point guard sped away downcourt.
So the West's No. 8 team wound up escaping with yet another narrow victory, spearheaded by some gritty fourth-quarter defense from Jason Kidd (hampered by an ear infection) and perhaps the most passionate display of the season from from Mavs lightning rod Josh Howard. In just his second game back from a long-term ankle injury, Howard celebrated one third-quarter dunk from Brandon Bass with a chest bump so violent that you could only conclude that any game against Miami still means a ton to the Mavs, no matter who's in Wade's supporting cast. Howard then supplemented his 20 points by coming up with two big steals and drawing the charge on Chalmers in the final period after asking the Mavs' coaches to let him go beyond a 24-minute limit Rick Carlisle had planned to observe.
The Mavs thus moved to a tidy 17-4 in games decided by five points or less, helping them maintain a four-game lead over No. 9 Phoenix with seven games to play. They can only wish they were close-game masters like this back in the Finals, when three of Dallas' four losses in that series -- after it took a 2-0 series lead and a 13-point lead in the fourth quarter of Game 3 -- came by two, one and three points.
Wade, meanwhile, has still won only one game in this building in his life. The Heat's last regular-season victory in Dallas came in 2002.
Yet Wade, at the morning shootaround, acknowledged a nostalgic tingle just from "pulling up to the tunnel [on the team bus] and walking down the hallway to the locker room."
Afterward?
In spite of the rough night, Wade insisted: "If I don't win another game here in my career, that one game I won will always be in my mind. It will always be special coming here."
Marc Stein is the senior NBA writer for ESPN.com. To e-mail him, click here.
Special Night For Sessions

By Elias Sports Bureau
Ramon Sessions had 16 points, 16 assists and 10 rebounds in Milwaukee's loss to the Lakers. He tied the Bucks' record for most assists by a player with a triple-double, done previously by Oscar Robertson in March 1971 and Sam Cassell in January 2003.
• Chris Paul had 30 points, 14 assists and six steals in the Hornets' win against the Clippers on Wednesday night. Since the 1973-74 season, when the NBA first began recording steals for individuals, only three other players reached all three of those statistical levels in a non-overtime game: Ray Williams (in January 1983), Michael Jordan (March 1989) and Gary Payton (March 2000).
• Kobe Bryant made each of his first seven field-goal attempts leading to his game-high 30 points in the Lakers' win against Milwaukee on Wednesday night. That was Bryant's longest streak of successful shots from the field to begin a game since December 28, 2002, when he started 9-for-9 at Denver.
• Dwight Howard scored 30 points in the Magic's 99-95 loss to Toronto on Wednesday night, but his poor free-throw shooting may have cost Orlando a victory. Howard was only 10-for-21 from the foul line. It's the only time in the last three seasons that an NBA player attempted at least 20 foul shots in a game and converted less than half of them. Prior to Howard, the last player to do that was Ben Wallace, who was 7-for-22 on December 11, 2005.
• Dirk Nowitzki scored a game-high 30 points, including a perfect 10-for-10 from the foul line, in Dallas' 98-96 win over Miami on Wednesday night. It's the seventh time this season that he has attempted at least 10 free throws in a game and made them all. The only NBA player to do that more often this season is Danny Granger, who has been 10-for-10 or better eight times.
• Steve Nash led the Suns in points (25) and assists (17) in the team's win against Houston. That tied Nash's career-high for assists in a game in which he led his team in scoring.
By Maurice Brooks
ESPN.com

WEDNESDAY'S BEST
Monta Ellis, Warriors
: Yes, the Kings' Kevin Martin scored 50, but Ellis filled the box score with 42 points, nine rebounds, nine assists in Golden State's 143-141 overtime win. One negative note, Ellis left the game with an ankle injury.
---

WEDNESDAY'S WORST
Allen Iverson, Pistons
: I guess this coming off the bench thing isn't working out too well for Iverson, huh? He went 1-for-8 from the floor, finishing with four points in just 17 minutes of action in Detroit's 111-98 loss to the Nets.
---
QUOTE OF THE NIGHT
"It's not over yet. We're going to keep playing, see what happens. We still have a chance."
-- Raptors forward Chris Bosh on the playoff chances for Toronto, which is six games out of the No. 8 spot in the East
Suns Still Burning Bright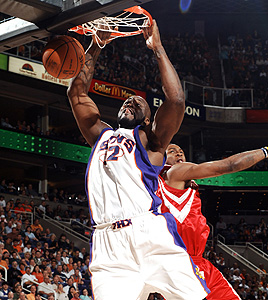 Barry Gossage/NBAE/Getty
Shaquille O'Neal powered his way inside for 22 points and 10 rebounds as the Suns kept their fading playoff hopes alive with a 114-109 victory over the visiting Rockets.
By Brett Hainline | TrueHoop Network

The Bobcats were presented with (or created of their volition, depending on your perspective) multiple opportunities to acquiesce to defeat at the hands of the Celtics Wednesday night: When confronted with a nine-point deficit, they could have called it a day, reasoning they had done their duty a night prior in knocking of the Lakers.
The Bobcats did not quit.
When the Bobcats relinquished a double-digit lead, allowing the Celtics to score the final eight points of regulation to tie the game, they could have thrown in the towel. The Bobcats did not concede.
When Ray Allen made a late 3 in the first overtime to tie the game up for a second overtime, the Bobcats could have decided it was not their night. Given all of those excuses to give up, the Bobcats battled on -- going back and forth with the defending champs all the way to the end.
And then, they lost. Ray Allen hits the big 3 with two seconds left and the Bobcats could not counter despite a solid look for Raja Bell. While the path the Cats took to the finish line was not the anticipated one, with an assumed easy victory for the Celtics given the Bobcats coming into Beantown less than 24 hours after facing the Lakers becoming a hard-fought, double-overtime affair, the end result was the same regardless. The valiant effort, the never-say-die attitude: Defeat means it was all for naught ... right?
Maybe not. Yes, this game is a loss -- the Bobcats go to 34-41 on the season, 1.5 games out of the last playoff spot in the East. But the determination the Bobcats showed in making this game into riveting television bodes well for their playoff aspirations.
Wednesday night did not change the fact that it will be a road-heavy endeavor -- Charlotte has but two home games left and five road tilts. It does change expectations for those road games a bit. If the Bobcats can force the Celtics to need two last-second 3-pointers to win a game, why couldn't the Bobcats knock off the Bulls in the Windy City fresh off an outing in OKC?
As someone who has followed the Bobcats from their inception, I have been witness to a great number of late-game collapses. In their first couple of seasons, the Bobcats would surprise their opponents with ball pressure and build early leads. Once their opponent started applying themselves, the outcome was rarely in doubt -- a Charlotte loss would follow.
This group? They are not those Bobcat teams. There have been hints of it throughout the season, but Wednesday cemented it. These Bobcats can ball with the best of them and they know it. If they give up a lead, they do not accept it as their fate, but just battle back -- their record of 5-3 in overtime games being a solid example of that mental toughness.
Perhaps more than an expectations change, this game for the Bobcats demonstrated their resolve. They did not quit when given the opportunity. That bodes well for a squad with an outside shot at the playoffs -- Charlotte may have a 1-in-5 chance, a 1-in-10 chance, or 1-in-20 chance of making the playoffs, but they do not look ready to let that deter them. Consider Wednesday's game an allegory to their playoff run: They will win enough to give themselves a chance at the end -- will the Bulls (or Pistons) make the three at the end to stay ahead?
More of Brett Hainline's work can be seen at Queen City Hoops.
Checking In With Superman

If he was David Stern, the Magic's Dwight Howard would require players to be at least 19 to play in the NBA.
The Herd