Gregory Shamus/Getty Images
Next Stop For 'The Answer'? That's The Question.

My friends who follow American football tell me Terrell Owens pretty much had only one option for a soft landing after his exile from the Dallas Cowboys, after everyone initially thought he had no options.
As a former not-too-far-from-Buffalo resident who still loves the place -- even though I haven't been anywhere near western New York since the age of 8 -- I don't really get why the Bills are seen as such a step down.
Yet this is relevant to the Weekend Dime not because of my (annoying) allegiance to the (old) home of the Braves. It's relevant because Allen Iverson, after suddenly leaving the Detroit Pistons by mutual consent Friday night, isn't just "The Answer" any more.
He seems to be the NBA's answer to T.O., as my pal Wally Lynn of ESPN Radio in Dallas keeps claiming.
Iverson might actually be even worse off than Owens. You can certainly make that case after the Pistons, who are having enough trouble nailing down a playoff spot in this increasingly painful season of transition, decided that they didn't need the added burden of dealing with Iverson's daily discontent, deeming it better to grant Iverson's wish to heal his back and bruised psyche -- "It's a bad time for me mentally," Iverson said earlier this week -- away from the team and the spotlight.
Maybe there was only one team in the NFL willing to give T.O. his (supposed) last chance, but at least the radioactive wide receiver found that team in a matter of days. Iverson really isn't as flammable as Owens and won't be subjected to teams sending out news releases to announce that they have no interest in signing him, as T.O. was,, but he'll have to wait almost three months until free agency begins July 1. And only then will he really know whether he can still generate some interest at age 34, after an injury-plagued, tension-filled 54 games in Detroit during which the four-time scoring champ averaged a measly 17.4 points, which marks the first time in Iverson's 13 seasons that he failed to average in the 20s.
So …
Who's next on the A.I. roller coaster?
As all the football mavens loudly wondered when T.O. first was let go, will anyone want Iverson next season?
The early indications aren't encouraging. We reached out to 10 teams Friday night after Pistons president Joe Dumars announced that Iverson would be shelved for the rest of the season, heard back from seven of them and didn't turn up even a hint of concrete interest. The following list of five possible landing spots, we must warn you, contains far more pessimism than optimism after Iverson's time in Detroit playing for a boss who had coveted him for years proved to be so short and bitter.
MEMPHIS
The Grizzlies believe there suddenly are some up-for-grabs hoops fans in town in the wake of John Calipari's departure from the University of Memphis to Kentucky. Optimistic as that sounds, given the Tigers' local stature no matter who is coaching them, more than one rival executive we spoke with promptly nominated the Grizz as the team most likely to pursue to Iverson, since they clearly could do with a proven ticket seller to market to those alleged free agents.
I'm not at all sold, though.
The Answer, with apologies to O.J. Mayo, would become the biggest basketball personality in town with Calipari gone. It's also true that Memphis is projected to have more cap room this offseason, an estimated $20 million, than any other team in the league. So you figure the Grizzlies, given their well-chronicled issues filling seats in the Tigers' shadow, would have to at least weigh the possibility of gambling on A.I.
However …
No team in the league is more averse to spending money than the Grizzlies, who have agonized all season about whether they could afford to keep Quinton Ross and his modest $926,678 salary on the roster for all 82 games. So it's a major stretch to envision Grizz owner Michael Heisley sanctioning even a one-year deal at a hypothetical $7 million or $8 million, in spite of the countless empty FedEx Forum chairs I saw on my TV as I pounded out this story with Dallas-at-Memphis on in the background.
An Iverson signing in Graceland seems even less likely if you dare to consider any of the on-court implications. Divvying up the shots between Mayo and Rudy Gay already is a huge issue for the Grizz. Does anyone see Iverson as the facilitator/mentor to get those two clicking?
"Most basketball guys wouldn't touch him," one Western Conference executive said, "but he does sell tickets."
You also could question whether that still holds true. My best friend in Memphis said he doubts A.I. would make much of a difference for the Grizz gate-wise. I acknowledge that doesn't exactly qualify as scientific evidence, but I trust this friend's read on things.
LOS ANGELES
Not the Lakers, silly.
Iverson to the Clippers.
L.A.'s long-suffering other team was the most popular suggestion as a potential A.I. destination from the small handful of execs we surveyed. I'm also certain Clippers owner Donald Sterling would love to see the Iverson circus relocate to Staples Center, no matter how clear it is to everyone else in the league that we're talking about a fading star.
Of course, as we were reminded by one Clippers expert: "If box-office appeal was the only consideration, there would be a long line for the guy. A lot of teams fall into the category of needing to sell tickets."
Translation: You'd like to think that even Sterling would realize his dysfunctional team -- which will be bringing the Mike Dunleavy-Baron Davis disconnect into training camp in October if the Clips don't find a way to trade Baron, because plugged-in sources insist that Dunleavy's job continues to be safe with two years and more than $10 million left on his contract -- has no room in the backcourt for Iverson. Not with four years and nearly $54 million left on Davis' contract and not with rookie stud Eric Gordon at the other guard spot.
Just to be safe, though, I want to reissue this quote about the Clips from a Western Conference scout in March: "They have enough talent to be relevant. But it looks to me like they're trying to become the Oakland Raiders, going out and getting all the guys who are on their last chance."
EUROPE
The rational among us never believed that the exodus of a dozen or so NBA role players to Europe last summer meant we should start buying the hysterical stories about Kobe Bryant and LeBron James getting one-year overseas offers of $30 million or more.
Apart from the free-spending Angelopoulos brothers from Greek League power Olympiacos -- known better stateside as the team that signed Josh Childress away from the Atlanta Hawks last summer -- pretty much no one has money to spend over there. Basketball simply isn't a revenue-generating sport in most foreign countries, where tiny, rundown arenas and a skeletal infrastructure are the norms.
It always was more likely, even before the global economic downturn hit European basketball harder than it hit the NBA, that the next big name to move abroad would be a former All-Star at the end of his career, just like we saw in the '80s (Bob McAdoo) and '90s (Dominique Wilkins).
Someone like Stephon Marbury.
Or someone like Iverson … assuming he's even interested in playing something other than NBA basketball.
One Eastern Conference general manager immediately tossed out the European option for A.I., since there would be no shortage of shots, minutes and adulation if he went to, say, Italy, Spain or Greece.
That GM, though, quickly caught himself, remembering how scarce money will be this summer for players seeking international work.
"It would have to be a Greek team," he said.
BOSTON
I need to stress that this is purely an educated guess from one of my guys who knows his stuff. But I was sufficiently convinced to share the speculation.
If the Celtics fail to repeat as champs, and if A.I. were willing to take a short-term deal to chase the ring that has eluded him, Iverson to Boston is not nearly as outlandish as it sounds.
Iverson almost certainly would have to accept the bench role he repeatedly has said he'll never accept again, which is a sizable impediment. But that probably would be the biggest impediment here.
Why are you so sure the Celts would have no interest in a short-term arrangement? Weren't you just as sure Boston would never sign Marbury?
We dipped into the archives to find this paragraph from an old Weekend Dime in December 2006, shortly after Iverson's request to be traded from Philadelphia was made public and when the Celts had no idea Kevin Garnett and Ray Allen would be arriving months later: "Boston's Paul Pierce, sources say, still wants Iverson as a teammate and remains hopeful that his team has a shot. Danny Ainge, meanwhile, is said to be a longtime Iverson fan, with AI apparently possessing the Michael Jordan brain type and with the Celts' personnel boss known to be a big believer in brain-typing."
The other provocative suggestion in circulation comes from TNT's David Aldridge, who in an NBA.com piece posted Thursday made the claim that the best place for Iverson to try to resurrect his career is Charlotte, with the offensively challenged Bobcats. And with a certain coach from Iverson's past named Larry Brown.
RETIREMENT
The latest Iverson drama accelerated to this newest fork in his career Wednesday night in New Jersey, when A.I. announced after his third game as Detroit's sixth man that he'd rather retire than come off the bench next season.
You'll notice that pretty much no one is treating it as an April Fool's joke.
That's because it's not hard to imagine the famously proud/stubborn Iverson following Latrell Sprewell into early retirement rather than play for less of a role and less of a contract than he thinks his stature deserves. Not hard at all.
He's hit new lows in selfishness with his candor this time -- which can only exacerbate the me-first reputation that often overshadows the four scoring titles and 2001 MVP trophy he's racked up as one of the most dynamic and durable little men this game has ever seen -- but I don't doubt Iverson's sincerity one bit when we hear him say: "I'm happy with my career and the things I've done in my career. I feel blessed that I've had the opportunity to accomplish the things that I've accomplished, to do the things that I've done. I would feel fine if I had to [retire]."
How likely is it that he'll end up feeling that way?
Let's be honest. Iverson was looking at a massive pay cut in the $15 million range next season in the very-best-case scenario, which was dependent on him gritting his teeth through one season in Detroit as a role player after the Pistons acquired him mostly for the future flexibility that comes with his $20.8 million expiring contract but also the desire to further Rodney Stuckey's development out of Chauncey Billups' shadow.
That best-case scenario was before Iverson missed 16 games with a mysterious back injury, grudgingly logged limited minutes in three games and then negotiated a mutual leave from the Pistons for the rest of the regular season on the eve of what undoubtedly would have been a humbling return to Philadelphia on Saturday as a bit-part reserve.
Now?
"I don't think A.I. has much of a market … if any," one Western Conference executive said. "Maybe some team that wants to get a ticket-sale bump. But a serious club, no way. His act is tired, and even in his best years, I don't think he was great enough to put up with all the B.S. he put teams through."
Said another decision-maker in the West: "If he only wants to start, his career may be over."
Marc Stein is the senior NBA writer for ESPN.com. To e-mail him, click here.
Dimes past: March 20 | 21-22 | 22 | 23 | 24 | 25 | 26 | 27 | 28-29 | 30 | 31 | April 1 | 2 | 3

Finally had a chance to catch up with Chris Paul this week -- probably only because he was standing still near the Hornets' bench after running through his pregame routine Tuesday in Sacramento -- and ask him two things I've been wanting to ask him for a while.
Question No. 1: Is he ticked that he's arguably playing better this season, with far less assistance from other Hornets, than he did last season as the MVP runner-up toKobe Bryant ... and might not make this season's top five in MVP voting?
And No. 2: Does he still see his long-term future with the Hornets after they attempted to trade away Tyson Chandler before the February trading deadline?
The responses:
No. 1: "I definitely think I'm having a better year this year than last year, but that's me personally. Obviously our team doesn't have as good a record as we did last year. We're not as healthy as we were last year. I don't think it's anything you take away from me or any of the other [MVP outsiders] like Dwight [Howard]. I think you just have to credit the guys [who are] playing outstanding, like LeBron and D-Wade and Kobe. … My main focus right now is just to get our team to the championship. The MVP race is all fun and well, but now I just want a championship."
And No. 2: "Most definitely. Because I feel like Tyson's long-term future is with the Hornets and so is [David West's]. … I've been over that [near-trade] for a long time. It's funny because Tyson was actually gone for a day maybe. So it's not even a trade that really took place."
Paul, remember, is earning just $4.6 million this season in the final year of his rookie contract, before the max extension he signed last summer kicks in next season.
"I don't think about the future too much," he said. "I just deal with what's going on right now. I never think about what's going to happen during the summer or nothing like that, because we can't control that. I guarantee that if we win a championship this year, we won't have to worry about what's going to happen this summer. Everybody's going to be back."
---
Want some bonus Chris Paul?
How 'bout his MVP ballot?
"I talk to D-Wade all the time," Paul said. "I talk to Bron about every day. D-Wade knows he's been unbelievable, but Bron has been unbelievable, too. You look at the Cavs' record right now. They have 60 wins already. It's ridiculous.
"So right now I'd have to give the edge to LeBron. And I think it has to do with how well the Cavs have played. D-Wade doesn't have the supporting cast LeBron has, but they're like 36-1 at home. That's just unheard of."
---
Are folks inherently pessimistic in Phoenix?
Can you blame them after the various ways the Suns have arrived at the most painful possible endings over the past few years?
No wonder one self-deprecating club insider hit me with this line of questioning recently, based upon the growing realization that the West's final playoff berth is almost out of reach: "How many teams are in the lottery? Fourteen? We'll end up with the 15th pick."

Five questions with Suns forward Grant Hill, who is six games away from playing in all 82 games for the first time in his 14 seasons:
Q: Has this been the season from hell as we see it from the outside?
A: It's certainly been a challenge. Lots going on. With that said, though, we're probably playing our best ball now or coming close to playing our best ball. And we're still in it. But it has been a trying year.
The expectations were a lot higher. Overall we just haven't played to our ability. Sometimes you play to your ability and you're just not good enough and you can live with that. That's the thing that's so tough to swallow. We feel like we could be better and we should be better. We still have a chance to sneak into the playoffs if we win out and get lucky, but it's been disappointing.
Q: Can you get any satisfaction if you step away personally and try to look at your season individually?
A: The main thing is that I've been able to play. I've been healthy. I've had good games, bad games, but I've really been able to focus on just playing and strategy as opposed to worrying about my health. So I'm real thankful for that.
Q: What do you see in this team's future and your future in Phoenix? Are more big changes coming?
A: I really haven't thought about next year too much. I know I definitely want to play, but I don't know what's going to happen here. I don't know what the plan is. Are they going to bring everybody back? Or are they going to start over?
Q: How much are you guys asking those questions amongst yourselves in the locker room?
A: I don't really go there because I just want to focus on trying to get to the playoffs. These last 10, 15 games, we've really focused in on trying to win and get to the postseason. I'm sure it's on peoples' minds, but no one is really talking about what they want to do or where they want to play or what not.
I don't think they even know [in the front office]. I don't think the organization knows what their plan is yet. I think they want to let the year wind down and then when it's over figure out what direction they want to go. It could be everybody back. It could be a few guys back. It could be nobody back. That's kind of where it's at.
Q: You've known Shaq longer than anyone else on this team. Did it surprise you at all that he got so angry about being shopped before the trading deadline?
A: I don't think he was that mad. I think he understands the business of it. He likes it here in Phoenix. He's upset and disappointed as well with how we've played. No one likes to hear that in terms of your name's out there and so forth, but you know what he always says. A lot of what he says is marketing.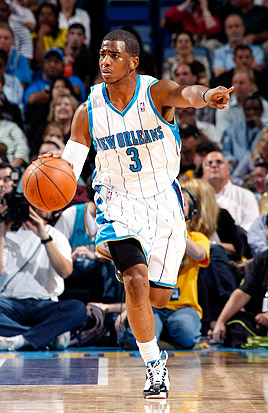 Layne Murdoch/NBAE via Getty Images
Chris Paul has a few good points to make about the MVP race and insists that he's still confident in the Hornets' long-term future even after the near-trade of center Tyson Chandler in February. (See Box 2.)

I'm surprised no one from the league office or one of the 15 teams on the East side of the conference divide sent out a news release to trumpet this week's big news.
No joke. The poor old East, for the first time this millennium, has clinched a winning head-to-head record for the season against the West.
And we've decided that the East deserves to enjoy its moment, which is why we're not going to rehash last week's missive about why we're inclined to attach an asterisk to the achievement.
So let the record show that the East takes a 227-214 record against the West into Saturday's play after San Antonio's too-late win in Indiana on Friday night.
That's a 13-game gap with just nine interconference games left on the schedule.
The season-by-season breakdown over the past 10 full seasons:
East vs. West
Season
East W's
East L's
Pct.
2008-09
227
214
.515*
2007-08
192
258
.427
2006-07
193
257
.429
2005-06
198
252
.440
2004-05
194
256
.431
2003-04
154
266
.367
2002-03
170
250
.405
2001-02
188
232
.448
2000-01
161
259
.383
1999-00
193
227
.460
*Through Friday's games
---
We really shouldn't be surprised about this, since Dwyane Wade and Chris Bosh have the same agent in Henry Thomas, but it's still worth passing along Wade's disclosure Wednesday that the faltering economy is unlikely to convince him consider signing an extension with the Heat this summer as opposed to testing the free-agent market on July 1, 2010.
That's pretty much the same thing Bosh told us when we had a chance to ask him in early March.
Said Wade: "I'm not going to say [the economic slump] doesn't affect me in any way. It affects everyone. But would it make me think about an [early] extension a little more? Not really. Not necessarily. I'm comfortable where I am. I haven't sat down and thought about it or talked about it with my agent, so it's not really an issue for us."
Said Bosh back on March 1: "The economy doesn't play any role in my decision. It is what it is. I believe that it's going to go back up like what [the economy has] done in the past. Hopefully it's only a matter of time."
Let's face it. If you're Wade or Bosh or LeBron James -- the very select few from the 2010 free-agent upper crust -- you probably are insulated from the growing fear among players that salaries, annual raises and contract lengths might all be heading south in the league's next collective bargaining agreement.
---
I'm stealing the following idea from an Eastern Conference team official and claiming it as my own, even as I acknowledge that Philly's Tony DiLeo has done a quality job keeping the Elton Brand-less (and now Thaddeus Young-less) Sixers in the East's top eight although he hadn't been a head coach since working in Germany in the 1980s.
However …
Won't the Sixers try to hire Villanova's Jay Wright this offseason?
Or won't they ask DiLeo to do the job for another season or two with the hope of trying to convince Wright to leap to the NBA as soon as he's ready?
The struggles of college coaches to make the leap to the pros could fill up an entire Weekend Dime with ease, but Wright is royalty in that city.
As the East exec said, "It still matters in Philly to be from Philly."

Last weekend's
Weekend Dime
touched on the growing fear in Big D that either
Kobe Bryant
's Lakers or
LeBron James
' Cavaliers will try to sign away
Jason Kidd
in free agency this summer. Which inevitably led to a segment exclusively devoted to Kidd and his Mavs future in this week's visit with Galloway & Company on ESPN Radio in Dallas (103.3 FM).
• Listen to the interview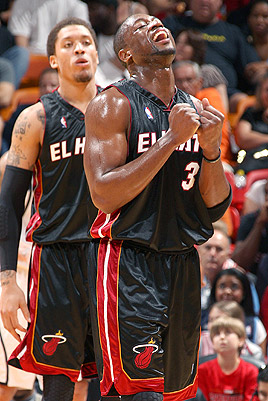 Victor Baldizon/NBAE via Getty Images
Dwyane Wade has a playoff berth in his grasp after last season's 15-67 nightmare in Miami and some things to share with us. (See Box 5 and Box 8.)

"My vote is for LeBron. I think he's having an unbelievable year and his team is No. 1 in the NBA. So you can't really argue about it."
Miami's Dwyane Wade, when asked Wednesday how he would vote if he had an MVP ballot (like I do) to send back to the league office by 3 p.m. on April 16.
Would Cleveland really pick Philadelphia if it had the opportunity, like D-League division winners will have this season, to choose its first-round opponent? Will we ever see the day in the NBA that the league
adopts this format
? The radical proposal already has won us over at Stein Line HQ, as host Jason Smith finds out on the NBA Today podcast.
Listen to the podcast