(Glenn James/Getty Images)
Josh Howard scored 24 points for the Mavericks, who dealt the Suns' playoff hopes a gigantic blow.

(Rocky Widner/Getty Images )
Kelenna Azubuike had a night to remember, erupting for 30 points and a career-high 15 rebounds.

(Layne Murdoch/Getty Images)
Carlos Boozer and the Jazz completed a sweep of the Hornets and clinched a playoff berth Sunday.

(David Liam Kyle/Getty Images)
LeBron James scored 38 for the Cavs, who improved to 37-1 at home by clobbering the Spurs.
Sunset: What's next for the Suns?

Now it's been confirmed: The Phoenix Suns couldn't play defense if their lives depended on it. Not their playoff lives, at least.
They needed to beat Dallas on Sunday to have a chance of reaching the postseason, and they allowed the Mavericks to make 15 3-pointers and score 140 points.
If those numbers seem incomprehensibly large, try focusing on these single digits: five (the number of games left in the Suns' regular season) and four (the number of games by which they trail Dallas for the final playoff spot in the West).
Since all the facts and figures point to playoff elimination for the Suns, we might as well get started on their offseason.
Last year, they tried switching coaches. They brought in Terry Porter, who tried to install a more structured offense and ostensibly work on the defense. All that did was make the Suns a bad defensive team with a less potent offense run by unhappy players. Steve Kerr, president of basketball operations and general manager, has indicated interim coach Alvin Gentry will return next season, but this season showed the focus shouldn't be on the coaching, anyway.
The problem was, the Suns never found adequate replacements for Shawn Marion and Raja Bell after they traded them. The Suns would argue Marion's unhappiness with his role in the pecking order and Bell's diminished effectiveness meant they weren't worth keeping around. But the Suns never found anyone to take on those players' old roles: the rare player like Marion who could come up with rebounds, steals, blocked shots and 3-pointers, or a defender like Bell who could take on the likes of Kobe Bryant and at least make him work hard for his points.
They brought in Matt Barnes and Jason Richardson, who were members of the 2006-07 Golden State Warriors team that allowed a league-worst 107 points per game. You don't see serious filmmakers using cast members from "The Real World," do you?
Phoenix's scoring output has remained essentially the same over the past two seasons, but the team's points-allowed average has gone from about 103 per game in 2006-07 to about 110 per game this season. Suns opponents went from making 36 percent of their 3-pointers two years ago to making 38 percent this season.
Meanwhile, the Suns' 3-point shooting went from 39.9 percent to 38.5 percent in that span ... meaning their 3-point shooting advantage shrank from 3.9 percent to 0.5 percent. Teams no longer need to fear getting into a shootout with the Suns.
On Sunday, the Mavericks made a ridiculous 60 percent of their 3-pointers, thanks mostly to the Suns' failure to rotate out to the shooters. Even if you don't hold the Suns accountable for the three-quarters-of-the-court shot Josh Howard banked in just before the halftime buzzer, the Mavericks still made 14 of 24 attempts. The Suns were 6-for-21 on 3-pointers.
If they are going to make D a priority this summer, the Suns could start by offering the midlevel exception of about $5.6 million to Trevor Ariza, a solid perimeter defender who is a decent 3-point shooter. Ariza made $2.9 million this season with the Lakers in the final year of his contract.
The biggest question is what to do about Amare Stoudemire. Shaquille O'Neal and Steve Nash have contracts that expire after next season. Stoudemire is the only one who could be under contract for the 2010-11 season, unless he chooses his early termination option in 2010. But will there be a better, more lucrative scenario for Stoudemire elsewhere? He has talked about moving on, about wanting to be a team's focal point somewhere else, but if Nash and O'Neal are gone, Stoudemire could have the stage all to himself ... without having to forward his mail to a new address.
And could the Suns really find a better young player than Stoudemire, who has averaged 21.1 points and nine rebounds for his career? He still is 26 years old. The Suns can't be so intent on slashing salary that they send off their last star as well.
Who knows? If Stoudemire wasn't missing the last two months of the season with an eye injury, the Suns might be making the playoffs and might not require a complete overhaul.
If the Suns want to search for organizational clues, they can start with the Mavericks, the team that took their playoff spot. Like the Suns, the Mavericks made a trade for an aging, expensive superstar last year and didn't make it out of the first round of the playoffs. The difference is, the Mavericks learned to embrace the average, instead of living at the extremes.
While the Suns still have the league's best scoring and shooting offense, they also have the fourth-worst scoring defense.
The Mavericks aren't among the top five scoring elite. But they're among the top 16 teams in the main defensive stats. So they'll be among the 16 teams in the playoffs.
This was such a thorough beatdown that Mavs owner Mark Cuban apparently felt sorry for his foes; he went from pregame trash-Twittering with Shaq to praising Shaq's heart and calling him and Nash future Hall of Famers.
There were no updates under @The_Real_Shaq. That's the thing about elimination, whether real or virtual. Things always get real quiet, even in cyberspace.
J.A. Adande is an ESPN.com senior writer and the author of "The Best Los Angeles Sports Arguments." Click here to e-mail J.A.
Dimes past: March 21-22 | 22 | 23 | 24 | 25 | 26 | 27 | 28-29 | 30 | 31 | April 1 | 2 | 3 | 4-5
Despite Tough Season, Suns Remain Optimistic

By Marc Stein | ESPN.com
The Suns' season, if we're being honest, was fried long before they surrendered a humbling 81 points in the first half on a sad, sad Sunday afternoon in Dallas.
Playoff hopes in Phoenix were realistically toast even before the double whammy of the previous weekend of torture. That was when the Suns came all the way back from 21 points down in Utah to lead by seven with two-plus minutes and somehow wound up losing in overtime ... and then lost the following night in Sacramento with a performance almost as defenseless as the no-show we saw against the Mavs.
No one would dare excuse the utter lack of resistance Phoenix gave with its season on the line, because there is no excuse for such a willing surrender to a Mavs team that wasn't exactly oozing confidence after losing Friday night in Memphis. Truth is, though, that the Suns' ability to reach the postseason was pretty much lost when Amare Stoudemire had to submit to unforeseen season-ending eye surgery on Feb. 19, just when Phoenix finally appeared to have found some momentum after a couple of resounding routs of the Los Angeles Clippers in Alvin Gentry's first two games as Terry Porter's successor.
"I think Alvin has done a good job since he took over," Suns owner Robert Sarver said Sunday after the 140-116 beatdown that will require Phoenix to go 5-0 for the rest of the season and Dallas to go 0-5 for the Suns to reach the playoffs.
"Obviously, losing Amare hurt."
The Suns, in other words, have been steeling themselves for the worst for weeks, even when the math said that they still had a chance. That Phoenix stayed in the race without Stoudemire is a big reason why Gentry is expected to return next season as the full-time coach, in spite of the Suns' worse-than-ever defensive issues and a final unraveling on national TV that was more nightmarish than anyone could have imagined.
Phoenix hasn't formally announced that Gentry will keep the job, but sources with knowledge of the Suns' thinking told ESPN.com that his attempts to develop the Suns' bench players and his positive effect on the locker room -- especially after the Suns lost the weapon that is Stoudemire just as they were transitioning back to "Seven Seconds Or Shaq" mode -- should make Gentry's return official soon.
Sources also say the Suns have not budged from their intent to offer a multiyear contract extension to Steve Nash this summer that -- if they can convince him to accept -- would keep the 35-year-old from becoming a free agent in the ballyhooed summer of 2010. Nash was understandably less than chatty after his old friends Dirk Nowitzki and Jason Kidd inflicted the fatal blow that "put us out of misery," but this is what he said back in February when asked about his willingness to consider the forthcoming extension offer: "All I can say right now is that I look forward to that conversation."
Less certain is what will happen with O'Neal and Stoudemire, given that both were seriously shopped before the Feb. 19 trading deadline and knowing that big changes were a strong possibility in Phoenix even if the Suns had been able to snag the No. 8 spot. (Ditto for Dallas, by the way, since finishing seventh or eighth in the West doesn't exactly translate to a healthy long-term outlook.)
Gentry's staying presumably would restore some of the luster Stoudemire lost under Porter because he's so dangerous in the up-tempo style Gentry reinstated. Yet it also is clear that the Suns have never been in greater need of defensive upgrades, which obviously is not what they'd be getting if Stoudemire returned to a prominent role. Another variable is Stoudemire's recovery from a detached retina and what any corresponding fears would do to his trade value should Phoenix decide to put him back on the market.
O'Neal, meanwhile, preferred to playfully brush off our questions about his future when asked whether he now is hoping to stay a Sun after initially responding angrily to the prospect of a trade to Cleveland. All we know for sure about the 37-year-old -- whose personal resurgence this season couldn't prevent him from missing the playoffs for the first time since going 41-41 with Orlando as a rookie in 1992-93 -- is that he supports Gentry's return (as he has publicly stated) and that he plans to spend Monday's off day in Dallas visiting the "grassy knoll" (as we learned from his Twitter feed).
It's easy to forget that the Suns actually began the season with what seemed like a good omen, beating the hated Spurs down in San Antonio on opening night after so many Spurs-inflicted setbacks. But Sunday's spanking in North Texas is bound to stay with them for a while.
Because of a pre-arranged travel schedule that, had they won Sunday, might have helped the Suns from a freshness perspective in Wednesday's game against the Hornets, Phoenix was to spend Sunday and Monday night in Big D before practicing at American Airlines Center on Tuesday and then flying to New Orleans.
"We are clearly in a transition period, with the age of our stars," Sarver said via e-mail after flying in to attend Sunday's suffering, headlined by Kidd's glittering 19 points and 20 assists in three quarters.
"We have a lot of options, but want to stay very competitive and think we can do that. This year was disappointing to me because I think our team today is better than our record. On the bright side, our younger players like Goran [Dragic], Jared [Dudley], Lou [Amundson] and Robin [Lopez] got to play this year and have promise. In addition, Steve, Grant [Hill] and Shaq have kept themselves in great shape, and I think they have a few good years left in them."
By Maurice Brooks
ESPN.com

SUNDAY'S BEST
Jason Kidd, Mavs
: He had 19 points and a season-high 20 assists to help Dallas rough up Phoenix. He set franchise records for assists in the first half (16) and in a regulation game, and moved ahead of Magic Johnson for third on the career assists list.
---

SUNDAY'S WORST
Philadelphia 76ers
: Maybe the players were simply tired, or maybe they took the game off after clinching a playoff berth the day before, but regardless of the reason, the Sixers didn't compete in a 96-67 loss to the Nets.
---
QUOTE OF THE NIGHT
"My kids were talking stuff to me because they didn't think I could dunk no more. I hope my little girl's watching this game right now because if not, she may not see it again."
-- Nuggets guard Chauncey Billups, who recorded his first dunk of the season as Denver extended its win streak to seven by topping Minnesota.
Blazers Headed To Playoffs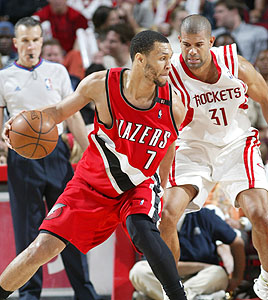 Barry Gossage/NBAE/Getty
Brandon Roy and the Trail Blazers dropped a 102-88 decision to the Rockets but still qualified for the postseason for the first time since 2003 when the Suns lost to the Mavs. "We're in the playoffs," Roy said. "We're happy about it."
Draft Classes: 2003 vs. 1996
By Chris Broussard | ESPN The Magazine

LeBron James' friendship with Dwyane Wade and Carmelo Anthony is well known. But what do they talk about when they get together? Well, sometimes it's about class: their draft class of 2003.
Apparently, they take great pride in being associated with a class that has produced not only the league's top two scorers in James and Wade, but also Anthony, Chris Bosh, David West, Josh Howard and Mo Williams. James said he and his classmates compare themselves to the class of 1996.
"That was arguably one of the best drafts, too,'' James said. "So we try to hold our standards up to those guys.''
It would seem impossible to top the class of '03, but '96 might have done just that by producing Kobe Bryant, Steve Nash, Allen Iverson, Ray Allen, Jermaine O'Neal, Marcus Camby, Peja Stojakovic, Stephon Marbury, Antoine Walker and Zydrunas Ilgauskas.
Chris Broussard is a senior writer at ESPN The Magazine.
By Chris Broussard | ESPN The Magazine

One-time slam dunk champion Dwight Howard is eager to see what LeBron James brings to the table, now that James has announced his plans to compete in next year's dunk contest at All-Star Weekend. If James is short on ideas, Howard has one.
"I think LeBron might be able to jump from the 3-point line,'' Howard joked.
In what would be a dream matchup, Howard said he'd be willing to enter the contest for a third time, alongside James.
"People don't understand how hard it is to come up with stuff that nobody's ever seen before,'' the Orlando center said.
True, but you might not want to bet against him or James doing just that.
By Elias Sports Bureau

Troy Murphy went 6-for-6 from 3-point range as the Pacers disposed of the Thunder on Sunday. Murphy matched the most 3-point attempts without a miss for any player in an NBA game this season. Raja Bell (for Phoenix on Nov. 4) and Mike Bibby (for Atlanta on Dec. 21) also have gone 6-for-6. Murphy has made his past nine 3-point attempts dating back to Friday night. It's the second-longest streak of its kind in the NBA this season; Delonte West made 11 straight shots from beyond the arc (Jan. 9-Feb. 22).
• The Clippers made a game of it with a 16-0 run in the fourth quarter, but it wasn't enough to overtake the Lakers, who held on for an 88-85 home win at Staples Center. The Clippers' streak was one shy of the most consecutive points allowed by the Lakers in any game this season. Dallas (Nov. 11) and Detroit (March 26) each had a 17-0 run in losses to the Lakers.