(AP Photo/Duane Burleson)
Bulls guards Derrick Rose and Ben Gordon relegated the Pistons to the No. 8 seed with big shots.

(AP Photo/Rick Bowmer)
Steve Blake, Brandon Roy, Martell Webster, LaMarcus Aldridge and Travis Outlaw cheer POR's win.

(Photo by Bill Baptist/NBAE via Getty Images
Barbara Bush and former President George H.W. Bush stand with Rockets owner Les Alexander.

(AP Photo/Darren Hauck)
Milwaukee big man Charlie Villanueva rises above the Magic defense in a 98-80 Bucks win.

(AP Photo/Tony Gutierrez)
Jason Terry strolls upcourt after scoring in the final seconds of a 96-94 win over the visting Wolves.

(AP Photo/Michael Conroy)
LeBron James drove past Rasho Nesterovic and the Pacers to clinch the NBA's best mark.
Bulls Send Pistons Into No-Man's-Land

With two nights of regular-season basketball to go, much remains up in the air.
But an actual playoff pairing was locked in Monday night: The Detroit Pistons will face the Cleveland Cavaliers in the Eastern Conference's 1 versus 8 matchup.
That's not good news for Detroit basketball. I think the one team Detroit (39-42) was looking forward to playing was the Orlando Magic, and it still had a chance to earn a date with Dwight Howard & Co. before losing at home to Chicago 91-88 on Monday night.
I think the Cavs, who locked up the NBA's overall No. 1 seed with a 117-109 win over Indiana, have a great chance to sweep the Pistons. I think the Pistons will get blasted the first two games at the Quicken Loans Arena. This Detroit team just doesn't have enough resolve, and if it loses those first two games, I don't think it will manage a comeback.
That means the Cavs will roll the credits, so to speak, on this run that Detroit has had. I don't think the team has bought into new coach Michael Curry, and it hasn't made the adjustment from Chauncey Billups to Allen Iverson. So the window is shut on Detroit, which is ensured of its first losing season since 2000-01.
Not so for the Bulls. They are playing great, and we saw another big performance by rookie Derrick Rose (24 points, 11 in the fourth quarter). Chicago (41-40) has a decent chance at holding the No. 6 seed over the No. 7 Sixers, leading Philadelphia by a half-game. The Bulls finish the season Wednesday against Toronto, while the 76ers have to play Boston and Cleveland.
The Bulls would rather play Orlando than Boston in the first round of the playoffs. You know you can run your offensive sets against the Magic and devise a game plan to play them. The No. 2 seed Celtics, meanwhile, can make a game ugly with their commitment to defense. Chicago has been as hot as anybody. It has a nice mix with veterans John Salmons and Brad Miller. Salmons is a guy who has great size for a swingman and can score over people.
The West seeds, meanwhile, remain up in the air after Monday's action.
What is clear is the Dallas Mavericks avoided possible disaster by taking a narrow 96-94 home win over the Timberwolves, a result that wasn't clear until the most deserving NBA Sixth Man of the Year candidate, Jason Terry, hit a last-second jumper that sealed the win. If the Mavs had taken a loss, there would have been a good chance they would end up as the eighth seed and face the dreaded matchup against the Lakers.
Along with the Lakers, the teams seeded 2 through 8 in the West should make this the most interesting and entertaining first round we've seen in that conference.
We could be looking at several seven-game series. Part of the reason is all the teams in the West except the Hornets are dominant home teams. I would not even count out the Manu Ginobili-less San Antonio Spurs because a great coach, Gregg Popovich, leads them. But I still wouldn't be surprised to see them make a first-round exit.
However, I see Portland as the biggest challenge to the Lakers. Brandon Roy is a stud, a go-to player who can make things happen. This is a Blazers team with balance and depth, and it is clicking on all cylinders. The Blazers could be headed for a West semifinals or finals matchup with Kobe & Co. Of note, the Lakers have lost their past eight games in Portland.
First comes the first round, though. We probably won't know all the pairings until the final regular-season game between Denver and Portland ends in the early hours of Thursday morning Eastern Time. At that point, we should have a great second season to watch and enjoy.
ESPN analyst Tim Legler is a regular contributor to the Daily Dime.
Dimes past: March 28-29 | 30 | 31 | April 1 | 2 | 3 | 4-5 | 6 | 8 | 9 | 10 | 11-12 | 13
Why Roy Is The Pick For MIP

By John Hollinger | ESPN.com
I nominated Brandon Roy for most improved player in our ESPN.com award votes Tuesday, and I suppose I should explain that pick. I've been an ardent Devin Harris supporter in that category for nearly the entire season, but when I looked over the full body of work one more time before submitting my vote, I realized Roy's improvement was just as large in player efficiency rating terms. And although Harris slumped a bit after the All-Star break, Roy kept chugging along.
Two other players -- Kevin Durant and Danny Granger -- have had PER improvements in the same ballpark, so it has come down to two factors for Roy. First, he isn't a second-year player, while Durant is, and I'm normally reluctant to put second-year guys in the discussion because so many of them make huge strides in Year 2. (In fact, Jeff Green was arguably more deserving than Durant.)
Second, although Roy's improvement in PER terms was no better than Harris', I would argue he did it at a more difficult level. Going from borderline All-Star to full-blown superstar, as Roy did, is a more substantial feat than going from a quality regular to an All-Star, as Harris did, in the same way that a leap from 55 wins to 65 is much more difficult than a leap from 35 wins to 45.
So after endorsing Harris all season, it was clear to me that Roy was the right pick.
• To see the other four Insider gems, click here.

By Elias Sports Bureau
LeBron James had 37 points, five rebounds and five assists in the Cavaliers' victory over the Pacers on Monday night. James has recorded at least 35 points, five rebounds and five assists in a game 67 times since entering the league in 2003. That is by far the highest total for any player in the league during that span, followed by Kobe Bryant (56).
• J.R. Smith scored 45 points off the bench for the Nuggets, and the Kings' Ike Diogu recorded 32 points as a reserve in Denver's victory over Sacramento on Monday night. Since the NBA-ABA merger after the 1976 season, only four other nonovertime games during the regular season have featured two reserves scoring at least 30 points each: Portland versus Dallas in 1981 (Abdul Jeelani and Billy Ray Bates), Indiana versus Chicago in 1984 (Quintin Dailey and Clark Kellogg), Milwaukee versus Philadelphia in 2006 (Kyle Korver and Joe Smith) and Chicago versus Denver in 2008 (Ben Gordon and J.R. Smith).
• The Wizards lost by one point to the Raptors on Monday night. It was the first game Washington played this season to be decided by one point. Only two teams have not played a game that was decided by a one-point margin this season: Charlotte and Memphis.
By Andrew Ayres
ESPN.com

MONDAY'S BEST
J.R. Smith, Nuggets
: Dropped 45 points on the Kings as the Nuggets clinched the Northwest title with a 118-98 win. Smith made 11 of 18 3-point attempts. Denver probably could use some of that firepower in the playoffs.
---

MONDAY'S WORST
Peja Stojakovic, Hornets
: Missed 6 of 7 shots en route to two points in 29 minutes of an 86-66 loss to Houston. Along with a banged-up
Tyson Chandler
, this does not bode well for N.O.'s postseason hopes.
---
QUOTE OF THE NIGHT
"It's going to be Boston. It goes like that every year. Until you knock off the NBA champs, that's the team to beat."
-- Cavs forward LeBron James, on picking the title favorite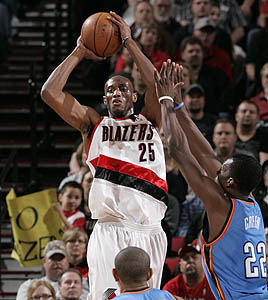 Sam Forencich/NBAE via Getty Images
Blazers forward Travis Outlaw had 21 points in a win over the Thunder. Portland's 52-28 mark puts it in a tie for third in the West with the Spurs and Rockets.

Avery Johnson helps us prepare for the start of the NBA playoffs and tells us how the teams are shaping up.
Tirico & Van Pelt
By Matt McHale | TrueHoop Network

What a crazy, wild, unthinkable ride this season has been. A few months ago, the Chicago Bulls were an awful mess. GM John Paxson was accused of mismanaging the team and at one point was rumored to be stepping down in semidisgrace. Vinny Del Negro was declared a coaching bust; people were calling for his head and discussing whether someone such as Avery Johnson, Doug Collins or Flip Saunders should be brought in to right the sinking ship. The team couldn't win at home, couldn't win on the road, couldn't take care of the ball, couldn't hold on to leads in the fourth quarter, couldn't ... well, let's just say that the list of things it couldn't do was really, really long.
To read more, check out the TrueHoop Network blog, By The Horns.