(Photo by Gary Dineen/NBAE/Getty Images)
Four games into the playoffs, the Bulls have given their fans plenty of reasons to be excited.

(Photo by Nathaniel S. Butler/NBAE via Getty Images)
After sweeping the Pistons, LeBron James and the Cavaliers get to rest up before the second round.

(Photo by Bill Baptist/NBAE via Getty Images)
Ron Artest and the Rockets are just one win away from eliminating Brandon Roy and the Blazers.
Celtics-Bulls Has Everything A Fan Wants

CHICAGO -- If the NBA needs some fresh footage for its "The Playoffs: Where Amazing Happens" shtick, it better have a camera crew in Boston for Game 5 of the Celtics' first-round series against the Chicago Bulls.
This is the series where everything happens. Overtimes. Ben Gordon and Ray Allen. Derrick Rose and Rajon Rondo. Goose bumps. And now, a best two-out-of-three scenario, thanks to the Bulls' 121-118 double-overtime win at the United Center on Sunday afternoon.
This series is tighter than spandex on Glen "Big Baby" Davis. Three of the first four games have been decided by a combined eight points. Two of the games have already wandered into overtime. If this thing gets any more exciting, the league will have to issue defibrillators to ticket holders.
"In the playoffs you've got to learn how to forget quick," said the Celtics' Paul Pierce.
Speak for yourself. We want to remember every delicious detail of this series, especially Sunday's Game 4, which gets the instant classic limo treatment Monday on the mothership network (ESPN Classic, 5 p.m. ET).
And if there's such a thing as an opening-round classic, then the Bulls-Celtics qualifies. It's the series that keeps giving, thanks to the Bulls' rookie point guard Rose, the Celtics' third-year point guard Rondo, the veteran guards -- the Bulls' ridiculously fearless Gordon, the Celtics' shaved-headed assassin Allen. It's the series you don't want to see end -- and it might not for another three games.
"Maybe we like Chicago a lot," said Celtics coach Doc Rivers, who was born and raised here. "Maybe we want to come back. The pizza's frickin' good."
He'll be back in town for Thursday night's Game 6. But first comes Tuesday evening's Game 5 in Boston. Win at The Garden and the Celtics take a 3-2 series lead with two chances to close it out. Lose, and the already frail chances of a Celtics NBA two-peat become skinnier than Rondo.
The Celtics could have, perhaps should have won this game. Just like they could have, should have won Game 1. Not that it matters now.
"We had this one," said Rivers. "They did too."
The Celtics had a three-point lead with nine seconds remaining in the first OT when Gordon squirted free of Pierce and made a 26-footer to send the game into more bonus hoops. That's when Gordon, who finished with 22 points, grabbed a region directly south of his waistband.
Ben Gordon: Where Cojones Happen.
The gesture won't make it into an "NBA Cares" campaign, but you had to be there to understand his less-than-elegant point. The Bulls, who could have, perhaps should have won this thing in regulation (Allen tied it up with a 3-pointer of his own with 9.8 seconds left) aren't going anywhere -- except back to Boston.
"It looked bleak there," said Bulls coach Vinny Del Negro. "It was just a great basketball game."
It was great because Gordon keeps making shots from Michigan Avenue, or with half of Boston attached to his hip, or both. And he makes them when they matter most.
It was great because the rookie Rose is this basketball work in progress -- mistake-prone (seven turnovers), but spectacular (23 points, 11 rebounds, nine assists) at the same time.
It was great because Rondo is playing even better (his second triple-double of the series, this time 25 points, 11 rebounds, 11 assists and only one turnover in 55:08). "Other than taking out the garbage, I don't know what else he can do," said Rivers.
It was great because Allen, who finished with 28 points, caused the United Center crowd to actually groan nearly every time he took a shot.
"Everybody's making a big shot," said Rose. "Big shot after big shot."
The Bulls are the Eastern Conference's No. 7 seed; the Celtics the No. 2 seed and defending NBA champions. But seeding and rings have become meaningless as this series reaches critical mass.
"It's about a test of wills at this point in the series," said Pierce.
Pierce had six of the Celtics' 19 turnovers and couldn't close fast enough on Gordon's game-tying trey in OT. He was in semi-Blame Me mode after the game.
Big Baby was 4-of-16 from the field for Boston. Rivers said Davis was so frustrated during the first three quarters of the game "he literally couldn't play."
And did we mention that Rivers wanted someone to foul Gordon before he made that 3-pointer?
"But, hell, give him credit," Rivers said. "Even when you screw it up, they still have to make the shot."
Gordon made the shot. Rose made shots. John Salmons made crucial free throws. The Bulls' bench outscored the Celtics' reserves 30-11. Do all the math and you get a classic.
We're not the only ones who know this is special. The Celtics' bench wouldn't sit down during most of the overtimes. The United Center audience made enough noise to cause inner ear damage. I don't know who selects ESPN's Plays of the Day, but Nos. 1 through 5 had to come from this game.
"Well, we've got to stop meeting like this," said Rivers, as he took his place behind the microphone in the postgame presser.
No, this is exactly how we need to meet. The more overtimes, the better.
Gene Wojciechowski is the senior national columnist for ESPN.com. You can contact him at gene.wojciechowski@espn3.com. Hear Gene's podcasts and ESPN Radio appearances by clicking here.
Playoff Dimes past: April 19 | 20 | 21 | 22 | 23 | 24 | 25 | 26
Rockets Hit Offensive Glass In Win Against Blazers

By John Hollinger | ESPN.com
It's a long flight back to Portland from Houston, and it's one the Blazers will spend agonizing over the chance that literally fell through their hands on Sunday. That's because one big factor sticks out as the cause of the Blazers' 89-88 loss to the Rockets that puts Houston up 3-1 in the best-of-seven series: defensive rebounding.
Sure, several moments were huge. There was Brandon Roy's charge on Chuck Hayes with the Blazers trailing by two and having a chance to tie. There were the consecutive turnovers by Steve Blake and Joel Przybilla in the final two minutes, both on plays where they weren't even trying to score. And there were the clutch 3s by Houston, which finished 9-of-16 from downtown.
But most of all, there were all those second shots. The Blazers' best defensive effort of the series went to pot because of 28 second-chance points by the Rockets, the most damaging of which came on back-to-back 3-pointers by Shane Battier that gave Houston the lead for good at 85-83 with 3:24 left.
Portland forced a whopping 50 missed field goals by the Rockets, 15 of which came off the ice-cold hands of Ron Artest; throw in four missed second free throws and there were 54 defensive boards up for grabs.
Alas, the Blazers collected only 32 of them, for a piddling 59.3 percent defensive rebound rate. Given that Portland ranked sixth in defensive rebound rate during the regular season, while Houston was a lowly 17th at the offensive end, this was a category Portland figured to dominate.
Instead, the Rockets got 22 extra possessions thanks to their offensive rebounding, as well as Portland's failure to imitate Bill Russell -- four of Houston's second shots came after the Blazers blocked shots out of bounds. Luis Scola took advantage of Portland doubling off him to grab seven offensive boards, while little Kyle Lowry hustled his way to three in the last seven minutes from the point guard position.
As a result of the offensive boards, the Rockets were able to overcome several negatives -- most notably a 14-of-22 night at the foul line on a night when the Blazers shot perfectly (they were 17-of-17, including 13-of-13 from Brandon Roy), as well as a no-show from the previously scorching Aaron Brooks (five points, two assists).
And despite its lack of home-court advantage, the Rockets are now poised to end their series of first-round playoff disappointments. Houston has lost six straight times in the first round dating back to 1997-98, but a win in Portland on Tuesday would get them to the second round for the first time in over a decade. Meanwhile, the Blazers missed out on a golden opportunity to reclaim home-court advantage and knot the series at two apiece.
Rockets fans have been here before. The team had a commanding lead in three of those six series, leading 2-0 in 2007 and 2005 and being up 2-1 in a best-of-five series in 1998. Of course, they also lost Game 4 in all six of those series, a streak that they ended Sunday thanks to their diligence on the offensive glass.
With one more win, that other streak will be a distant memory as well.
John Hollinger writes for ESPN Insider. To e-mail him, click here.
Rockets Punctuate Day Of Close NBA Games

By Elias Sports Bureau
The Rockets' 89-88 come-from-behind win over the Trail Blazers, along with the Bulls' 121-118 win over the Celtics and the Magic's 84-81 victory in Philadelphia marked the first time since April 20, 1985, that three NBA playoff games were decided by three-or-fewer points on the same day. Three of the four games played on that day were decided by one possession.
By Maurice Brooks
ESPN.com

SUNDAY'S BEST
Cleveland Cavaliers:
Cleveland polished off Detroit in four games, becoming just the third team to complete a sweep by winning each game by a double-digit margin.
---

SUNDAY'S WORST
Rasheed Wallace, Pistons:
With the season on the line, he went 0-for-7 from the floor, scoring zero points in 29 minutes of action. Teammates Tayshaun Prince (two points) and Richard Hamilton (six on 2-for-12 shooting) weren't much better.
---
QUOTE OF THE NIGHT
"Everybody I'm talking to is saying this is the most exciting series that they're watching right now."
-- Bulls guard Ben Gordon on Chicago's series against Boston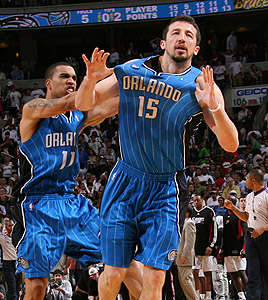 (Jesse D. Garrabrant/NBAE/Getty Images)
After nailing the game-winning 3-pointer with just a second left to play, the Magic's Hedo Turkoglu celebrated in style with teammates.
By Chris Broussard
ESPN The Magazine

AUBURN HILLS, Mich. -- The Cavaliers had just pasted the Detroit Pistons in Game 2 of their first-round playoff series, leading by as many as 29 points, and everyone, it seemed, was whispering the same thing. Folks were covering their mouths, leaning inconspicuously into one another, and rolling their eyes while saying in stunned and quiet tones, "The Pistons don't wanna play!"
To read the entire Broussard column, click here.
Random Thoughts From Philly
By Henry Abbott | TrueHoop

PHILADELPHIA -- It has been said before, but it must be said again: The Magic's interior defense is tough. It's not purely a Dwight Howard effect, either. The Polish Hammer, Marcin Gortat, also prevented more than his fair share of buckets. Beating your man on the perimeter just doesn't mean all that much against this team. Time and again Sixers like Thaddeus Young, Andre Iguodala, Andre Miller and even Donyell Marshall got into the paint on the move. But there were not layups to be had when the defense was set. And the defense was almost always set, as the Magic were religious about getting back to stop the Philadelphia break.
• Before the game, ESPN's David Thorpe wrote: "It's become painfully obvious that Hedo Turkoglu is not close to 100 percent, devastating news given that he is being defended by Andre Iguodala. In my scouting report for Game 3, the word 'awful' is written next to Turkoglu's name numerous times." The day off between games, however, has served Turkoglu well. He came out with a bounce in his step for Game 4, even against Iguodala's D (which has been shown to be among the league's best). Turkoglu got to the rim time and again, making five of his first six shots -- and finishing with Stan Van Gundy drawing up a play for Turkoglu that ended in the game-winning 3 over Thaddeus Young with a 0.9 on the clock.
• If anything epitomizes the Magic's team cohesion, it is some time they spent together, of their own volition, last summer. It's doubly ironic, however, this week. First of all, that time was instigated and largely financed by Jameer Nelson, who is not even in uniform after a season-ending injury. The second irony is that the team-building was right here in Philadelphia, Nelson's hometown.
• The Kings of Leon sat in the stands. They sold out their Philly stadium show a night before. Too bad the Sixers and Magic couldn't do the same. No getting around the fact that this is not a sellout. There are empty seats here and there courtside. In the lower bowl, big bunches of empty seats marred the corner sections, and some upper corner sections were barely half full. The Sixers have one of the more exciting stories in the NBA -- their star is out injured, their coach was fired, and they are reinventing themselves on the fly as a high energy, up-tempo squad. The people who are here are loud and into it. Meanwhile, as big underdogs (many picked them to get swept) they came home for a weekend homestand having won one on the road against a team that threatened the Cavaliers and Celtics all season, and they can't sell it out? Is the team feeling the pinch? I have no idea, but here's a clue: They are running a special at Sunday night's game. According to an in-arena video presentation before the game, people who renew their season tickets here Sunday get to practice with the team. Like run through drills and the whole thing.
• Sixers coach Tony DiLeo took over midseason for the fired Maurice Cheeks. He changed a lot about the team -- they began playing much faster -- and things seemed to click a bit. Now that the Sixers are in the playoffs, he has earned some credit for keeping Orlando's high-octane offense off-balance with a whole series of different looks. That doesn't mean he has become some kind of superstar, however. The Inquirer's Kate Fagan writes:
About an hour or two before Game 2 in Orlando, DiLeo was watching guard Royal Ivey shoot outside jumpers. After a few minutes, DiLeo stood and walked to the Sixers' locker room, pausing for a second to sign a fan's game program.
As DiLeo neared the Sixers' locker room, a security guard stopped him.
The guard requested to see a pass: You can't, after all, just walk around back here.
For a second, DiLeo seemed unsure how to answer. He then gestured toward the Sixers' locker room and said, simply, "I coach the team."
Yes, he does.
Hornets Looking To Tie Series

By Mike Moreau
Scouts Inc.
Denver was turning Game 3 into a rout when the Hornets got inspired play from their bench, climbed back into the game, and held on to get the series to 2-1. Denver showed that it struggles to maintain the intensity and execution necessary to put a team away on the road, and the Hornets now have a chance to tie this series when it looked like they might not even win a game.
To read Mike Moreau entire Game 4 preview, click here.