Nathaniel S. Butler/NBAE via Getty Images
Derrick Rose blocks Rajon Rondo's go-ahead attempt with 8.2 seconds left in the third OT.

AP Photo/Nam Y. Huh
After stealing the ball, Joakim Noah dribbles up court en route to a dunk that KO's Paul Pierce.

Jonathan Daniel/Getty Images
Celtics forward Paul Pierce plows into the crowd while trying to save a ball during the all-out Game 6.

Jonathan Daniel/Getty Images
After Celtics guard Rajon Rondo spun Kirk Hinrich into a courtside table, things got a little testy.

Ronald Martinez/Getty Images
Houston's Yao Ming savors the realization that he's headed to the second round for the first time.
Does The Bulls-Celtics Series Have To End?

CHICAGO -- So, NBA commish David Stern, we took a vote and decided this Chicago Bulls-Boston Celtics series deserves better than a best-of-7. We'd like a best of 9 ... 11 ... infinity. Anything but an end.
I don't know if this is the greatest NBA series of all time, but it's the greatest something. At what point do you bronze these games and put them on eBay? Thursday night it was a 128-127 Bulls win in triple overtime at the United Center. Game 6 was so intense, so compelling and so exhausting that the crowd of 23,430 needed a post-victory IV transfusion -- and they only watched.
"Every game I've been saying this is the best game I've ever played in,'' said the Bulls' John Salmons, who scored 35 points and was on the court longer (59:56 of the 63 total minutes) than anyone else.
Four of the six Bulls-Celtics games have gone to overtime, two of them have gone to multiple OTs. There have been 106 lead changes, and that includes the Game 3 Boston blowout when there were zero.
Seriously, I don't know where to start. Ray Allen scores 51 points for the Celtics and it becomes a footnote? Boston's Rajon Rondo wins the Fling-Kirk-Hinrich-Into-The Scorer's-Table competition and it's basically forgotten three quarters and three overtimes later? The Bulls' Ben Gordon plays on one hamstring again and the gutty effort has to stand in a long bathroom line for attention?
"Unbelievable,'' said the Bulls' Joakim Noah. "I feel blessed to be a part of it. This is some special stuff.''
If there is such a thing, Noah made the play of the game. Actually, it was four plays. With the game tied 123-123, and 38.9 seconds remaining in the third OT, Noah stole a pass by Paul Pierce. (That's one.) He drove about three-quarters of the court ahead of everyone and flushed the jam. (That's two.) He got Pierce to commit his sixth and final foul on the play. (That's three.) And then Noah sank the free throw. (That's four.) The Bulls never trailed again.
Brad Miller had his moments too. His two free throws with 28.3 seconds left kept the Bulls' lead at 3. Two nights earlier, a woozy Miller missed two crucial free throws (one of them intentionally) after Rondo meat-hooked him on a playoff foul late in overtime. This time he stepped to the line and didn't look like he needed a CT scan.
"When I can see straight, it helps a little bit,'' said Miller, 8-of-9 from the field and 5-of-5 on free throws.
And then there's Bulls point guard Derrick Rose, who blocked Rondo's fadeaway, possible game-winning 12-footer with 7.9 seconds remaining. And by the way, Rose scored 28 points to Rondo's 8.
"It's a fun series,'' said Rose. "It's crazy, but you got to love it.'' Love it? I want to give it an engagement ring. I want to honeymoon in Aruba with it. This is a series that absolutely deserves a Game 7.
The defending NBA champions knew the Bulls weren't going to be a gimme playoff putt, but nobody expected a series for the ages. One way or the other, Saturday evening's game in Boston becomes a defining moment for these teams.
For the Celtics, you wonder how many more minutes Rivers can squeeze out of his starters. Boston's bench is shorter than Mini-Me, but at least it's entertaining. For instance, you can keep a running total of how many open shots Stephon Marbury passes up during his brief and mostly useless appearances.
Then there's Rondo, who keeps making friends in Chicago. He could have been called for a flagrant in Game 5. And he could have been tossed from Game 6 after treating Hinrich like his personal hammer throw.
"He just grabbed my arm and threw me away,'' said Hinrich, who got a technical foul for shoving back. And for the record, Hinrich said he didn't think Rondo should have been ejected.
Even more interesting is the rumor, nothing more, that the injured Kevin Garnett might attempt a Game 7 return.
"You must be one of those conspiracy theorists,'' said Allen, when asked to divulge any secret Garnett-will-play scenarios.
Allen has acted in movies, but he seemed to play it straight on the possibility of a Garnett return. He said Garnett is "anxious,'' but wouldn't you be if you had to watch Marbury? Nope, all Allen knows is that Garnett spends his game on the bench in street clothes, "which I don't like.''
"So far, it's one of the best series I've ever been a part of,'' said Allen.
One of the best? Can we see the video of the others?
Anyway, the best thing about this series is that there will be a Game 7.
The worst thing? There won't be a Game 8.
To read the entire Gene Wojciechowski column, click here.
Playoff Dimes past: April 19 | 20 | 21 | 22 | 23 | 24 | 25 | 26 | 27 | 28 | 29 | 30
No Excitement In Philadelphia -- Except On TV Afterward

By Chris Sheridan | ESPN.com
PHILADELPHIA -- By the time things got exciting inside the Wachovia Center, almost nobody was left in the building.
The fans had long since stopped booing the home team off the court; the janitors were well on their way to having the aisles swept clean; and the floor crew was taking down the basket stanchions for the final time until fall.
But inside the cinder-block-walled visiting locker room, players in suits, players in towels and players seeking to borrow a sports jacket to comply with the NBA dress code (that would be you, Rafer Alston), had their eyes riveted to the television set hanging from the ceiling.
First, the Orlando Magic were mesmerized by the first overtime of the Boston-Chicago game. Next, they were astounded by the end of the second overtime ("How could they not foul Ray Allen before he hit that ninth 3?" was one of the prevailing expressions.)
Then, when the game finally ended with Rajon Rondo missing a heave from midcourt to end triple overtime, the Magic players bolted from the back door of the locker room and made a happy beeline to their waiting bus, at least one of them exchanging a high five with head coach Stan Van Gundy as he sat in the front row of the vehicle.
Yes, it would be a happy flight back to Orlando. And it would be made all the happier because the Magic knew they would not be turning right back around Friday to reboard their charter jet and fly up to Boston for Game 1 of the second round.
Instead, their next opponent remains unknown, which means they'll have two extra days to rest, get a little healthier and soak up some of the adulation they'll get back home after finishing off the Philadelphia 76ers with relative ease Thursday night in Game 6 of their first-round series, 114-89, despite playing without two starters.
Center Dwight Howard was forced to watch the game from a hotel as he served a one-game suspension for throwing an elbow, and Courtney Lee was recovering from surgery for a fractured sinus at a local hospital.
Were they missed?
The smiles afterward on the faces of Marcin Gortat and J.J. Redick showed how much they weren't.
Redick played what arguably can be called the most clutch game of his NBA career, knocking down five 3-pointers for his 15 points, and Gortat manned the middle admirably in Howard's place, pulling down 15 rebounds, scoring 11 points and making a sequence of key plays midway through the third quarter when the Sixers' one and only charge came up woefully short.
"It's an amazing feeling," Gortat said. "The whole year for me was hard. Playing behind Dwight Howard isn't easy. I'm happy I helped my team win the game, I'm happy I didn't disappoint my coach, and now we're in the next round."
Not a lot is known on these shores about Gortat, the 25-year-old from Poland who was a 2005 second-round pick and will be a free agent in line for a windfall this summer.
We could call him the Poler Opposite, or the Poler Excess, although Gortat wasn't all that enthralled with those monikers as he explained afterward that he is known in Europe as "the Polish Machine" and in the Orlando locker room as "the Polish Hammer."
Whatever you want to call him, the guy was a heavyweight who made certain the Magic didn't miss their All-Star center. (Best Gortat fact: His father fought Leon Spinks twice, losing to the eventual world heavyweight champion at the 1976 Olympics after defeating Spinks earlier in a World Amateur championship bout.)
To read the entire Sheridan column, click here.
Celtics' Allen Has A Night To Remember

By David Amber | ESPN.com
CHICAGO -- After leaving his heart and soul out on the floor at the United Center on Thursday night, Ray Allen retreated to the Celtics' locker room with his head down. Walking past me his eyes gave a vacant stare, like someone in a trance, someone so focused he was oblivious to everything around him. Afterward, we would find out he wasn't thinking about his career-high 51 playoff points or the 58-plus minutes he had just played on his 33-year-old knees. Allen was contemplating the shots he had missed, the chances he had squandered and the fact that one of his greatest career moments would be remembered in a loss.
"Of course, it's easier to appreciate playing well when you win," he said after the 128-127 triple-overtime loss to the Bulls forced a Game 7 in Boston Saturday night. "All I could think about in the shower was the shots I should have made."
For six periods, Allen was unstoppable. His 18-for-32 shooting provided the bulk of a stellar performance that wound up being the most points scored against the Bulls in the playoffs. Nine of his baskets were 3-pointers, often with a defender's hand in his face. It was a classic case of reality imitating art. An effort Jesus Shuttlesworth would be proud of.
Using screens, cuts, picks, fadeaways, pull-ups and crossovers, the nine-time All-Star showcased everything that has earned his reputation as one of the game's purest shooters. The performance left the sellout crowd in Chicago in disbelief and his coach in awe.
"He was phenomenal, just unbelievable," Doc Rivers said. Teammate Brian Scalabrine said Allen set the tone from the opening tip. "From the start of the game, he was aggressive," Scalabrine said. "His mindset was to go at them, and we needed him to lead our team."
Allen was typically low-key after the game. He said he didn't change his approach from any other playoff game. "It was business as usual," Allen said. "Whatever I did, I want to remember it."
The question now is, will he have enough energy left for a Game 7 after playing 58 minutes in Game 6?
"You get tired out there, but you learn how to conserve energy," he said. "I don't feel any fatigue right now. We've done these Game 7s before -- last year against Atlanta in the first round -- so we'll be ready."
On the flight back to Boston, Allen probably still will be reflecting on all his missed shots -- and the shot he never took. In the dying seconds of triple-overtime with the Celtics down by one, the Bulls finally figured out how to deny Allen the ball.
"They made a good switch and closed off the passing lane," Allen said. "I trust my teammates. I felt OK with Rajon [Rondo] taking that shot. He had just scored on our last possession."
Allen was referring to Rondo's 12-foot jumper that, had it gone in, would have given the Celtics the lead; instead, it was blocked by Derrick Rose.
Allen took just one shot in the third OT period -- a two-pointer, which he made. He can take some comfort that there's still one more game to be played in this series, which he calls "the best I've ever been a part of."
Come Saturday night, Allen has another chance to write history, another chance to leave basketball fans in awe, another chance to leave his opponents in disarray. Of course, Ray Allen calls that business as usual.
David Amber is an ESPN bureau reporter based in Toronto.
By Maurice Brooks
ESPN.com

THURSDAY'S BEST
Ray Allen, Celtics:
It is not too often that a player from a losing team gets this spot, but after he scored a career playoff-high 51 points and tied the NBA postseason record with nine made 3-pointers, it is hard not to recognize Allen's night.
---

THURSDAY'S WORST
Philadelphia Sixers:
Even with Superman not in the building, the Sixers failed to force a Game 7. Playing at home, Philadelphia was unable to take advantage of Dwight Howard's suspension, getting eliminated from the playoffs with a 114-89 loss to the Magic.
---
QUOTE OF THE NIGHT
"We had no answer. They had the first punch and we never had a counterpunch."
-- Sixers coach Tony DiLeo on the Magic, who raced out to an 11-point first-quarter lead and never looked back
• See Thursday's daily leaders
Rockets Blast Off To Round 2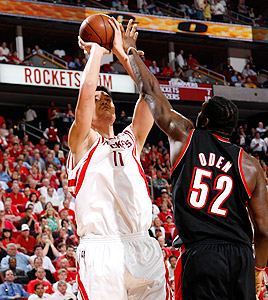 (Bill Baptist/NBAE/Getty Images)
Yao Ming had a double-double (17 points and 10 rebounds) for Houston, which defeated Portland 4-2 in their first-round series to advance to the second round for the first time in 12 years.
Houston Needs Artest To Score
By J.A. Adande
ESPN.com

Steals, drawn charges and screens are nice and all that, but if you're going to win in the playoffs, you need someone to put the ball in the hoop with regularity the way Houston's Ron Artest did in Thursday night's Game 6 closeout of the Portland Trail Blazers.
Through their first five playoff games, the Rockets didn't have anyone among the top 25 postseason scorers. While they didn't need Tracy McGrady to get to the second round, they needed someone to do what he does (and just about all he does): get points. Why have the Celtics-Bulls games been so great? Guys keep making shots. Sometimes the game really is that simple.
Simplicity and Ron Artest aren't words that often come in the same sentence. Not the guy who added an unnecessary plot thread to the next series against the Lakers in an off-day interview when he said Brandon Roy is the best player he's ever defended -- not LeBron James or the guy he'll spend the next one to two weeks guarding, Kobe Bryant.
But Artest was the answer Thursday, hitting 11 of 21 shots for a game-high 27 points. That almost matched his total output for the previous three games (31 points). A little sequence showed how valuable he can be when he's not only scoring but also a threat. He was aggressive from the outset, scoring 12 points in the first quarter, which set the tone for all the little things that came later.
In the fourth quarter, Artest drove and got his shot blocked by Greg Oden, but Yao Ming got the ball and scored. The next time down, Artest squared up on the left side against Roy and drew the attention of Oden, which left Yao open. After Artest passed to him and Yao drew the defense, Yao passed to Aaron Brooks for a 3-pointer.
Finally, Artest curled down the lane, took a feed from Shane Battier and scored. Those are all the things that come from being active.
"I just wanted to stop complaining about having to play defense and telling my team I can't play offense, and [start] playing a little offense," Artest said on TNT. "They needed me to attack."
They'll need even more of that against the Lakers, who outscored Houston by an average score of 103-90 in sweeping four regular-season meetings. Even if Artest can lock down Bryant and Yao neutralizes Pau Gasol, can Luis Scola outduel Lamar Odom? Can the rest of the Rockets keep pace with the Lakers' depth?
One player to watch for Houston is Von Wafer. Yes, Von Wafer.
This is his dream matchup. He was drafted by the Lakers but they let him go, and now he loves to light them up. You can practically hear him saying, "Sasha Vujacic, huh?" every time he knocks down a jumper. The 16.7 points he averaged against the Lakers this season were the most against any team he faced multiple times. In other words, this wasn't just a one-off, like the 19 points he scored against the Cavaliers. This is a recurring thing, like that chicken that keeps fighting Peter in "Family Guy."
It would be nice if the Rockets could count on Artest to go for 20 every night. More likely, they'll have to be happy with what they get, when they get it. This Game 6 victory raised the Rockets' record to 20-7 when Artest scores at least 20 points. The points or the victories probably won't be as frequent next round. For the Rockets, at least there is a next round, for the first time since 1997.
By Darren Lyn | ESPN.com

HOUSTON -- "Biggest win in NBA career."
That's how Rockets center Yao Ming described Thursday night's 92-76 win over the Blazers in Game 6 that propelled the Rockets to the second round, against the Lakers, on Sunday.
Houston had not gotten out of the first round in the team's last seven playoff appearances, and Yao reiterated that, in between a huge sigh.
"Obviously people would ... talk about how many years Rockets didn't make it out of the first round, how many years I didn't make it out of the first round," Yao said. "There's new meaning right now."
Even though coach Rick Adelman had not been in Houston for all those first-round failures, he found extra solace in the victory.
"I know what it means to me," he said. "I won't have to answer that question, you know, for 12 years or whatever it is, the ghosts of Houston's past."
Forward Shane Battier seconded that emotion.
"Probably the only change after this day is that I'll never have to answer that question, which is a welcome change," Battier said. "I don't look at my career as a failure if I never would've got out of the first round, but it would be nice not to hear that question anymore."
One Rocket who played a big role Thursday night was Ron Artest, who scored a game-high 27 points. With 1:30 left in the game and the Rockets cruising to the win, Artest still dove into the stands six rows deep to save a loose ball. After the game, he said he wanted to set an example for the younger players.
"I don't think they understood how important a turnover was, how important it was not to turn the ball over," Artest said. "Every possession counts. Reggie Miller told me that when I was in Indiana, and I just try to ... pass it on to the young fellas."
Battier said Artest's dive fired up the team. "Ron was really on us to finish the game up, finish the game hard," Battier said. "He takes a leadership role on this team. He doesn't want to show any letup in a game like this."
Artest also quipped about his fourth-quarter, off-the-court appearance, saying, "I've been in the stands before."
With laughter piercing the room, Yao added, "But this time at home court."
Artest agreed with Yao. "It was home court," he said. "I wanted to soak it in, I had to sit down ... actually, this guy offered me some beer. When he did that, I was like, you know what? I'm gonna sit down and enjoy this. He's not throwin' it at me. I was gonna take a sip, but it's too many cameras."
At the end of the game, Artest told the fans over the loud speaker, "We're not finished."
He explained that his message was not just for the fans but for the team, as well.
"You just gotta let the young fellas understand that how we finished that game is how we need to start," he said, "because it could be a lot of fun when we get to L.A."
Darren Lyn is ESPN's bureau reporter based in Houston.
Rondo Enters The Record Book
By Elias Sports Bureau

Rajon Rondo had 19 assists without a turnover on Thursday, tying the NBA playoffs record in that category. Norm Nixon had 19 assists without a turnover for the Lakers in 1979.