Victor Baldizon/NBAE via Getty Images
Dwyane Wade has scored at least 40 points in a playoff game on five different occasions.

Doug Benc/Getty Images
After getting blown out in Game 6, the Hawks have lost to the Heat by 15, 29 and 26 points.
No Surprise: Another Blowout In Heat-Hawks Series

There's another Eastern Conference playoff series heading to a Game 7 this weekend, and if you're interested in such things it might be a much more efficient use of your time.
Playoff schedule
WEST FIRST ROUND

While the Bulls and Celtics slog through multiple overtimes to determine a winner, the Hawks and Heat have taken the opposite approach. No need to stick around for hours for this one, folks -- just watch the first quarter and call it a day. All six games have been decided by double figures, with Friday's 98-72 Miami win the biggest laugher. Yet it wasn't even the most lopsided: The Hawks won by 26 in Game 1, then the Heat won by 29 in Game 3. So one-sided have the contests been that the series has yet to have a lead change after the first quarter. Boston-Chicago has been tied at the end of regulation four times; Atlanta-Miami has had four ties in six games, including white-knuckle moments at 2-2 and 7-7 on Friday.
One thing did change Friday, however, and the difference has been clear ever since Al Horford sprained his ankle in the second quarter of Game 5. Dwyane Wade, who had been consistently denied avenues to the basket through the first 4½ games, was able to penetrate at will. He earned 17 free throws and had several spectacular drives into the paint, most notably a fourth-quarter poster dunk on Zaza Pachulia that put the cherry on top of Miami's win; Wade also was hitting his jumper, as he's done in every Miami win in this series, and finished with 41 points.
In addition, there was the emergence of an X factor for Miami in rookie Michael Beasley. He had done little through the first five games but exploded for 22 points and 15 rebounds off the bench, helping Miami make up for the absence of Jermaine O'Neal.
O'Neal sat out with a concussion suffered in Game 5 and his status for the rubber match Sunday afternoon in Atlanta is in question; unlike an ankle sprain or a hamstring pull, there's no such thing as gutting it out with this injury.
Fortunately, the Heat unearthed the all-Canadian "centre" combo of Joel Anthony and Jamaal Magloire to great effect, as their defense and physicality helped frustrate the Hawks' frontcourt players; the two combined for 15 rebounds and made all four of their shot attempts. Meanwhile, Atlanta came unglued emotionally as the Heat poured it on, helped along by a couple of unfavorable whistles -- most notably a blocking call whistled on Maurice Evans for having the temerity to let Wade run into him.
Atlanta's injury at center seemed to affect the Hawks much more than Miami's affected the Heat, and not only because the young Horford has been an emotional rock who might have helped settle them down. Replacement starter Solomon Jones' inability to punish the Heat offensively permitted them to send swarms of defenders at Joe Johnson, and Anthony especially did this with unusual zeal. Often pushed out near half court by aggressive Miami double-teams, Johnson was neither able to find an outlet that could set up an easy score nor get free for clean looks of his own.
Atlanta's leading scorer in the regular season continued his miserable series with just 13 points. He also had three turnovers, including a first-quarter offensive foul that sent him to the bench with two personals and paved the way for the Heat's 32-18 first-quarter lead.
More telling, perhaps, was that he had just two assists despite all the double-teaming. Somehow, Atlanta needs to do a better job of punishing the Heat for their aggressive approach in taking Johnson out of the game. It's not like the Hawks haven't seen this before -- it's exactly what Boston did a year ago in Games 5, 6 and 7 after Johnson took over at the end of Game 4.
Not that Johnson had much help; Mike Bibby (20 first-half points) was the only Hawk to bring his A-game. Nobody else even brought their C-game, in fact: Evans was 2-of-9, Smith was 3-of-13 and Flip Murray was 4-of-13 as the Hawks shot 37 percent and committed 16 turnovers. About the only positive to take away for the Hawks was a surprise cameo by Marvin Williams, who played five minutes.
As a result, we head into Sunday hoping to see at least one competitive game between these two teams. There's a precedent, actually, and it's one I'm deeply familiar with. A year ago I was there in person for four of the six blowouts in the Spurs-Hornets second-round series, in which no team won by fewer than 11 in the first six games before San Antonio eked out a rare Game 7 road win that went down to the final two minutes.
As for seven straight games with double-digit wins? That hasn't happened since 1970, when the Lakers beat the Suns. That's also the last time the Hawks won a best-of-seven series -- a drought dating back to before Miami coach Erik Spoelstra was born, and one Atlanta will try to end Sunday afternoon in the friendly confines of Philips Arena.
To do it, the Hawks will need to deny Wade and awaken Johnson. Both tasks looked a whole lot easier when Wade was locked up by a balky back Wednesday than they looked Friday.
John Hollinger writes for ESPN Insider. To e-mail him, click here.
Playoff Dimes past: April 19 | 20 | 21 | 22 | 23 | 24 | 25 | 26 | 27 | 28 | 29 | 30
Barea Making The Most Of His Opportunities

By Alfredo R. Berríos | ESPNdeportes.com
Patience.
That has been the key for Mavericks point guard J.J. Barea, who in his third NBA season has evolved from being the last player to survive the cut in his rookie year to starting in the playoffs against the San Antonio Spurs.
"The key is to have a lot of patience. You need to have a lot of patience and make the best out of each minute they give you," said Barea, a native of Mayagüez, Puerto Rico. "In practice, you have to get better [in front of] coaches every day, before and after. And have patience, as your time will come, and you will make the most of it."
Barea played his early years in Puerto Rico and he and his father marked the path that the 6-foot player would take from his high school years on. He moved to Miami to finish his education at Miami Christian, a school recognized for its basketball program.
The rest is history.
"I spent all my life playing in Puerto Rico," Barea said. "One day my father and friends sat down and we knew that if I wanted to take things more seriously, I had to go to high school in Miami so I could be seen and get a scholarship. I then decided to go to Miami and it worked."
Barea moved forward and went to Northeastern University, where he became the second-highest scorer in school (2,209 points), behind the late Reggie Lewis. Barea also was a two-time finalist for the Bob Cousy Award, given to the nation's best point guard. As a senior, he was honorable mention All-American, ranking third in assists in the nation (8.4 apg) and 19th in scoring (21.0 ppg).
During his three years with the Mavs, Barea has slowly increased his playing time. In his first season, he started in one of the 33 games he played and averaged 2.4 points. Last season, he started in nine of the 44 games he played, doubled his minutes and averaged 4.3 points.
This year, Barea started in 15 of the 79 games he played with an average of 20 minutes per game and 7.8 ppg. In the first-round playoff series against the Spurs, Barea scored 10.0 ppg and was in the starting lineup in Game 4.
"It's great for me to have the playing time they're giving me. Coach [Rick Carlisle] trusts me to start games and it has worked," Barea said. "He hasn't talked much [about my performance], which means that he is happy with it. I think we will keep the same starting five."
Barea said he was ready when Carlisle made the decision to start him over Antoine Wright.
"I had two good games this year [against the Spurs]," Barea said. "It was going to be between Wright and me. [Carlisle] started the first two games with Wright and on the third one he told me. I was ready because I knew it would happen."
Barea points out three important factors in his development over the past three years: having Jason Kidd as a mentor and teammate, improving his defense and the experience he gained while playing in international basketball tournaments with his native Puerto Rico.
"I have gotten better, I never saw myself as a defensive player and I have improved a lot," said Barea, who has had the tough task of defending Tony Parker, the Spurs' leading scorer in the series.
"The key when defending a player like Tony Parker is to keep him out of the paint and pressure enough so he forces his shots."
Kidd, who joined the Mavericks midway through last season as part of a trade with the New Jersey Nets, was Barea's idol when he was younger. Barea had no idea that he would play alongside the veteran point guard while receiving constant advice.
"When I was a kid, like everyone, I liked Michael Jordan. But when I was growing up, I was also a fan of Jason Kidd and Steve Nash," Barea said. "If you want a player helping you, I'd say that Kidd is the right person for the job. The confidence he gives me, looking after me on the court, if I do something wrong, he tells me; if I do it well, he also tells me."
When the Mavericks finish their playoff run, Barea plans to play with Puerto Rico's national team, which is scheduled to compete at the Americas World Championship Qualifying Tournament in Mexico from Aug. 19-30.
According to Barea, Mavericks management has no issue with his decision to play in Mexico and any other upcoming international engagements.
"During the summer, I played for Puerto Rico's national team. The experience allowed me to improve my skills since I had a lot of playing time," Barea said.
As for his future, Barea expects to keep playing his whole career in Big D, where he has earned the respect and admiration of players, fans and critics alike.
"I want to keep on producing, do what I'm doing to help the team win and stay focused. I would love to stay here [in Dallas] for the rest of my career," Barea said.
By Maurice Brooks
ESPN.com

FRIDAY'S BEST
Dwyane Wade, Heat
: With the season on the line, the MVP candidate did what superstars are supposed to do, carrying Miami past Atlanta by scoring 41 big points.
---

FRIDAY'S WORST
Josh Smith, Hawks
: After apologizing for his showboat dunk attempt in Game 5 he may have to say "I'm sorry" again after going 3-for-13 from the field and scoring just seven points.
---
QUOTE OF THE NIGHT
"No pressure on us. We're the underdogs in this series."
-- Heat guard Dwyane Wade after Miami roughed up Atlanta, 98-72
Hawks Embarrassed In Miami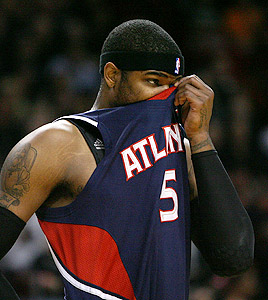 (Photo by Doug Benc)
After losing to the Heat by 26 points, Josh Smith and the rest of the Hawks had plenty of reasons to try to hide their faces.
Hawks Can't Slow Down Wade
By Bret LaGree | TrueHoop Network

For the first time in nine meetings this season, Dwyane Wade (16-for-17) got to the line against the Atlanta Hawks like he does against everyone else. Wade's 41 points freed his teammates to concentrate on defending (the Heat held the Hawks below 0.9 points per possession) and rebounding (the Heat grabbed 33 percent of the possible offensive rebounds and 75 percent of the possible defensive rebounds).
Whereas Wade exploded, Atlanta's healthy starters imploded. Joe Johnson was on the bench with two fouls less than two minutes into the game. He couldn't replicate Game 5's career-high 15 free throw attempts and needed 13 shots from the field and one free throw attempt to score 14 points. Mike Bibby's 20 first-half points kept the game in reach, but Bibby failed to score (and picked up a technical foul) in the second half. Josh Smith missed 10 of his 13 field goal attempts and two of his three free throw attempts while picking up a technical foul of his own in the second half.
Bibby and Smith weren't alone in losing their composure Friday night. Maurice Evans and Zaza Pachulia drew technical fouls of their own. First, and most curiously, Mike Woodson chose to dress Al Horford even though he was physically unable to play and let Marvin Williams play 4:49 despite the fact Williams' right wrist hurt so badly that his lone shot attempt was left-handed.
To make use of their home-court advantage for Game 7, the Hawks must regain the ability to make sound decisions under playoff pressure. If they do, the franchise should win its first seven-game playoff series since 1970. If the Hawks do not, they're unlikely to comfort themselves, as they did last year, with having taken the NBA champions to seven games in the first round of the playoffs.
Bret LaGree's work can be found on the TrueHoop Network's Hawks' blog, Hoopinion
By John Hollinger
ESPN.com

For those who missed it, one of the main reasons the Sixers lost in humiliating fashion Thursday was a truly deplorable performance from center Samuel Dalembert. His night included the full gamut of head-scratching Sammy Specials, including the usual ridiculous goaltending, getting beaten downcourt for an easy Marcin Gortat bucket (actually, a second goaltend) after a made basket, and a bizarre play in which he jumped up and bounced the ball off the floor to three Orlando players for no apparent reason.
Topping it all off was a gratuitous cheap shot to the back of Hedo Turkoglu's head in the fourth quarter; the refs didn't see it, but Stu Jackson certainly will. Dalembert likely will be suspended for the first game or two of next season as a result.
Interestingly, after the game both Andre Iguodala and Theo Ratliff made comments that appeared to be shots at the coaching staff. The general consensus was that Tony DiLeo did a pretty good job after taking over for Mo Cheeks, but stay tuned.
To see the four other Insider Gems, click here.
Bulls-Celtics: Best Series Ever?

Chris Broussard says the only argument he can make against the Bulls-Celtics series as being the best one ever is that it's only the first round.
Mike & Mike
Beasley Breaks Magic's Record
By Elias Sports Bureau

Michael Beasley scored 22 points and grabbed 15 rebounds in the Heat's Game 6 victory to break Magic Johnson's record as the youngest player (20 years, 112 days) to collect at least 20 points and 15 rebounds in an NBA playoff game. We don't think that Magic is too broken up about it, because we get to mention the climactic game of his rookie season, when he had 42 points and 15 rebounds while leading the Kareem-less Lakers to a 123-107 win in Philadelphia that won the 1980 NBA Finals. Magic was 20 years, 276 days old then.