AP Photo/Matt Sayles
Even on his back, Aaron Brooks (19 points) was a threat to spark the Houston offense in Game 1.

Andrew D. Bernstein/NBAE via Getty Images
Ron Artest's strategy of letting his play do the talking worked out better against Kobe this time.

Jeff Gross/Getty Images
After colliding with Kobe Bryant, Yao's knee pain briefly sent him off the court. He returned and won.

AP Photo/Charles Krupa
Rajon Rondo and Boston could not keep defeat at arm's length against Rafer Alston and Orlando.
Rockets On the Money In Game 1

LOS ANGELES -- Maybe it was just a rusty team with a sick superstar. Or it could be something much more significant, so if that's the case, you might want to mark May 4, 2009, down as the start of a paradigm shift in the NBA.
Playoff schedule
WEST FIRST ROUND
WEST SEMIFINALS
Denver 1, Dallas 0
Game 2: Tue., 10:30 ET, DEN Houston 1, Los Angeles 0
Game 2: Wed., 10:30 ET, LAL

EAST FIRST ROUND


EAST SEMIFINALS
Orlando 1, Boston 0
Game 2: Wed., 8 ET, BOS

Hawks-Cavs
Game 1: Tue., 8 ET, CLE
The irony is that the Houston Rockets are the team with the spreadsheets and logarithms, but it's the Lakers who must hope that Game 1 was merely a statistical aberration, that they'll resume scoring the 106-plus points they averaged during the regular season and first round of the playoffs instead of the 92 they put up here, that they'll make better than 11 percent of their 3-point attempts, that the Rockets can't expect to continue to have more turnovers and fewer rebounds than the Lakers and still keep winning the way they did on Monday night.
"We feel confident we'll come back and give a good effort on Wednesday night," Lakers coach Phil Jackson said. When pressed for an explanation for his confidence, all he could say was, "I don't know if we can play much worse, to be honest with you."
Well, they did shoot worse and score fewer points in their other playoff loss, at Utah in Game 3. But the most relevant number now is the 80 percent rate at which winners of Game 1 have gone on to win best-of-seven series in the NBA. So L.A. is now a statistical underdog. Yao Ming said he just learned the word "underdog" a few days ago, and the term likewise seems foreign for the presumptive Western Conference champs.
The Lakers' main consolation is that they were far from their best, yet still had a shot at this game, even leading briefly in the fourth quarter. Kobe Bryant missed practice Sunday with what the team called a sore throat, and the next 24 hours in Los Angeles were filled with more updates on his health than on the swine flu epidemic. But when it was time to announce the starters for Game 1, there he was, albeit a bit subdued. It took him 31 field goal attempts to get his 32 points against Shane Battier and Ron Artest, and he shot 4-for-10 in the fourth quarter, the period in which he and the Lakers owned the Rockets during the regular season.
He claimed he felt fine. Besides, none of the other Lakers who combined to shoot 33 percent in the first quarter were on the injury report, unless there's a medical term for the malady that can afflict a team that hasn't played a game in seven days, the amount of time since the Lakers finished off their first-round series with the Utah Jazz.
"We really missed a lot of wide-open looks, shots that we normally make," Bryant said. "Maybe that was due to a week off. Guys were hesitant a little bit. I don't think that hesitation will be there on Wednesday."
But the Rockets will be. And they're more confident than ever now that they've seen positive results from their approach. If they're the "Moneyball" team of the NBA, it was impossible to ignore that baseball's Oakland A's had lost four playoff series at the start of this decade before beating the Minnesota Twins in 2006. The Rockets had tried a variety of approaches, from the "Space Cowboys" way of loading up on aging stars to believing they could get the right parts around perennially playoff-jinxed Tracy McGrady, and it hadn't worked for them, either, come playoff time.
Still, they're committed to general manager Daryl Morey's offbeat basketball metrics, and this season they've thrived since McGrady went out, Yao Ming became the focal point of the offense and the team made Aaron Brooks the starting point guard by trading away Rafer Alston.
"We found out we had a group that played their tail off every day," Houston coach Rick Adelman said. "They came together as a group. We had a regular rotation we didn't have before and we had young guys step up."
With the franchise on to the second round for the first time since 1997, Brooks, the smallest, least-experienced player on the court, scored 14 second-half points. Yao went down with a scary-looking knee injury in the fourth quarter, stretched out his right knee in the tunnel, then came back for some more clutch points on his way to a team-high 28. Artest got it done across the board, with 21 points, seven assists and heavy Kobe duty on defense.
And Chuck Hayes? Well, you couldn't even find a box score by his locker. He said he doesn't even bother to read them anymore, because they don't reflect his contributions. "What he does, it does show up ... just in winning and losing," Morey said.
The most deceptive part of the halftime box score was the zero points (on zero shots) down the row from Hayes' name. He beat Pau Gasol for an offensive rebound, which led to an Artest 3-pointer that banked in. On another possession, after Artest dribbled around in circles and then launched a 3, Hayes grabbed the rebound and the Rockets wound up with a 3-pointer by Brent Barry. That's six points right there attributable to Hayes.
And what about points prevented? Hayes stands 6 inches shorter than Gasol and Andrew Bynum, yet neither could budge him an inch when they tried to back him down. Tree stumps are short, too, but have you ever tried to move one? Gasol gave up and ran a give-and-go with Trevor Ariza instead. Bynum threw up an awkward-looking hook shot that didn't have a chance of going in.
"They keep trying, but I'm not going anywhere," Hayes said.
Those are the images of the Rockets. It's Battier, his face requiring four stitches Monday night because he keeps sticking it where it doesn't belong. It's Kyle Lowry sitting courtside with a laptop computer reviewing Lakers plays before the game.
And yes, it's Artest, who had a new hairdo, a Mohawk down the middle with shavings that looked like ancient Aztec designs on one side and the Rockets' logo on the other. It was so unusual that Yao got out of his chair and walked to the middle of the Rockets' locker room to inspect it. "I was going to get your name on there," Artest told him. You know what name Artest doesn't want to see anymore? Kobe Bryant. Artest wasn't rescinding his remarks that Portland's Brandon Roy is the best player he's gone against. He even expanded on them.
"Brandon Roy ... that comment was made because I really enjoy watching young fellas in the NBA," Artest said. "And I really enjoy just how talented they are. I mean, I'm 29, these guys come in, LeBron came in, I guess he's five years younger than me, these guys are coming in getting MVPs, playing great and leading their teams. I look up to that. I'm finished looking up to Kobe. That was a couple of years ago. There's young guys in there to look up to now. Like Brandon Roys and LeBron Jameses and Dwyane Wades, you know? O.J. Mayos ... I would like to give those guys all the confidence in the world, I want to see them do well."
James got his first Most Valuable Player award Monday. Bryant had a chance to upstage him, but couldn't. During his first trip to the free throw line, a few scattered "M-V-P" chants went up around Staples Center, but they were more feeble than they've sounded in years. This isn't his time. At this point, it's like going to the garage to slap a McCain/Palin bumper sticker on your car.
With the trophy beyond his grasp, all Kobe can do now is prove he can still be The Man to carry a team through a playoff game and a series. The Lakers have to show they have the fortitude to take a series after home-court advantage has been snatched from them. They can restore the natural order of the NBA, where stars rule over stats.
And if they can't? Then May 4, 2009, will go down as the day things started to change.
J.A. Adande is an ESPN.com senior writer and the author of "The Best Los Angeles Sports Arguments." Click here to e-mail J.A.
Playoff Dimes past: April 21 | 22 | 23 | 24 | 25 | 26 | 27 | 28 | 29 | 30 | May 1 | 2 | 3 | 4
Brooks' Speed A Problem For Lakers

By Eric Neel | ESPN.com
LOS ANGELES -- Aaron Brooks is the fastest man on the floor in this series, and on Monday night, in a hard-fought, physical, sometimes chippy Game 1, his quickness made all the difference.
Repeatedly jetting by whomever the Lakers sent to defend him (Derek Fisher, Shannon Brown and Jordan Farmar all took a shot at slowing Brooks down), the Rockets' second-year point guard popped into free space and cut deep into the Lakers' defense for good interior looks.
"He got to the baseline really quick on us a couple drives and slipped that ball in, and it broke us down in a couple situations," Los Angeles head coach Phil Jackson said after Houston's 100-92 victory.
Using a stutter step, an almost unconscious handle, and a vicious first step to the left, Brooks hit five shots inside of 15 feet and got to the line for six free throws on his way to a 19-point night.
Houston coach Rick Adelman said after the game that he had gone to Brooks at one point during the second half and told him he had to be more aggressive if the Rockets were to have a chance to win (and steal home-court advantage in these conference semifinals). Brooks responded, scoring 14 of his points in the second half and consistently forcing the Lakers' defense to extend and adjust.
"I know what [Rick Adelman] means when he tells me to be aggressive," Brooks said afterward. "It's not about firing off shots. It's about working my way into spaces and breaking the defense down so we have options all over the floor."
His first read, when he gets close to the bucket, he said, is for a little "flip" layup, often off the glass.
"He got through and got some layups on us," Kobe Bryant said after the game. "We blew some defensive assignments on him."
If the defense rotates, as it often did in the fourth quarter, Brooks kicks out, either to a spot-up shooter down the baseline for a corner 3, or to a rolling big man coming through the lane. There was a lot of talk about Houston's defense in anticipation of this series, and it was stout on Monday, hounding Bryant with doubles, switches and help from start to finish. But the key to this series may be what the Rockets can manage offensively, and how far they can stretch the Lakers' defense out of its comfort zone.
A maturing and aggressive Brooks, like last year's Rajon Rondo in Boston, getting more and more confident game by game and series by series, may be a crucial part of that effort as this series unfolds. We know Yao Ming and Ron Artest are the focus of the Houston offense, but with contributions from Brooks, the Lakers will not be able to concentrate on any one area or player.
"With Brooks, Kyle Lowry and Von Wafer alongside our veterans, we have kind of a strange mix of young and old on this team," said Rockets forward Shane Battier. "And it's working."
Adelman calls Yao the team's "anchor," but he likes the way guys like Brooks are stepping up alongside him.
"I think our guys are very determined," Adelman said. "These guys are going to play. You need people to step up in the last eight minutes of the game, like Kobe steps up for [the Lakers]. And we had that tonight."
Eric Neel is a senior writer for ESPN.com
By Maurice Brooks
ESPN.com

MONDAY'S BEST
Yao Ming, Rockets
: The only time the Lakers slowed Yao was when Kobe Bryant banged knees with the Houston center. Other than that, L.A. had no answer for Yao, who finished with 28 points and 10 rebounds.
---

MONDAY'S WORST
Rajon Rondo and Ray Allen, Celtics
: Both of Boston's starting guards made just 2 of 12 shots from the floor, combining for 23 points. Rondo also had seven turnovers.
---
QUOTE OF THE NIGHT
"We can't wait until we're down 25, 26 points until we wake up. There's no excuses for us not to be ready."
-- Celtics forward Paul Pierce on his team's slow start against the Magic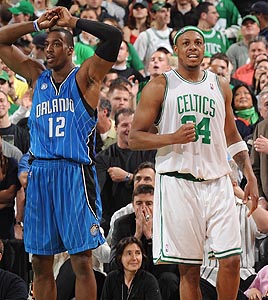 (Photo by Brian Babineau)
Dwight Howard (16 points and 22 rebounds) won the statistical battle over fellow superstar Paul Pierce (23 points and five rebounds) and the Magic stole home court.
No Moral Here, Just A Magic W
By Chris Sheridan
ESPN.com

BOSTON -- We've all debated moral victories, whether or not they truly exist, whether some good can come out of a loss, blah, blah, blah.
And that idea was certainly floating around the new Boston Garden on Monday night, the notion that the Celtics had established themselves as the more aggressive, more assertive team by the time all 48 minutes of their 95-90 loss to the Orlando Magic were in the books.
If ever there was a moral victory, this had to be one, no?
Well, no.
Or maybe we should say "NO!" so we can match the cadence of Orlando coach Stan Van Gundy, whose tone of voice as he worked his way through his postgame interview grew in decibels in direct proportion to how defensive he became.
Was he happy that his team had blown almost all of a 28-point lead? Of course not. And when a Van Gundy isn't happy, a Van Gundy is like a human version of Oscar the Grouch from "Sesame Street," only with a nicer home.
To read the entire column, click here
An Older and Wiser Artest
By Shelley Smith
ESPN

LOS ANGELES -- Minutes after the Rockets stunned the Lakers in Game 1 of the Western Conference semifinals Monday night, Ron Artest burst out of the locker room in shorts, no shirt and a towel around his neck and walked out onto the court to say hello to anyone who would say hello back.
"This is the biggest game I've played in my life," Artest said later. "I've been to the second round before, but this is the biggest round in my career. I would be a fool to not enjoy it. I really wanted to play well."
And he did. But forgotten amid the pre-series talk of Artest's trash-talking, hard-hitting, scrappy, swarming, annoying defensive play was the fact that he can shoot the ball well on a given night. And that he's shooting the 3 better than he ever has in his tumultuous 10-year career.
Indeed, he was instrumental in helping Shane Battier guard Kobe Bryant, not exactly shutting him down, but not letting Bryant destroy them in the fourth quarter, either. But here's how important Artest was on the offensive end: His 21 points, including 3-of-6 from 3-point range, were second only to Yao Ming's 28. And, perhaps, no shot was bigger than his first 3-pointer, a 26-foot jumper that he banked in, and seemingly looked stunned that it did. Not so, he insisted.
"My facial expression was I wanted it to go in," he said. "If I missed, I'd be a little down; if I make it, then I know it's going good."
Artest averaged 17 points during the regular season and shot a career-high 39.9 percent from the 3-point line. His teammates say he grew into the role when Tracy McGrady suffered a season-ending injury and he knew they were counting on him to help replace T-Mac offensively. He learned to be patient with his shots and to think team first, rather than shot first. As a result, he became a wiser player, something he regrets that it's taken 10 years to do.
"I wish I would have matured as fast as guys like LeBron, Dwyane Wade, Brandon Roy," he said. "When I got a little college fame, got into the NBA, I veered to the left and wasn't focused on team so much, was focused on myself. It took me 10 years, unfortunately took me so long for me to understand that."
Shelley Smith is an ESPN bureau reporter based in Los Angeles
Rockets-Lakers: Next Level
ESPN Stats & Information

Kobe Bryant scored 32 points, but he needed 31 shot attempts (he made 14) to do it. Here is a breakdown of Bryant's scoring by defender in Game 1 against the Rockets.
Shane Battier contains Kobe Bryant
Defender
FG-FGA
Points
Shane Battier
8-for-22
17 points
Ron Artest
3-for-5
6 points
Chuck Hayes
1-for-1
2 points
Yao Ming
1-for-1
2 points
Brent Barry
0-for-1
0 points
Uncontested
1-for-1
2 points
By Elias Sports Bureau

Yao Ming made all 10 of his free throw attempts in the Rockets' win over the Lakers on Monday night. In the last eight seasons, only one other starting center was 10-for-10 or better from the line in a playoff game: Boris Diaw (11-for-11), also against the Lakers, on May 2, 2006.