Andy Lyons/Getty Images
LeBron James posted a 47-12-8 night against Josh Smith and the Hawks in Game 3.

Ronald Martinez/Getty Images
Carmelo Anthony reacts after scoring the game-winning 3 in front of Rick Carlisle.
After LeBron's Figures, Cavs' Board Scores Impress The Most

ATLANTA -- No, the Cavs weren't surprised by LeBron James' performance. So accustomed are they to his exploits that they barely batted an eyelash at his 47-point, 12-rebound explosion in a 97-82 cakewalk that put them up 3-0 on the Hawks in their best-of-seven series.
Playoff schedule
WEST SEMIFINALS
Denver 3, Dallas 0
Game 4: Mon., 9:30 ET, DAL

Los Angeles 2, Houston 1
Game 4: Sun., 3:30 ET, HOU

EAST SEMIFINALS
Orlando 2, Boston 1
Game 4: Sun., 8 ET, ORL

Cleveland 3, Atlanta 0
Game 4: Mon., 7 ET, ATL
But the rebounding margin? Yes, that raised a few eyebrows. The Cavs outrebounded Atlanta 46-23, providing ample support for James en route to a seventh consecutive playoff rout.
"Is that what it was?" Cavs forward Joe Smith asked. "Wow."
And on a night when all of Atlanta's walking wounded summoned enough strength to take the court and play reasonably well, the Cavs' dirty work on the boards proved just as important to the victory as James' 3-point shooting exploits.
Cleveland regained position 16 times off its missed shots, which is pretty amazing when you consider the Cavs hardly missed any shots, shooting 50.7 percent. The Hawks finished with a piddling 20 defensive rebounds, including five team boards, while at the other end the Cavs grabbed 34 of the Hawks' 43 misses.
Smith, a 13-year veteran, couldn't remember the last time his team had doubled up an opponent on the glass. And he was a big part of it, as he pulled down eight boards in 26 minutes to go along with 12 from James, 10 from Anderson Varejao and eight from Zydrunas Ilgauskas.
"Smith and Varejao were tremendous on the glass," said Cavs coach Mike Brown, who may have helped provide some fodder by calling out his star for a missed block-out in the previous game during the team's film study.
"In our last game, LeBron did a terrific job on the weak side coming to help a teammate, but then he did not go box out Mo Evans, and he had an uncontested putback layup. That was on the tape twice, once during our film session the day before and again today when we were going over our personnel tape. We were straight with him: That can't happen. One of the things we talked about was keeping these guys off on the offensive glass."
Apparently Brown's message sunk in, as James picked up 10 rebounds on the defensive end to help fuel Cleveland's board domination.
Oh, his offense was pretty good, too. We're used to seeing James beat a team by himself, but rarely this literally. Between his shots and passes, James accounted for 66 points -- while the Hawks scored only 65 with him on the floor.
James nailed 5 of 10 3-point attempts and several other long jumpers, and after each, he glared over to the side of the court where a fleet of R&B stars were sitting (Nelly, Jermaine Dupri, T.I., Polow Da Don and Young Jeezy, to name a few). He wasn't so shabby inside the arc, either, hitting a long, banked 2-pointer when he tried to go up through Joe Johnson's arm to draw a foul and ended up with a basket instead of a whistle.
"I'm just a guy who takes what the defense gives me," James said with almost comic modesty. He left out the part about taking the Atlanta defenders' lunch money, too.
"I've seen him do everything," said Ilgauskas, the only Cav who has witnessed his star teammate's entire pro career. "Sometimes people take it for granted, but he played a great game tonight. He had 12 rebounds and almost had another triple-double. Amazing."
Part of the key to James' success was Cleveland's continued ability to flog the dead horse that is Mike Bibby, who seems unable to defend. In all three games, Cleveland has relied heavily on pick-and-roll plays involving Bibby, and Saturday night's specialty was having him caught against LeBron on a switch. On one play, James waved Delonte West over from the far corner of the court simply because he saw Bibby on him.
"We're pretty effective once we get the switch," West said. "A 6-0 Mike Bibby having to check a 6-9 LeBron? We found the mismatch, and we tried to exploit it."
If the game had a turning point, it came late in the third quarter, when Zaza Pachulia was ejected for an over-the-top protest of an obvious blocking foul. After an initial T for charging toward one official, the man who speaks five languages appeared to say something in the mother tongue of referee Bill Spooner that got him sent to the showers.
At the time it was a one-point game, but the two free throws sparked a 20-6 run by the Cavs to put the game away -- partly because the loss of the Hawks' most physical interior player exacerbated their yawning disadvantage on the glass.
For the Hawks, about the only positives were the return of Johnson, Al Horford and Marvin Williams, after the latter two didn't dress for Game 2 and Johnson left with an ankle sprain. Johnson moved surprisingly well, and in fact had his best game of the series, with 21 points; Horford and Williams were less effective, with six and four points, respectively.
They'll probably suit up again for Monday's Game 4, given that they'll have all summer to heal, but after three straight lopsided losses, the handwriting is on the wall. With King James shooting the lights out and the King's court retrieving the rare misses, it will take a far more powerful basketball team than this one to knock the Cavs off their championship course.
John Hollinger writes for ESPN Insider. To e-mail him, click here.
Playoff Dimes past: April 25 | 26 | 27 | 28 | 29 | 30 | May 1 | 2 | 3 | 4 | 5 | 6 | 7 | 8 | 9
Scenes And Sounds From Wild Game 3 In Dallas

By Marc Stein | ESPN.com
DALLAS -- Notes from Game 3 of the Nuggets-Mavericks series:
• NBA officials are expected to review the chaotic postgame scenes that followed Denver's 106-105 victory for possible sanctions.
Mavericks forward Josh Howard had to be restrained by assistant coach Darrell Armstrong from confronting referee Mark Wunderlich, who issued a no-call on a foul that Dallas' Antoine Wright was trying to commit on Carmelo Anthony in the final seconds when the Mavs had a foul to give before being penalized. Had the refs called the foul on Wright, Denver would have been forced to inbound the ball one more time.
Plenty of heated words were exchanged afterward between players on both teams.
"After the game, a couple of their guys were mad at the ref about the call," Denver's Kenyon Martin said of Howard and Wright. "I was trying to play peacemaker. I've given those [league] folks enough of my money already. I'm trying to hold on to mine, so I'm just trying to play peacemaker."
The Dallas Morning News reported after the game that Mavs owner Mark Cuban and Howard had run-ins on the floor with a local TV cameraman and a Morning News photographer shortly after the final buzzer.
A third-quarter foul on Dallas' Brandon Bass by Denver's Dahntay Jones on a Bass drive also could get a look from the league. Jones didn't appear to make a play on the ball when he connected at the rim with the rising Bass, resulting in two of Bass' career-high 14 free throw attempts.
• Denver center
Nene
missed his first eight shots in Game 3 after scoring 49 points in the first two games. Nene's backup,
Chris Andersen
, fouled out in less than 11 minutes. But the foul trouble that plagued all of the Nuggets' big men didn't hurt them in the end because
Chauncey Billups
and Anthony were so deadly.
The Mavericks' Jason Kidd survived a few lengthy stretches guarding Anthony with Howard and Wright in foul trouble. But switching Kidd onto Anthony freed up Billups, who undoubtedly sensed that the Nuggets needed their veteran leader to be more aggressive than usual with his shot in such a big road game. So Billups torched the Mavs (mostly Jason Terry) for 16 points in the third quarter alone.
Terry did step up to deliver a huge 3-pointer out of the corner with 31.1 seconds to play after Dirk Nowitzki made a nice find out of a double-team, but Nowitzki sandwiched Terry's triple with two errant midrange jumpers while being guarded by Dallas native Martin.
"Just wasn't good enough down the stretch," Nowitzki said. "We were up four with 30 seconds to go. That's a game you've got to have."
Kidd was another Maverick who blamed his team's predicament more on the excellence of Billups and Anthony than the Wunderlich no-call. Dallas finds itself in a 3-0 hole entering Monday's Game 4 knowing that no team in NBA history has recovered from such a deficit. Eighty-six teams have tried and failed, and only three of them have forced a Game 7.
"It didn't come down to [the Wunderlich] play," Kidd said. "We had other opportunities, and we took poor jump shots when we were in the penalty."
• In a pregame session with reporters, Cuban made his first public comments since a woman believed to be Nowitzki's fiancée was arrested at the star forward's home in north Dallas on Wednesday.
"Guys fall in love, fall out of love, break up all the time," Cuban said. "Every romance has a story, right? If I made a comment on every romance, we'd have our own show on Lifetime. … It's Dirk's personal life. If he wants to say something, he can say something."
On Dallas' first two possessions in the game, Nowitzki sank a tough jumper over Nene and backed down Anthony with ease for a layup. He also received a standing ovation when he later tried to dunk over Nene and Andersen.
• Nowitzki acknowledged that a second-half collision with Billups left its mark on his left upper leg but said the hit wasn't a factor when he missed his final five shots from the field. He finished with 33 points and 16 rebounds.
"I don't think a bruise keeps anyone out of a playoff game," Nowitzki said.
"I thought that was going to seal the game," Kidd said of the first jumper Nowitzki missed in the final minute when Dallas was up three points. "It happens."
To see Marc Stein's column on Game 3, click here.
By Andrew Ayres
ESPN.com

SATURDAY'S BEST
LeBron James, Cavs
: Impressive. His 47-12-8 night as the Cavs routed the Hawks gave Cleveland a 7-0 mark in the playoffs. Somewhere, grumpy alter ego Wise LeBron mumbled his approval.
---

SATURDAY'S WORST
Intentional foul no-call
: Just when you thought it was safe to foul, Mavs guard Antoine Wright couldn't get a call when he whacked Melo, looking to make the smart play. Melo then hit a winning 3. See what happens when you don't get all flagrant on people?
---
QUOTE OF THE NIGHT
"Sorry about your foot, yao ming. Dam dam dam"
-- THE_REAL_SHAQ, which is Shaquille O'Neal's ID on Twitter, Tweeting about Yao's injury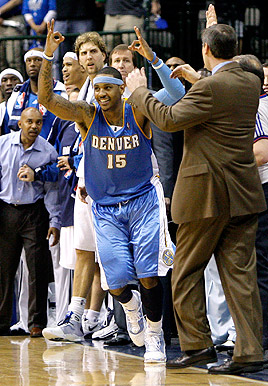 AP Photo/Matt Slocum
Nuggets forward Carmelo Anthony celebrates after hitting the game-winning 3-pointer in Game 3. Denver won 106-105.
ESPN Stats & Information

LeBron James had 47 points, 12 rebounds and eight assists to lead the Cleveland Cavaliers to a 97-82 win over the Atlanta Hawks and a 3-0 lead in their best-of-seven Eastern Conference semifinal series. The Cavs have won all seven of their games in the playoffs, and all of them have been by at least 10 points. Their average margin of victory has been 17.7 points.
The King has been regal in these playoffs, averaging 33.7 points, 10 rebounds, 6.6 assists and 2.1 steals in seven games while shooting a stellar .551 from the field.
How Hawks Defenders Fared On LeBron
Defender
FG-FGA
Fouled
Points
Maurice Evans
5-6
1
11
Joe Johnson
5-7
3
14
Zaza Pachulia
0-0
1
2
Josh Smith
1-3
1
4
Flip Murray
0-0
1
1
Mike Bibby
3-4
0
6
Al Horford
0-0
3
5
Uncontested
1-5
0
3
Technical Free Throw
--
--
1
By ESPN Stats & Information

Dirk Nowitzki was 8-for-13 through three quarters, but before the fourth quarter, Nuggets coach George Karl switched Kenyon Martin onto Nowitzki. The Mavs forward shot 1-for-6 in the fourth and 0-for-5 with Martin on him. Martin also was able to keep Nowitzki from getting easy points at the free throw line.
When K-Mart Covered Dirk
Category
First 3 Quarters
4th Quarter
FG
8-for-13
1-for-6*
FT
12-for-13
1-for-2
Points
29
4
*0-for-5 when guarded by Martin

Paul (ohio): Your finals prediction ... which teams, who wins, in how many games?
Jamal Mashburn
: I have Cleveland and the Lakers. Cleveland has been very dominant at home and is 6-0 in the playoffs. Mo Williams has taken a lot of pressure off LeBron with his shooting. Delonte West and Zydrunas Ilgauskas are also there helping out.
The Lakers were bounced last year, and the knock on them was whether they were physical enough. But I think they're showing that they've got that with this Houston series.
It's only right if we see Kobe and LeBron going at it. I think the Lakers will take it, though, because of their talent, and they're too deep. You have to remember they're one of two teams to beat the Cavs on their home court this year.
To see the full Jamal Mashburn chat transcript, click here.
By David Thorpe
Scouts Inc.

With Yao now out for the rest of the season (after the Rockets already lost backup Dikembe Mutombo), Luis Scola or Carl Landry will guard Pau Gasol, and maybe they will hedge or blitz these ball screens. Los Angeles consistently uses the ball-screen action, so Houston will have to deal with it one way or another. Yao showed strong one time, and it surprised Kobe into taking a bad jumper. If the Rockets' big does it again in Game 4, Kobe likely will attack him, as he often does in the 5-on-4.