Kevork Djansezian/Getty Images
Kobe Bryant (10-of-20 FG, 10-of-10 FT, 32 points) contends with Carmelo Anthony (34 points).

Photo by Noah Graham/NBAE via Getty Images
Chauncey Billups, center, has a few words of wisdom for Chris Andersen and Kenyon Martin.

AP Photo/ Chris Carlson
Kobe Bryant elevates for a dunk, outsoaring the Birdman's block attempt for the Nuggets.

Stephen Dunn/Getty Image
Linas Kleiza's eight rebounds and four 3-pointers in 22 minutes sparked Denver from a slow start.

AP Photo/ Mark J. Terrill
"Coach" Jack Nicholson seems concerned, but things turned out OK for George Karl and Denver.
Game 2: Desperate Times For the Lakers?

LOS ANGELES -- Dare we say that the Denver Nuggets are headed back to their beloved Mile High altitude with an attitude pretty much no one is doubting now.
Just as they repeatedly insisted after that Game 1 crusher, Game 2 was another steal opportunity for the new Nuggets, who promptly showed us, on the biggest stage yet, that tehir inner steel is for real.
In a game that the Nuggets absolutely had to have Thursday night, after giving such a big one away two nights earlier, they finished both halves with more conviction than their glamorous hosts, leading to a stirring 106-103 victory over the Los Angeles Lakers that didn't merely even the Western Conference finals at 1-1. L.A.'s run of 11 straight playoff wins over the Nuggets dating to 1985? That's gone, too.
The Nuggets didn't fold early when they had the chance, which means that David Stern's dream of a LeBron James-Kobe Bryant duel in the NBA Finals is in peril on both sides of the conference border, which also means that the Lakers are suddenly the new desperate team in the West.
How desperate?
You could argue that L.A., with this series headed for a building where Denver hasn't lost since early March, needed a 2-0 lead as much as the Nuggets had to swipe one of the first two games.
"Today we can be a happy team," Nuggets coach George Karl said. "Our job was to ... try to scare you guys into [thinking] it's going to be a long series. I think it's going to be a long series."
Fear wasn't exactly sweeping through the assembled press corps after Karl's address, but rest assured that the Nuggets do have the Lakers plenty spooked. The two-point heartbreaker that the Nuggets dropped Tuesday night clearly didn't crush them, as many presumed.
The skepticism was largely wiped away in the crucial second quarter. That's when the Nuggets reeled off 16 of the final 20 points in the half, drawing within 55-54 after the Lakers had rolled to a 51-38 lead.
Crunch time was obviously huge as well, since we're talking about a one-possession playoff game. Yet you can't discount the magnitude of the Nuggets' fight-back to close the first half, which was right up there with the five free throws L.A. missed in the fourth quarter ... or Trevor Ariza's turnover off a jump ball inside the final 20 seconds ... or Derek Fisher's rushed 3-pointer on the game's final possession after Phil Jackson stunned everyone by using Kobe as a decoy.
Jackson was convinced that Bryant would have been bear-hugged before he ever got a shot off, which convinced him to put the ball in Fisher's hands instead of Kobe's. When Nene got out quickly on Fisher's 3, Denver had all the heroes, starting with Carmelo Anthony and Chauncey Billups but also stretching to Kenyon Martin and the forgotten Linas Kleiza.
Anthony had 34 points and nine boards in his fifth successive 30-point game and impressed you just as much with D that helped deny Kobe another monster fourth quarter. Billups, meanwhile, continued to provide the bulk of Denver's thinking and problem-solving, controlling things way more than his four assists would ever suggest./p
"They had us in a bad place in the first half," Billups said, reveling in the 16 free-throw attempts -- as well as the inbounds pass he threw off of Bryant's back to give himself a layup to cap that second-quarter rush -- that got him to 27 points.
Added Anthony: "I think this team last year, [L.A.'s] lead probably would have went from 10 to 20. [I'd] be sitting here talking to you about a loss last year, where this year our team is so much mentally tougher."
That's not to suggest that Denver was flawless. Billups uncharacteristically missed a massive free throw with 4.3 seconds left that gave Fisher his shot to tie it. Martin tossed in 16 bonus points, including a huge go-ahead layup in the final minute, but also collected his fifth technical of the playoffs (two short of a one-game suspension) and doled out a couple of potentially over-the-edge fouls. J.R. Smith labored on a sore right calf and is still thinking too much out there ... while Melo gave the Nuggets their own scare when he was spotted hobbling on a twisted ankle in the fourth.
The Nuggets, furthermore, couldn't have won without some help from a home team that continues to be plagued by a shaky bench, still has trouble holding leads and is getting outmuscled by the smaller team.
Informed that the Nuggets are still referring to Game 1 as a giveaway, Bryant said of Game 2: "Probably returned the favor."
Denver, though, was undeniably resilient, help or no help. Especially after such a dreadful start.
The same team L.A. swept with ease and disdain in Round 1 last season has even resurrected Kleiza, who chipped in a clutch 16 points after scoring a total of 11 in the Nuggets' previous seven playoff games.
"It ain't just going to be us and Orlando lay down so [LeBron and Kobe] can play in two weeks," Martin said. "That ain't going to happen. I'm going to make sure it don't. Y'all can go home and play NBA Live or something like that if y'all want to see that matchup. We're going to have something to say about it."
They just did. Loudly. Just like the Denver Nuggets said they would.
Marc Stein is the senior NBA writer for ESPN.com. To e-mail him, click here.
Playoff Dimes past: 3 | 4 | 5 | 6 | 7 | 8 | 9 | 10 | 11 | 12 | 13 | 14 | 15 | 17 | 20 | 21
Next Time, Let Kobe Take The Shot

By J.A. Adande | ESPN.com
LOS ANGELES -- Things turned in Game 2, all right. Complete reversal. This time it was the Lakers blowing the big first-half lead ... and losing the game. Steve Javie made calls that favored the home team and Dick Bavetta's calls and non-calls helped the visitors. Things were so switched up that it's surprising they didn't put up ID graphics reading "Iceman" under Tom Cruise and "Maverick" under Val Kilmer when they showed a split-screen of the "Top Gun" stars on the scoreboard while "Danger Zone" played during a timeout.
It ended with the ultimate exchange: Derek Fisher as go-to guy and Kobe Bryant as decoy.
We've focused so much attention on Jerry West's declaration that LeBron James has "surpassed" Kobe Bryant that we overlooked West's caveat: "If I had to have somebody make a last-second shot, it would be Kobe Bryant."
The Lakers had to have somebody make a last-second 3-pointer Thursday night ... and they went with Fisher. Bryant ran with Carmelo Anthony through the lane, out to the top of the key, away from where the play was designed to go: to Fisher in the right corner, coming off a screen from Pau Gasol.
"I thought they'd foul Kobe," Lakers coach Phil Jackson said. "They were just naturally going to foul him. I thought Fisher would be open for the shot. We'd have a 3-point opportunity as opposed to having to foul and going to the free-throw line and manufacture three points."
Plan B might have been the choice here; Fisher was manufacturing as well as a closed auto factory, shooting 1-for-9 on the night. Nene switched off Gasol, jumped out at Fisher and got a piece of his final shot, which fell well short of the rim.
"I always want the ball," Bryant said. "I want the ball every play, you know what I mean? That doesn't change down the stretch for sure.
"But Fisher has also made big shots. So he had a good look. Nene made a great play, jumped in there, got a piece of the ball. But we've seen Derek knock those shots down how many times? So I can live with that."
That's more than can be said of the near-suicidal Lakers fans who could have crashed the Internet with their posts decrying the choice of Fisher for the final shot. But as Fisher said, it really wasn't about that play.
"I had a good look at it," Fisher explained. "I figured they were going to foul to prevent us from shooting a 3. I think I got rid of it a little quicker than I probably had to.
"You definitely don't want to put yourself in a position where you need that kind of shot to try and tie the game."
The game was decided as much in the second quarter as it was in the fourth. That's when the Nuggets, who were impatient and ineffective on offense for 1½ quarters, took the Lakers' 13-point lead down to one in less than three minutes.
"The bottom line is that the second quarter made a big difference, when we let that lead get away from us and they got momentum and they started gaining trust and hope in their possibilities to win the game," Gasol said.
The Lakers could look at all the things that didn't go their way, including the fact that Denver's Chauncey Billups and Carmelo Anthony each shot more free throws than Bryant's 10 even though most of Bryant's foray's through the lane went like this; and the "unfortunate situation," as Jackson called the jump ball when Denver's J.R. Smith clearly violated the rule book's Section VII rule g: ("The eight non-jumpers will remain outside the restraining circle until the ball has been tapped."), then Trevor Ariza lost the ball as he fell while trying to pass to a teammate.
But they can't focus on those elements and ignore the one thing they could have controlled: free throws. The Lakers and Nuggets both shot 14 free throws in the fourth quarter. The Lakers made nine and the Nuggets made 13.
"It was a free-throw shooting contest and we caved first," Bryant said. "Simple as that."
Another reversal from Game 1, when the Nuggets lamented their 66 percent free-throw shooting in a two-point loss. So there's one simple area in which the Lakers can improve in Game 3. And one other suggestion: If it comes down to a single shot, let Kobe be the one to take it.
J.A. Adande is an ESPN.com senior writer and the author of "The Best Los Angeles Sports Arguments." Click here to e-mail J.A.
Time To Give Carmelo His Props

By Jeremy Wagner | TrueHoop Network
During the regular season, he posted his lowest points-per-game scoring average since his second year in the league. He tied his career high in games missed. After back-to-back All-Star appearances, he was left off the team. Not a single voter put his name on their MVP ballot -- not even in fifth place. To top it all off, he saw a brand-new teammate come in and receive all the credit for turning the team's fortunes around.
Ask Carmelo Anthony if he cares.
Carmelo provided us with another great performance as he continues to transform himself from a playoff never-was to a postseason dynamo.
Carmelo went to the bench late in the first quarter with two points on 1-for-6 shooting. When he returned in the second quarter, the Nuggets were down nine and things went from bad to worse quickly. In just over a minute the Lakers' lead ballooned to 14, 41-27. The Nuggets were facing a disastrous 0-2 deficit and they desperately needed someone to save their season.
With his horrendous start from the field, Carmelo did not appear likely to fill that role, but for the first time in his postseason career he willed himself to conjure a brilliant performance from the debris of what was potentially another postseason disappointment. Anthony went on a personal 8-2 run over the next 1:24 and provided the spark that might prove to be the turning point of the series.
The NBA is full of players who can put up big numbers when they are rolling, as Carmelo was in Game 1, but it takes an MVP-caliber player to turn a devastating 1-for-6 start into a 34-point masterpiece, especially under the bright lights of Hollywood and under the pressure of performing in the conference finals.
Carmelo may not have received much attention during the regular season, but he is making his mark on the second season as he goes toe-to-toe with the reigning MVP.
To read more from Wagner, check out his TrueHoop Network blog, "Roundball Mining Company ."
By Maurice Brooks
ESPN.com

THURSDAY'S BEST
Carmelo Anthony, Nuggets
: Not only is he scoring whenever he wants, but he has taken on the added responsibility of guarding Kobe Bryant. Anthony went off for 34 points and nine rebounds Thursday.
---

THURSDAY'S WORST
Derek Fisher, Lakers
: He had five fouls, went 1-for-9 from the field (0-for-5 from the line) and didn't even hit the rim on his last-second 3-pointer.
---
QUOTE OF THE NIGHT
"We're not the best road team in the NBA for no reason."
-- Lakers guard Kobe Bryant on his team's chances of regaining home-court advantage in Denver
• See Thursday's daily leaders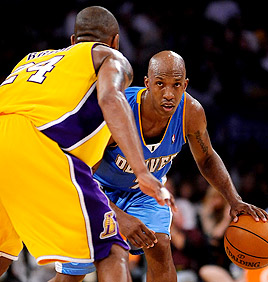 (Photo by Kevork Djansezian)
Chauncey Billups turned the ball over just one time in 44 minutes of action. He finished with four assists and 27 points as the Nuggets pulled even with the Lakers in the series.
Nuggets Winning PG Battle
By Kurt Helin | TrueHoop Network

Both games in the Lakers/Nuggets series have come down to execution in the final seconds. Which really means it comes down to decision-making (and hitting the shots).
And when it comes to decision-making and hitting shots, Denver's point guards are destroying the Lakers'.
Phil Jackson continues to trust Derek Fisher -- this is the guy who helped him win rings, this is the guy who hit the famous 0.4 shot. But Fisher is no longer that guy. He is the guy who was 1-for-8 before the final shot (you can't be mad at him for missing that one). You can be mad for the horrible 3 with 1:44 left. You can be mad for the series of questionable shots at the start of the second half driving into a host of Nuggets defenders. Or the fact that he didn't fight through picks and made bad post-entry passes.
But Fisher has Phil's trust -- a trust not given Shannon Brown or Jordan Farmar. Farmar had a fantastic run in the first half but played just 2:17 in the second.
Brown played more than half of the fourth quarter and was part of the Lakers' 9-0 run. But with 4:45 left, Jackson went to Fisher.
Chauncey Billups has outplayed Fisher, but he's also had some luck -- with 30 seconds left he made an aggressive drive to the basket followed by a reckless pass back out into the lane. The pass bounced off Fisher's hands right to Nene, who hit Kenyon Martin to put Denver up for good.
But luck is the residue of design, and it usually goes to the better, more aggressive player. Billups is that guy. Fisher is now an offseason problem for the Lakers. If the Lakers' point guard play continues like this, that offseason could be sooner than expected.
To read more from Helin, check out his TrueHoop Network blog, "Forum Blue & Gold."
Kleiza Steps Up For Denver
By Kevin Arnovitz
TrueHoop

LOS ANGELES -- He was the ninth man in Denver's eight-man rotation coming into the postseason.
He's the dreaded tweener -- not quick enough to play the 3, and not physical enough to play the 4.
He's not even his high school's most famous basketball alum -- that would be Kevin Durant.
Meet Linas Kleiza, the mystery guest at the 2009 Western Conference finals.
"I don't think we win this game without LK's wild cards," Nuggets coach George Karl said. "He gave us two wild cards -- the scoring wild card, and the rebounding wild card."
In 22 minutes off the bench for the Nuggets, Kleiza scored 16 points, including four makes from beyond the arc in seven attempts, and nabbed eight rebounds. In Denver's razor-thin 3-point victory, he recorded a game-high plus-16 -- much of that due to the Nuggets' rousing 12-0 run in the final minutes of the first half that brought them from 13 points down to within one.
"He was huge for us in the part of the game when the Lakers were kind of running away," Nuggets point guard Chauncey Billups said. "LK stepped in after not playing very much at all in the last game, and even in the last series. He stepped in and hit some big, big shots for us."
During that Nuggets spurt, Kleiza stroked a huge 3-pointer to trim the Lakers' lead to single-digits, worked his way to the line for a pair of free throws and collected four rebounds -- all in the span of about two minutes.
"Kleiza hurt us in the first half," Lakers guard Kobe Bryant said. "He came in for them and gave them a big boost."
With J.R. Smith struggling from the outside, the Nuggets desperately needed a shooter who could help them space the floor for their big scorers, and Kleiza fit the bill Thursday night.
"When you're playing with Chauncey and [Carmelo Anthony], the Lakers will collapse on them so you have to be ready," Kleiza said. "The ball has a weird way of finding you when you're hitting shots."
Kleiza's shooting accuracy dipped this season, and his production tailed off considerably after the All-Star break, prompting whispers that he'd lost confidence in his stroke. Once the Nuggets solidified their frontcourt rotation with Kenyon Martin, Nene and Chris Andersen, Kleiza found himself on the outside looking in. Kleiza had scored only 11 in his previous seven games coming into Game 2, but Thursday he got a reprieve.
"I was in the rotation last year," Kleiza said. "I stayed ready. Did what I was supposed to do, came in, and was a big factor in the biggest win of the year so far. It feels great."
Redemption has been a recurring theme for this Nuggets team -- much of the focus has been on guys such as Andersen, Anthony, Nene, Smith and coach Karl. Go ahead and add Kleiza to the list, at least for a night.
"I'm so happy for LK," Billups said. "I'm happy that he's regained his confidence."
To read the TrueHoop blog, click here.
Winning Formula Falls Short
By Elias Sports Bureau

Kobe Bryant had 32 points and Pau Gasol had 17 rebounds, but it was not enough for the Lakers on Thursday. The Lakers had won their last six games and were 17-6 overall in postseason games in which Kobe had scored at least 30 points and a teammate had at least 15 rebounds.