Kevork Djansezian/Getty Images
In addition to five blocks, Pau Gasol made his shots (5-for-8), including this high-percentage jam.

Photo by Kevork Djansezian/Getty Images
Nene did not find fouling out with four points the least bit hilarious, nor did coach George Karl.

Photo by Kevork Djansezian/Getty Images
Swooping like a hawk, Kobe Bryant (22 points) appears intent on robbing the Birdman's nest.

Andrew D. Bernstein/NBAE via Getty Images
Lamar Odom was a force in the paint (14 boards, 4 blocks), taking it to the hoop on Chris Andersen.

AP Photo/Chris Carlson
Carmelo Anthony (31 points) fouled Kobe Bryant, whose supporting cast helped deliver Game 5.
Switch In Playoff Strategy Pays Off For Lakers

LOS ANGELES -- It wasn't the Los Angeles Lakers' 103-94 victory over the Denver Nuggets that was so surprising, it was the method.
The Lakers used lockdown defense, a non-Kobecentric offense and even a little swagger-jacking to take a 3-2 lead in Game 5, the traditional series turning point.
Normally, this isn't the time for transformation. At this stage in a series, at this stage in the playoffs, strategies and identities are set. And we know what role Pau Gasol and the Lakers have been assigned: the softies. Even one of the team's owners said so.
They've been offense-first, counting on scoring to offset their defensive lapses. Not this night. The Lakers won it despite a combined 36 points from Gasol and Kobe Bryant, which would usually be Kobe's output alone. They won it with Gasol playing the roles of defensive stopper, fast-break point guard, even enforcer.
Kobe had to adjust to what the defense took away from him, namely everything within 20 feet of the basket. Gasol had to adjust to what the defense and his own offense took away from him.
Ever wonder if the contents in those suggestion boxes at the office are actually read? That's how Gasol must have felt at the start of Game 5. He piped up after his 21-point, 11-field goal Game 4, saying he should get more touches in the low post. Instead he didn't get the ball at all on the offensive end for the first five minutes of the game, as Andrew Bynum occupied the low post and the Lakers fed him.
So Gasol found creative ways to contribute. He finally exacted a little revenge on Dahntay Jones for shoving and tripping Kobe, nailing Jones with a blind-side screen in the backcourt. He hustled to save a ball on the sidelines by the Lakers' bench, leading to a Lamar Odom basket. He blocked five shots.
And he came up with back-to-back steals to ignite the run the Lakers used to take control of the game. On the second, a swipe of a Chauncey Billups pass, Gasol pushed the ball up court and dished to Shannon Brown on the right wing, and Brown took off to throw down a dunk over Chris "Birdman" Andersen. The Lakers were in the process of turning a seven-point deficit in the third quarter into an 11-point lead in the fourth, as the team that seems to require danger to be at its best responded to an increasingly critical situation.
Listen to Gasol as he describes his fast-break decision and it sounds like the way Magic Johnson used to process fast breaks ... years before he was sitting in a studio calling the Lakers "putty soft."
"I saw Shannon there, I saw Chris," Gasol said. "I know Chris was going to try to block everything. And I was just trying to time it so Shannon had to take two steps and dunk, because I know he's a great athlete. So I just kept looking at Chris Andersen's eyes and delivered it to Shannon, and Shannon finished it really well."
It's rare to have a 7-footer that skilled and quick-thinking. Of course, 7-footers aren't paid to be quick-thinking. They're supposed to be intimidating and nasty, two adjectives that don't fit Gasol. "Spindly" and "stork-like" have been applied to him more often. If you heard "aggressive" used in this series, it was more likely to apply to Denver's frontline than Gasol and Bynum. Not Wednesday night, when Gasol helped the Lakers to a 54-36 advantage in points in the paint.
"It was a game that we knew we were going to have to earn and take," Gasol said. "And Denver's a team that attacks you and challenges you in the paint, at the rim ... so you have to be able to challenge them back and be able to be effective by changing shots or blocking shots, and after that getting the rebounds."
Odom got a game-high 14 rebounds and scored 19 points, including a dunk over Andersen when the Nuggets big man turned into "Crouching Birdman, Hidden Dragon."
"He took Chris Andersen's whole swagger away," Bynum said.
The Lakers stole something from the San Antonio stylebook, putting the squeeze on defensively when Denver went 11 consecutive possessions without a point in a stretch from the end of the third and the beginning of the fourth quarter.
Denver's defense accomplished its mission of keeping Bryant from destroying them. Every time he tried to drive he looked like a man trying to squeeze through to the bar at a crowded club. The Nuggets doubled Gasol, as well, and chased him out of the post.
So the Lakers had to get back to the basic premise of the triangle offense: penetration through the pass, not the dribble-drive. They moved the ball, then had Gasol move to it, never more effectively than on a back-to-back sequence that resulted in a hook shot and then a three-point play for Gasol. They also moved him out to the wing where he ran the give-and-go with Trevor Ariza along the baseline.
Gasol had a double-double, with 14 points and 10 rebounds, but this wasn't a box-score night for him. It was about deterring shots just as well as he blocked them. It was about an attitude that we haven't seen from these Lakers in the postseason.
"It was the best defense I think we've played all playoffs long," Bynum said.
Was it an aberration or a discovery? We'll learn more in Game 6, when we see if the Lakers revert to their practice of easing up when there's less urgency, or if they can be "cold-blooded," as Bryant said, and close out the series in Denver.
J.A. Adande is an ESPN.com senior writer and the author of "The Best Los Angeles Sports Arguments." Click here to e-mail J.A.
Playoff Dimes past: May 10 | 11 | 12 | 13 | 14 | 15 | 20 | 21 | 22 | 23 | 24 | 25 | 26 | 27
Nuggets Pick Wrong Time For Shooting Slump

By John Hollinger | ESPN.com
"We had a lot of great opportunities," said Chauncey Billups... . "It's kind of disappointing."
Here's the irony: It was the Lakers who wore down the Nuggets with their energy in the second half, rather than the other way around. All series long we've wondered about the cumulative impact of the heavy minutes that Kobe Bryant and Pau Gasol are playing, especially in the wake of a tough seven-game series with Houston. But when the Nuggets opened up a lead, L.A. started trapping, and for the first time this series Denver flinched instead of remaining the aggressor.
From the 7:37 mark of the third until the 7:52 mark of the fourth -- a span of nearly a full quarter -- Denver mustered only five points. That was a span of 19 trips in which they saw a seven-point lead became an 11-point deficit, and the Nuggets never recovered.
"We kind of sat back as a team," said Billups, "instead of running to the ball to get it and try to make a play. They got aggressive and we got passive in that stretch, that was what turned the tide."
"They stepped up the pressure a little bit, they trapped harder. I had two straight turnovers where they stepped up and trapped the ball really hard. And our guys, we kind of ran away from the ball. After we made an adjustment we didn't turn it over any more, but that was a crucial point in the game."
The turnovers also fueled the Lakers' offense, not to mention the crowd. The first of Billups' turnovers led to a monstrous dunk by Shannon Brown over Chris Andersen that nearly blew the roof off Staples Center and lifted the weary Lakers into a frenzy that propelled them to victory (forget the polite golf-claps from last year's Finals; this place was rocking).
"Some of those stops I was amazed at," said Phil Jackson. "We left guys open for shots [but] we were still able to recover to get back. We had blocks at the basket, we had rebounds and I thought they were up for grabs that we came down with."
Let's break it down. In those 19 trips Denver took 18 shots and made two, and threw in five turnovers for good measure. They missed some open looks, to be sure, but also made some incredibly bad decisions. Billups uncharacteristically threw away two passes, while nine of the 18 shots came from the three guys the Lakers enthusiastically encourage to shoot -- Dahntay Jones, Kenyon Martin and Chris Andersen. A 10th was basically Martin's too, as the shot clock went off with his trying to make a move at the top of the key.
Another crucial play in that stretch was the fifth foul on Nene early in the fourth quarter, an offensive foul when he was trying to post up against Pau Gasol. The Nuggets were furious about what looked like a pretty tame push, and Nene picked up a technical arguing the call.
But left unanswered was why exactly they were going to Nene in the first place. Already in the midst of a massive offensive drought, they were force-feeding a fourth option who hadn't been able to score against Gasol all series.
If the Nuggets had run something different, they might have been better able to stem the tide of interior L.A. baskets that allowed them to pull away in the fourth.
Wait, it gets worse. The Nuggets' 11 minutes of ineptitude also included a hard foul on Kobe Bryant by Carmelo Anthony that may be reviewed by the league; though he appeared to get Bryant high across the shoulders, it could be ruled the dreaded "above the shoulders" foul, which would result in an automatic one-game suspension for the must-win Game 6 in Denver on Friday.
Regardless of what the league office decides (my guess is they won't issue any penalty), the Nuggets have to lament the fact that they had a great opportunity to steal a game in Staples before their offensive melted down in the second half.
In addition to the turnovers and poor shot selection, there were also some easier looks they couldn't find the range on. Late in the fourth quarter, for instance, the Nuggets missed a great chance to make a final charge when Billups and J.R. Smith (1-of-10 on 3s) missed wide-open triples on consecutive trips.
To read the entire Hollinger column, click here.
Winning Formula: Lakers Share The Ball

By Kevin Arnovitz | TrueHoop
LOS ANGELES -- In his pregame remarks, Lakers coach Phil Jackson alluded to the 1975 NBA champion Golden State Warriors as a template of what he's trying to achieve with his sometimes unpredictable team.
"[The Warriors] had 11 guys playing on their 12-man roster," Jackson said. "I haven't seen a team quite like that since that's been able to play consistent basketball. But they were able to find roles for all those players. We're trying to find roles for 10 guys."
That's a telling admission for a No. 1 seed that's 17 games into its playoff run. Even though the Lakers won 65 games in the regular season, they've looked like a team still trying to find its identity in the postseason.
The Warriors team referenced by Jackson featured Rick Barry and a roster of well-defined role players who spread the ball around. On Wednesday night, the Lakers finally achieved that kind of balance for the first time in the conference finals against Denver.
"I think this was one of our best games that we played this year, as far as the team effort," Lakers forward Lamar Odom said. "We used everything we had to win the basketball game."
Any evaluation of a Lakers' team effort starts with a look at Kobe Bryant. The Lakers' guard scored a team-high 22 points -- far below his playoff average. He dished out eight assists -- also a team high. The Lakers scored 19 points off Bryant passes. The average for the first four games of the series? Only 10.
"I just tried to beat [Denver] with my passing," Bryant said. "We stretched the defense out a lot more. We put the ball in my hands, put the ball in [Pau Gasol's] hands, and made guys commit and made the plays from there."
Bryant's performance Wednesday night stood in stark contrast to Game 4 in Denver, when he dominated the ball in a stagnant Lakers' offense. A sample of Bryant's generosity came at the close of the first half. With the clock winding down, Bryant drove down the gut of the lane, only to kick the ball out with four seconds left to a wide open Sasha Vujacic. The struggling Lakers guard drained a 3-pointer to tie the game going into halftime.
"We did a great job of realizing how they were loading the defense, especially keying in on Kobe," Lakers forward Luke Walton said. "When they double him, we get a play on a 4-on-3 advantage on the rest of the court."
When Jackson looked at the box score following the game, he had to flash a smile (a reserved one, of course) at the shot distribution. Eight different Lakers attempted between five and 15 shots, and the team recorded 25 assists on 37 field goals. Bryant, Odom, Gasol, Derek Fisher and Trevor Ariza all finished in double figures. The ball really started to move early in the fourth quarter when Jackson put one of his best passing units on the floor with Bryant, Odom, Gasol, Walton and Shannon Brown.
"We came out to start that fourth with a lot of energy," Walton said. "We said, 'This is our time right now.'"
No play exemplified the Lakers' unselfishness and fluid ball movement more than their last field goal of the night. Nursing a five-point lead with a little more than a minute remaining, the Lakers worked the ball around the perimeter with a beautiful reversal. With the shot clock winding down, the rock landed in Bryant's hands. He elevated for a 3-point attempt, but on his way up, Bryant instead decided to hit an open Odom under the basket for a layup and the foul.
"Kobe did an unbelievable job of getting everyone else involved," Walton said. "He had a lot of faith in his teammates tonight."
By Maurice Brooks
ESPN.com

WEDNESDAY'S BEST
Lamar Odom, Lakers
: Kobe Bryant didn't score 30 points in Game 5, and thanks to the solid play of Odom, the Lakers didn't need him to. Odom had 19 points, 14 rebounds, four blocks and three assists.
---

WEDNESDAY'S WORST
Denver Nuggets
: With the chance to move one game away from the Finals, the Nuggets' offense went cold, missing 11 straight shots spanning the end of the third quarter and the beginning of the fourth. The Lakers went on a 21-3 run during that stretch.
---
QUOTE OF THE NIGHT
"I thought they got the benefit of the whistle. Every player in my locker room is frustrated, from guards to big guys. Gasol goes after at least 20 jump shots, 20 shots to the rim, and gets one foul; our big guys have 16. Nene has six fouls; three or four of them don't exist."
-- Nuggets coach George Karl on the Game 5 officiating
• See Wednesday's daily leaders
Pointed In The Right Direction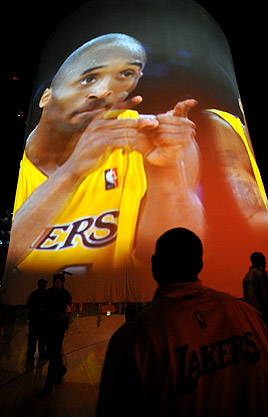 Photo by Noah Graham
Kobe Bryant had his lowest-scoring game of the Western Conference finals (22 points), but his teammates picked up the slack to give the Lakers a 3-2 lead on the Nuggets.
Familiar Position For Jackson
By Elias Sports Bureau

The Lakers are now up 3-2 in their best-of-seven series against the Nuggets. This is the 18th time that a Phil Jackson-coached team is up 3-2 in a best-of-seven series. Jackson's team won 16 of the previous 17 such series (his only loss came in 2006 against Phoenix).
Odom Stars Through Back Pain
By Eric Neel
ESPN.com

The numbers will tell you Lamar Odom had a big game for the Lakers on Wednesday night. The final box reads: 19 points, 14 rebounds (four offensive), four blocked shots, and a plus-18.
And the highlight reel will show you how fiercely Odom played; check the left-handed jam over Birdman Andersen at the 9:42 mark of the fourth quarter, the one where he gives the Lakers a four-point lead and gives Andersen and all the folks in the front row a big ol' celebratory howl, for Exhibit A.
But if you want to know the true value of Odom's numbers, and the real significance of his Game 5 intensity, consider what he keeps hidden these days, namely the lower back contusion he suffered on a hard fall to the floor in a second-round game against Houston.
Odom doesn't like to talk about the injury -- "I won't make an excuse about playing well or not playing well, if my back is hurt or if it's not hurt," he said after the game Wednesday -- but the bulge in his lower back was unmistakable as he got dressed before Game 5, and he moved gingerly up and down the floor throughout the Lakers' 103-94 victory, obviously pushing his way through the pain.
"I know his back's been killing him," Lakers forward Luke Walton said Wednesday night. "He might be saying different, but his back's been pretty banged up."
Which is precisely what made his effort so crucial to the Lakers' chances.
"We feed off L.O. a lot," said reserve guard Shannon Brown afterward. "He's a very emotional guy and we try to feed off what he brings, and any time you know somebody is not a hundred percent, but goes out there and competes and plays so hard, you can't help but be inspired by what he's doing."
There has been a lot of talk about the Lakers not being emotional enough and not playing tough enough in these playoffs, but on Wednesday night, Odom was the most passionate, resilient and relentless player on the floor (his injury and subpar performances in the first four games of this series be damned).
"I had to suck it up," he explained after gently easing into a postgame interview chair late Wednesday. "I couldn't pick the paper up any more. I didn't want to answer the phone. I couldn't watch ESPN, couldn't watch TV for a little bit. It's my 10th season, Game 5, and I haven't been playing well. Back to the wall, I just put my focus cap on and came out and went after it."
Such a gutty approach not only produced Odom's quality line, it also lifted the emotional temperature of his teammates.
Walton head-butted him after the big dunk over Andersen.
Kobe Bryant, acknowledging Odom's effort down low, improvised on a late 3-point attempt and zipped a pass his way for an easy layup, and the two later embraced and patted each other on the head.
"He gives us that big spark," Bryant said. "Tonight I didn't think he started out in a good rhythm, but I thought his effort brought him there and he did a fantastic job for us."
Where did the Lakers need to improve coming into this game?
Rebounding? Odom was the game's leader with 14 and L.A. matched Denver nearly board for board.
Contesting shots in the paint? Odom had four blocks and the Lakers had 12 as a team.
Aggressiveness on offense? Odom took seven foul shots (second only to Bryant's 10) and the Lakers took 35 (to Denver's 30).
The cliché is that the playoffs are about matchups. And they are. But the other cliché is that the playoffs are about effort. And that's true too.
They're about playing big. Playing bigger than your body wants to let you play. Playing big enough to inspire your teammates to match your intensity.
Odom played some extra-large playoff basketball in Game 5, and you had to wonder as he hobbled down from the interview room dais if it might be enough to carry his club to a win in Game 6, as well.
"It seems like we get a little spark when I play well," he said. "Tonight I just wanted to give it everything I got, whether it would go in or not. I just tried to pick up my effort and energy, and I guess sometimes when you do that, sometimes it spreads, right?"
Eric Neel is a senior writer for ESPN.com.
By Henry Abbott
TrueHoop

The Lakers beat the Nuggets in a crucial Game 5 to go up 3-2. Some notes on the big game at Staples Center:
The Lakers had various runs -- a 10-1 run early in the game, a 7-0 run in the middle of the third. But the Nuggets more than responded and led most of the night. The Lakers needed spectacular plays just to keep it close ... until the beginning of the fourth quarter. That 11-0 L.A. run was different from the others. That's when the Lakers played their best, but it's also when the Nuggets played their worst. Two great looks for Kenyon Martin were both botched. Chauncey Billups launched a 27-foot 3-pointer with 13 seconds on the shot clock. Nene got an offensive foul and a technical and had to leave the game for a few minutes. Credit the Nuggets with recovering their poise down the stretch, but the crowd was into it, the Lakers were fired up and the damage was done.
• Phil Jackson deserves all kinds of credit for a career of experimenting. Think about Shannon Brown. Since entering the league in 2006, he has started just nine games, and played a total of about 900 minutes. He couldn't get off Mike Brown's bench in Cleveland. Ditto Scott Skiles' in Chicago, and Larry Brown's in Charlotte. But in Game 5 of the Western Conference finals, Brown plays 14 big minutes of the second half, and delivers a huge dunk and lots of useful energy. During Brown's time on the floor, the Lakers outscored the Nuggets by 13.
To read the entire TrueHoop blog, click here.