Jeff Gross/Getty Images
Lamar Odom, Kobe Bryant and Trevor Ariza appear to have turned up the playoff intensity.

AP Photo/Chris Carlson
Lakers coach Phil Jackson, right, and assistant coach Kurt Rambis seem to have enjoyed Game 1.

AP Photo/Mark J. Terrill
Kobe Bryant (40-8-8) could not be stopped by Dwight Howard and the Magic defense in Game 1.

Stephen Dunn/Getty Images
Dwight Howard, left, and his Magic teammates watch a complete rout unfold in Game 1.
The Wrath Of Kobe Falls On Magic

LOS ANGELES -- Kobe Bryant was first. Normally he isn't the first one off the bench and onto the court for tipoff, but for Game 1 of these NBA Finals he couldn't wait. The rest of the Los Angeles Lakers and Orlando Magic were hanging on the sidelines, waiting for the signal from ABC that the commercial break was over and it was time to start. Bryant stood impatiently on the giant Larry O'Brien trophy logo on the middle of the Staples Center floor, anxious to get this thing going.
There are so many things at stake for him, all of which have been enumerated in that infinite media loop the past few days, so Kobe didn't bother to list them again.
"It's a bit of everything," he said. "It's a lot of motivation. A lot of motivation. I'm using it all right now."
He's so ornery that his daughters have renamed him "Grumpy" from "Snow White and the Seven Dwarfs." A Lakers staffer encountered him in the workout room before the game, normally a chance to exchange a few pleasantries, but took one read of Bryant's mood and didn't say a word. Those who spend a lot of time with him say they haven't seen him this focused for such a long stretch. The only time he's cracked a smile in front of the media the past few days came Thursday night when, ironically, he was discussing how solemn he's been.
Weep not for the isolated family members or fearful work colleagues. Feel for the Orlando Magic instead, who paid the price for Bryant's battle against the giant names of the past in a 100-75 Lakers victory in the opening game.
Kobe's final line of 40 points, eight rebounds and eight assists looked like the numbers LeBron James posted against the Orlando Magic in the Eastern Conference finals, except Bryant has other teammates ready to answer the challenge, as well.
The Lakers are finally getting on a roll. They've won three consecutive games for the first time in these playoffs. It's their 96th game of the season, and rather than getting snippy with each other like kids in the back seat on a long drive, they seem to be learning about each other, as if they've been on a corporate retreat.
"As our camaraderie off the court picks up, we start to push each other more on the court," said Lamar Odom, who was active once again, racking up another double-double with 11 points and 14 rebounds.
Pau Gasol scored 16 on 7-of-12 shooting -- the only other L.A. player in double-digit scoring on a night when most of the other players' contributions consisted of defending the Magic down to 29.9 percent shooting, outrebounding them 55-41 and collapsing on Dwight Howard to limit him to only one field goal on six attempts.
Kobe did the scoring.
It's hard to frame Bryant's game in terms of his own standards, of Kobe being Kobe, because even in his illustrious career he had never before scored 40 points in an NBA Finals game.
Through three quarters of Game 1 on Thursday night, he had 36 points in 33 minutes of action, making him the first player to score more than 35 points in less than 35 minutes since Michael Jordan had 39 in 34 minutes the "Shrug Game" in the 1992 Finals.
This is about Jordan and Shaq and Magic Johnson much more than it's about Howard and Hedo Turkoglu and whether or not Jameer Nelson should be out there.
Kobe not only has to win this championship, he has to play well. He hasn't been at his best in the Finals, as indicated by the fact that none of his previous nine 40-point playoff games came in the big series. He was going to make sure his stamp was on this game.
The Lakers went to him early on the block against Courtney Lee. They put Lee and Howard in the pick-and-roll. They isolated Kobe on the wing.
He put up nine shots in the first quarter and made only three, one reason the Magic emerged with a 24-22 lead even though they weren't playing so great themselves.
But Bryant settled into the game and made six of his nine shots in the second quarter to put the Lakers up 10. He scored another 18 in the third quarter.
He wanted the rock so badly that when Derek Fisher retrieved a ball knocked into the backcourt, Kobe ran all the way back to him, stood there and called for it even after Fisher crossed half court, then finally realized Fisher needed for him to pass the line before he could give it to him. Once Kobe had the ball, he crossed over Mickael Pietrus and then accelerated to the hoop for a layup.
"He had the smell," Lakers coach Phil Jackson said. "He found the angle of what he wanted to do out there on the floor and he carried that game into the second half, just carried the game his way."
At one point he spun on Pietrus, hit a hanging jumper in the lane, got fouled and made the gargoyle face he stole from Dirk Nowitzki.
"I just want it so bad," Bryant said. "That's all. I just want it really bad. You just put everything you have into the game and your emotions kind of flow out of you."
Speaking of flowing out, the Lakers will have to do what Bryant recommended rather graphically during last year's Finals and flush this game away.
This Magic team won't be playing their first Finals game next time. They looked like novices, became another new team on the wrong side of the ledger against Finals vets (the Lakers now have won 10 of the last 12 Finals opening games against newcomers). The Magic will make some 3s, Howard will get some dunks, and maybe coach Stan Van Gundy will settle on Nelson or Rafer Alston, who split minutes at the point almost evenly Thursday night.
It's on Orlando to make the adjustments, of course, but right now Bryant is looking like the Terminator, which means he won't be stopped until the end of the movie.
Playoff Dimes past: May 15 | 20 | 21 | 22 | 23 | 24 | 25 | 26 | 27 | 28 | 29 | 30 | 31
J.A. Adande is an ESPN.com senior writer and the author of "The Best Los Angeles Sports Arguments." Click here to e-mail J.A.
Walton Helps Lakers Gain Momentum

By John Hollinger | ESPN.com
LOS ANGELES -- "Quality over quantity" isn't a common refrain when the team with the most points wins, but there are exceptions to every rule. On Thursday night, Luke Walton was one of them.
He had only nine points, but six of them came consecutively at a crucial juncture ... as crucial a juncture as you can have in a 100-75 rout, anyway. With Orlando leading 31-26 in the second quarter -- yes, it's hard to believe, but Orlando once had a working lead in this game -- L.A. brought in the 6-foot-8 Walton off the bench and saw him matched up against Orlando's 6-5 Courtney Lee.
Walton immediately went into the post to exploit the size mismatch, and it paid dividends. He missed a short shot that led to a Lamar Odom tip-in when the help came over to his side, and then followed with six consecutive points to bring the Lakers within one. Two came on post-ups against Lee, and the other with a short jumper after penetration by Kobe Bryant.
"I love getting the ball down there," said Walton of his brief outburst. He said it wasn't part of a grand scheme to attack Lee, but rather just a product of L.A. running the offense.
"That's the way the offense works when we're playing right. You move, you cut and you naturally just find advantages throughout the offense. It wasn't something we came into the game looking for, but when I was in the game, my teammates did a good job finding me down there."
It's worth pointing out that Walton is playing more just as the team is playing better. Walton finished with nine points on 4-for-5 shooting from the floor and earned 24 minutes, following 10 points in 25 minutes in the Game 6 win over Denver in the West finals. Those two performances are playoff highs for Walton; L.A. is now 5-1 in the postseason when he plays at least 20 minutes.
Lakers fans might also draw another connection -- to the last time L.A. was in this good a position in the Finals. That came in the Game 2 win against Detroit in 2004, and that was another breakout game for Walton. Then a rookie, he came off the bench to contribute eight assists (including a couple of key finds of Shaquille O'Neal in overtime) and made his three shots from the field as the Lakers evened the series at 1-1 with a 99-91 win.
L.A. fans can only hope that the ensuing games in these Finals turn out better than the Finals result five years ago. But thanks in part to Walton's quality second quarter, such a fate appears likely.
Kobe Joins Shaq In This Laker Club

By Elias Sports Bureau
Kobe Bryant is the fourth Lakers player to score 40 or more points in Game 1 of an NBA Finals, joining Shaquille O'Neal (twice), Jerry West (twice) and George Mikan. Only one other team has had a player score 40-plus in the first game of a Finals (76ers, Allen Iverson in 2001).
Bryant became only the fourth player to have a 40/8/8 (points/rebounds/assists) in an NBA Finals game, joining Jerry West (1969), Michael Jordan (1993) and Shaquille O'Neal (1992).
By Andrew Ayres
ESPN.com

THURSDAY'S BEST
Kobe Bryant, Lakers
: Dropping 40 points, eight rebounds and eight assists on the Magic is one way to set the tone in the series. Doesn't seem too early to dust the display case for ring No. 4.
---

THURSDAY'S WORST
Rashard Lewis, Magic
: While there's plenty of blame to go around for the Magic, Lewis' making just 2-of-10 shots is a low point. If he doesn't heat up along with Hedo, the Magic spell won't last long.
---
QUOTE OF THE NIGHT
"Hmm ... 29 percent. But look, J.J. was 1-for-2."
-- Magic center Dwight Howard, citing his team's shooting percentage and then having fun looking for a silver lining
• See Saturday's daily leaders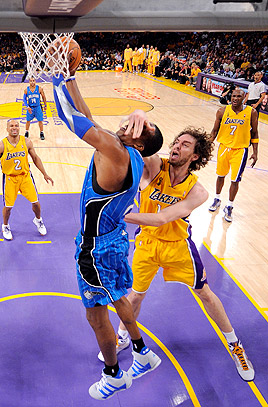 Chris Carlson-Pool/Getty Images
Pau Gasol gets in the spirit of really fouling Dwight Howard. Howard got to the line (10-of-16), but his 1-for-6 field-goal night hurt the Magic.
By Dr. Jack Ramsay
ESPN Radio

LOS ANGELES -- The Lakers had a great defensive game plan in Game 1. L.A.'s scheme and its defensive intensity actually shocked the Magic.
L.A. was very solid and active in the post against Dwight Howard -- amazingly limiting him to just one field goal. Pau Gasol and Andrew Bynum denied the ball to the post, and I wasn't sure they'd be able to do that. But they fronted Howard and had other defenders dropping in to double. It worked perfectly.
In addition, the Lakers' bigs ran the floor hard and fought Howard for position on the initial post-up. In the Cavs series, Howard was beating the opposing defenders down the floor, getting to his spot and scoring easily. This did not happen in Game 1.
On the perimeter, the Lakers challenged and chased the Magic off the 3-point line. The Lakers were disciplined in this and continued to do it in almost every case. As a result, the Magic shot just 34 percent from behind the arc.
Orlando tried to adjust, but L.A. just wouldn't let it happen.
Combine the Lakers' terrific defense with Kobe's huge game and you've got a big blowout.
ESPN Stats & Information

The Magic defended Kobe Bryant predominantly with Mickael Pietrus, but Kobe shot the ball more per touch versus Courtney Lee. In all, 32 of his 40 points came against Lee and Pietrus
Kobe vs Magic defenders
Defender
FG-FGA
FT
PTS
Pietrus
8-16
2-2
18
Lee
6-11
2-2
14
Redick
1-5
0-0
2
Lewis
1-1
0-0
2
Battie
0-1
0-0
0
Turkoglu
0-0
2-2
2
Alston
0-0
2-2
2
By Chris Sheridan
ESPN.com

LOS ANGELES -- The gray walls weren't exactly closing in on Dwight Howard, but it might have felt that way. In the first five minutes after the Magic's locker room opened, a crowd gathered and grew -- and then grew some more -- at the locker next door, Jameer Nelson's.
Soon, the private space between Howard's bare feet had been invaded.
Then, a guy wielding a long microphone held it aloft no more that 12 inches from the ice bags wrapped around Howard's knees, and still he sat there passively.
Not a peep.
Absolutely nothing -- just like the performance he had finished mailing in.
Howard maintained his silence until a few minutes had passed and someone mentioned the obvious -- Orlando's failure to get its offense going.
"Hmm," Howard groaned sarcastically as he peered down at the final box score, "29 percent. But look, J.J. was 1-for-2."
Not only that, but Redick held Kobe Bryant scoreless the first three times he defended him one-on-one, and Redick also buried a 3-pointer from well behind the arc. Problem was, the Magic already were trailing by 28 by that point in what ended up as a humiliating 100-75 loss to the Los Angeles Lakers in Game 1 of the NBA Finals on Thursday night.
To see the full Sheridan story, click here