Photo by Joe Murphy/NBAE via Getty Images
Derek Fisher's game-tying 3-pointer rescued the Lakers from a loss to the pick-and-rolling Magic.

Stan Honda/AFP/Getty Images
Tiger Woods and his wife, Elin Nordegren, left, seemed to be enjoying the Game 4 festivities.
When Magic's Contrasting Style Failed To Roll

A dynamic perimeter stud holds the ball at the top of the floor as his teammates fan out to the wings to watch.
For most of the elite teams in the NBA, that's the path of least resistance with the game on the line. We've seen it work for LeBron James, Paul Pierce, Carmelo Anthony and, of course, Kobe Bryant. Don't get cute; just put the ball in the hands of your superstar and let him go to work.
But that's not how the Orlando Magic conduct their business. They don't have the flashy isolation specialist, and even if they did, a one-on-one situation up top would defy everything the Magic have created to get to where they are. Mickael Pietrus tried to freelance at the end of regulation in Game 4 when he settled for a lousy, off-balance runner -- it didn't work.
The Magic entered overtime mindful of what they needed to do. Despite the gut-wrenching experience of watching a five-point lead evaporate in 35 seconds, Orlando had re-established its pick-and-roll offense in the fourth quarter behind Hedo Turkoglu. The Magic shot 6-of-12 from the field in the period, coughed the ball up only twice and went to the line 17 times.
Meanwhile, Bryant was ice-cold -- 4-14 from the field with only three free throw attempts. As badly as things ended for the Magic in the fourth quarter, an overtime battle between Orlando's clever offensive sets and Bryant's flying solo for the Lakers put the Magic on solid footing on their home court.
That's what shaped up from the very outset of the overtime frame.
Orlando went with its bread-and-butter play to start the period -- a set called "Thumbs Down," with Turkoglu as the ball handler, Dwight Howard as the screener and Rashard Lewis to the left of the action. This sequence is one of the league's most effective play calls, but the Lakers covered it well to begin overtime and forced the Magic into another pick-and-roll sequence.
On the reset, Orlando got what it couldn't get to start the possession -- a wide-open Lewis. For Magic fans sweating their team's collapse, Lewis' silky 3-pointer off the pick-and-roll action -- his second field goal of the game -- must've been welcomed reassurance. Things would be OK so long as the Magic played their game.
After the Magic used their most dependable set to hold serve, what did the Lakers have cooked up?
The answer, as it often is, was Bryant at the top of the circle.
After some perfunctory ball movement around the perimeter, Bryant got the ball, drove to the elbow, pulled up and drained the jumper, cutting the Magic's lead to 90-89.
The aforementioned sequence played itself out almost identically over the next few minutes.
Orlando came down on their next possession and executed the front end of "Thumbs Down" to perfection: Diving off the screen, Howard sealed Pau Gasol off to get himself solid position underneath. Lewis fired a pinpoint entry pass to Howard, but Howard rushed his baseline spin move and tossed up an ugly, off-balance layup attempt.
The Lakers' countermove on their second possession was much simpler than that. The Lakers again cleared out the weak side of the triangle for Bryant, and again he nailed the jumper over Pietrus.
Rounds 3, 4 and 5? Eerily similar.
Orlando continued to roll out its repertoire of picks-and-rolls with Turkoglu, Lewis and Howard. Each time, the Magic worked themselves decent scoring opportunities, and in each instance they couldn't convert from the floor. After Lewis' big 3-pointer to start the period, the Magic's only points came on a lone Dwight Howard free throw.
The Lakers, meanwhile, featured Bryant almost exclusively. Five of the Lakers' first six shots in overtime were unassisted Bryant field goal attempts.
The seventh attempt will live on as one of the NBA Finals' iconic daggers. Like the Lakers' shots that preceded it in overtime, it was generated by Bryant in isolation. As he had on five previous occasions, Bryant looked to take Pietrus off the bounce and elevate for a jumper.
This time, Jameer Nelson zipped over to double-team Bryant, but immediately ran into Kobe's moving elbow and was floored. With Fisher now open at the top of the arc, Bryant kicked the ball out to his point guard at the elbow. Fisher drained the open 3-point attempt to give the Lakers a 94-91 lead with 31.3 seconds remaining.
The Magic's decision to leave Fisher alone to double-team Bryant -- who was only 11-31 from the field and who had missed his past three attempts -- hasn't come under much scrutiny. The Magic were successful containing Bryant in one-on-one situations, and though Fisher hadn't shot the ball well from the perimeter this postseason, he's capable of hitting open looks in rhythm -- and had just done so at the end of regulation.
Maybe Turkoglu was tired of watching the Lakers hit epic shots out of inferior offensive sets. Maybe he reasoned that single-handed heroics are easier to achieve than team execution. Maybe he was done playing the percentages and just wanted what Bryant and Fisher have. Trailing by three with 31.3 to play, Turkoglu let only three seconds expire from the shot clock before he launched a fall-away 3-point attempt for the tie.
An overtime period is entertaining and exciting by its very definition. It's also instructive, because with only a handful of possessions, each team tosses out all but the best pages in its playbook. For the Magic, that meant relying on sequences dependent on execution, with multiple players acting as moving pieces. For the Lakers, the scenario was much different. Although they have one of the most exquisite offensive systems in the game, the Lakers opted to let Bryant create, plain and simple.
Over the past few months, many have fallen in love with Orlando's creative half-court game. The fact that an offense based on execution and resourcefulness without a true do-it-all perimeter superstar could make its way to the NBA Finals has been a source of celebration.
Occasionally, though, a one-on-one force like Bryant or LeBron James will get the work done more efficiently than Orlando's smart collection of pick-and-rolls. To the basketball purist, that reality might seem unfair … but sometimes life isn't fair.
Overtime of Game 4 was one of those times.
ESPN TrueHoop editor Kevin Arnovitz is a regular contributor to the Daily Dime.
Gasol Playing Too Hard To Be Soft

By John Hollinger | ESPN Insider
ORLANDO, Fla. -- These are and always will be Kobe Bryant's Finals. But there's a subplot here that's not getting nearly enough attention: the redemption of Pau Gasol.
In last year's Finals loss to Boston, Gasol (and to a lesser extent, Lamar Odom) became a magnet for criticism after the physical Celtics frontcourt overpowered him. In six games against Boston he averaged a modest 14.7 points per game while frequently finding himself pushed under the basket by the likes of Kendrick Perkins. He was also the main defensive protagonist in a particularly horrific Game 2 play in which Boston's Leon Powe dribbled the length of the court and dunked off an inbounds pass.
Because of the Lakers' Finals defeats, fans across the country questioned Gasol's mettle, labeling him with the dreaded S-word -- soft. If you don't believe me, Google "Pau Gasol toughness" sometime. You won't find a lot of complimentary material.
Yet Thursday night, in the most important game of this season's Finals, there was Gasol doing all the little things. No, he didn't have a dominating game statistically, finishing with 16 points and 10 rebounds in 49 minutes. But at every key juncture, he was displaying a spine that was MIA a year ago.
Gasol overcame two early fouls to do yeoman's work defending Orlando's Dwight Howard, the type of physical beast who was supposed to overpower Mr. Softie. Using his quickness to front the post, Gasol has denied catches throughout the series. Using his footwork after the catch, he has repeatedly put himself in Howard's way. Yes, he had some double-team help; everybody does. But Gasol was a major factor in Howard's committing seven turnovers. Even the three-second violations were partly his doing, as he aggressively denied the initial entry pass.
• To read the entire Hollinger column, click here.
Horry: Misses Can't Touch Nick
By Marc Stein
ESPN.com

ORLANDO, Fla. -- There was an inevitable rush Thursday night to compare Dwight Howard's two errant free throws late in regulation of Game 4 with Nick Anderson's four unforgettable misses for Orlando in Game 1 of the 1995 Finals against Houston.
One prominent member of that Rockets team, which wound up sweeping the Magic in '95 after Orlando's Game 1 collapse, thinks the comparison misses badly.
"Howard's [errant shooting] was not as bad as Nick," former Rockets and Lakers forward Robert Horry said Friday, "because [Anderson] missed four in a row. Plus Nick was a better shooter from the line than Howard."
With Hedo Turkoglu and Howard combining to miss six free throws in the fourth quarter, Orlando somehow squandered a whopping 19-2 advantage in free throw attempts for the Magic in the final period and overtime.
But Horry's point is well-taken. The truth is that any Finals catastrophe in Orlando is bound to invoke Anderson's name, as evidenced when Courtney Lee couldn't convert a difficult alley-oop layup at the regulation buzzer in Game 2 … 14 years to the day of Anderson's misery.
This, incidentally, is the first Finals series since 1984 in which two games have gone to OT. The Magic are now 1-7 in their Finals history, which is the second-worst success rate in league history behind Cleveland's 0-4 mark after the Cavaliers were swept by San Antonio in 2007.
By Bill Simmons
Page 2

We saw Kobe Bryant do it in the 2004 and 2008 Finals; we're seeing it now. As soon as he can smell that trophy, he goes into Get Out of My Way, Let Me Do It Mode.
• 2004 Finals (five games): 113 FGA, 25 FTA, 38.0 FG percent
• 2008 Finals (six games): 131 FGA, 49 FTA, 40.5 FG percent
• 2009 Finals (four games): 112 FGA, 36 FTA, 42.9 FG percent

What's really strange: Nobody has ever won an NBA title with a best player in Get Out Of My Way, Let Me Do It Mode if he didn't play well. It's just never happened. So basically, I don't know what to make of the 2009 Finals. It has nothing in common with anything that has ever happened before. My theory: Because of the economy, nobody improved their team at the trading deadline and strengthened whatever holes they had, so we just ended up with a bunch of flawed contenders. Just one of those years.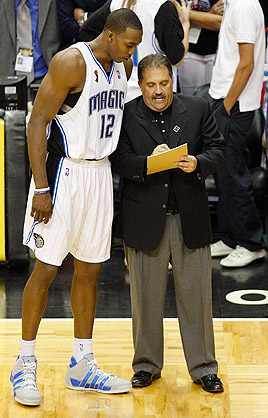 Ronald Martinez/Getty Images
Down 3-1, Magic coach Stan Van Gundy might need a handful of miracles to get Dwight Howard and the Magic to win three straight against the Lakers.

John (LA): Will the Lakers win Game 5 or can Orlando force a Game 6?
Tim Legler: I think the Magic will force Game 6. They could easily be up 3-1 in this series and I think they're confident that they can score against the Lakers. Also, L.A. has a tendency to get comfortable and let up.
Dave (Southeast, DC): How many championships will Kobe win before he is done?
Tim Legler: I think Kobe has a great chance to get five or more. This team is built for the long run because they are very young. Kobe has a good three or four years left playing at a high level so I think he can get one or two more beyond this year.
SportsNation

Who's the greatest basketball coach of all time? Cast your vote now.
Although early voting indicates Lakers coach Phil Jackson, on the brink of an unprecedented 10th NBA coaching ring, has broad support across all of SportsNation, his home state of North Dakota appears to be withholding its approval. (That might change depending on the latest vote).

ESPN The Magazine senior NBA writer Chris Broussard says he thinks the Lakers proved they are the better team in the series in Game 4 by coming from behind on the road.
Mike and Mike