Ronald Martinez/Getty Images
Kobe Bryant holds up the Larry O'Brien trophy and the MVP trophy after the Lakers topped the Magic.

Stan Honda/Getty Images
Kobe Bryant accepts the Finals MVP award from the man for which it is now named, Bill Russell.

Andrew D. Bernstein/NBAE/Getty Images
Lakers coach Phil Jackson gets in the spirit of celebrating an NBA title for the 10th time as a coach.

Garrett Ellwood/NBAE via Getty Images
One year after L.A. lost to Boston, Pau Gasol and Derek Fisher celebrate a Lakers title.
Journey Complete: Kobe Leads Lakers To NBA Championship

ORLANDO, Fla. -- Kobe Bryant's defining moment of these NBA Finals wasn't on center stage for all the world to see. For a player who has delivered so many highlight plays throughout his 13 years in the NBA, this series that solidified his career was strangely devoid of his personal stamp. There was no Junior Sky Hook, no Spectacular Move, no Shrug, no Shot.
Perhaps that's why watching him as the Lakers defeated the Magic in five games didn't feel as if we were witnessing one of the great statistical performances in Finals history, even though his 32.4 points and 7.4 assists made this the best combination of those categories since Jerry West averaged 37.9 points and 7.4 assists in the 1969 Finals. Speakers need sound bites, and players need YouTubeable moments to speed through the media sphere.
It's not Bryant's fault that his 40-point, eight-rebound, eight-assist night in Game 1 came during a blowout, so he didn't have the chance to be clutch. And it worked out that he didn't even make the pass that led to the pivotal play of the series: Derek Fisher's 3-pointer to tie Game 4 with 4.6 seconds left in regulation. Kobe made the pass that led to the pass.
What Bryant had was a private realization, a chance to collect his thoughts and sort out what this seven-year odyssey since his last championship has meant. It came with 8:19 left in the fourth quarter of Game 5, right after Bryant hit a 3-pointer that put the Lakers ahead by 16 points, forcing yet another Orlando Magic timeout. Bryant stopped just before he got to the bench, bent over and held his clenched fists in front of his face, looking like a ski jumper about to head down the ramp.
Finally, the moment was at hand. The particulars, such as the final score of this 99-86 victory that brought the Lakers their 15th championship, were a mere formality. The Magic were done. Bryant had released his final arrow, a strike to the heart. He had completed his journey from the tears he shed when the San Antonio Spurs ended the Lakers' run of championships in 2003 ... to the stunned expression when he confessed to adultery but claimed innocence when he was accused of sexually assaulting a Colorado hotel worker later that summer ... to the poor Finals performance in 2004 ... the breakup of the Kobe-Shaq-Phil triangle that followed ... the only playoff absence of his career in 2005 ... first-round exits at the hands of the Phoenix Suns the next two years ... a humbling loss to the Celtics in the 2008 NBA Finals that dimmed his still-shiny Most Valuable Player trophy ... a gold medal in the Beijing Olympics ... and now his first Finals MVP award.
It's draining just to type up that recap. Only after the journey was finished could Bryant truly reveal some of the emotions behind it, how it felt to hear the constant criticism that he couldn't win a championship without Shaq ("It was like Chinese water torture"), and how special the three they won together really were ("It's probably the first dynamic duo that had two alpha males on one team; we managed to make it work for three championships").
And share his thoughts with 8:19 remaining, when he knew he had his fourth ring.
"It felt like a big old monkey was off my back," Bryant said. "It felt so good to be able to have this moment. We tried not to envision it too much, you know what I mean, because you just get too excited. You try not to think about it, just think about playing the game, and for this moment to be here and to reflect back on the season and everything that you've been through ... it's the top of the list, man."
He has his list, we have ours. Can't move him past Michael Jordan on the greatest players list, and we shouldn't even start consideration unless (or until) Bryant gets two more rings. He's grown tired of the Jordan comparisons but, like so many other things in his life, he brought them on himself, from the way he jacked MJ's style when he first got into the league to the way he waved four fingers in the air from the victors' stage, just as Jordan used to keep tabs of his championships in the moments after each one.
Bryant had Jordan to serve as a template, but he's also been cursed by that inescapable silhouette. If we could just view him in his own context, in a Jordan-free world, we'd see Bryant for what he's been and what he's become.
Magic coach Stan Van Gundy's response when asked to compare Kobe and LeBron James works just as well for Bryant-Jordan.
ESPNDB

To find stats and info on Lakers guard Kobe Bryant, check out ESPNDB: NBA Finals.
•
ESPNDB: Kobe Bryant
"When you get two guys like that," Van Gundy said, "you want to compare the two of them, what I always say is, 'You pick first, I'll take second pick and I'll be happy as hell.' Those guys are great, great players."
Because this ring was required for Bryant's candidacy to be the greatest, it means the most to him. It doesn't have the historical significance of Jackson's record 10th as a coach, which moved him past Red Auerbach into a realm of his own. It doesn't have the poignancy of the stories of Lamar Odom, Trevor Ariza and Fisher, who have lost an infant son, a brother and watched a daughter battle eye cancer, respectively. It doesn't have the international ramifications of Pau Gasol winning a championship for everyone listening en Espanol.
Yet even though this had the greatest individual impact on Bryant, it happened because he submitted himself to the team. The Lakers grabbed control of the game with a 16-0 burst in the second quarter that was highlighted by three assists (and only two points) for Bryant.
It started when Kobe had Rafer Alston switched on him and he posted up the smaller player. When he got the ball he didn't attack; he waited for the help defender to leave Fisher and then passed out to Fisher, who knocked down the open 3-pointer. On the next possession, he passed to Ariza for a 3-pointer. Bryant threw in a high-arching jumper of his own, then found Ariza for another 3-pointer. It was on, and the Magic were on their way out. And Bryant, in a change from the way he was four years ago, didn't try to do it all by himself.
"Kobe was the thrust that created shots for guys and the opportunity for guys on the floor," Jackson said.
"That was really our chance. And we said at halftime, we get another opportunity like that, we have this game in hand if we can just crack one more three-minute span like that and create some turnovers and run-outs and do it again. Kobe said, 'I'll push the guys and I'll find guys if you guys run the court.'"
So it was complete, Phil's greatest challenge of convincing the guy he once deemed uncoachable to play for the good of the team, Bryant's challenge to be viewed as one of the best individuals players ever, the latter getting his results only after yielding to the former.
Even in Bryant's time to shine it got crowded quickly, from the mob of teammates that surrounded him after he leaped to celebrate the final buzzer to the names that inevitably came up afterward, such as Jordan and Shaq.
I showed Bryant the message Shaq sent out over Twitter, part of a string of congratweets O'Neal sent to individual Lakers, but the only one that turned Shaq's rap lyrics from last summer back on himself: "Congratulations kobe, u deserve it. You played great. Enjoy it my man enjoy it. And I know what yur sayin rt now 'Shaq how my ass taste.'"
Bryant laughed and shook his head.
"That boy got no sense," he said as he walked away.
Kobe and Shaq will always be linked. But Bryant will no longer be encumbered by him.
J.A. Adande is an ESPN.com senior writer and the author of "The Best Los Angeles Sports Arguments." Click here to e-mail J.A.
Playoff Dimes past:
May 27
|
28
|
29
|
30
|
31
|
June 5
|
6
|
7
|
8
|
9
|
10
|
11
|
12
|
13
|
14
Media Favorite: Stan Van Gundy

By Marc Stein | ESPN.com
ORLANDO, Fla. -- For entertainment value and in the candor category, Stan Van Gundy had a better NBA Finals than the coach with 10 championship rings.
Which is saying something.
Phil Jackson's playoff media sessions often have been memorable, but Van Gundy's honesty and consistency at the podium throughout the playoffs made him a media favorite, although that's sometimes hard to tell with the amount of criticism he gets for some of his decision-making
But that's how it works when you lead a franchise back to the Finals for the first time in nearly 15 years and go further in the playoffs than you've ever gone before. That kind of successful ride also puts you in the crosshairs more than ever before.
Reflecting on the ride, though, was one subject Van Gundy didn't have the stomach to delve into minutes after Orlando's Game 5 elimination.
"Maybe in a day, two days, a week, whatever ... maybe I can reflect a little," Van Gundy said. "Right now it's just all disappointment."
Pressed for elaboration, Van Gundy added: "I'm not trying to be an ass. Sometimes I do try to be an ass, but I'm not trying to be an ass. I'm just not at the point of being able to reflect right now. Right now it's just ... I expected to be getting ready for Game 6 and getting on a plane to L.A."
It was thus left to Magic star Dwight Howard -- who joined the chorus of Van Gundy critics during the Boston series before they moved past it to eliminate both the Celtics and Cleveland -- to look back at Van Gundy's season.
The end result certainly didn't come close to matching Jackson's breaking his nine-ring tie with Boston Celtics patriarch Red Auerbach, but Van Gundy did preside over the most successful season in Orlando's history ... when it wasn't being interrupted by second-guessing about bringing back Jameer Nelson for the Finals after nearly four months of inactivity or Shaquille O'Neal sticking him with a "master of panic" label that won't go away.
"We never had any major problems, me and Stan," Howard said of the flap after a Game 5 loss to the Celtics, after which Orlando recovered from a 3-2 series deficit to win a Game 7 in Boston and eliminate the defending champs. "We've had disagreements, but so does every player [and] every coach.
"Everybody has disagreements, but Stan has motivated me and pushed me to the level that I am today. And I think me and him are going to get stronger and better. I'm looking forward to next season. I know he's beat up about tonight's game, but Stan's done an excellent job of keeping our team together, motivating us, just making us a better team from the first day of training camp until now.
"He's a reason why -- one of the main reasons why -- we made it to where we're at today."
Bryant Puts Up Big Scoring And Passing Numbers

By Elias Sports Bureau
Kobe Bryant averaged 32.4 points and 7.4 assists per game against Orlando during the Finals. The only player to match or surpass Bryant's averages in each of those categories in an NBA Finals series was Jerry West, who averaged 37.9 points and 7.4 assists per game for the Lakers in their 1969 Finals loss to the Celtics.
By Maurice Brooks
ESPN.com

SUNDAY'S BEST
Los Angeles Lakers
: You have to put the whole team up here because the Lakers now have more titles this decade -- four -- than any other team in the four major North American pro sports. The Lakers snapped a tie with the San Antonio Spurs and the NFL's New England Patriots. L.A. became the first NBA team to win the championship one year after losing in the Finals since Detroit in 1989.
---

SUNDAY'S WORST
Dwight Howard, Magic
: With his team facing elimination, the second-most talented player on the floor needs to finish with more than 11 points and 10 rebounds.
---
QUOTES OF THE NIGHT
"And he wanted us to believe that he didn't want to win one without Shaq? He never jumped that high when they won the last three times."
-- Charles Barkley, working the Finals for NBA TV, reacting to Kobe Bryant's jubilation at the Game 5 buzzer as he watched it on a monitor in the hallway at Amway Arena.
---
"First of all, I got traded for Shaq. He got traded for Kwame Brown to the Lakers."
-- Lamar Odom, sitting at the podium next to Pau Gasol one year removed from the pounding he and Pau absorbed from the Boston Celtics' front line, when asked how it felt to be a champion now after both had been discarded by Miami and Memphis, respectively
Climbing The Scoring Ladder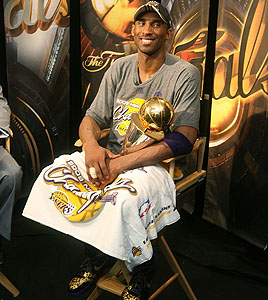 Nathaniel S. Butler/NBAE
Kobe Bryant, who averaged 30.2 points in 23 postseason games in 2009, now has 4,381 career playoff points, placing him sixth on the all-time NBA playoff scoring list.
Ariza Deal Pays Off For L.A.
By John Hollinger
ESPN.com

ORLANDO, Fla. -- Everyone talks about how the theft of Pau Gasol from Memphis during the 2007-08 season helped the Lakers embark on this year's championship run, and that's certainly true.
But perhaps more attention should be made to another midseason trade from last season that paid equally huge dividends in this postseason. That was the trade of Maurice Evans and Brian Cook from Los Angeles to Orlando in exchange for Trevor Ariza.
The payoff could not have been more lopsided. Evans and Cook have long since departed from the roster; Evans left as a free agent after last season, and Cook was traded to the Houston Rockets in February in the deal that brought Rafer Alston to Orlando.
Ariza? He was a massive factor, and was at his most huge in the biggest moments. Remember, it was Ariza who made key steals at the ends of Games 1 and 3 against the Nuggets -- game-savers that allowed a weary Lakers team to stay afloat early in that series.
And in this series, he was the key player in the two biggest runs of the series. In Game 4, the Lakers went on a 16-3 run after halftime that was keyed by 11 points from Ariza; then, late in the game, he hit an off-the-dribble 3-pointer going to his right at the end of the shot clock when it looked like L.A. was on the ropes.
On Sunday night, he played his best during the key Lakers run at the end of the first half. Ariza had two 3-pointers, a free throw and a steal as L.A. rattled off 16 straight points and effectively wrapped up the series; during that stretch, he also played suffocating defense on Orlando's Hedo Turkoglu as a series of pick-and-roll plays led to Orlando turnovers.
Obviously, one has to wonder how this series would have turned out if the Magic had not made the trade. And while that may not be entirely fair to Orlando -- other moves, like including Cook in the Alston trade, might not have been doable if Ariza was still in a Magic uniform -- it was hard to ignore when the guy who the Magic traded was more effective in the final two games than any of the wing players in pinstripes.
And that adds another interesting wrinkle as we head into the offseason. Turkoglu is going to opt out of his contract in the summer, and there are mutterings that the Pistons are ready to offer him a big deal to come there.
But after watching Sunday night, isn't it fair to ask if Joe Dumars -- or any other team with cap money -- might be better off pursuing the 23-year-old Ariza rather than the 30-year-old Turkoglu? In addition to being seven years younger, Ariza had the better PER this season and is the better defender, so the lure of Turkoglu may be based more on reputation than reality.
If so, that might be the only enduring benefit from the trade for Magic fans -- lowering the price of keeping Turkoglu. Because in their first Finals appearance in 14 years, the long-forgotten trade came back to bite them in a big way.
Motivating Talented Players
By Dr. Jack Ramsay
ESPN Radio

ORLANDO, Fla. -- In this series, Phil Jackson and the Los Angeles Lakers took the Orlando Magic right out of their offensive game.
Although L.A. worked in different defensive wrinkles in each game, the Lakers mostly focused on cutting down Hedo Turkoglu. The Lakers strung him out of the Magic's high screen-roll offense. They made him hold the ball longer and longer which delayed the screen-roll pass to Dwight Howard diving to the basket and delayed the rotation pass to Rashard Lewis and other open Magic shooters. This strategy was the key to the Lakers winning the 2008-09 NBA championship.
Jackson's critics say he always had the talent to do it. He had Michael Jordan and Scottie Pippen in Chicago for six titles. In L.A. he had Shaquille O'Neal and Kobe Bryant and now Kobe and Pau Gasol.
A lot of coaches have had great talent, but it's what you do with the talent that counts.
In his own way, Phil was able to get the best players to play together and become the epitome of team.
He's unique. And he takes some heat for his laid-back methods, but Phil does it his way, and he now has 10 titles ... the most ever.
Howard Watches And Learns
By Chris Sheridan
ESPN.com

ORLANDO, Fla. -- "Don't go anywhere."
Want to know why Dwight Howard and Jameer Nelson sat there on the Magic bench, blank expressions adorning their faces, after that final buzzer? Why Superman and one of his All-Star sidekicks stuck around as the championship trophy podium was hastily assembled and the Lakers stood victorious atop it?
Because that was what Howard wanted, and he wanted Nelson to witness, feel and share every raw, painful emotion that was tearing him apart inside.
"He wanted me to sit out there and let it soak in so we could get that feeling -- that bad feeling, actually, of how it feels, and not let it happen again," Nelson said. "We don't want it to happen again, so we stay out there to let it soak in, get upset a little bit."
To read the entire Sheridan column, click here